A Night in Rome Dinner at La Cucina Di Sandra Cooking School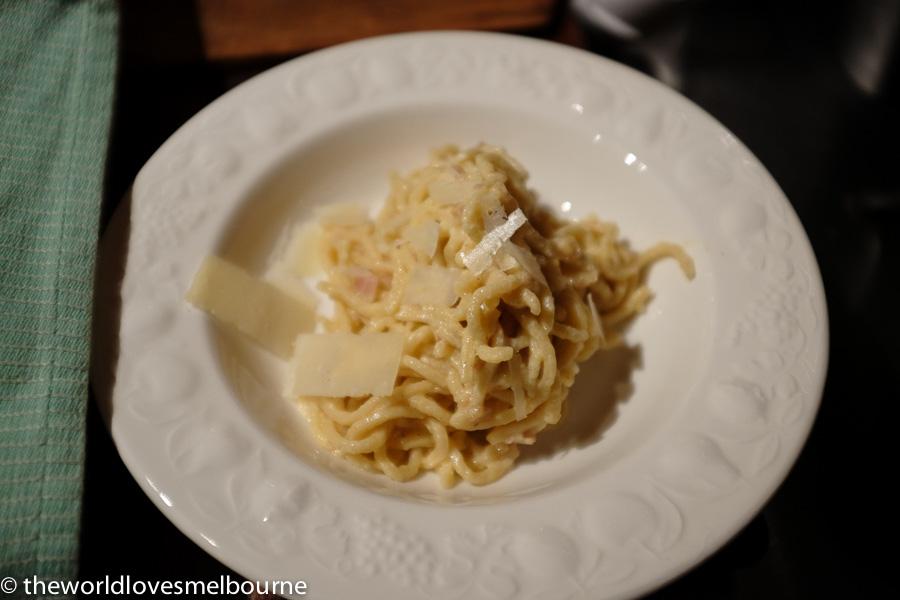 A Night in Rome was a superb night of conviviality, fine company and standout food. The World Loves Melbourne attended the cooking class at La Cucina Di Sandra in Richmond with winner of a recent competition, Melbourne film and media identity Zoe Rixon and friends. The cooking classes are held in Sandra Del Greco's large warehouse style home and large kitchen in Richmond, a talking point with guests in itself.
Parmesan biscuits are the perfect starter...
Crema di Zucchine (Zucchini Cream) was a compelling dish with loads of creaminess without the inclusion of cream. This dish is so indulgent yet guilt free. As an entree it's an impressive dish to serve to friends. The creaminess and taste of the zucchini shines through, while the anchovy and Roman pecorino shards complement wonderfully with punch. Sandra is instructive on how to cook these dishes at home, and gives tips including shopping tips along the way.
Sandra had been to DOC in Lygon Street to source fresh hand made pasta for the Tagliatelle alla Carbonara Moderna. Sandra impressively whipped up an egg white cream and introduced flat pancetta and pecorino to this modern take on carbonara. Quality ingredients were the key, as well as cooking process where Sandra completes the cooking in the large frypan.
The result was superb with one of the best carbonara dishes The World Loves Melbourne has ever experienced.
A fabulous group of friends, all foodies and food savvy when it comes to Italian cuisine.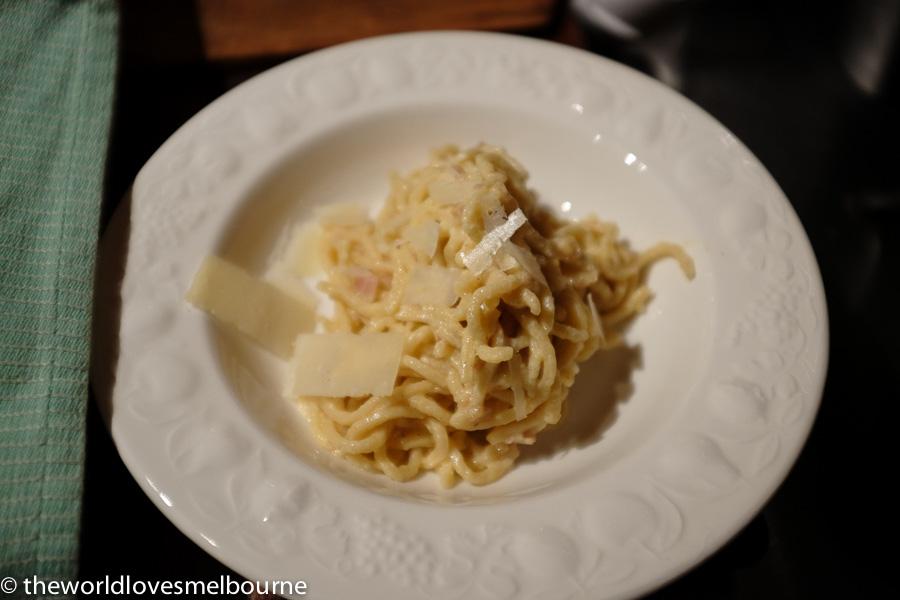 A main course was still to come, even though we had imbibed several rewarding courses already. The Pollo alla Romana (Chicken with tomatoes and peppers) again showcased Rome as the "garden of Italy".
Authenticity of Roman cooking also was displayed through this delightful Spinaci alla Romana (Roman style spinach). The spinach sourced from Prahran markets was accompanied by toasted pine nuts and raisins for a well balanced and well textured dish.
Sandra is a character with loads of personality which adds to the cooking school experience. Apart from Sandra's tuition you receive extensive recipes and notes, as well as the tips. Sandra gave us a cameo on choosing the right pasta while we were waiting for the Pollo alla Romana to cook. The classes are fun as well as informative, and the meal itself is substantial considering the cost of the class.
Dessert of Ricotta al Miele (Ricotta with Honey) was simple but highlighted premium ingredients, perfect to impress your guests at home. Buffalo ricotta baby, from local That's Amore brand!
What are La Cucina Di Sandra's classes about?
Classes are interactive demonstrations, held at my home in Richmond

Sandra caters for a minimum of 4 people to a maximum of 8 people

You will be welcomed into Sandra's home to enjoy a three course meal with a complimentary glass of wine, plus finger food before the meal

Informal and highly entertaining, you will see each course prepared, cooked and then served at the dining table
How do I book?
If you wish to book any of Sandra's classes check out the website and please email


This email address is being protected from spambots. You need JavaScript enabled to view it.

or you can call Sandra on 0419 503 805 or 03 9421 1883

Parking is available in Lyndhurst Street and also in Shaw St in Richmond, where there are no parking restrictions