Public House A Gem in Richmond
Public House is a fabulous hidden gem dining and bar destination in Richmond with an upstairs courtyard that is highly recommended. They have top notch specials for affordable dining.
Public House has been making waves in Richmond and you will find it pumping on weekends. Both the upstairs and downstairs spaces are attractive to diners and party goers and The World Loves Melbourne was invited to imbibe on a sunny Sunday afternoon. Apart from the great location the quality of the food itself stands tall. We enjoyed a selection of shared dishes that we found compelling.
We took in the open festive ambience of the upstairs courtyard with several groups of friends imbibing nearby. The garden has a tropical feel and the timber panelling stands out.
Tempura battered zucchini flowers were a joy, delightfully filled with persian feta and mint. We noted that the presentation of all dishes was first class; the chef taking pride in every offering.
The Cripsy pork belly was a high point with hoi sin, Vietnamese herbs and pickled vegetable salad resonating with The World Loves Melbourne. The pork belly had that wonderful crispy exterior with soft pork belly inside, infused with hoi sin. The zesy salad was a great complimentary addition.
Manager Jess adds much to this venue with her vibrant engaging hospitality; here bringing us drinks including an imaginative beer list.
Soft shell crab? The Fried soft shell crab tacos were delicious with corn and avocado salsa and kewpie mayo. Refreshing and tasty.
Public House knows that diners love decent chips and these crispy golden fries ticked all the boxes, served with aoli.
It was then that Jess brought out the Public House puppy, little Ruby. How cute is Ruby?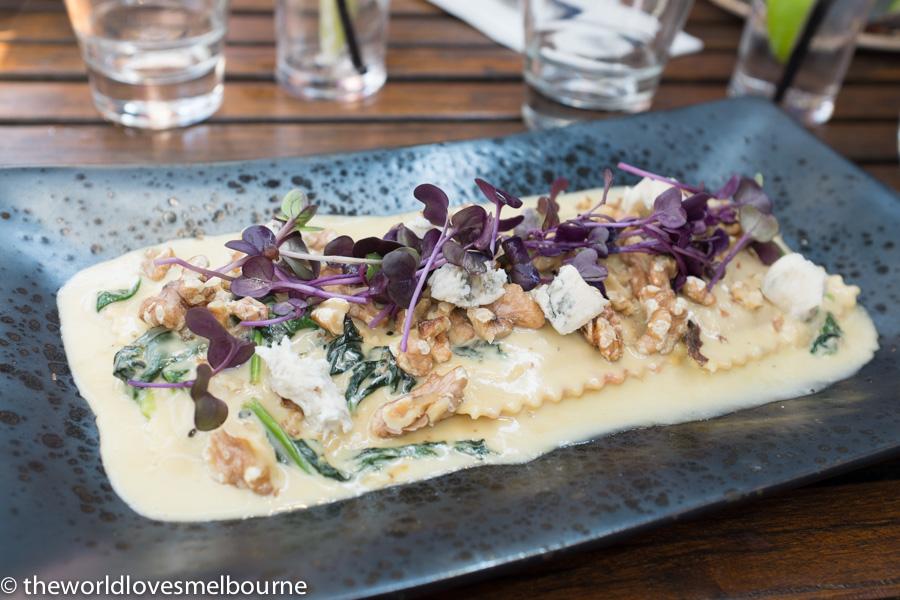 A popular dish is Beetroot ravioli, blue cheese, walnuts, and cream sauce. This was a rich and rewarding dish (we especially love the blue cheese element) and a great balance of tastes and textures.
We revisited our penchant for pork with this triage of bao - irresistable!
Who doesn't love fried chicken? Some do it well and some don't. This was a cracker dish; Southern fried chicken and jalapeno mayo was the perfect fried chicken expression with welcome kick from the jalapeno nuance! Crispy outside and perfectly juicy inside.
A retractable roof like Etihad Stadium makes this an all weather venue; open on this glorious spring day!
The smart food continued with this Saganaki and cherry tomatoes dish...
Public House then delivered on this Spiced lamb sliders dish with tzatziki and cos lettuce. This is the perfect food for family get together or catch up with friends.
Coming down from the stairs we viewed the attractive modern bar and dining area...
Public House is a gem we highly recommend; for its stunning location and upstairs facility but also for its high quality food offerings that stand on their own. Hospitality is first class and Jess is a sensational host. Get on it!