Visit to Yarra Valley Caviar and Four Pillars Gin
The World Loves Melbourne jumped at a bus trip with media to Yarra Valley Caviar organised by Wendy Hargreaves followed by a visit to Four Pillars Distillery. This was the first time I'd met the boys at Yarra Valley Caviar and the news is they're not just producing their own salmon roe… they're now importing European caviar as well.
Some of our media group participated in fish milking (May is milking season), and then we tasted some of the posh new stuff. That's right - fish are milked by hand! We understand that Yarra Valley Caviar is the only salmon farm in the world that milks its salmon by hand, 30,000 of them in just 3 weeks! That's a ton of milking! The milking involved simply stroking the fish tummies!
Nick Gorman and Mark Fox from Yarra Valley Caviar showed us around the farm, and we were wonderfully accomodated for food and wine by a bustling stream. Here we enjoyed award winning oysers freshly shucked, as well as some cooked on the BBQ, plus tastings from Yarra Valley Caviar's range of gorgeous caviar.
Salmon caviar!
Nick and Mark were also keen for us to taste their new and very posh imported caviar. This was an exceptional and decadent afternoon!
Yarra Valley Caviar is an export approved boutique fresh water aquaculture farm located at the base of the Rubicon River in the Yarra Valley region of rural Victoria.
It is the only dedicated Australian producer of fresh water Atlantic Salmon and a staunch believer in the humane treatment of its fish, taking a completely natural approach to its rearing and roe extraction. In addition to salmon, Yarra Valley Caviar now also produces and harvests Rainbow Trout and Brook Trout roe for their caviar range.
The fish are milked for roe entirely by hand, once a year, under a completely natural anaesthetic of clove oil, and are then gently placed back in their ponds to spawn again the following year. And on the way home, we'll be dropping in at Four Pillars for a gin tasting session.
Salmon and mussels were a fabulous part of our standout lunch at Yarra Valley Caviar. Cloudy Bay Clams and oysters from Australia's Oyster Coast.
Not only was there a tasting but we had a full lunch cooked for us on site by a private chef. Happy days! Matching wines were supplied by iconic Dal Zotto wines - prosecco and caviar are a dream match. Mel the Prosecco Queen was on the trip to also advise and pour these stunning Prosecco wines.
Can this be my weekly therapy?
Yarra Valley Caviar is a gem in regional Victoria with a first class product. Then it was on to Four Pillars Distillery for a gin tasting and tour.
Four Pillars Gin in Healesville has been blazing in the last 4 years since it burst on the scene as a bespoke gin distillery. Right now there's a huge excitement around the release of its Bloody Shiraz Gin.Check out the striking Boston Ivy climbing up the distillery!
The tasting at Four Pillars Gin is compelling, showing off their range and versatility. Of course the tasting is of straight gin, no tonic or soda or even ginger ale to be seen.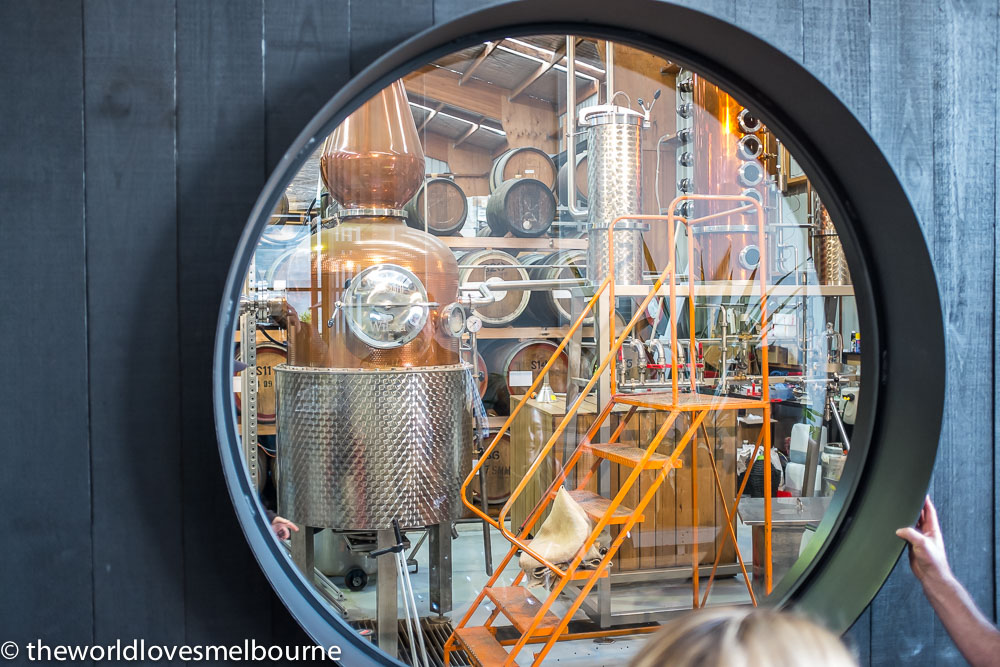 A secret to Four Pillars success is the use of whole Australian oranges giving the gin a citrus nuance. Australian citrus is highly aromatic and supports the spicier botanicals such as cardamom, cinnamon and star anise.
Botanicals on the scene. We're big fans of the Navy Strength Gin; not for the fainthearted.
Thanks Cam for showing us around the modern distillery. Four Pillars are great at gin and we haven't heard of any plans to develop other spirits.
Buckets of botanicals!
Stills are named after family members; Wilma, Jude and Eileen.
Make sure you pick up some gin and the Negroni marmalade while you're there! An epic afternoon!