Premium Getaway at RACV Cape Schanck Resort
RACV Cape Schanck Resort on the Mornington Peninsula is a first class experience! The World Loves Melbourne was invited to spend a couple of days at the newly re-launched RACV Cape Schanck Resort (around $160 million development), located at the southern tip of the Mornington Peninsula. The location is rare and raw with views over Port Philip Bay or the Bass Strait. And yet it's not that far from Melbourne - just over an hour! We were highly impressed with the whole experience - a shining light on the Peninsula and world class!
Stunning ocean views from our spacious modern room!
We were highly impressed with everything about our room; including the 180 degree ocean views and the private balcony! No doubt, this is premium accomodation. A large bathroom and large bed was awesome. One thing we noticed was that you quickly relax at this place!
Kudos for the design of the Resort, as it takes in and reflects the surrounding natural landscape.
Golfer? For your golfing needs golf pro Andrew Smith Andrew is on hand; an Australian PGA certified teaching professional and a previous participant in the Australasian Golf Tour and Asian Golf Tour. The golf course is stunning; a Robert Trent Jones designed 18 hole course.
We took in both the sunset and sunrise ocean views; simply magical.
Samantha and I also elected to enjoy the Hammam Bathing @ One Spa Dream facilities. These luxurious spa facilities feature a contemporary hammam and relaxation area, which includes:
• Relaxation Pool – A heavily salted pool heated to a relaxing warm temperature.
• Vitality Pool – Reclining lounges and moulded seats with water pressure jets are suspended in a warm salt chlorinated pool.
• Thermal Stone Steam Room – Heated floors, walls and stone seat are complemented with additional steam and mist sprays.
• Immersive Showers – Offering cool, mild, warm and hot raindrop water therapy.
I highly rate the hydrotherapy in the Vitality Pool; it really does give you a decent massage with the water pressure jets! I was thinking of enjoying a second round of this hydrotherapy but once we activated the jets the experience lasted for a decent time period.
We also loved the Thermal Stone Steam room; just sit on the stone seat with steam and mist sprays in operation for a sensational steam experience. I went back in here a couple of times and found it super relaxing.
The pool area and gym are also a must visit for your recreational pleasure. Top class facilities!
We also checked out the smart modern family friendly cafe Mantellina with its Italian influenced menu. We observed the chef working the dough for the stone-baked pizza!
After our fun and relaxing afternoon of activity we enjoyed a delicious dinner at the resort's Cape Restaurant.
Cape offers a modern Australian menu that showcases the amazing quality of local produce from the Mornington Peninsula and regional Victoria with iconic Executive Chef Josh Pelham at the helm. We hear they are attracting a decent number of diners 100+ most nights (about 100 the night we dined there on a Wednesday night). Sometimes there's 160 diners on a weekend night - which many city resturants would be jealous of! It's an indication there's something special going on here at Cape Restaurant.
Josh Pelham offers diners a world class dining experience. Unpretentious and approachable but with loads of technique.
Boasting stunning views of the bay, the modern grill menu designed by Executive Chef Josh Pelham showcases seasonal food and the finest quality produce and wines from the region. Local producers featured include The Cape Schanck Olive Estate, Main Ridge Dairy, Australian Wagyu Beef from the Sher family, Pure Peninsula Honey and BoatShed Cheeses.
It was great to connect with Josh and hear about his passion for local produce as well as bringing an incredible standard of dining to RACV Cape Schanck Resort. Seriously our experience was world class; for me the dining was as good here as any hatted restaurant I've eaten at in Melbourne. We dined the night of some new menu changes.
The wine list here is exceptional with an Italian Prosecco to start our journey. The Sommelier was exceptional and the service we received from all staff during our dinner (and stay) was engaging and first class.
Tartare of kangaroo with kohlrabi, charred radicchio, macadamia cream and saltbush was a revelation. The concept of a kangaroo tartare is not new to us, but this is the best rendition of a clever indigenous dish that we've seen. Wrapped in charred radicchio the dish begins with mystery. Peel back the radicchio and you have plenty going on to please; both taste and texture. The saltbush for crunch and the creaminess of the macadamia cream add to texture and balance and the joy of indigenous dining. Also a hit was the kohlrabi. The kangaroo itself was the hero cut into small pieces (see below). A stunning dish.
A wine list that features the Mornington Peninsula including wines that are bespoke and not often found in bottle shops. (Check out our list of Best Mornington Peninsula Wineries which is always evolving). This Elgee Park Cabernet Merlot was exceptional, perfect with the Tartare of Kangaroo. Harvested for the Mornington Peninsula's oldest vines.
Rannoch Farm Quail breast and leg with nashi pear, hay baked and pickled celeriac was another smart dish. Modern dining with an element of the classic. We were expecting a couple of pieces of quail and garnish on the plate but once agin expectations were exceeded with this refined dish. You can see there's a plethora of elements to this dish. The quail itself was perfectly cooked and the nashi pear and celeraic gave a refreshing complement. Presentation of these dishes is first class in keeping with top class fine dining.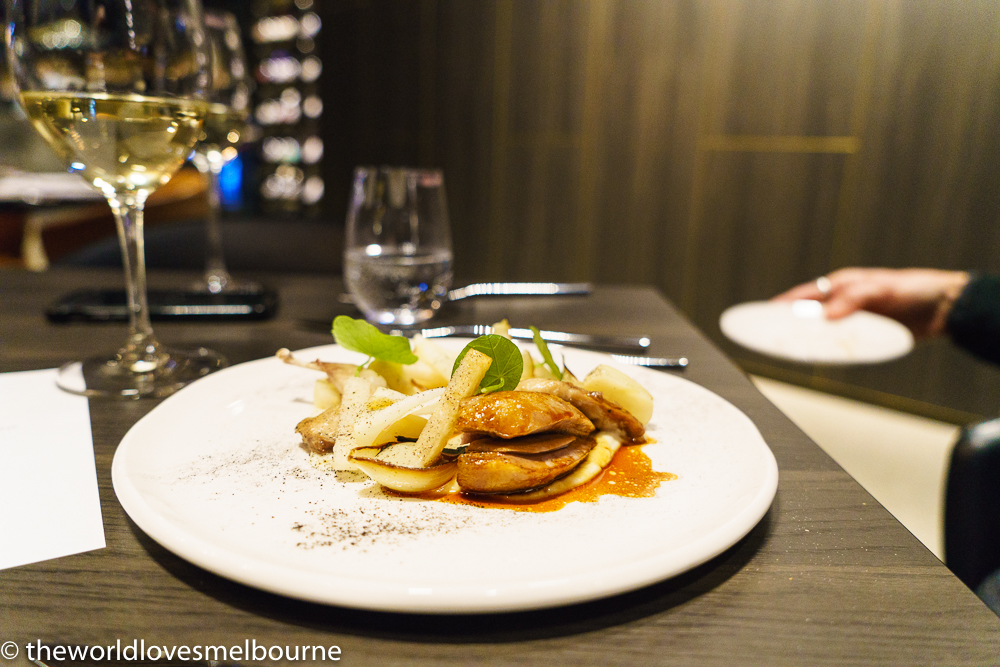 A close up of the quail; an exceptional dish.
A compelling modern design with floor to ceiling windows and fine use of leather, timber and wave curves - designed by Wood Marsh Architecture.
The quail was wonderfully paired with iconic Quealy (Kathleen Quealy is a pioneer and celebrated Australian winemaker on the Peninsula) Pinot Gris.
Main courses at Cape Restaurant were also a triumph. Samantha elected to order the Market Fish of the Day which was a Baby Barramundi with capers, lemon and parsley dressing. The fish was perfectly cooked and presented as a whole fish.
The fish was paired perfectly with this Crittenden Estate Chardonnay.
Even the salads have a touch of class with this simple but delicious Heirloom beetroot salad with goats' curd and pistachio hitting the mark. The pistachio crumb added a wonderful element of crunch.
Straight cut chips with rosemary salt were also top notch (we always order chips).
When the Sommelier brings out the Coravin you know it's going to be special. Hurley Vineyard Estate Pinot Noir was the match for my pork dish. Hurley Vineyard are specialist Pinot Noir vignerons in Balnarring just down the road. The Hurley Vineyard Pinot Noir is estate grown and has a delighful bouquet and an elegance as I can attest.
Pork belly and loin with blood pudding, quince, turnip and mustard was a rustic dish of note. For pork lovers there was both the belly and the loin. The pork belly was perfection with crackling crust to die for. A surprise was the blood pudding bringing an edge of decadence. The loin was superb in itself with crunch on top. Sauces here are also first class and a creamy mustard sauce was the perfect accompaniment.
A sensational match was this Paringa Estate Iced Viognier; something bespoke and a delightful fresh experience for us.
Desserts also highly impressed with plenty going on with each dish. The 69% Bassam chocolate mousse with blackberries, beetroot sorbet and roasted chocolate was indulgent and to rave about. Melted chocolate on top formed into thin crispy wafer like element with decadent mousse and a compelling chocolate soil. The beetroot sorbet may surprise some but it was a masterstroke accompaniment. Presentation was again paramount.
Main Ridge Goats' Cheesecake with rhubarb, white chocolate rocks, and native river mint sorbet. A clever even refreshing dish with goats cheese in a cheesecake! A great celebration of local producer Main Ridge Dairy.
We awoke to stunning views and the sounds of the Peninsula and a top notch breakfast.
The breakfast selection at Cape Restaurant is next level.
From pastries to compelling healthy style dishes to a hot breakfast.
Personally I enjoyed these mini quiches as well as the hot breakfast selections like the bacon below.
The first class breakfast was followed by a drive to Cape Schanck Lighthouse (5 minute drive).
We followed the path up to and around the back of the lighthouse to a hidden look out for the most amazing views. We then headed back to the Boardwalk path and followed it along to take in the sites of the most southern tip of Mornington Peninsula. Nothing between you and Antarctica!
After an amazing getaway it was time to head home to Melbourne. As we say, the newly developed RACV Cape Schanck Resort is a world class experience and a huge attraction for the Mornington Peninsula and Victoria. Looking forward to our next visit!