David's Hot Pot in Doncaster East
Hot Pot lovers rejoice with David's Hot Pot Melbourne bringing Sichuan hot pot joy to this city, including a modern vibrant restaurant in Doncaster East. With 30 years of experience behind chef Jianlin Zhang the Doncaster restaurant has already become a popular dining destination in the eastern suburbs. If you're like me you love the sensory experience of a hot pot experience, including the aromas of the steaming soup. We were invited along for a hot pot feast on a weeknight, with plenty of parking nearby.
David's Hot Pot Melbourne is a great Melbourne dining experience perfect when connecting with family and friends, with fresh meat sourced daily from Australian farms. On a weeknight we were surprised by an almost packed restaurant in the 'burbs.
I've only had hot pot experiences a few times and I'm no expert, still negotiating perfect cooking times and the ways of hot pot. But staff were excellent (and patient) helping us out and pointing us to some of the popular favourites from the extensive menu.
A great soup base is the key and David's Hot Pot delivers. Signature Spicy beef tallow soup half and half with David's Dried Fish Maw and Chicken soup was the perfect soup choice. Sichuan spice with "kick" (you can order super spicy but mild was hot enough for us) and a delicious non spicy sauce bursting with flavor. We recommend this "half and half" soup, especially as in a group there's often spice lovers and those that struggle with spice.
You are impressed by the cute butter piggy character that is melted into the soup. A sense of theatre (as I say a sensory experience).
Then it's a matter of choosing your ingredients (tick them off on the menu) from the extensive menu and grabbing a pair of chopsticks.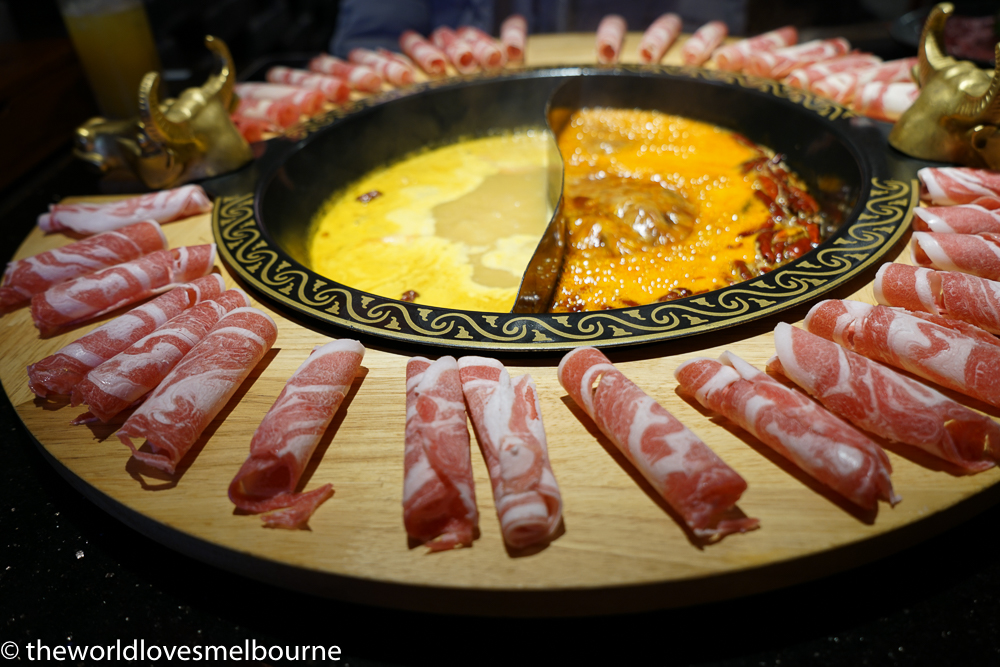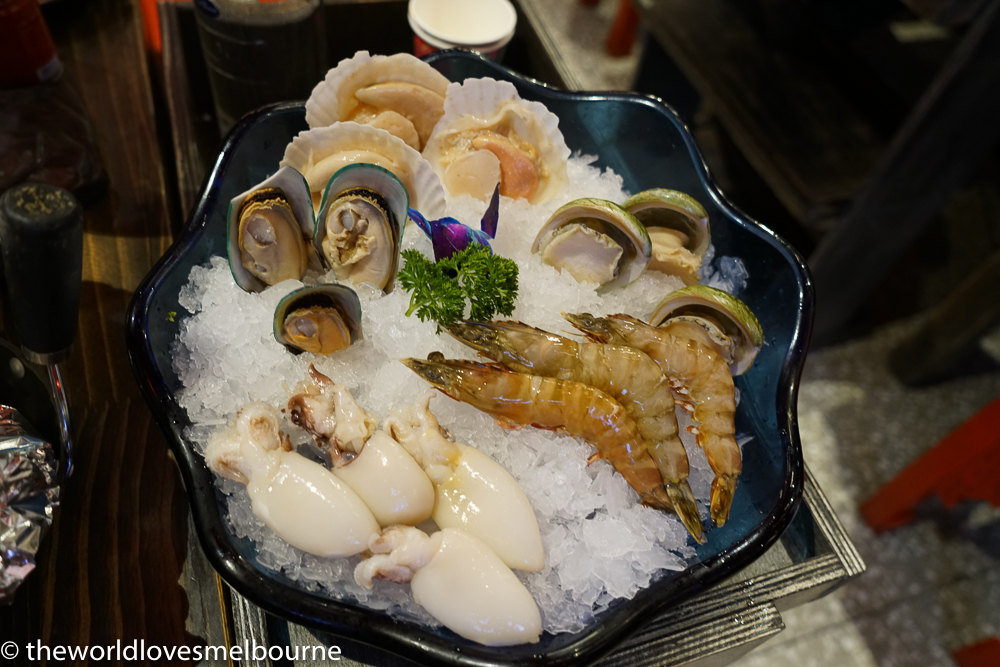 Seafood combo featured an excellent array of seafood including squid, prawns and scallops. I believe it takes more skill in cooking the seafood than the meat. Thin meat cooks in seconds while the seafood may take 5 min or so - you just need to keep an eye on the cooking times. With some items you can just cook with them on the end of your chopsticks, while other items, like a squid you just drop into the soup and fetch them when cooked with a ladle.
Lamb and beef combo was a highlight, melt in your mouth and beautifully presented, my favourite dish.
Hand made noodles are also recommended and perfect accompaniment.
Tender beef was also tasty, and different to the combo, with larger and thicker slices of meat.
David's Kung Fu Spicy pork ribs were addictive, and I found myself picking them up and eating off the bone (maybe breaking protocol).
Deep Fried Crispy pork belly was a favourite and highly recommended, served in foil that is set on fire at the table by staff for more theatre.
Vegetable Combo was a great dish to mix it up with all the meat, corn being the standout for me.
To be honest I may have over-ordered (not for the first time) but no regrets. Dan and I literally ate for hours, going through one set of ingredients at a time.
A sauce bar with a wide range of sauces was a great addition, including home made XO.
Hot Pot is a fun and social experience, conversing as you dip your meat in the hot pot with your chopsticks and scoop out some of the larger items from the boiling pot. while you eat you are thinking of the friends you may invite for your next hot pot experience, and whop may or may not enjoy spicy food.
Presentation of all the dishes was top notch. I recommend checking out the menu that gives the recommended cooking times for each item (we asked for the menu back so we could guage cooking times being amateurs).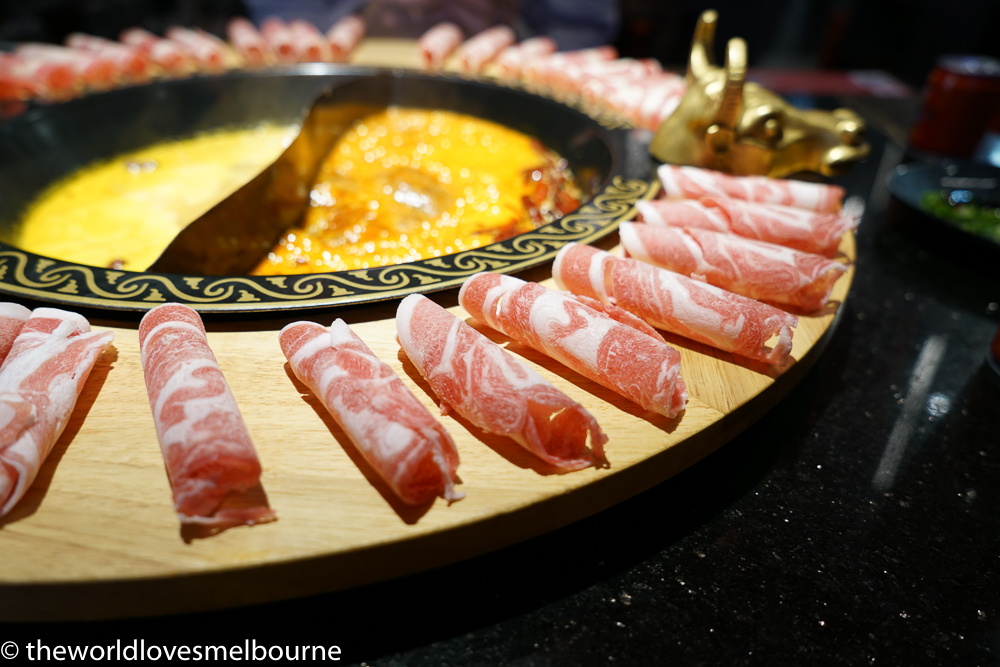 In terms of beverages there are some expensive Chinese spirits available as well as beers and non alcoholic drinks.
A unique and highly recommended experience in Melbourne.