Family Celebration at Little Collins Kitchen @ Sheraton Melbourne
Little Collins Kitchen, new and modern was the perfect venue for our family birthday celebration (happy birthday to me!). With parking easy, and as guest of Starwood Hotels, we were invited to check out the #savorandsave program and its delights. Walk into a modern chic hotel and head up to the first floor to Little Collins Kitchen, a stylish restaurant based on the concept of a kitchen table dining experience. This is relaxed bistro style dining at its best.
When it comes to birthdays I like to celebrate in a classy restaurant with family, with all the work done for me. Sure I could celebrate with a dinner at home but I'm looking for somewhere with a sense of occasion. The overall ambience, accessibility, style of the cuisine, and a high level of service, are important to me in deciding where to go. Also, because I like to celebrate with family, it needs to be approacheable and somewhere the family feels comfortable without pretense. I also want to visit a place where the staff are used to family celebrations and welcome them. Little Collins Kitchen was chosen to satisfy these requirements.
Top class chefs oversee the cuisine with Executive Chef, Kruno Velican and Chef de Cuisine, John Ayala at the helm.
The Seafood Buffet is a great option at Little Collins Kitchen, and beckoned with Chef de Cuisine John on hand to answer any questions. To be honest, this has to be one of the best buffets in Melbourne. Not only do you choose from a wonderful seafood buffet, but you also get to choose a hot main course dish as well! Not to mention the cheese station, salad bar and desserts selection.
The whole family enjoyed the quality seafood selection including Crab, Smoked salmon, Prawns and Oysters.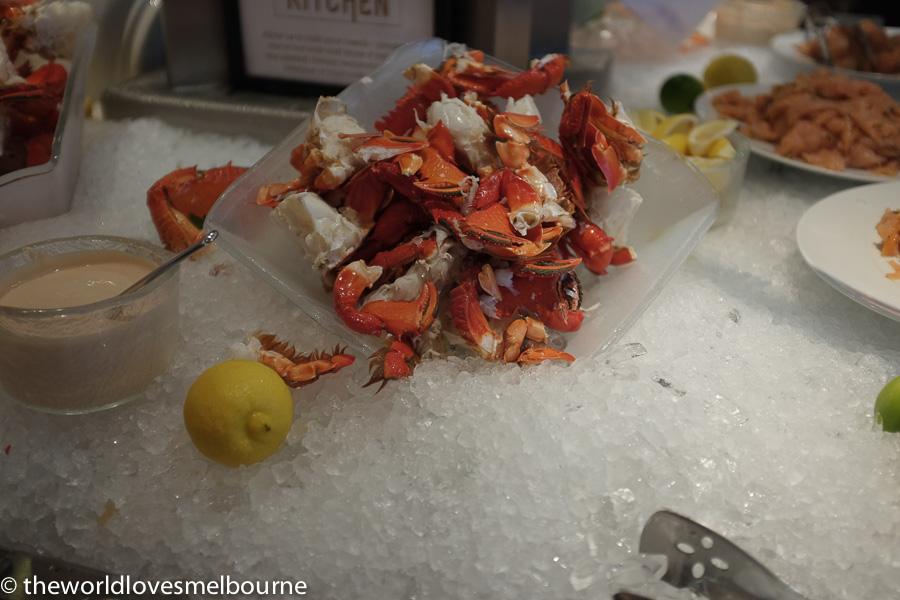 Market fresh seasonal seafood on ice...
Prawns were top notch and we couldn't resist returning to the buffet for more...
Little Collins Kitchen is perfect for families, with a modern, not "tired" look. We found it to be somewhat French Provincial, and this was confirmed by Chef de Cuisine John who told us they were influenced by the restaurant being in the Paris end of town.
Fresh oysters with lime were a hit.
Salad Bar comprised high quality and interesting salads, such as this Beetroot and Chickpeas Salad.
Our whole family are cheese lovers, so the cheese station was of particular interest. Our kids love blue vein cheese, so they were thrilled at the inclusion of blue vein in the selection. We also felt the Camembert was particularly exceptional.
What amazed us that despite the comprehensive buffet, you get to choose a main course as well. As the whole experience was $69 per head on a Friday night, this was exceptional value. And of course with #savorandsave as members you get a great deal! The Grilled Salmon with asparagus, basil mint salted Desiree potatoes, burst cherry tomato sauce was a favourite among our family, and was cooked to perfection!
The Chargrilled O'Connor Beef was also cooked to perfection with a Hollandaise sauce and fries.
Dessert was high class with a dessert cabinet full of treats. The Movenpick ice cream on offer was a hit with all, as the ice cream flavours are premium.
We were wowed with this Happy Birthday plate with superb macarons. Also to say service was exceptional with Pierre engaging our table with French verve and professionalism.
Check out the Terrace Bar (great for private functions) and the recently opened Little Collins Larder on the ground floor.
This was a great and memorable night enjoyed by the whole family. It ticked all the boxes of modern attractive ambience for an occasion, top notch service, great food and affordability. Highly recommended.
For more information about the campaign and for a list of all the participating restaurants please visit: http://www.spgrestaurantsandbars.com/savourandsave