IDES Degustation Simply The Best
We've never been seduced by a broth before. That was a first at Peter Gunn's (sous chef from Attica) IDES perennial pop up at Persillade in East Melbourne. A theme for the night was "chaos producing harmony". Peter Gunn serves up a menu that messes with your mind and perceptions. He takes you on a journey. And the journey is to a land of the fresh and the new; a land of unique and bold flavour combinations that cause you to exclaim "of course this would work, why hasn't anyone thought of that before?"
Peter is a chef that refuses to be boxed in and dwarfed in any way. He cooks with a freedom and understated style. All the while his food is simple yet complex. While The Fat Duck has its place in theatre and performance Peter Gunn shows the brilliance of highlighting natural ingredients in new ways. His simple description "Jerusalem Artichoke" is misleading. You are led to believe you will be served a simple artichoke on a plate. But of course this is not the case. The menu description is simple but there's 9 or 10 things going on here. More action than the MCG. (The guys from Fat Duck were at the next table and we wonder what they thought of it all.) The Jerusalem Artichoke has been cooked in vinegar and water for a piquant edge, complemented by maple syrup for goodness' sake, along with apple puree, herbs and grated macadamia. A raw and raunchy Savvy Blanc from Sunbury was the surprise match that again demonstrated chaos into harmony.
The seduction continued with Radicchio witlof served in vanilla oil with sultanas, yoghurt and poppy seed. Hilary McNevin picked up on the amazing aroma. The dish appeared simple and delicate that belied its sophistication. It was matched perfectly with an over the top ripe Millton Chenin Blanc from Gisborne New Zealand.
Next was the most unusual dish of the evening. Sweet corn and coriander, pork fat and fennel. It was all about that broth. Sweet, salty, piquant. It was all going on. The dish looked sexy and stylish with small round pieces of corn dotted about that had been slow cooked in the stock. Also add coriander stalks, dried lime and star anise powder with cubes of pork fat. Not your typical Melbourne foodie Instagram pic.
The matching "wine" to the broth was wild 3 Ravens English Extra Bitter.
Rock flathead and cucumber heart showed what Peter and the team can do with quality seafood. The cucumber resonated with herbal elements. Horseradish and grapefruit? It works. The flathead itself was a joy cooked perfectly. A quality white was needed for the match and Architects of Wine Riesling was a crisp suitor.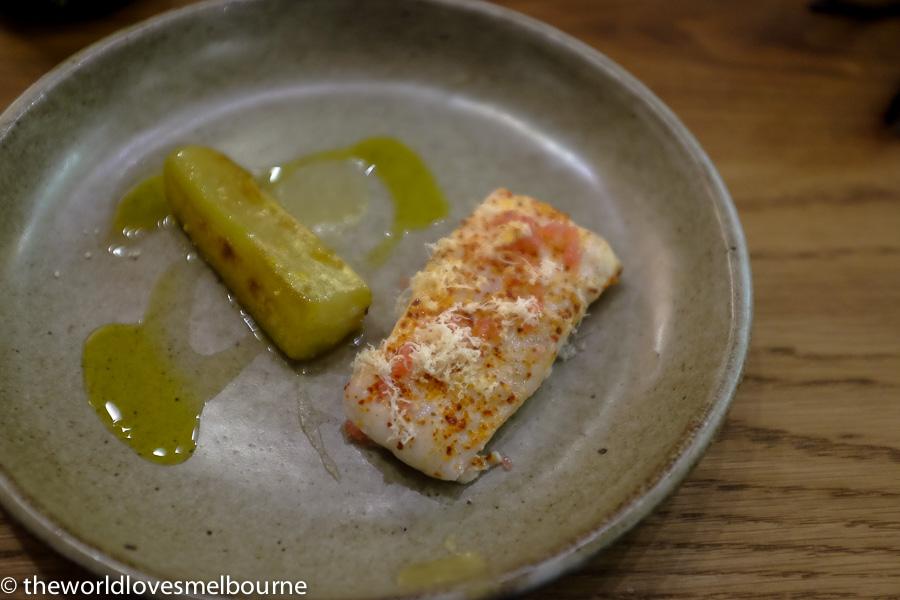 The rock star dish of the night was the 24 hour slow cooked Beef short rib with roast celery vinaigrette. The melt in your mouth texture of the slow cooked Cape Grim rib cut made us re-examine how beef can be cooked. The salty roasted celery was soft and comforting. I wanted this dish to never end (and that's not just excitable blogger hyperbole). Piedmont wine time and the Rosae Vino Rosso 2012 on skins for 150 days made an appearance, silky and with depth.
Dessert was also a journey that surprised with Sweet potato, sour saffron, and bitter chocolate. Pulling off a vegetable in a dessert is rarely done. We aren't sure about some of the beetroot desserts we've seen around Melbourne, other than they look spectacular in deep red. Again so much going on with the sweet and bitter, not to mention a cacophony of diverse textures. MA Mas Amiel Cuvee Speciale was the wine of choice and had a welcoming aged element and vanilla notes. Lip smacking dessert wine from the south of France.
But then there was more dessert. Buttermilk cup was a simple description of a complex dish. Buttermilk cream, ginger, camomile and pastry crumbs. Who would have thought?
And still more dessert... Chewy apricot was about sheets of white chocolate with chewy apricot embedded.
There's no way to pigeon hole Peter Gunn. That was the feeling as we journeyed through varying unique flavour profiles that scorned the predictable and the faux hyped scenarios of much fine dining.
The World Loves Melbourne was privileged to be at the Chef's Table with Hilary McNevin and Gemima Cody, heavyweights of the Melbourne culinary scene, along with stylish curators Paul and from Lime and Tonic and Aubrey from The Love Assembly.
Melbourne needs a chef like Peter Gunn, unbridled and focussed to bring something exceptional and different. Kudos to Ben Shewry from Attica for releasing Peter to be the wild stallion that runs free. Often chefs get labelled in terms of dishes they produce. Peter doesn't want to be labelled like that in any way. Stay free. His signature dish Beef Short Rib won him the tile of S. Pellegrino Young Chef of the Year 2015 at Crown for Asia Pacific. Peter will be accompanied by Jacques Reymond to compete in the world championships in Mila later in the year. Yet Peter is not to be defined by this dish. All his dishes are signature dishes.
As a blogger more than a food critic we are occasionally prone to overstate. Having said that we rate the IDES experience as out culinary highlight of the year. Sorry to those who thought they might have been such. There was electricity this night.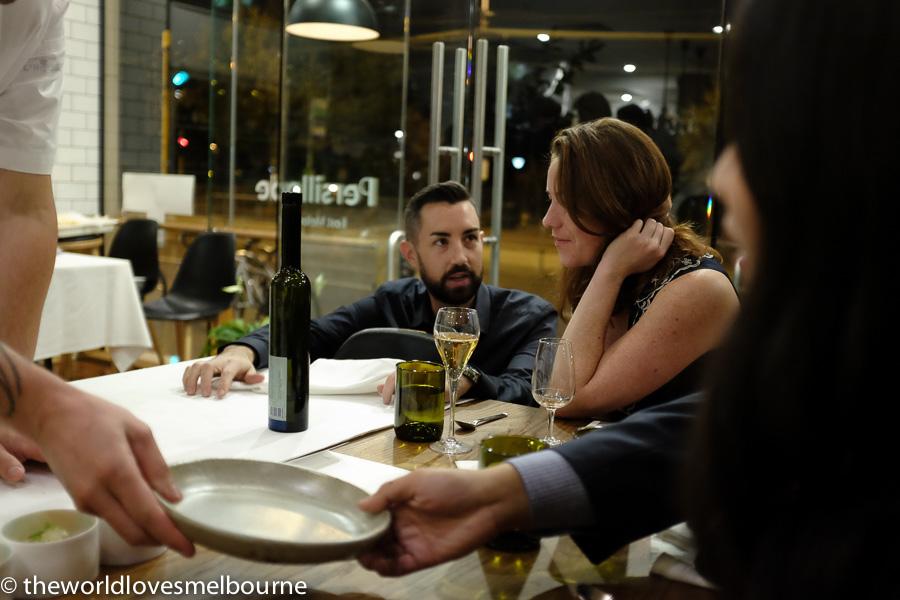 The concept of IDES is to showcase what Peter and his team can do in a foodie environment where food and experience is the king over margins and bank balance.
Peter is softly spoken and respectful but his vision is crystal clear. We are looking forward to the day Peter Gunn has his own restaurant, hopefully in Melbourne. His ability to garner a team of top chefs and hospitality identities in a once a month pop up at Persillade is itself commendable and takes a special talent. The sheer number of chefs in their whites bustling and prepping, then serving, wowed us. IDES involves significant engagement by the chefs, who explain each dish to you in high definition detail. You are then treated with stereo as beside you the owner of Persillade Aiden Raftery shares his extensive wine knowledge. As amazing as the food was this epic night, the wine matching kept stride. Revelational.