Jump Factory Loads of Fun!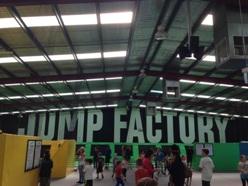 JumpFactory is Melbourne's newest and most exciting indoor trampoline park, with 8 different trampoline zones for kids (and kids at heart!) to jumparound. JumpFactory also hosts groups, birthday parties, and corporate events.
The World Loves Melbourne was invited to experience Jump Factory in the school holidays. There was much excitement in the lead up from our team, consisting of one adult and 3 energetic kids...
Jump Factory impressed us with the quality of facilities and its variety. While it's fun to simply jump on trampolines, Jump Factory has several activities which you can engage in. The kids loved the Slam Dunk activity where you can take a flying jump off the trampoline to score a slam dunk Michael Jordan style.
Or enjoy the Harness Trampolines and fly high! Check out the cool art on the walls...
Says Jump Factory on their site -
"Life is better in the air, so think big, jump hard, and land soft. Party with your friends, shoot some hoops, and lose yourself in our trampoline giant airbag. In our indoor trampoline park you can climb walls, practice flips, spins, and dodgeball skills.
But the wicked need to rest, too. So eat and drink at The Assembly Line. Refuel the healthy way and then get back to it: jump, dodge, repeat.
Your very own 1,400sqm trampoline park playground is here. Eight zones to jump around. We like to call it, controlled chaos."
Or play a game of Dodge Ball (see above)....
Although Jump Factory Rules are humourous it is evident that safety is of the highest priority at Jump Factory. The emphasis on staff training and safety signage displayed around the venue is to ensure a safe place for kids to attend.
Check out the Airdrop (below) where you can jump on to a huge air pillow...
Trampolining is suprisingly active and an hour expends plenty of energy. Pricing at Jump Factory is $15 for the first hour, and $12 per hour after that for General Admission. Pocket sized jumpers of preschool age can jump for $10 for an hour.
We were at Jump Factory for nearly 2 hours and found the exercise gave the kids a decent workout!
Refuel yourself at the cafe...
We had a great time at Jump Factory and recommend it for kids activity, holiday fun and your next party or function!