Festival Feasts Tasting Tour for Melbourne Festival
Melbourne is about to go into arts festival overdrive. Melbourne Festival is one of Australia's leading international arts festivals and has an outstanding reputation for presenting unique international and Australian events in the fields of dance, theatre, music, visual arts, multimedia, free and outdoor events over 17 days each October, this year from 6 - 23 October.
We're excited about events like David Bowie: Nothing Has Changed with the Melbourne Symphony Orchestra and friends, and Backstage In Biscuit Land which is a comic look at a much misunderstood condition of tourettes.
Now in its third year, Melbourne Festival has teamed up with some of the city's best dining establishments to keep Festival goers nourished this October. And so The World Loves Melbourne was invited along with other media to check out some of these premier dining establishments.
Starting in an exotic rooftop cocktail bar framed dramatically against Melbourne's city skyline, we embarked on a tasting tour of some of the Festival's 2016 Restaurant Partners over several highly enjoyable hours.
Loop Rooftop Bar is a great destination for any occasion and was a perfect starting point for our tour. A great vibe awaits, as does a stunning bar and colourful rooftop area with views in Meyers Place. Here we enjoyed Brisket and fries.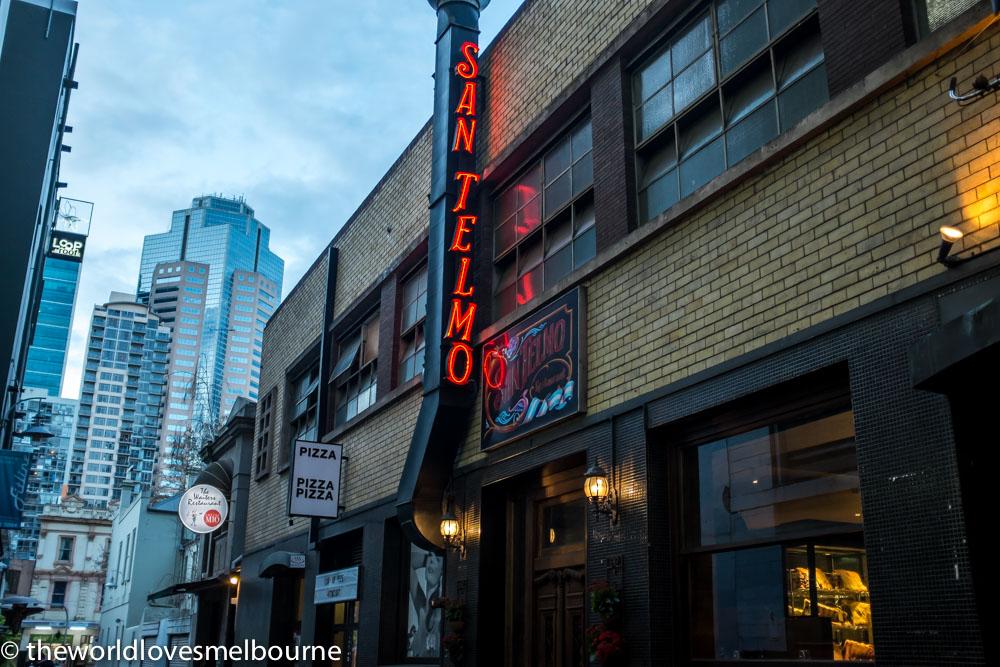 Then it was across the road to San Telmo where we enjoyed their famous Beef empanadas and Argentinian Malbec. During the Festival ticket holders can enjoy a $60pp Asado set - a selection of their best dishes in the style of a traditional Argentinian shared feast.
Fatto
is another iconic Melbourne establishment in the arts precinct that shines, and we were treated with Adelaide Hills Sauvignon Blanc and Victorian Cabernet on arrival.
Sexy food and wine from Fatto included stunning Buffalo mozzarella and heirloom tomatoes on croutons, and Kingfish crudo, avocado, fennel, onion seeds and Avruga caviar. Ticket holders can enjoy a Spaghettini of crab, lemon, chilli, parsley and pangrattato with a glass of wine for just $30.
We then journeyed just across the river on our tour where we imbibed the wonderful world of
Maha Restaurant
with Shane Delia. Spectacular was this Southside of Lebanon Cocktail with Hendricks Gin and mint.
Twice in a day we had crossed paths with Shane Delia. Maha reflects Shae's upbeat disposition and is pure joy.
Harissa Spiced Tuna, Mohammad Caviar and Tunisia Brisk was a taste and textural sensation.
Our final stop was State of Grace, an elegant destination where we were served Blueberry tartlets with creme patissiere, with a chart topping "Saving Grace" espresso martini with popcorn. Festival ticket holders will get a complimentary signaturecocktail with every booking. Just whisper the code word "saving grace".
An unmissable arts experience with superb foodie partnerships with iconic Melbourne restaurants and bars. Get on it.