KX Cycle Exciting New Fitness Hub in Richmond
The World Loves Melbourne enjoyed a high intensity fitness class and state of the art facilities at new KX Cycle Richmond, located at Level 1, 110 Swan Street. KX Cycle Richmond is the newest addition to the KX fitness family – a highly anticipated new indoor cycling regimen, fusing elements of traditional cycle classes with upper body endurance training resulting in a high intensity, full body workout. KX Cycle provides a workout experience like no other; a fun, 500-calorie burning, 45-minute full body fat blast session aimed at total body conditioning using hand weights, choreography to work the core and an uptempo playlist to encourage motivation.
Sam from The World Loves Melbourne is super fit being a Personal Trainer in the eastern suburbs. So we can tell a great fitness venue from the pack. We left feeling this place is outstanding. With a state-of-the-art cycle room and calming yoga studio under the one roof, participants have the option to sweat it out with a high intensity cycle workout or practice a calming and invigorating yoga class. The KX Cycle studio provides a unique boutique experience, reminiscent of a health retreat, featuring world-class instructors and chic modern facilities.
Located in the heart of Richmond, KX Cycle features a hi-tech 45-bike cycle studio and a calming yoga sanctuary, offering Yin, Vinyasa Flow and Hot Vinyasa classes. All equipment is provided for both workout options, with cycle shoes, sweat towels and hand weights included in the Cycle class, and yoga mats readily positioned in the candle-lit yoga room. An easy to book system, the KX Cycle App provides a seamless way to monitor classes, view schedules and schedule your workout. The studio also stocks Nutrition Bar protein balls and soon will incorporate a pre-order smoothie system, ensuring a nutritious smoothie is ready to consume the moment the class is finished.
We enjoyed the nutritious smoothies supplied with our workout.
Founded by Eli Censor and Ali Rosenberg, the duo were inspired to create something unique in the Australian fitness space after Ali experienced new concepts in fitness whilst living in New York. Eli is a qualified Pilates instructor and personal trainer, with training in pre & post natal exercise, nutrition for weight loss, cycle, boxing and kettlebell training. With Eli's fitness expertise and Ali's branding vision, they joined forces to launch this unique KX Cycle and KX Yoga space in Richmond. "We saw an opportunity to create an experience that revolutionizes the fitness industry, providing a unique service in a personalized and luxury environment. We are thrilled to launch this revolutionary new fitness concept under the KX family and hope Melbournians welcome indoor cycling into their daily fitness regime" Eli Censor, Co-founder at KX Cycle.
We think this kind of savvy is perfect for young professionals amongst others.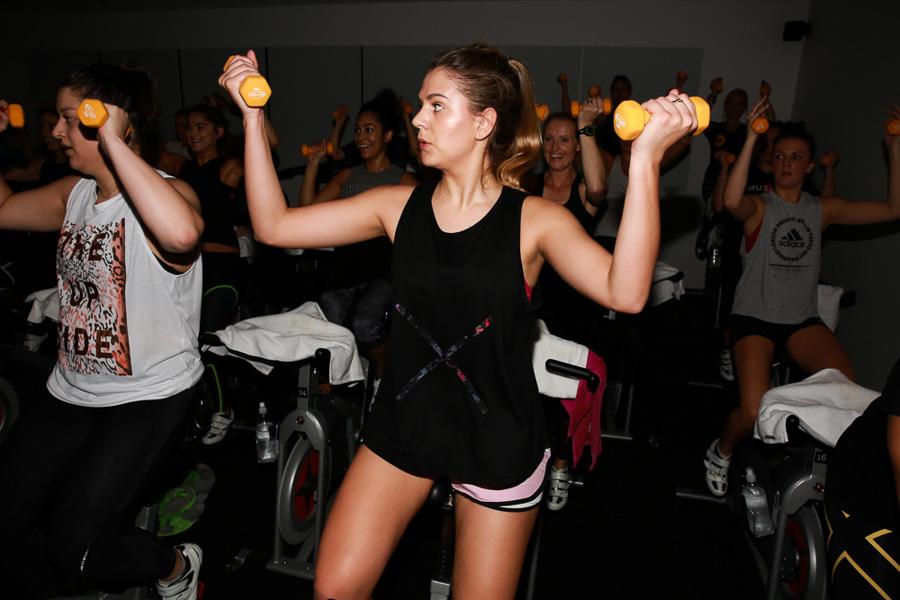 Japanese for 'change for the better', the Kaizen experience, or KX, is a philosophy that focuses on small and ongoing improvement and a mantra that KX abides. Founded in 2010 by Aaron Smith, the continuing success of the company has led to over 16 Pilates studio in VIC and NSW, KX Barre, KX Yoga, KX Retreats and now KX Cycle. KX Cycle welcomes all, from casual riders to seasonal cyclists to come ride and invites you to push your boundaries in a modern, boutique fitness environment. Leave class feeling addicted, motivated and inspired to have fun, work hard and reach your fitness goals.
Visit http://kxcycle.com.au for further information and to book your next class. www.facebook.com/kxcycle | instagram.com/kxcycle
And it was a handy gift pack given to us at the event full of fitness treats...