(Home page photo courtesy of Ewen Bell)
Here is a review of some of Melbourne's best coffee houses:
1. Crabapple Kitchen - Food 9.5, Coffee 9.5, Ambience 9.5
Crabapple Kitchen is a stunning cafe on Glenferrie Road Hawthorn that makes a huge impression with its interesting dining spaces, array of gourmet services, friendly engagement and charm. Greg Feck is the luminary behind this establishment and brings to the table fine dining and a love for travel. Experience Crabapple Kitchen and experience the world. Their Friday Night Flights are something to behold, focussing on cuisines of the nations.
The World Loves Melbourne visited one Saturday morning for our first brunch visit and are keen to return. Having imbibed literally hundreds of cafes in Melbourne we felt Crabapple Kitchen is a standout.
There's a sense of playfulness and vibrancy here - a place of colour, flair and creativity. Upon entering Crabapple Kitchen the sound system was playing Madonna "Into the Groove" - so apt.
Get into the groove boy
You have to prove your love to me
I was getting into the groove at Crabapple Kitchen from the "get go" as its conviviality central. I want to bring my partner here, and indeed my mother in law... It's that kind of place.
I've always felt you can tell a foodie destination within seconds. Crabapple Kitchen displays nuances and finesse and a good deal of care in its menu. Walk in to a world of charm, where seating material reminds me of my childhood with blooms of floral against cream. The fitout brings the charm of yesteryear with a splash of modern, notably the exposed brick and naked bulbs (not totally naked with clear jars as coverings).
Crabapple Kitchen has some of the most engaging staff around. Some cafes struggle because staff are not certain or confident beyond a basic level of information. Ask them if they recommend a dish and staff at some cafes just reply, "Don't know, never tried that one." Here at Crabapple Kitchen that's certainly not the case with staff abreast of the menu and eager to make recommendations. Staff at Crabapple Kitchen are foodies (I know some people hate that word but not sure how else to put it). They know their stuff.
Enjoying my little elongated old school table (charm again) I ordered some of Crabapple Kitchen's fine coffee. My latte was impressive and had the required strength for a Saturday morning. Check out the caramel hue on the latte below...
Crabapple Kitchen has one of those menus you can choose from blindfolded throwing a dart. I could see I was going to spend 20 minutes in sweet indecision trying to choose, so I asked the waitress to help me with a recommendation. Having leaned towards the pancakes, I leaned back to embrace her recommendation of Sweet corn and chilli fritters w grilled Cyprian haloumi, avocado, tomato, cucumber, red onion and mint. Her expert advice was to order sides of a poached egg and a serving of chorizo. The wait staff told me the chorizo would set the dish off - and she wasn't wrong.
Crabapple Kitchen is such a revelation
Dining here is a sweet sensation
Such a pretty dish from a team that understands nuances. Hail the mint to give extra zest! My impression was of a refreshing hearty breakfast imbibing fritters with kick and a bevvy of indulgences including the haloumi and chorizo.
So pretty was this dish, I took this photo (above) to post on Instagram with filters.
Crabapple is pumping baby on a weekend. When I sent a shout out on Twitter several people messaged me about their love for the Friday Night Flight Nights where Crabapple Kitchen somehow manages to create amazing themed dining experiences of various countries and regions. On the Friday following my visit you could experience the best of Portugal.
What is different here to your ordinary plain vanilla cafe/restaurant is these guys have several top chefs and a crack team in the kitchen. Not just executive chef but sous chef for goodness sake. I'm keen to return for lunch and dinner, with my eye already on the Free range chicken schnitzel and Judy's pork chops.
Crabapple Kitchen floats my boat.
Going to get to know you in a special way
This doesn't happen to me everyday
---
2. St Ali, 12-18 Yarra Place, South Melbourne – Asian/Middle Eastern - Food 9 Coffee 9.5 Ambience 9
St Ali is a hip cool fun uber café with amazing ambience, stunning coffee and excellent creative menu choices - hidden down a laneway in South Melbourne. This is one of my "go to" places in Melbourne and have loved each of my many visits.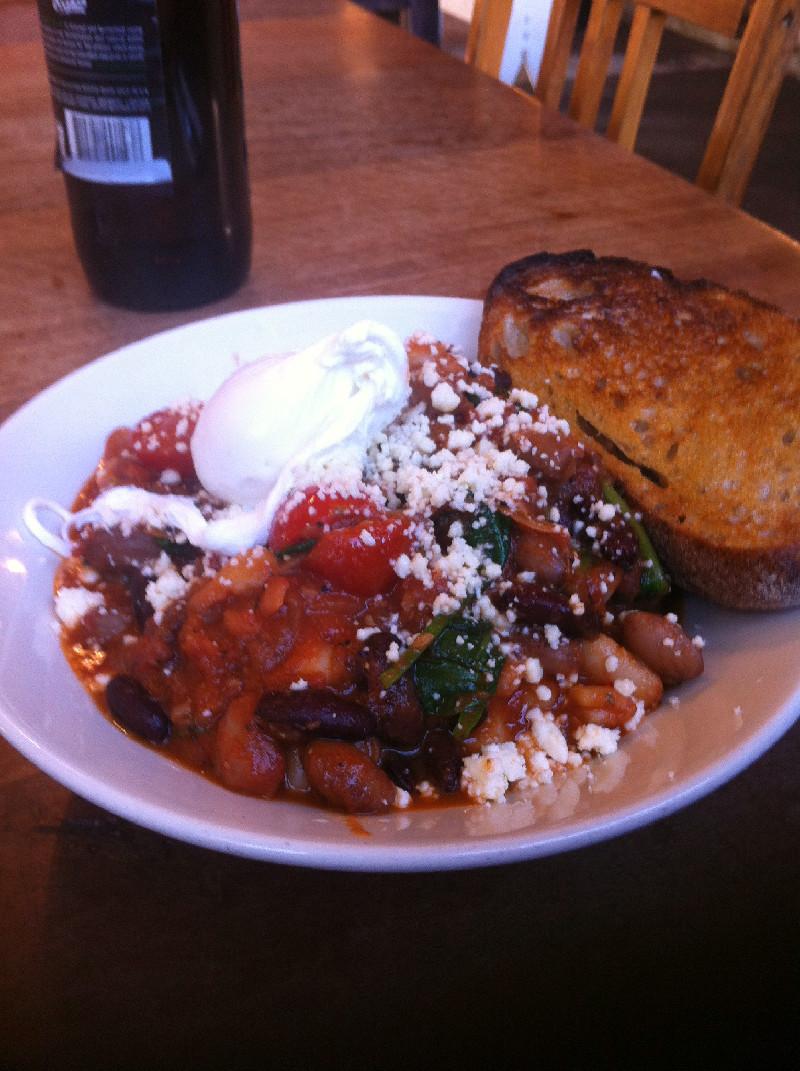 Walk in to a hip if not grungy establishment with industrial themes. The friendly staff are so warm that you don't mind waiting that 10 or 15 minutes for a table (no booking policy). The staff are also helpful in arranging tables to fit in those groups. We arrived on one occasion to meet an old friend and her partner. The attentive staff were accommodating to find us space as soon as it became available. Another time we met with friends from both Adelaide and London – dazzled by the vibe of St Ali – and staff managed to find us space during a packed Saturday brunch session.
The menu options excite, are creative and show a sense of fun. Brunch highlights include From Chickens With Love options such as eggs anyway with sides or My Mexican Cousin corn fritters. Or for lunch go the Smokey and the Bandit Victorian rainbow trout. Or order the Chris-P confit pork belly. The Chicadee whole chicken thigh burger is a sensation.
The cakes and pastries are also a highlight at St Ali and great with any coffee.
Music pumping, grungy concrete floor, awesome flower arrangements, and the mirror ball, all add to the ambience. Love the communal tables. Love the different interesting areas to dine.
At the present time of writing they are launching a Balls pop up restaurant in July.
Loved lunch here, meeting a good friend from Jo'burg now moved to London. He rated St Ali as a top café to be found anywhere in the world. I found him in a state of bliss when I walked in, already reading a paper and ready for his second amazing coffee. We both enjoyed a legendary lunch and felt many memorable meeetings and catch ups involve St Ali.
Known to be one of the best coffee establishments in Melbourne, St Ali exudes a serious coffee devotion. The house blends are great. Single origin options are dazzling – just look up and check out the board. Panama. Costa Rica. Colombia. Honduras. And others. St Ali brew amazing Cold Drip, Pour Over and Syphon coffee. It's hard to have just one coffee - usually a coffee or three here. St Ali is a coffee wholesaler and roasts it's own coffee, supplying notable establishments across the city.
St Ali is spectacular.
---
3. Proud Mary, Collingwood Food 9 Coffee 9.5 Ambience 9
Proud Mary has been crowned Best Cafe in The Age Good Cafe Guide awards. Nestled in a warehouse like premises in Collingwood, Proud Mary with its uber fit out, is the coffee summit. Inspired by owner Nolan Hirte, it exudes rarefied air of coffee excellence. Hirte's stamp of excellence is on every aspect in terms of ambience, passion, coffee sophistication and the notable cuisine. Proud Mary is a benchmark for roasters and coffee lovers in Melbourne and along with its sophistication has the charm of a river boat queen.
We had an amazing private session with the owner Nolan Hirte - an unforgettable Melbourne moment. We were visiting the cafe as part of our work custom to visit a different cafe each Friday - known by us IT guys as eFriday (experimentation Friday). Nolan overflows with coffee passion (a good match with the Creedence song) and none of the flame has died from his many years in the industry. Proud Mary keeps on burning.
Just listening to Nolan speak about his trips to source the world's best coffee and his belief that great coffee can bring change, is contagious and inspirational. When he speaks about his recent trip to South America there's an excitement.
Nolan gets off the plane and into the vehicle that takes him to an incredible coffee estate in Guetemala. There he spots some amazing coffee and is able to pay the owner a premium to source coffee he says "just exploded with flavour intensity in my mouth". I'm there brother! Nolan was able to persuade the owner not to sell that coffee at auction but he paid a premium to have it airlifted to Australia and its currently on the menu at Proud Mary. These are the lengths Nolan will go to to lift coffee excellence to dizzying heights.
The complexity of the Panama filter flavour was astounding. Nashi pear flavours.

Nolan has a mother of a Synesso, custom made, that can handle several blends at once. This $40,000 heavy artillery is perfect for espresso lovers. My creamy latte had such an intensity of buttery and caramel flavour I just wanted to sip it slowly and let the flavour resonate. Nolan then took us through the filter and cold drip processes at Proud Mary. This is where science and coffee and passion comes together. The Costa Rica Geisha cold drip has such an intense flavour that lingers for some time. Manuka honey and green apple flavours. There's a sweetness as the cold process is less acidic. The word is "geisha" baby - grab yourself one. The pour over filter was a V60 filter process, a manual process giving complete control over brewing time and temperature.
Hipster staff work hard (big wheels keep on turning) but super friendly and engaging every customer like long lost friends! The service from barista Courtney was awesome as she engaged our table on several occasions, made great suggestions, and was personable. Happy to recommend menu options and super passionate about the coffee. She told us about coffee culture in Toronto but was sure Melbourne was at a higher level and sophistication.
Love the ambience here with loads of light coming in, huge windows, exposed brick, high ceilings, large tables and stools along the bar. Also a door handle with character.
Many times I've been here and I've been on a coffee high all morning at work from my experience at Proud Mary! Also basic breakfast is great with perfectly cooked eggs and herbs on sourdough... As I say great places cook the simple things well with class and attention to detail.
The lunch menu is also great! Best Sammy I've ever had for lunch with Dench bread, chickpea, goat cheese, rocket, roasted capsicum, eggplant, and roasted zucchini... Being a meat lover this vegan combination actually rocked my world! Not to mention the home made chutney... Great friendly table service. Sensational.
Proud Mary gets busy. Came here with interstate friends on a Saturday afternoon and was devastated that there was a 20 minute wait for a table with our car parked over in Smith St . with time running out on the meter – so couldn't do. But a great place to take out of towners. Hitch a ride on this river boat queen!
---
4. Auction Rooms, 103-107 Errol St North Melbourne – Café - Food 8 Coffee 9.5 Ambience 9
Auction Rooms is a standout café in Melbourne and exudes industrial chic as well as being a serious coffee haven. Housed in the old WB Ellis Auction House it is an oasis of coffee perfection in trendy North Melbourne. Loads of serious coffee lovers descend on Auction Rooms in its accessible location on Errol Street.
It's famous for its serious coffee but Auction Rooms also serves great food! Hearty interesting meals are prepared with flair. The menu selections feature inventive names playing with the auction theme such as "opening bid" (two free range poached eggs on sourdough with bacon, field mushroom, grilled tomato and sautéed spinach on Dench sourdough) and "shady deal" (Moroccan style tomato and chorizo stew with eggplant served with poached eggs, olives, dukkah and feta and flatbread).
At lunchtime the Roasted pork belly served on a corn crepe with coffee BBQ sauce is a popular menu item. Then there are the fine cakes to go with that coffee!
There are so many dining areas here such as the outside street tables, the high stools at the bar, the small tables in the lower level, the communal table behind the counter and the courtyard.
Auction Rooms is a powerhouse café in a coffee mad city. Well worth a visit as a great example of the Melbourne coffee scene.
---
5. Silo By Joost, 123 Hardware Street CBD – Café - Food 9 Coffee 9.5 Ambience 9
---
6. Three Bags Full, Nicholson Street Abbotsford – Café - Food 8.5 Coffee 9.5 Ambience 9
Three Bags Full is a Melbourne darling and one of our more eminent cafes. The vibe on a pumping Saturday brunch time is fabulous. Its another foodie haven and the coffee is seriously excellent.
Some confusion at first as to whether I was in Richmond or in Abbotsford. The colour scheme suggested I was in Richmond (bright yellows) but we were in fact in Abbotsford. Great ambience here. Walk in and immediately fall in love with this place.
Three Bags Full boasts a large open space and natural light. Plenty of tables but often they are packed. Wondered whether the name Three Bags Full had anything to do with it always being packed out. Love the long communal table which people seem to gravitate to.
I should speak about the coffee. These guys are passionate about coffee and provide a great selection. They provide pour over, Clover and single origin offerings. I'm happy to come here just for the coffee and even line up for the privilege. Knowing they use Five Senses is comforting.
This ex warehouse is very cool and features polished floors and exposed brick. This may lend to a noisy room but who cares, I'm into that. Venture outside to enjoy the ambience of the precinct at small tables.
Three Bags Full a great name as one of the best breakfast/brunch places around. These guys cook the eggs perfectly and serve everything on quality bread. Interesting options ranging from killer muesli to the big breakfast to a delightful remoulade. And not forgetting the Veggie breakfast.
Great stories of people waiting half an hour for a table. It's not like there's heaps to do nearby in the neighbourhood of leafy Abbotsford. So good commitment. Tried one Saturday to come with a group last minute, but the estimated wait time was imposing.
Three bags Full is also a great option for breakfast on the way to work in the city. Love the friendly service. Busy, busy, busy – but still attentive and personable staff. When paying or just ordering coffee you're invariably standing in line and eying off their gourmet products to take away.
Three Bags Full is a stellar cafe that continues to shine.
---
7. Pellegrini's Expresso Bar, 66 Bourke St Melbourne – Café - Food 8 Coffee 9 Ambience 9
Pellegrini's, a Melbourne icon, puts a big smile on my face. It's easy to fall in love with Pellegrini's as it exudes so much charm and nostalgia. Classico! Often misunderstood in a sea of nouveau cafes and restaurants, Pellegrini's is unique.
It feels like 'real' Melbourne with its history and standing. I've been there a few times and love it. Where else can you go for such quality banter, home cooking and strong coffee?
I tried entering Pellegrini's very early one morning and couldn't get in the door. That's right! The owner (I think it was), came and unlocked the door and showed me in! That was cool.
First the coffee. I asked for a latte (in one size glass) and was poured something with an extremely dark colour - telling me this one is as strong as steel. I love a strong coffee. I asked the barista whether this was a triple shot? "No" he said, "nothing to do with shots. It's about the blend and the way it's made. If the shots are no good the coffee is no good – so what's the point of shots?" You gotta love that philosophy.
I then asked whether the Pellegrini's blend was a particularly strong blend? "Yes!" the barista said. Pellegrini's use Vittoria coffee. I then saw the picture of Al Pacino (the Vittoria representative) on the wall. Underneath it said "We know coffee." This was macho coffee territory. In fact I could imagine Al Pacino in Pellegrini's knocking back a strong coffee or two and delivering a few macho quips.
Then the barista went on to show me the way Pellegrini's coffee is made. "See this", he said pointing to my coffee. "See the colour is dark", he said, running his finger down the glass. "See I put not as much milk in the coffee. Less milk makes it stronger." I had to smile as I love a creamy latte – but I had to again recognise the philosophy of Pellegrini's. Nouveau coffee establishments may come and go but Pellegrini's belts out it's no nonsense strong coffee for decade after decade. Nothing flowery or cute here!
I cheekily asked about the coffee machine – whether it was the original – and of course it isn't. "We've had a few over the years", the barista said. This latest one is apparently eight years old – almost new in Pellegrini's lifetime.
Ordering breakfast was also classic. I asked about the menu and the barista told me they do a simple breakfast and something about bacon and eggs. So I said "I'll have the bacon and eggs then." The barista looked at me and said, "No, something simple, we don't do bacon and eggs!" I smiled. That's cool. What do you suggest? He recommended a salami and cheese toasted sandwich. That was fine by me!
Plenty of regulars grace Pellegrini's in the mornings. Some of them speak to the barista in Italian. I can only make out a few words like "bongiorno!" and "ciao"! A hilarious conversation took place between the barista and a lady customer in Italian. I kept hearing a word in English, interspersed in the conversation, which caught my attention. The barista and the owner nearby realised I must be wondering what was being said! The commotion and laughter and interaction between staff and customers that ensued was highly amusing. I doubt whether this delightful cameo would have ever taken place in a nouveau café?
Nostalgia everywhere! Love the long bar area with the iconic stools, and the mirrors along the other wall (also with iconic stools). Love the memorabilia on the shelves with celebrities posing with Pellegrini's.
Pellegrini's is a classic Italian espresso bar in Melbourne. Sometimes misunderstood you need to appreciate it for what it is rather than what it isn't! They do pasta and delightful Italian treats well… I still have smile on my face! Ciao! Ciao! And Pellegrini's really knows coffee!
---
8. Seven Seeds, 106-114 Berkeley St Carlton – Café - Food 8 Coffee 9.5 Ambience 9
Seven Seeds is such a great coffee house and has such an impact on the Melbourne coffee scene. These guys are culture changers. Amazing to be walking down Berkeley St and suddenly hit this coffee haven. Seems oddly out of place in this neighbourhood. Or is it? With students and hipsters coming from near and far.
Serious coffee devotion here. Mark Dundan has shaped and formed a culture of all things coffee. In fact Seven Seeds has a huge impact on the Melbourne coffee scene. Seven Seeds is not just a café, it's a hub. An icon in fact. If you ask people of Melbourne to list the top coffee establishments, it often comes back to Seven Seeds. If you mention coffee, the usual question is, "Well, have you been to Seven Seeds?"
Seven Seeds is a roasting centre. It affects the coffee climate of Melbourne big time. They have a fascinating cupping room and the ability to educate the masses about coffee. Coffee is the culture…
Incredible coffee. My latte had great crème, aromas and after taste! Love the alternatives also to espresso. Having a Clover coffee machine is awesome! Seven Seeds provides alternatives to espresso fixated consumers and helps them to widen their tastes.
Come here for great breakfasts. Muesli came interactive with a small bottle of milk to pour - nice touch.
Often packed with students… Visited with office buddies and with family! Work buddies impressed by the vibe and the quality of food and coffee. And the family loved it here. It's never too young to educate kids about coffee. Service here is excellent. One of Melbourne's best.
---
9. The Little Mule Cycle Co. and Cafe, Somerset Place – café - Food 8.5 Coffee 9 Ambience 9
One of my favourites in Melbourne! Want to keep coming back! Visited Little Mule spontaneously for lunch with with my mate Shane. Off the beaten track this was a gem! Located in Somerset Lane you could say Little Mule is part of the coffee triangle with amazing cafes nearby... This one is unique and up there with the best of them...
I love the diversity of Melbourne cafes! What a great combination of cycling and cafe!
This is serious! The founders and co-founders are bike enthusiasts! Awesome bikes are mounted on the walls! These bikes aren't just for decoration but the real thing! They are fair dinkum, custom made and for sale. Not just for vibe but for the road! That's cool! Lifted the tag on one and it was $1300 - so more for the serious rider than mon ami.
The vibe is enhanced by the tables and cosy lounges... This is not the house of pretense but the house of hospitality.
Great coffee from hipster but friendly baristas! Keen for a chat it's not just the coffee that does the talking. Adds to the ambience. And some of the best coffee around!
The food matches the standard of coffee... Some tasty sangas with decent seed filled bread! Shane enjoyed his fresh tasty baguette! Was going for the hot chorizo dish but the rice cooker was on the blink. Didn't care. Simple but great food... Plus there's melted cheese toasties! All made with fresh ingredients from the Vic Markets!
Time for a second visit… Loved the breakfast here! Asked about popular breakfast choices by friendly staff and was recommended the Baked Eggs with secret tomato mix, chorizo, and Spanish blood sausage. Also recommended the Avocado on toast. So I went for both! The baked eggs came in a piping hot ceramic bowl/tray and it was superb! Also melted cheese in the mix. The secret tomato mix was incredible featuring quality deep red tomatoes with a bit of a kick. This was a great breakfast option! And the avocado was also great sliced and arranged on two pieces of quality seeded bread. Coffee was brilliant again!
Noticed early morning breakfast crowd congregating to the communal table rather than all the individual tables. It is a great vibe there looking across at barista and chef and then observing all the bikes mounted on the walls. Love the cool black couch in the corner – for romantics or for therapy? Many also like to sit on stools facing the bar and read the papers provided.
Hang on – just noticed a bloke wearing a wide brim Spanish hat just walk in – must have smelled the chorizo! This café is cool and lay back and offers much!!
Open for breakfast and lunch...
---
10. Brother Baba Budan, Little Bourke – café - Food 8 Coffee 9.5 Ambience 9
Extremely popular hipster joint which makes highest standard coffee. Soul brother café to Seven Seeds and de Clieu. For those that know their coffee history, it was infamous revolutionary Brother Baba who in the 17th C smuggled seven seeds of coffee out of Yemen and into India where the plants thrived. This started a global coffee revolution which has culminated in the sensational coffee scene we see here in Melbourne. BBB is passionate about coffee and in particular specialty coffee.
Look inside the window from Little Bourke and invariably see wall to wall people, some at the communal table reading but many lined up for some of the best coffee in town. Single origins, filters and awesome blends. It always looks like a cool party. Took my friend from Dubai here and he had to concede that Melbourne has such an awesome coffee culture.
A talking piece is always the curious montage of chairs hanging from the ceiling (spectacular but really hard to photograph). I asked a barista if it was ok to photograph and he said a lot of people photograph the ceiling chairs – so I felt better. Limited room in here for many to enjoy a sit down experience – there are a few tables with stools. Most people gravitate to the communal table by the window or indeed the communal table behind the baristas with a selection of cakes and biscuits above.
The star of the show is the coffee. The default is the Seven Seeds blend which is awesome. A smart drinker will order the Coffee of the Day single origin. It makes sense as it is only slightly more expensive.
The food options consist of pastries from Brioche by Philip. A tasty almond croissant. Or how about a ham and cheese croissant for breakfast? Or a gourmet cake? While impressive it's really all about the coffee at BBB and the baristas are on fire here working over the Synesso. They are super friendly (everything is amplified in a small café)! I noticed four staff working hard one morning (two guys and two girls) and had the evil thought that they might actually be Abba seeing the two guys were bearded. My coffee was so creamy with nutty characteristics. So good! You can also purchase Seven Seeds coffee here…
Cool having a mounted ipad playing music selections. The barista decided while I was there one morning to change to the sunshine collection (blend). I thought it might be Mow town but it wasn't. There's also a retail section here where you can pick up your Aeropress. One of the best!
---
11. Manchester Press, 8 Rankins Lane, CBD Food 8.5 Coffee 9.5 Ambience 9

Manchester Press is a spacious funky cafe that you'll want to come back to. This deserves to be a global sensation like Manchester United.
Possibly my favourite café in Melbourne - it's agreat place to meet with friends. Another laneway gem where coffee meets art. Manchester Press is part of the coffee triangle (as opposed to the Bermuda Triangle) with nearby places like Brother Baba Budan and Captains of Industry.
This is a huge spacious cafe - a former gallery and named after the former printing press business. Friends of mine remember it's former life - the renovation has been impressive. The mystery is accentuated by the fact that you need to pull back the sliding door to enter.
Coffee here is amazing with highly skilled baristas that have a knack with latte art.
This place has a rustic and at times retro feel (check out the menu with old school labels on perspex). Also check out the water jars on tables (with hydrochloric acid labels). Don't worry the coffee is acidic - but not that acidic! You can really relax here – read the paper and check your emails. Chilled! So relaxed here that a customer went to the bathroom and on passing asked me to protect his back pack and belongings. I passed the test. (I now live in Rio).
The breakfast options including the raisin bagel with jam and ricotta are outstanding – good value and huge dollops of both jam and ricotta. In fact Manchester Press does bagels really well with other options (open sandwich style) and toppings available. I was told by the waitress that all menu options were available at any time – not just divided into breakfast and lunch. And that the menu changes whenever the chef feels like it… But some bagel options are more suitable for breakfast.
The soft egg bagel with salmon breakfast option is a sensation – sounds simple and harmless but it packed a mighty punch! You crack open the top of the soft boiled egg served in a cute egg cup with oriental figurines, then smear soft egg all over your piping hot bagel. Then you place some salmon from the generous pile on the plate on top of your egg and bagel! So gooood! There's lemon to squeeze over the salmon and a great little salad with lettuce, tomato, onion and cucumber - with a killer dressing. Don't think it's just about the coffee and the vibe here – check out the simple but awesome food! Coffee here is sensational and of the highest quality! Creamy and comes with amazing latte art (love the coffee meets art theme here).
Check out the art on the walls by artist William Montgomery.
Came here again for breakfast with the family and we all loved it! Now thinking of bringing the mother in law! Great chorizo and peppers with bagel option – some real kick in the chutney! My wife ordered the salmon bagel option - this time even more salmon than mine from earlier in the week! My 7 year old son went the baked eggs and chorizo and absolutely loved it!
My daughter went the coco pops (great option for kids as well as kids at heart). My son ate the rest of the coco pops my daughter couldn't eat. And I ate the rest of my wide's salmon that she couldn't eat. Took some happy snaps with shades of the Griswalds! Even coco pops look good on Instagram. The regular coffee is quite small so I think I'll always go for the large in the take away cup. The kids hot chocolate had amazing latte art (except it wasn't a latte). Hot chocolate art?
Sensational service every time with staff friendly and willing to explain stuff (interesting they place the bill in a glass on your table). We have a ritual - I keep going to the counter to pay at the end of my meal without producing the bill in the glass – so they go back and grab my bill from the table again. On leaving I noticed a mirror ball mounted high in Rankins lane casting an interesting light array down the lane. All adds to the coffee and the art experience!
---
12. The League of Honest Coffee, 8 Exploration, CBD – Food 8 Coffee 9.5 Ambience 9
One of the best coffee houses in Melbourne with a strong following. This is the crew from East Brunswick Project and Padre Coffee. They've really outdone themselves with this latest addition to the Padre family.
After 8am this place seriously hums. I should know - I've been coming here for months! Serious coffee devotees come here for their next fix! As a regular I am yet to receive a poor offering (or dishonest coffee) and always leave this place on a coffee high!
The League of Honest Coffee present great Pour Over and Cold Drip Options. I'm prone to a creamy latte which is a bit old school but these guys do it so well! Love the bowls of coffee! In life I reflect that sometimes bowls of latte lose their punch in the compromise of too much milk! But this is amazing. Here is an important point -The League of Honest Coffee use decent milk in their coffee unlike a lot of cafes. (My barista training taught me that milk quality is a major factor in a great coffee).
This café has a great ambience with a spacious well thought out design and functionality. Love the cool suspended mezzanine feature. Love the use of funky stools and tables. Love the massive communal table by the enormous window! You can spread out with a newspaper....
Love the use of green (is it jade?) and brown. Love the polished grungy concrete floor. Love the wood paneling. Staff are super friendly, skillful and knowledgeable! No-one here is condescending (have you seen the You Tube Coffee Snob clip?).
The League of Honest Coffee totally lives up to its name. It's about the coffee. Single origins are a great way to go and there's plenty of them! This morning I enjoyed Honduras single origin latte with nutty characteristics. The Padre Blend is also amazing and as the barista told me, is extremely flexible when making milk based coffee.
These guys do their own roasting. I took them up on the deal to get a coffee container for $14 then get your first beans for half price. So I took home some of the tantalising Padre blend.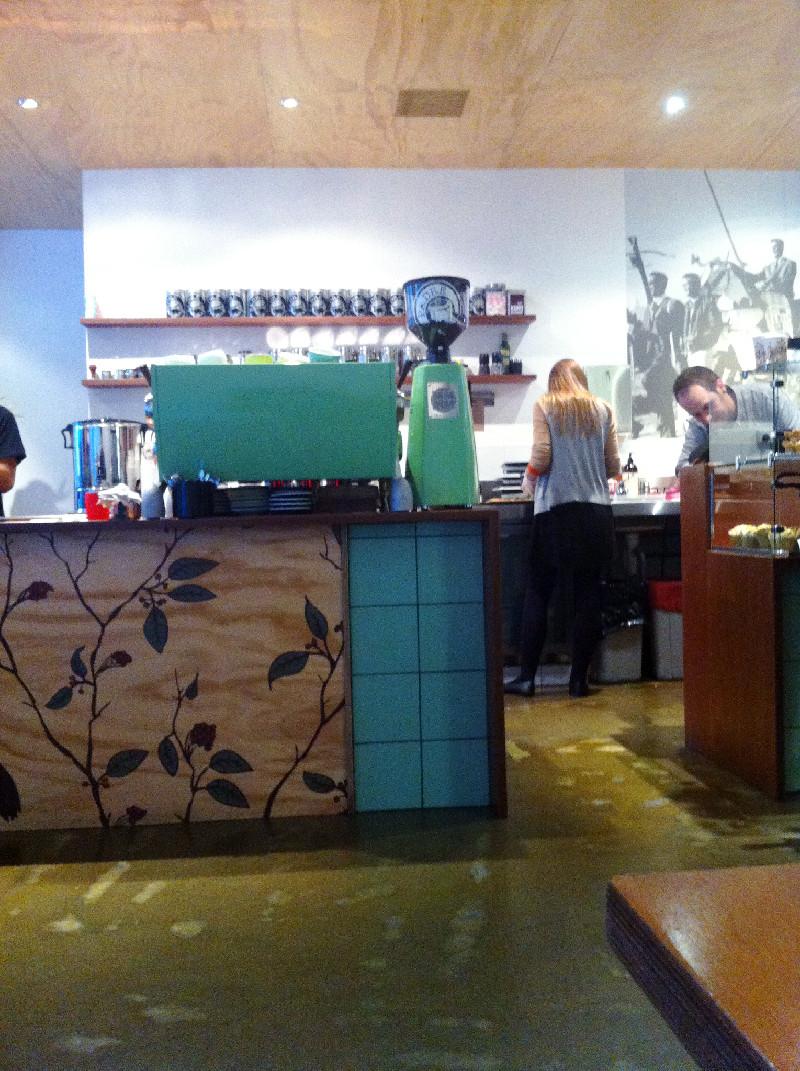 More action behind the counter than finals at the MCG! A large counter/bar area is witness to a throng of baristas and staff passionate about all things coffee. And skilful! Their equipment is amazing and these baristas have more artillery than US Forces - in fact they could win a war with that machinery!
Food options are simple but gourmet. A recent addition of killer Quesadillas is welcome, notably the Otway Ham and Smoked Chicken varieties. The egg and bacon tart is a great breakfast – gourmet tart for only $3.50. I've had about 40 of these things by now - so addictive including the pastry!I also love the breakfast vegetarian tart and the almond croissants are sensational.
---
13. Patricia's, Little William Lane – Cafe - Coffee 9.5 Ambience 9.5
Another nondescript entrance greets the coffee lover as you try to find Patricia's in a laneway next to the 500 Bourke St precinct. Behind that nondescript entrance is a world of serious coffee devotion and a fresh concept from Bowen Holden (ex Seven Seeds) that delivers with class and flair.
The high note is the coffee, which is simplified by the 3 options of black, white and filter. But behind the simple options there is much thought and acumen and the great idea of sourcing the best coffee from popular Melbourne coffee spots. It's great when you can promote Proud Mary and Seven Seeds in the same breath. Or Market Lane and Small Batch in another.
The philosophy around a 3 options coffee choice is that most white coffees are separated by a degree or two of froth. Yes only 3 options, but the 3 options are great! What is great is if you consume on site they will supply you with decent mineral water, indeed a palate cleanser, which draws parallels with wine tasting.
As there are no tables here it is not a place to linger for hours. It's tailor made for city workers who have limited time to grab a coffee and head back to meetings and the mountain of emails.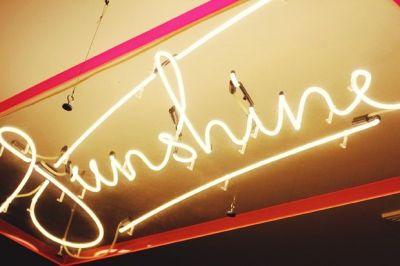 With serious coffee equipment and friendly baristas and an up tempo feel (David Bowie Lets Dance playing over the system), it is hard not to love Patricia Coffee Brewers. Patricia Coffee Brewers is a standout café sure to become many coffee lovers' new favourite place.
---
14. Small Victories, 617 Rathdowne Street Carlton North – Cafe – Food 9 Coffee 9.5 Ambience 9
Small Victories is a stellar new cafe in leafy historic North Carlton making its mark. Transformed by Arlic Hansen and Ben Farrant, notable Melbourne culinary identities, Small Victories is taking Melbourne by storm. Come here for superb gourmet meals, great coffee and excellent ambience. You know its going to be good when a cafe makes its own produce in house - such as the yoghurt and the smoked bacon. It's a cafe that attracts foodies with its clever nuances and flavour combinations. Small Victories rises above the pack in a highly competitive precinct.
Dining is enjoyable with several (counted 5) dining spaces with cosy timber tables and sleek communal sharing tables, stools by the counter or along the window, upstairs dining area with mini skylight/atrium or you can sit outside and enjoy the ambience of Rathdowne Street.
Coffee here is top notch with the star inclusion of Dane Johns barista extraordinaire ex Wide Open Road. Small Victories uses Wide Open Road blends and the coffee is seriously good. The lattes have nutty and buttery characteristics and are of a decent strength.
Decor is modern and cool with large naked bulb lighting (revealing a groovy filament), grey couch backing along the upstairs wall with mirror above, a marble bar and great use of timbers. Not too much on the walls giving a sense of modern chic and not old world clutter.
Funky music adds to the vibe played on a turntable with vinyl selections.
There is a menu brimming with imagination and flair. The breakfasts are wonderful. The Small Victories mixed grill is sensational with Eggs, bacon, beans, blood pudding, croquette, and two pork sausages.
This is no clumsy fry up or predictable big breakfast. The leek and cheddar croquette was superb and creamy inside and I could have eaten about six. The eggs were perfectly cooked and runny. The sreaky bacon was high quality, smoked and prepared in house. The blood pudding was delicious and served fresh and had some moisture - unlike other black puddings elsewhere which have been dry and caked. And the sausages were gourmet, tasty and not too fatty. The beans were also impressive with gremolata on top. The accompanying toast was also excellent.
I was also tempted to go with the Corn (creamed) and streaky bacon breakfast with lardo soldier and thyme salt, which looked like something different and imaginative. The toast soldier with melted lardo is awesome.
These meals come in terracotta dishes. At the time they'd run out of big plates, so my mixed grill came in two seperate plates - no problem.
The small bowl of pink salt placed on the table with the meal was a nice gourmet touch.
Or you may want to try the Granola with elderflower, poached rhubarb, lychee, organic yoghurt and berry powder.
Small Victories also excels with its lunch selections including gourmet soup, pastas and sandwiches.
Small Victories is a super impressive and chic foodie haven that excites.
---
15. Hardware Societe, 120 Hardware Street, CBD – Cafe – Food 9.5 Coffee 9.5 Ambience 9.5
Hardware Societe is a great place to go for a Sunday morning lazy breakfast in Melbourne! It captivates with French sophistication and charm, and a high quality dining experience.
If you're looking for a restaurant that's able to offer something more than the usual brunch options, with a certain je ne sais quois, then Hardware Societe is the place for you!
Any restaurant worthwhile in Melbourne may involve a table wait and I've gladly waited for 20 minutes for a table at Hardware Societe. Spectacular news is that Hardware Societe are now spreading out and have taken over the building next door. The revolution is spreading!
All eyes are on the white uniformed rock star chefs with awesome tattoos who perform wonders in the kitchen for all to see... Each dish has amazing flair and bathed in TLC. There is a French attention to detail!
After a big night out you may prefer the Banana bread with caramel and crushed nougat. Or Fried brioche with nutella, strawberries and toasted hazelnuts.
Even the sourdough fruit toast is sensational, served in a pretty arrangement on a wooden board with an extraordinary amount of butter. And it comes with a cute butter knife…
Be impressed by the communal table and chic plastic chairs. Where space is at a premium they're functional but also can be fashionable.
The décor has a cool factor to a sublime degree including damask dark wallpaper imported from Germany and interesting lighting arrangements with naked bulbs. The whole place has an upbeat colourful feel to it...
Coffee here is also great and sometimes underrated. The crema is velvet, and the coffee showing superb consistency, flavour and strength. A nice touch is the small round donut that comes with each coffee.
Service is fantastic with hipster staff wearing aprons to set a French tome. They are both engaging and attentive. Open for breakfast and lunch but not dinner. Popular and a talking point around Melbourne. Rightly so!
---
16. Badger v Hawk, 333 La Trobe Street CBD – Café - Food 8 Coffee 9.5 Ambience 9
Badger v's Hawk is a cool cafe on La Trobe and a great find for those who frequent the precinct. It shines with great coffee, personalised service, cool fit out, and a killer back courtyard section. I noticed they use Proud Mary coffee and they acknowledge Proud Mary is on fire at the moment.
First I'm impressed by the signage and large windows facing La Trobe. Enter into a coffee haven with light streaming through the windows. An iconic barista by the name of Cosmo Hawke will engage you and pour you a spectacular coffee using a La Marzacco. Go a cold drip or a pour over or a great espresso.
Food selection includes simple lunches from 11-2pm and a killer breakfast brioche with crispy bacon and a mustard aoli. The lunch sandwiches include the classic Rueben.