Best Melbourne Cheap Eats
Melbourne is a great city for dining including cheap eats! For the student and city worker there's a plethora of cheap eateries where quality and price converge. From my Melbourne food blog here are my top cheap meals in the CBD:
1. Drugstore - gourmet burgers for $12.50 (not sure how long for).
Drugstore is possibly the home of Melbourne's best burgers. It's an amazing cafe and burger joint on Toorak Road South Yarra. Being a burger junkie and in search of Melbourne's best burger I decided to try Drugstore out.
At Drugstore it's the meat in the burger that is celebrated - with Wagyu all the way. Other burger joints celebrate some other aspects of the burger but to have such high quality meat in the burger is an absolute winner.
As the restaurant is related to the sensational Steer Bar and Grill, one of the best steakhouses in Melbourne, Drugstore is supplied with top grade Wagyu for the burgers. The big deal is the Blackmore wagyu, one of only two venues in Melbourne that supplies this high grade Wagyu.
The key is that the burger meat is cooked to medium and not overcooked. There are plenty of places that overcook a meat patty. At Drugstore the patty is juicy.
The Mr. Mitagi is one of their most popular burgers and is a magnificent burger, with blackmore full blood wagyu, teriyaki, wasabi kewpie daicon and chips. A good size burger and gourmet all the way. 100% wagyu. Intense beef flavour.
Other popular burgers include The Hot Denver and The Classic. All seem to feature a dfferent type of wagyu.
Here's the amazing thing. These Wagyu burgers should be about $30 with substantial amounts of top wagyu. But right now - not sure how long for - the burgers are only $12.50 including a serve of chips. Unbelievable.
The vibe at Drugstore is rock and roll with pop culture look. Impressed with the low ceilings, funky lamps, black and white photos, art work on the walls, and even the water in the red jug.
By day Drugstore is a fine cafe with excellent breakfasts and great coffee. Then it turns into a first class burger joint.
Service is also excellent here. The waitress engaged me and chatted about the product. She gave some great recommendations from the menu. The chef also came out and chatted about the menu and the cooking approach. Then the barista at the front counter was also engaging and upbeat. Went away feeling good about the team here.
Hamburgers that celebrate beef. It's a great thing.
2. Purple Peanuts - 620 Collins St - cool Japanese with most options around $10
Purple Peanuts Japanese Café is a sublime breath of fresh air in the top end of town on Collins Street.
It's different to many other Japanese establishments and is a twist (and shout) on the usual focus of sushi and sashimi. It hums with a youthful, colourful and eclectic creativity, depicted by a large The Beatles Japanese Tour poster.
Purple Peanuts Japanese Café buzzes at lunchtimes with the local office workers pouring in to this eatery. Conversation is loud due to the amping crowd and the cement floor. Eating in is a great way to enjoy the ambience but take away is also hugely popular – with limited tables but lines of people out the door.
Menu options are displayed on large paper sheets on the wall. The creativity and value are amazing. Come here for a curry, prawn chicken and vegie burgers, sushi (including with brown rice), teriyaki chicken, and great salads. The potato salad looks great with Japanese mayo instead of the normal.
The chicken burger is stunning with chicken marinated in soy, sake, sesame and ginger. A great flavour profile. The burger was substantial, the fillings sensational and the bread was super fresh.
Funky décor includes the hefty octopus monster in the corner and The Beatles Japanese tour poster. This place has a ticket to ride! Large windows usher in natural light. The ambience is heightened by funky music, only drowned out by the loud conversation.
Friendly staff regularly clean tables and they bring your meal (for dine in) to cool timber tables and funky stools. A great option is to sit outside at a table on Collins Street.
The open kitchen adds to the theatre. There's almost as much action behind the counter as in front of it.
Purple Peanuts Japanese Cafe goes "off" and is one of the CBD's most happening lunch spots. Rock on!
3. Darac Bar and Grill - 53 A'Beckett St CBD - great Korean also around $10 mark
Darac Grill and Bar is a fabulous Korean restaurant in A'Beckett St CBD and a class above many others. This is a place that visits the fine dining realm with great ambience and smart service.
The great vibe is as decent as the superb food and service. This place is full of quirky items from suspended aeroplanes to old sewing machines. Funky music plays while loud conversation fills the room. Someone planned this place well because everything hums nicely.
Get out your pencil and creatively fill in the lunch menu. You know you've been working with documents all morning – here's a chance to really make it count. The lunch special is fantastic with a choice within each of 3 options - from the rice to the main and finally the side dish. Staff were accommodating in helping me make my choices – I always want to know what is the popular dish to go for.
I ordered the dumplings as entree on one occasion and the octopus as the entrée (could have gone for crab meat) on another occasion. As well as steamed rice and the pork belly both times. The food was sensational and well presented. The dumplings are tasty albeit small. The octopus balls were delicate and flavoursome. The rice was cooked to perfection. And the pork belly was also done well, not dry, but marinated superbly and cooked wonderfully. It was all graced with a tasty small salad. I thought there and then that I will rave about this place.
The ambience is cool throughout with the open kitchen, distressed look tables, the mismatched lamps, the cartoon on the wall and that cardboard moose. So much going on. You can also sit out the front and enjoy the ambience of A'Beckett Street.
I eyed this place off as a great venue for groups or even a romantic evening.
4. HuTong Dumpling Bar - 14-16 Market Lane CBD - iconic dumplings at value prices
Hutong Dumpling Bar is a serious contender for Melbourne's best dumplings. The Xiao Long Baos are sublime and a well crafted and tasty dumpling. The food here is of a high quality for a reasonable price. Added with excellent ambience, this restaurant is a winner.
The dumplings are a class above most others. You can see the chefs preparing the dumplings by hand with fine skill through the kitchen window. The excellence of those Xiao Long Baos is in the fine casing that only takes a little bump or prick to break. Yet these dumplings hold together well. The meat filling inside is tasty and of quality. But the high note is the soup or broth that fills these dumplings. When you eat them they just explode in your mouth with wonderful flavours.
People who say they can find cheaper dumplings nearby – honestly, they need to consider the great quality of HuTong dumplings. Getting 1000 dumplings for $5 might sound great but if they're average to start with who cares. And the atmosphere here is excellent. The upstairs section has a great ambience with attentive staff.
On my first of half a dozen visits to Hutong I was given a lesson in dumpling consumption by a waitress... Never I repeat never cut a dumpling in half. Always consume in one hit. First dip the dumpling in soy and chilli... When eating those Xaio dumplings the waitress told me to put the dumpling in my mouth then suck the broth in the dumpling - before eating the rest. Absolutely sensational.
Shredded pork here is also great. The twice cooked pork (which I've had twice) is a sensation with rice. People keep asking me what twice cooked means and why it's necessary – come here and try the twice cooked pork and you'll find out. Simply, cooked twice means cooked partially using one method then finished off cooking with another method. Or in some places it may mean undercooked the first time and sent back to the kitchen to be cooked properly. Wouldn't happen here. The noodles also rate at Hu Tong. And I enjoyed the fried rice with good fresh ingredients - and not too greasy. You'll keep coming back.
5. Huxtaburger - 106 Smith St Collingwood - fine gourmet burgers for around $10
Huxtaburger is a contender for Melbourne's best burger. Just across the road from the epic Huxtable restaurant on Smith Street is this popular burger joint that delivers big time on quality gourmet burgers, great crinkle cut chips and beer. A killer combination. The value here is incredible and might just get you through the latest Global Financial Crisis.
To understand Huxtaburger you need to understand where it is coming from. To present such a quality burger as "The Huxtaburger" for only $8 is incredible. Who else can do this? No-one else I know of in Melbourne. Some burger joints serve old school burgers for around the same price but this is gourmet all the way.
They are bringing value and accessability with quality.
Huxtaburger is usually packed with a line up out the door and people waiting to swoop on a table. You can eat at the counter or grab one of the tables and enjoy the ambience of Smith street.
With a black and white colour scheme you would think we are in Collingwood. But you also might think we are in an American diner in Collingwood.
Huxtaburger has done its homework on what makes a great burger. They simply have great buns. Glazed brioche buns. The burger bun melts in the mouth. You don't get that heavy starchy hit of bread but rather the bun combines wonderfully with the rest of the burger.
The strength of Huxtaburger is that they keep it quality and simple. Other burger joints add varieties of burger that just don't work. Everything at Huxtaburger works.
My favourite is "The Huxtaburger" which has those awesome buns, crunch of great lettuce, quality gherkin, sublime patty of Moondarra Wagyu beef and melted cheese, tomato, mayo and ketchup. For a little extra you can get some great crinkle cut chips.
Like everything Daniel Wilson does, there is adventure, amazing gourmet flavours yet sublime balance. There is kick in the mayo and pickles but it doesn't dominate the quality beef. The sensation is of a delectable light and slightly sweet burger. A contender for Melbourne's best burger.
At huxtaburger there is also a tie in with the Cosby show. The burger called "Bills" contains bacon, egg, pineapple and beetroot for only $10.
The "Theo" with the double pattie and double cheese caters for those that love a huge mother of a burger.
Then there's the "Denise" which has some kick with Jalapeno.
There are burgers for kids for only $5.
You can always tailor make your burger by adding stuff - like an extra pattie for $2.
Service is great here - in the three times I've been the staff have been engaging and friendly and professional. Table service at a burger joint is sensational.
Huxtaburger hums at night open 11.30am till late on Tuesday to Sunday.
Huxtaburger is a great place to dine with friends for amazing quality and value.
6. Sushi Monger - 17/309 Bourke St CBD – Japanese
Sushi Monger is one of Melbourne's best kept secrets! Apart from the seeming hundreds of people that line up to get into this place every day! Swarms of keen lunch goers line up down the lane to get a piece of sushi action. And not all sushi is the same!
Sushi Monger offers one of Melbourne's best lunch deals! Not just because it's cheap but quality as well as a cheap eat! For $5 you get two of the best sushi rolls you will ever experience and a miso soup. In my case I go for the 3 sushi rolls and miso for $6.80. So good! Once you taste these little beauties you will never go back to plain sushi again!
The sushi here is the best I've ever had and has destroyed my belief that sushi for lunch doesn't fill you up! It was worth the wait to receive such incredibly fresh well made sushi! I love the chicken and avocado or the prawn or the salmon and avocado. The rice was perfect! The size of the rolls was excellent! And the seaweed wrapping was not dry but fresh. All ingredients were super fresh and quality!
Sushi Monger make some other great dishes such as katsu curry and teriyaki chicken but all the hype is to do with the sushi.
Staff here are friendly and accommodating and with long lines they are patient and fast.
You don't have to queue and grab takeaway. It's also pleasant to eat inside Sushi Monger or out in the laneway. And contemplate on how different the dining experiences of Laurent Boulangerie and Sushi Monger really are…
7.Don Don 321 Swanston St CBD – Japanese
Don Don delivers in so many ways. A humble Japanese restaurant tucked away in Swanston Street it can be easily missed. Don Don is a phenomenon. Great Japanese food, served quickly, and great value. A lunchtime favourite among city workers and students. It's no frills, but not without flair.
Just look for a line out the door. And if you see a long line don't worry. The service here is the quickest in town. As soon as you place your order and reach for your wallet the food is on the counter in front of you. These guys are quick on the draw.
I've experienced most of the items on the menu and they're all good. The Teriyaki Chicken is outstanding as is the Curry Chicken which has unique flavours. And the lunch sets are also great value. Where else can you get a large quality lunch for around $7-8?
The food is cooked to perfection, the meat never dry and the flavours clean. The sauces in the meals are great and the rice is usually perfect (not gluggy) and a great accompaniment. The salad and pickled ginger rounds off the meal. (Sometimes there's a huge piece of carrot in the dish – which I find a bit overwhelming).
The portions are large and you won't leave hungry. Personally I've never had a bad meal at Don Don's. Which explains it's super popularity…
I find the Sukiyaki Don a standout. I love those strips of beef with a pleasant saltiness. The quality of the meat is great and I love it when there's a little bit of fat. One of the best lunch options in Melbourne.
Seating can be a problem but usually I can sneak a seat in somewhere. They also have some tables out the front on Swanston.
I see many people eating Don Don's on the lawns of the State Library. Great option. I laugh at the easy going ambience here featuring 80s soundtracks although today they were playing current hits.
Don Don's is a great iconic restaurant on the Melbourne dining scene and a life saver for city workers and students.
8. Rose Garden BBQ - 435 Elizabeth Street CBD – Chinese
One of the best Chinese restaurants for value and quality in Melbourne. The cuisine is so tasty and portions are large. The sort of place you will want to return to. It's so good that you don't mind sharing a table with 2 or 3 complete strangers. Communal dining. It's all good.
Sure the décor is modest with bright red and orange walls and tables packed in a smallish space. People that eat here rave about Rose Garden. It attracts a loyal following because of its amazing dishes and the excellent value for money (most under $10).
I ventured down to Rose Garden and found I had to line up on a Tuesday lunchtime. The staff came out and assured me the wait would not be long. A guy in front of me in the queue was raving about how this was a Melbourne institution and was worth the line up wait. He started talking about the spicy fried chicken ribs with such passion that I was always going to order it…
Sitting at a communal table for 4 with 3 strangers was a bit of a classic. Humorous that it's called a shop! I've never been to a BBQ shop before! Once you start on the spicy chicken ribs with rice you don't care what the place is called. You don't care about the crowded space or even sharing a communal table. Love thy neighbour! Even if you're neighbour keeps coughing as you eat you don't care! And you don't care if there are different sets of neighbours by the time you finish the meal. Because the food is amazing!
I love how they post a Rose Garden top 10 meal list for all to see. Chart topping Asian cuisine! Surprised maybe to see the spice green beans with minced pork meal at no 1 with duck and rice coming in at no 2. The guy eating opposite me had the duck and it looked superb.
My fried chicken ribs were just so good. Crispy fried chicken without being too dry inside… A generous amount of wings was great! I didn't care about etiquette and started picking up ribs and eating them with my hands – to the horror of the rest of the communal table.
Service was excellent – for getting me a table quickly when there was a long queue, and for bringing me free tea, for wiping down tables quickly after people left, for recommending dishes to me, for knowing my bill as I walked up to the counter, and for a waitress keen to know if I'd enjoyed the experience!Love it!
9. Teppansan - 179 Russell St CBD – Japanese
If you shut your eyes and tasted the food you'd think you were in fine dining bliss. Open your eyes and you're in a pleasant but humble restaurant on Russell St. I still can't believe the value and quality of Teppansan. Loving the whole experience of Japanese food for lunch – you never feel bloated _ I wandered into Teppansan. The service was great with friendly waitress showing me past the bamboo lattice to a table along the narrow wall. I noticed the simple décor – at the back of the restaurant is a larger eating area with interesting mural on the wall.
Hanging next to my table was a review of this restaurant from Matt Preston in 2007 when the lunch deal was $5.80!!! It has now rocketed to $7.50 (ha ha). You cannot believe the value and quality here.
The waitress encouraged me to try the chicken okonomiyaki, a popular dish. First of all I was given a great bowl of Miso soup. As I was drinking the soup I also noticed a signed menu and picture of tennis ace Nikolay Daveydenko on the wall next to me (and Matt Preston article). Made me wonder why a top tennis player should wander in to a humble place like this – but when it's serving so many aces, it figures! The chicken okonomiyaki was advertised as a Japanese pizza – probably more like an omelette. It came out looking incredible and to taste it was sublime. For a start it was a generous serving – packed full of wonderfully cooked chicken, with carrot, onion, amazing sauce and shredded cabbage. All with Japanese mayo on top (which I love). And on top was katsuobushi (dried flakes). I repeat the miso and the okonomiyaki were part of the $7.50 lunch special.
Went back the next day and had the Deep Fried Pork Cutlet with egg (generous amount) and onion cooked in sukiyaki sauce and served with a large amount of rice. An enjoyable hearty meal - although the okonomiyaki is still the standout. I prefer the pork to be cooked a little less but still a great dish. Service is fantastic with waitress not only helpful but smiling and joyful. You can see the chef working away in the kitchen and I like to thank him on departure. Japanese gem!
10.Shanghai Street Dumpling - 342 Little Bourke Street CBD – Chinese
These are some of the best dumplings in Melbourne! Located on Little Bourke St (and another on La Trobe) this place hums – nearly always packed with a line down Little Bourke. Wonder why they don't fit in more tables – with only about 25 seats and a handful of stools. Run by dumpling house royalty these experienced dumpling specialists offer great value but with it extraordinary quality!
Incredible dumplings! Love the pan fried pork dumplings – or menu item 18 to be precise. I loved the thin well pleated wrappings of the dumplings – the pan fried element came through with crispiness. For $8.80 I got 15 great dumplings – top value for the CBD! Fillings great and juicy but the key is always to have no tears or holes in the wrappings for contents to escape and lose their punch! Also have enjoyed the fried chicken and crab dumplings here – 10 for $8.50. Really tasty and quality again.
There are some dumpling houses with cheap dumplings but they don't have the quality to match. What is the use of 15 dumplings for next to nothing if they're rubbish? Not so with this wonderful establishment.
Love the simple décor and open ambience. Seats by the window are popular looking out onto Little Bourke. Friendly and attentive staff. You can see the kitchen staff working away inside the restaurant – the open kitchen is small but adds to the excitement.
The pleasant surprise is that the Dumpling House is not just about dumplings! Have been here now many times – a favourite "go to" lunchtime haven.
The spicy pork sauce and noodles with bok choy dish is tremendous – the sauce is so flavoursome with a pork mince and a real kick with the chilli! Love the arrangement - the sauce is set to one side in the bowl but you can mix it all over the noodles. The bok choy complements the spiciness! Recommended by the waitress as her favourite (although yet to catch on yet I'm told). For the price of only $6.80 it was amazing value.
Sat on a stool overlooking Little Bourke and so did the elegant woman next to me – who ordered about 8 dishes – greatly reducing my counter space so I was really hunched eating my meal. I was going to an important function that evening so I was trying to protect my shirt and tie from flying sauce, noodles and bok choy! Was mostly successful although had to visit the men's at work to wipe off the pork sauce drops on the Van Heusen!
Couldn't believe someone could eat so much – was she another food critic? It's all good! Keen to try the wontons and buns! Love this place!
11. Raramen - Glen Waverley and Box Hill - home made noodle dishes and dumplings around $10
Raramen is a recommended destination for families wanting to dine out on a budget. Even when it comes to value dining you still need the food to be above par. Raramen delivers in my opinion. We had a great family night at Raramen with both adults and kids satisfied.
Raramen has two restaurants - Glen Waverley and Box Hill. The fit out is modern with upmarket tall chairs and chunky tables. The longer tables are perfect for groups. The walls are plain without artwork - unlike other Asian restaurants. Staff greet you and hand out menus. They are trained to be attentive and will wait just back from your table during the dining experience.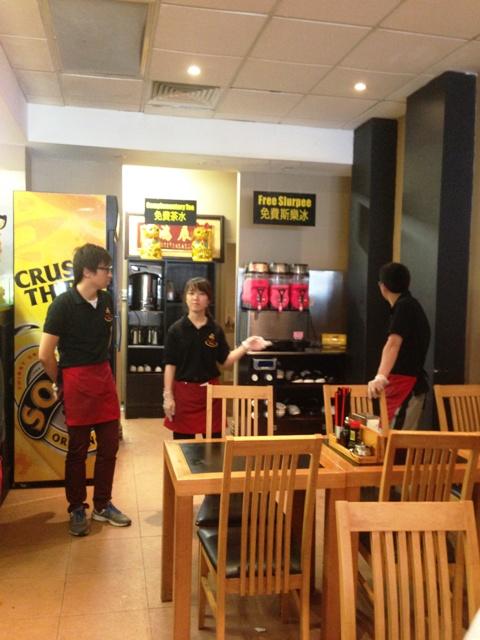 It didn't worry me that I had to go and get my bowls and cutlery from a table at the back of the restaurant. I was pleasantly surprised that the kids (and adults if you want) get free slurpies, and there is also free Chinese tea - again just help yourself. My kids love the Chinese tea as well as the slurpies.
We all enjoyed the cuisine at Raramen as it was fresh, tasty and the portions generous. I preferred it here to some of the more salubrious establishments nearby. And a bonus is that the cost here is more than reasonable.
The Hand made noodles with beef was wonderful. We saw the Chef preparing noodles in the open kitchen with great skill. You can tell the difference when noodles are fresh and hand made. Sumptious noodles, tender beef, large mushrooms and fresh vegetables. And this one serving fed our family.
The Pork fried dumplings were also excellent. I am a fussy dumpling eater given there's so many accomplished dumpling places around. I always look to see whether there are holes in the dumplings for the juice to escape. Raramen passed the test. The pork and chives filling was tasty and the casing not too thick. My only comment would be I would like them a little bit more fried and crispy, but that's personal preference. You can purchase frozen dumplings here at reasonable prices.
Our kids always enjoy a fried rice. This dish can be hit and miss, often non descript in restaurants around the city. The fried rice at Raramen was a winner with perfectly cooked rice, generous ingredients, particularly plenty of egg, and it had that "seasoned wok" taste that I hope for.
The Chicken skewers were also a hit with the family. You get two large skewers for every serving. So we had half a skewer each and were satisfied. This dish comes with tangy pickled cabbageRaramen has an atmosphere that appealed to us, with lots of Chinese being spoken between the staff, and plenty of action in the open kitchen.
RaRamen is a popular restaurant. We arrived early but the place was packed by 6pm on a weeknight.
Amusingly this is one Chinese restaurant without pictures of menu items. I was able to help a lady asking about a dish at the counter by showing her a few pictures I had taken. Then when we left I was asked in the street by a group if I could recommend any Chinese restaurants in the area - I pointed to Raramen.
I understand this is not a hatted restaurant. But family dining is about pleasing the whole family and Raramen did that. We intend to return...
12. Shandong MaMa in Mid City Arcade CBD - quality inspirational food at reasonable prices.
Shandong Mama is an exciting addition to the Melbourne culinary scene in Mid City Arcade and can lay claim to the best dumplings in Melbourne. Mama is a retired ex accountant from China who spent years cooking for friends in her social circle in Shandong Province. She's had the courage to start this homely restaurant with her delightful family here in Melbourne. Friends and relatives are part of the scene. Mama has a passion for healthy, delicate cuisine. It's exciting to see a Shandong Restaurant (one of the 8 major Chinese cuisines) in Melbourne.
Mama is particular about process and having the best ingredients. You may find her at Footscray or Springvale markets sourcing the finest ingredients for her dumplings. The fish dumplings include expensive mackerel in the filling, for example, hand picked by Mama.
Mama is not keen to use electric kitchen tools to stir the dumpling mixture, but she throws her shoulder into every batch. These dumplings have the perfect (thin) casing, exciting fillings and broth. There is more imagination here than most other dumpling houses in this city.
For example the Prawn, Black Fungus and Chives Dumplings are delectably filled with large chunks of prawns with chopped chives and black fungus, a small amount of mince for texture and flavour, wrapped in thin dumpling skin in-house.
Mama uses the highest quality prawns in these dumplings, not shrimps. Being from the coastal city of Yan Thai in Shandong Province Mama has an affinity with the sea and loves to cook seafood.
The Fish Dumplings consisted of fresh mackerel fillet mixed by hand with coriander ginger and chives, into a mousse-textured filling, wrapped in home-made thin dumpling skin. The dumpling holds together well, and is tasty without being overpowering. This is a delicate dumpling.
The Pork and Cabbage Dumplings also have spring onions, ginger and a dash of dried shrimps for a superb dumpling.
When you think you've just had some great dumplings, out comes the Melbourne Dumpling. It's Mama's nod to multiculturalism in Melbourne. This baby sings! I managed to catch an aftertaste of the lemon rind and it was wonderful.
There's also a beautiful Vegetarian Dumpling with zucchini...
For me these dumplings are the most delicate, tasty, and well made dumplings I've eaten in Melbourne. Both the pan fried and boiled dumplings were both sensational.
You can get the larger Shandong dumplings here, bigger than the usual size around Melbourne.
Then there are the small plates, which are delightful. A plate of Mama's spicy Sichuan Pepper Beef (above) was moorish with perfectly cooked beef and layers of spice. Some customers come here just for this dish. The Beef in Special Brown Sauce and the Wasabi spinach was refreshing.
Along with the meal I enjoyed some 8 Treasures Tea - something I've never had before.
The fit out is pleasant and spacious with some plants, menu boards, and plenty of tables.
Filmaker Colin is part of the crew and his high quality clips of Mama making dumplings appear at the front of the restaurant for passers by to see...
Given the quality the prices are reasonable, and accessible for students.
I highly recommend Shandong Mama as the highest quality dumplings and a homely ambience with passionate owners... (David was a guest of Shandong Mama and had the privilege of meeting MaMa in person...)