New Summer Salad Ramen at Mr Ramen San
Mr Ramen San in Mid City Centre Chinatown is launching a never before seen dish - its unique Summer Salad Ramen. The Salad Ramen brings the flavour of ramen in a cold dish perfect for summer and is the only dish of its kind in Melbourne. (The concept is similar to eating cold pasta, also perfect for summer). Also check out our Best Ramen in Melbourne.
Mr Ramen San is a popular ramen house in Mid City Centre in Chinatown, featuring traditional style ramen.
Normally ramen is served in a tasty broth but the new Salad Ramen is served cold with sauces instead of broth. Zesty and refreshing the Salad Ramen comes with fresh salad elements of tomato, sweet corn, cabbage, seasoned egg, as well as choice of protein filling, and a generous portion of house made noodles with sesame sauce poured over the top.
Choose from 3 types of protein for the Salad Ramen. The Teriyaki Salad Ramen features generous portion of Charsu Pork with teriyaki sauce. The Beef Miso Salad Ramen features generous slices of beef cooked in miso broth, while the Seafood Salad Ramen features prawns, fish cakes cooked in seafood broth.
Says Owner and Head Chef Roystan, "We have created a ramen perfect for the Melbourne summer; with nuances of sweetness, tang, saltiness and refreshment. The Summer Salad Ramen complements our selection of traditional ramen that features generous meat portions, broth cooked for 10 hours for intense flavor, and house made noodles. We also serve tasty vegetarian ramen with tofu."
Ramen dishes are perfect with one of the Japanese beers available at Mr Ramen San.
Head Chef Roystan has been trained by Japanese Ramen masters and has worked in high profile restaurants. According to Roystan, "What you get in Japan in terms of ramen, we produce here. Authenticity." Roystan brings the influences of Kyushu, a charming southern precinct of Japan to Melbourne. The Kyushu style is about pork bones in white broth, signature at Mr Ramen San.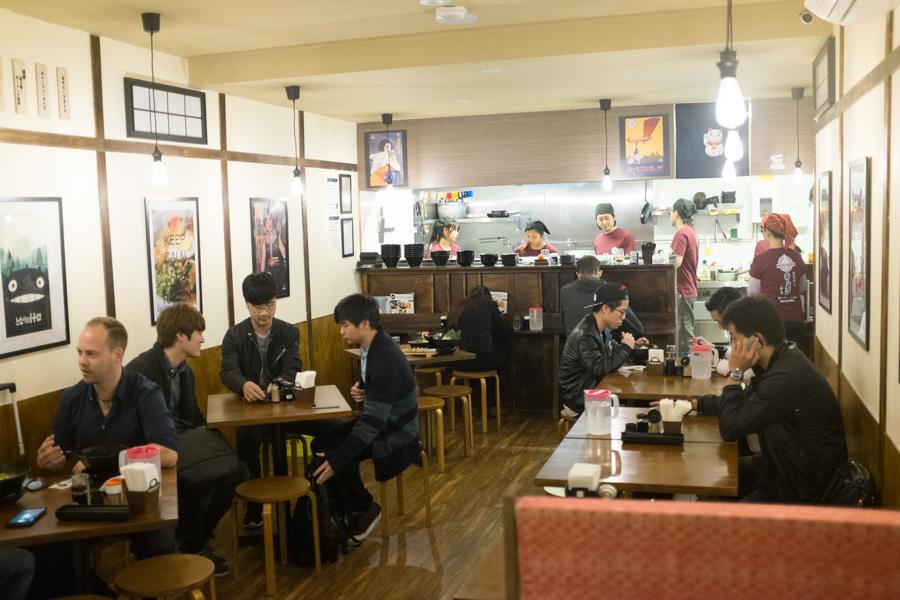 Mr Ramen San delights with a Japanese greeting as you enter, making customers feel welcome from the start. Mr Ramen San boasts several points of difference to the usual ramen scenario. For a start they serve up fresh house made Japanese style noodles daily; for ramen enthusiasts you can tell the quality of noodles and it makes a big difference.
Not only that but unlike other ramen houses, Mr Ramen San will provide you with FREE extra noodles on request! The serves of noodles in the dishes are generous enough as it is; so extra noodles for free is a great innovation for hungry customers!
Charsu Tonkatsu Ramen is a signature dish that rewards you with it's white cloudy broth; intense in flavour having been cooked for over 10 hours. As Ramen lovers know, it's all in the broth! There are no shortcuts in the cooking process (i.e. no soup stock from any supplier and definitely no MSG) and Roystan has a great passion for cooking authentic ramen. The Charsu roast pork is melt in your mouth, and the seasoned egg, wood ear mushroom and greens give a refreshing accompaniment. The World Loves Melbourne considers this dish the best ramen in Melbourne.
It is authentic Kyushu method for cooking Tonkotsu broth that produces the smooth, rich and flavourful characteristic of famous thick cloudy white soup. The painstaking technique, which constitutes the very origin of Tonkotsu cooking comprises traditional method of stirring and using different part of pork bones, that will ultimately produce the best result of the broth. However, due to the fact that this approach, which takes 10 hours from start to finish, consumes about three times as much time and effort as the normal method and requires a technique that is extremely difficult to accomplish in a stable, consistent manner, only one or two ramen shops in Australia employ it. Most ramen shops add stock soup from supplier and MSG, which yields results in a little more than 2 hours. Nonetheless, the Kyushu method, which has been passed down from one of the most famous ramen master is now with Mr Ramen San.
The key is in the cloudy white broth; this thick cloudy broth is the result of boiling pork bones and collagen over high heat for the 10 hour cooking process, in which it fuses to produce a hearty pork flavour and a creamy consistency! Office workers, you need this in your lunchtime! Staff at Mr Ramen San work hard, stirring the broth for 4-5 hours a day during the cooking process! The consistency of the broth and its intensity must be perfect. At Mr Ramen San you can choose from different types of soup for your dishes (not every restaurant offers this!). You can "build your own" Ramen if you like, starting with choosing your soup base.
Beef Miso Ramen features Beef cooked with miso, spring onion, bamboo shoot, corn, beansprout, seaweed and a seasoned egg. The eggs are cooked perfectly, slightly runny in the middle. Customers love the miso-based soup, originally developed in Japan in the 1960s.
The wide variety of ramen also includes Spicy Chicken Ramen, Fresh Seafood Ramen, Terriyaki Charsu Ramen, Vegetarian Charsu Ramen, Vegetarian Tofu Ramen, and Sliced Pork Nabe. Later in the summer Mr Ramen San will launch its Tsukemen Ramen with Yuzu flavour.
When you consider the quality of the ramen with its complex high quality broth, the excellence of the house made noodles (with free extra noodles available), generous full slice meats, and the high quality of toppings, we think the ramen at Mr Ramen San is great value!
Mr Ramen San is warm and intimate with classic tables, artwork on the walls and an open kitchen.
Check out the authenticity and innovation of Mr Ramen San and try the new Summer Salad Ramen!