Best Yarra Valley Wineries
Here are our favourite Yarra Valley Wineries (no particular order) -
Oakridge Wines
Pimpernel Vineyards (boutique)
Soumah Wines (boutique)
Yering Farm
Yileena Park (boutique)
Rochford Wines
Medhurst Wines
Coombe Farm Estate
Madden's Rise (boutique)
Yarra Yering
Punt Road Wines
Zonzo Estate
Giant Steps/Innocent Bystander
Domaine Chandon
De Bortoli Wines
Yering Station
TarraWarra Estate
Balgownie Estate
Check out our article to plan your next visit...
Oakridge Wines - 864 Maroondah Highway Coldstream
Oakridge Wines is a magnificent award winning winery and restaurant near Healesville on the Maroondah Highway. The property is spectacular, as you wind along the road past a superb lake up to the winery. Another great place to take out of towners! The cellar door is large and the staff super friendly. Of course the product speaks for itself!
Oakridge Wines has been capturing the spirit of the Yarra Valley for more than three decades.

Established near Seville in Victoria's Yarra Valley, Oakridge Wines began as a family company. A pioneer of the Upper Yarra Valley, Oakridge recognised the potential for making great wine on the rich, red, volcanic soils of the sub-region.

The turn of the century saw Oakridge move to its location in Coldstream, and become a part of one of Australia's larger wine companies.

In recent times, Oakridge once again returned to family ownership.
The class and quality is amazing, as are the views, but the ambience is friendly and relaxed! Rustic pleasure. Relax on one of the lounges and take in the sweeping views of the vineyards. Or go next door to the outstanding restaurant and enjoy top class fine dining.
In recent years Oakridge has upgraded its Cellar Door to state of the art and has been awarded Winery of the Year. We were impressed when we visited on a day when the restaurant was closed for a busy private function, yet they still were able to serve us a platter (staff going the extra mile).
The thing about Oakridge is that not only are the facilities top notch, but the wine itself is sensational. When I visited Pinot Palooza I enjoyed a fine Oakridge Pinot Noir that was featured in the top offerings of Australia and New Zealand. Their wines regularly win awards and not only the Pinot, Shiraz and Cabernet, but the Chardonnay and Botrytis Riesling figure prominently.
A great option is to grab a platter – either a cheese platter or a chocolate platter. We grabbed both. The cheese platter is wonderful – the two weeks in a row I visited it featured Tasmanian Cheddar, local brie and a blue vein that was sensational. All served with crackers and tasty jam.
The antipasto platter is highly acclaimed and another great reason to recline in the light filled restaurant with large windows and take in that view!
Speaking to many foodies about Melbourne, Oakridge Wines is the winery of choice for many in the Yarra Valley.
---
Adam the owner of Wine Compass provides a professional and enjoyable experience on his wine tours; we took a tour with Wine Compass visiting some of the bespoke wineries such as Pimpernel Vineyards, Soumah Wines and Yileena Park. Adam sources engaging bespoke experiences, tailors the itinerary for you, provides first class transport (this time in his Mercedes 4WD), collects your wine and puts it away, constantly provides water for any hydration issues, arranges decent meals for the lunch, and is all round personable.
Pimpernel Vineyards - 6 Hill Road Coldstream
Pimpernel Wines is a compelling visit in Yarra Valley for its boutique feel and the sheer quality of the wines. We tasted just about every wine in the range and felt all of them were standouts.
Winemaker Damian Archibald took us through a sensational special barrel tasting. Even the young wines of current vintage a couple of months old showed complexity and depth. A theme was the elegance of the wines. We loved the Viognier and Chardonnay with big hits of vanilla, and the Pinot Noir (No 1 and No 2), the Syrah, and the GSM.
Damian explained to us that Pimpernel vineyards is all about dry run viticulture; they don't irrigate in the same vein as the great wineries of Europe. This provides for greater intensity of flavour as roots have to compete for moisture.
Pimpernel Vineyards is a family run winery inspired by the regions of Rhone and Burgundy in France. Damian is the winemaker and is often at Cellar Door; his passion and personality make for a first class Cellar Door visit.
Damian then took us through a second tasting at Cellar Door; this time the finished product. Once again we were struck by the elegance of these wines, keeping their structure. The Cellar Door is open Friday through to Sunday, as well as Public Holidays. Or by appointment!
Beautiful grounds and a killer view enhance the experience at Pimpernel Vineyards.
---
Soumah Wines - 16 Hexham Road, Gruyere

Soumah Wines was a magical experience in a desirable part of the Yarra Valley; the Warramate foothills. Sweeping views from the Cellar Door are inspiring. The World Loves Melbourne appreciates the Italian influence at Soumah. Walk past the olive trees and the conifers to get to the Cellar Door. Adam from Wine Compass (pictured above) leading the way.
With the fireplace pumping and engaging Cellar Door, Soumah was a brilliant visit. It was like Northern Italy descended on Yarra Valley.
We note varietals here that we don't always see in Yarra Valley; such as the award winning Savarro. Soumah features styles of Northern Italy such as Pinot Grigio, Rosata (deep colour), Brachetto and Nebbiolo. Other standouts include French styles of Pinot Noir, Chardonnay, Shiraz, and Viognier. Soumah has a single vineyard focus, and looks for quality over quantity.
We were surprised by a yonug Cabernet that was amazing. Note the deep colour of the Rose above...
So where to go for lunch in the Yarra Valley? Adam did well to bring us to Soumah for a superb bespoke lunch. The Italian style food was the perfect match for the Italian style wine.
Oxtail baby! Yes please!
Charcuterie! The Tasting Board was a winner...
Sea scallops, pancetta and porcini in linguine; the perfect combination.
Lamb shoulder cooked overnight (in this spherical shape) with olives and butter pea gnocchi was top notch. Rich and rewarding the lamb was full of flavour and the broth intense. The delightful soft pillow gnocchi was a great accompaniment.
Also first class was the Swordfish with roasted fennel, salsa verde and tomato almond pesto.
Adam enjoyed a massive delicious Roast Pork Knuckle with cannellini beans, peppers and mixed salad.
Highly recommended.
---
Yering Farm - St Huberts Rd
Yering Farm is another charming winery in Yarra Valley, housed in an old tin shed/barn with a few winery pets in toe. We love the character and we love the award winning wine. We sat around on the porch tasting their range of reds and whites and a sensational pink cider (dry style).
---
Yileena Park - 271 Steels Road, Yarra Glen
Yileena Park is another magical Yarra Valley destination with boutique wines that highlight the strengths of the Yarra Valley. A family run winery, the wine features Pinot Noir, Cabernet and Merlot. Soil conditions here are favourable for growing premium wine.
Once again, sweeping views are magnificent.
Cellar Door is appealing featuring Tasmanian Myrtle and granite bar, with a range of smoked produce for sale (love the Duck Ham and Stilton cheese).
We sat down with Owner Bob Curtis for a special tasting; and imbibed the delights of the first class wine, smoked goods and the amazing views on the balcony overlooking the spectacular Yarra Valley.
Bob pulled out the Reserve Cabernet; an elegant full flavour wine.
Bob Curtis offers first class produce that has been authentically smoked; so delicious we had to take some products home with us. There's heat in the mustard.
Duck ham is a highlight; full of smoky flavours.
---
Rochford Wines - 878-880 Maroondah Highway Coldstream
Rochford Wines is a stunning winery that has put in the investment and provides a memorable experience for those who visit. The World Loves Melbourne was invited to Isabella's restaurant to sample their new menu. We received a "boutique" experience at a large winery and left highly impressed with the food philosophy, and the ambience, service and cuisine at Rochford.
The Yarra Valley is a favourite region of ours; because its convenient and because we've discovered some cracking wineries. Rochford is known for its premium wines, and in recent years for its huge concerts of up to 12,000. It's the only winery with a large sound shelter in the region. If you're a cellar door manager like John Bright, you get to share your favourite fine wines with rock stars and celebrities. It was enlightening to hear that some of the rock stars that visit Rochford Wines for the concerts enjoy premium wines; breaking a stereotype of them drinking just spirits. Being an ex band member myself (although not famous) I can't recall any bands drinking fine red wine in the 80's.
When you enter Rochford you are taken by the sheer size of it all. You think "someone must have had a grand vision". The history is that Rochford Wines began in the Macedon region then moved to the Yarra Valley in 2002. This was a masterstroke. Traffic on the main road in the Macedon precinct is sporadic at the best of times; moving to the Yarra Valley was genius with high volumes of traffic along the Maroondah Highway.
Not only that, but the Isabella vineyard at Rochford has a history of producing award winning wines. Not only did Rochford gain an amazing facility and location, but they acquired top notch vineyards when they moved to the Yarra Valley.
We were also impressed with the size of Isabella's restaurant, surely one of the bigger restaurants in Yarra Valley. Yet even with a large sized restaurant we encountered a boutique experience. The restaurant caters for some amazing volumes with around 40 buses a day. "Forty!" I exclaimed, not believing it could be so many. But when you've got 6 or 7 tour operators it's the case. Then add to that visiting diners by car and you have a serious number of diners to please.
To be honest, we feel that some wineries are overpriced and under deliver when it comes to food. They cash in on their views but don't inspire with their restaurants. Isabella's is not like this.
Rochford award winning Yarra Valley 2012 Pinot Noir was elegant and to savour. It was the perfect pairing for the carpaccio, and was so good I elected to imbibe this wine for the entire meal.
Isabella's is a great winery to come with friends, out of towners, on a tour, or even alone. The large windows allow for plenty of natural light and spectacular views...
Whole snapper was sensational! As were the shared plates of Lamb and Beef and Pork!
John gave us a history of the winery and poured us award winning Rochford wines... We were taken by the 2012 Yarra Valley Syrah, as well as the Pinot and Chardonnay.
Check out the modern look of the large restaurant and function complex at Rochford...
Rochford Wines is a premium destination in the Yarra Valley and we've been raving about our day of wining, dining and tasting.
---
Medhurst Wines - 24 Medhurst Rd Gruyere
The World Loves Melbourne enjoys a premium wine region, and the Yarra Valley is right on our doorstep. In a flash you can drive from Melbourne out to world class wineries in the Yarra Valley.
Having visited many wine regions in Australia the Yarra Valley stacks up in terms of wine quality and winery facilities (the cellar door is still relatively new). Medhurst Wines is an attractive option for those looking for great wine, but also somewhere to dine and enjoy sensational views...
The Cellar Door and Cafe at Medhurst Wines is an impressive structure and one notices the large windows and spaciousness. Medhurst have won a number of architecture awards for their winery, including the production facilities...
Medhurst Wines offers a decent selection of cuisine on its lunch menu, but as we often do, we chose several platters (paddles) to enjoy with wine. The produce here is fresh and the platter generous. Medhurst uses Victorian produce and the meats, relish, Healsville sourdough, and terrine were outstanding. While many dined indoors we elected to enjoy the outside ambience, even on a hot day...
The Fisherman's paddle also excelled with Buxton smoked trout pate, Huon smoked salmon, white Italian anchovies, and fresh veggies.
Order your food and wine at the Winery counter, then sit back at the long table with a glass of white...
Medhurst Wines is an ideal place to bring out of towners, to relax and take in all that is good about an Aussie winery.
Says the website -
"Medhurst Wines is the realisation of the long held and shared vision of Ross and Robyn Wilson to own a property in the Yarra Valley and produce high quality wines. Ross was CEO of Southcorp and drove the company's acquisition of Penfolds, Lindemans and Wynns in 1990. He has remained passionate about wine ever since.
Ross and Robyn Wilson spent years looking for the perfect site and for many reasons they jointly decided on the Yarra Valley. Robyn Wilson spent her childhood here, and the Australian and international status of this excellent cool climate wine region and its incredible beauty, helped make their decision.
The Medhurst Vineyard was also particularly chosen for its favourable microclimate, north facing slopes, good drainage and magnificent aspect. It was planted in 2000 with chardonnay, pinot noir, cabernet sauvignon and shiraz.
With the sole objective of making the best wine possible, careful vineyard management ensures yields are low, averaging two tonnes per acre and providing intensely flavoured fruit.
Each parcel of fruit receives the same care and attention in the winery as in the vineyard. New and older French oak is used after considering the potential for each parcel. The wines that result are released only when they are ready and are of the standard to which Medhurst is committed. At all times quality is paramount."
Check out the magnificent views of the grounds and vineyards...
Also from the website -
"As well as each of the varieties grown – Chardonnay, Sauvignon Blanc, Pinot Noir, Cabernet Sauvignon and Shiraz – Medhurst makes a Rosé from its low cropped Cabernet and Shiraz fruit.
With 15 hectares planted, quantities are limited but the passion and care that goes into the wines is boundless. Matt Steel, the former chief winemaker at Domaine Chandon, has joined Medhurst to bring his extensive experience making the highest quality cool climate wines and ensure that the quality grown in the vineyard is expressed in the wines.
Our new state of the art winery has been designed by Folk Architects and has recently won the Victorian Architectural Award for commercial design. The winery features underground barrel storage and sits in harmony with it's hillside setting.
The Wilson family are committed to Medhurst. It's a long term journey and as the vines age the wines will continue to evolve. They will always be the best wines that can possibly be made from the Medhurst vineyard."
Presentation of the food is superb and service was excellent...
Medhurst Wines is a standout in the Yarra Valley, and is a short drive off the beaten track, revealing itself as a treasure.
---
Coombe Farm Estate - 673-675 Maroondah Highway, Coldstream
Want to experience a bit of royalty and refinement? Then visit Coombe Farm Estate the home of opera sensation Dame Nellie Melba. For years this beautiful estate has been hidden behind a large hedge. It has undergone a facelift and has been unveiled in a tasteful and stunning renovation that gives you a window into an iconic period in Victorian and world history.
We took a tour around the grounds the historical homestead was built by Dame Nellie Melba. It features one of Victoria's oldest pools, Charlie Chaplin even swam there. We loved the peacock chairs on the verandah and caught a glimpse of a rooftop entertaining area. Is this Melbourne's original rooftop bar?
Dame Nellie Melba was a bold woman for the age and promoted women's causes such as the suffragettes. She operated an "open house" where friends such as painters Heysen and Streeton would "pop in", you'll see some of their paintings on display.
A stroll around the stunning 2.8 hectare gardens offered a plethora of highlights. William Guilefoyle, the same talented designer of the Royal Botanic Gardens, designed the Coombe Farm Estate. Some of our favourite garden delights were the the large hedge of 700 metres that envelopes the property and the captivating Japanese wisterias. The beckoning of secret garden spaces, we enjoyed our stroll amongst the croquet lawn and cypress hedges.
We headed inside to admire the collection in the gallery and were impressed by Dame Melba's collection of 14 Louis Vuitton bags. The estate also features a James Halliday 5-star rated Cellar Door. Definitely taste the award winning Blanc de Blanc.
After our tour we dined at Coombe Cottage restaurant. Come here for lunch or their famous high tea (only $55 including the tour is amazing value). The menu is savvy with a foodie touch. We started our taste journey with smoked trout, sorrel, Yarra Valley Bulls Eye cheese, and Desiree potato croquettes. The snapper fillet with heirloom tomatoes, basil and caper berries was also on song, paying homage to the superb fish fillet. We were in awe of the smoked duck breast with confit leg spring roll, rocket, radish, pickled plum, orange jus. It was one of the best duck dishes we'd encountered for some time.
The restaurant was full of character and lies within a restored motor house and historic clock tower. Its huge glass windows overlook the spectacular gardens. This place is dreamy. Inside the restaurant is a world of copper and wood, with large elm trees presiding outside.
---
Madden's Rise - cnr Maroondah Highway and Madden's Lane Coldstream
Madden's Rise is a refreshing sojourn slightly off the beaten track but in near proximity to wineries such as Oakridge, Rochford and Medhurst Wines. Duck down Madden's Lane off Maroondah Highway into a boutique experience. We journeyed there one fine day to find the buses don't seem to come here but the session we enjoyed was memorable.
Many of the wines here are organic and it was fascinating to taste such quality wines and receive such a warm welcome and tasting experience from Emma. Madden's Rise wine is made on-site using hand picked grapes, small batch fermentation, minimal oak influence and wild yeasts.
Madden's Rise has an attractive Cellar Door with light airy room and eclectic decor.
Biological farming practices are being used wherever practicable. This will greatly improve soil biology, better utilise nutrients, suppress disease causing organisms, improve water efficiency and improve soil structure. The overall effect will be to make the vines healthier, more 'water wise' and more resistant to attack from pests and disease. The fruit, and the wines, will reflect this.
We were able to taste a broad selection of wines but our pick was the Pink Fizz, which looks amazing and has a certain complexity. We purchased several of these. There's no pressure here - you can actually relax and feel at home...
Madden's Rise has a wonderful view across the Valley as well as majestic trees and vineyards nearby.
Check out the eclectic decor including tree branches and chunky timber tables...
Majestic...
Madden's Rise also boasts an exceptional Shiraz - The 2010 vintage in the Yarra Valley was exceptional and our 2010 Maddens Rise Shiraz is a testament to this. Grown entirely on the estate, the shiraz was hand picked and fermented with a high percentage of whole bunches.
Madden's Rise have produced Nebbiolo and I'm excited to see it eventually for sale...
Madden's Rise is arguably the best small winery in the Yarra Valley and are worth a visit for a truly boutique experience.
---
Yarra Yering - Gruyere near Healesville
The World Loves Melbourne is always on the lookout for impressive artisan wines and Yarra Yering in Gruyere near Healesville is a winery of distinction. It features some of the best and most iconic wines in Australia.
Dr Carrodus was a visionary who established the winery upon European styles. He was one of the pioneering winemakers who brought the Yarra Valley back to grape in the 1970s. Dr Carrodus was a perfectionist and would pour wines down the drain if they didn't meet his high standards. His wines, like his labels, rarely changed. There was Dry Red No. 1, a blend of classic Bordeaux grape varieties, and Dry Red No. 2, a Cote Rotie style blend of shiraz and viognier.
For a small fee, they will take you through their premium reserve wines and back vintages. Sit at a table by the open fire as you taste and enjoy the fine views under the watchful eyes of the cellar door cat.
---
Giant Steps/Innocent Bystander - 336 Maroondah Highway Healesville
As The Police song goes, "Giant steps are what you take!" Certainly when anywhere near the Yarra Valley this is a must visit foodie haven. Giant Steps/Innocent Bystander is bursting with life including gourmet breads, cheeses, wine cellar door, pastries, condiments and of course a killer restaurant with great food and wine. And the famous Moscato.
Melbournites love to drive out to the Yarra Valley and make a pilgrimage to Giant Steps/Innocent Bystander. And for good reason. This place pumps especially on a weekend. I came here with the family – something here for everyone including a gourmet kids menu. In fact I would have been happy with the gourmet standard of the kids menu.
The question is whether to have lunch first or look around first. We decided to lunch first (wise to book or be disappointed).
The lunch menu is exceptional. Hard to go past a decent wood oven pizza and a glass of red! Yet the sandwiches on thick fresh seeded bread with plenty of fillings looked amazing. My wife went for the sandwich and I for the pizza. The wood oven pizzas here are gourmet all the way.
Authentic artisan wood oven pizza. This is some of Melbourne's best pizza. 100% organic sourdough base. And the base is important.
It's so awesome to sit back in this great ambience with a spicy pizza such as the Calabrese salami, san marzano tomato, oregano & buffalo mozzarella... The crispy salami is sublime as is the san marzano tomato. My favourite pizza here.
Closely followed by the superb Spicy pork sausage, buffalo mozzarella, san marzano tomato & chilli... Too good. A little spicy for the kids but awesome.
The vegetarian offering of Asparagus, roast garlic, green olive, walnut & parmesan was outstanding. Notwithstanding a fair amount of garlic in this one. Can I say the coffee is also excellent.
Love the ambience here with large spacious room with concrete floor and modern features (roof gives an almost industrial feel). The place resounds to music and vibrant conversation…
We love choosing some bread to take home. It's a ritual for many. Throw in some goats cheese of course (or other cheese). But the killer is the sourdough fruit toast. It is amazing. Worth a trip for that!
Why the long name? The Giant Steps/Innocent Bystander represents two wine labels – Innocent Bystander for blends and Giant Steps for single vineyard premium wine. The GiantSteps/Innocent Bystander complex is part of a huge complex that includes White Rabbit Brewery and Beechworth Bakery.
Even though the place was packed and pumping on a Saturday, the waitress told me it was actually quiet and that it is normally "insanely busy". Giants Steps/Innocent Bystander rocks!
---
Zonzo Estate - 957 Healesville-Yarra Glen Rd, Yarra Glen
Zonzo Estate is a compelling visit in the Yarra Valley; with striking setting of vineyards and hills, an impressive farmhouse style restaurant and cellar door, and rustic rewarding cuisine. It's a worthy destination to visit from Melbourne, or from anywhere else. If you're looking for somewhere to relax and enjoy picturesque surrounds, while imbibing a decent menu and wine, then this is for you. It's bright and cheery, with a buzz of dining groups, and even weddings and hot air ballooning abound.
The World Loves Melbourne was invited to Zonzo Estate to experience a lazy lunch and enjoy rustic cuisine, notably the amazing wood-fired pizza. To be honest we enjoy this relaxed style of dining at a winery. We'd heard great things about Zonzo Estate with our friends telling us it's a great option in the Yarra Valley and that the pizza is some of the best around. There's charm in spades as you enter the grounds and cross the old train track, from which the Train Trak wines derives it's name.
The restaurant is open and airy, with large windows taking advantage of the stunning view, and with rustic theme throughout. Enjoy a lazy meal inside or relax on the outdoor terrace. Looking for family friendly wineries? Zonzo Estate is a place you can take your children; with the lawned area a place to watch your children run around as you imbibe your meal. Or indeed run around with them. (Zonzo Estate acquired the word "zonzo" which means in Italian "to wander about or stroll around".
Tiger prawns marinated in chilli, garlic and parsley is a rewarding dish. We noted the generous serving of prawns for this dish, and it had a pleasing tang while complementing the quality of the seafood.
Arancini hit the mark as Vegetarian Arborio rice balls filled with Mozzarella. Again, it was a generous serving. We enjoyed the mozzarella oozing in the middle of the arancini. As it arrived warm from the kitchen we were thoughtfully advised by the waiter to be careful with the first bite as the warm cheese in the middle of the arancini explodes across your palate.
Fried and crumbed artichoke hearts with sticky vincotto were also a welcoming dish. These are dishes you can share with friends; perfect for dining in a delightful winery setting.
All the while we were enjoying the excellent beer and wine list. Zonzo Estate has it's own excellent wines (has the label and about to experience first vintage of 45 acres of vineyards) and we enjoyed the Pinot Noir 2013 as a lighter style.
Pizza is the big drawcard with a variety of first class Italian style wood-fired pizzas with outstanding base, perfectly cooked, with quality gourmet ingredients. The Napoletana was a delight, featuring Pomodoro, buffalo mozzarella, Sicilian green olives, basil and anchovies. As the song says "It's all about that bass (base)." The World Loves Melbourne is an anchovy fan so we appreciated this nuance.
Radicchio salad was the perfect complement to our pizza. All food was professionally presented by the kitchen team.
A big thing for us is the attitude of the staff in a busy winery restaurant and here at Zonzo Estate we experienced professional, warm and welcoming service. As the restaurant was pumping (and it seemed that 100 people arrived at once) the staff were taking the high activity in their stride, gracious and keen to please, explaining the menu and attentive to our table. Head chef and owner Rod Micallef spoke with us (pictured in front of the wood fired oven) while in the throes of service to a packed restaurant, calm and cheerful, proud of his food and service. The World Loves Melbourne always thinks there's something about an owner operator running a business, and the passion and care is seen at every level with hands on application.
Dessert also hit the mark with Orange infused Panna Cotta served with a decadent Cointreau and orange syrup.
Zonzo Estate is a keeper; a popular Yarra Valley destination that gives the punters what they want in smart affordable cuisine (Italian style pizza a hit), excellent service and stunning Yarra Valley views.
We also like the new website.
Get on it!
---
Punt Road Wines - 10 St Huberts Rd Coldstream
Punt Road Wines is a popular winery in the Yarra Valley with stunning grounds, rustic cellar door and premium wines and cider. We've visited this winery several times and enjoy its ambience, relaxed and friendly. Not far off Maroondah Highway to enjoy another boutique experience.
For those living in Melbourne, Punt Road is a well known road just off the heart of the city. Many refer to the "Punt Road" end at the MCG. However this Punt Road refers to the punt which operated in the region in the 1850s (when first vines were planted), which ferried goods and people to the other side of the Yarra River. A bridge has replaced the old punt.
We hired their BBQ facilities for a group BBQ/picnic and it was sensational value including the tasting fee. We ended up buying a number of wines as well as the legendary Napoleone & Co ciders. Unfortunately we lost a football on the roof...
Punt Road wines are at the premium end, with excellent Pinot Noir, Cabernet, Shiraz and Chardonnay.
A Modern winemaking facility handles fruit sourced from over 75 hectares of privately-owned vineyards that have been planted with varieties best suited to each site. Only small parcels of the highest quality fruit is used for the Punt Road range.
The Napoleon & Co apple and pear ciders are surprisingly dry (not sickly sweet like many) and are my favourite cider, with fruit grown on the estate.
---
Domaine Chandon - 727 Maroondah Highway Coldstream
Domaine Chandon is a premium winery with French influences. We've been visiting this winery over the last decade and enjoy the magnificence of the grounds, with its stunning views, as well as amazing winery facilities. The journey begins when you step out of the large carpark and wander through the stunning Estate.
As a family we appreciate the self tour of the winery where you can take in the winemaking process. It was an opportunity to educate the children on basic winemaking, but also impress the adults with the finer points of the methode traditinnelle process.
Domaine Chandon was established by French champagne house Moët & Chandon in 1986 and is dedicated to the production of méthode traditionnelle sparkling wine and premium quality, cool-climate still wines. The Chandon Greenpoint Brasserie offers a contemporary-provincial design, and is one of the Yarra Valley's leading food and wine destinations.

The focus is on fresh, seasonal produce prepared with simplicity and served in an atmosphere of sophistication with panoramic vineyard views. Indulge in epicurean delights including seafood, exquisite meats and cheeses, and charcuterie style platters. Or try the main meals crafted using the finest produce, and served with wine recommendations by friendly staff.

The Chandon Greenpoint Brasserie dining experience demonstrates the wonderful rewards of good food and wine matching in a relaxed, memorable setting.
Domaine Chandon is a place to recline with a Charcuterie board or platter of cheese and a glass of Pinot Noir. Or some sparkling... The tasting fee here is refundable upon purchase.
We been able to dine here but sometimes it gets quite busy and crowded, with popularity of tour buses.
---
De Bortoli Wines - 58 Pinnacle Lane Dixons Creek
De Bortoli Winery and Restaurant is one of my favourite wineries to visit in the Yarra Valley. Here is a great restaurant, great cheese room and excellent picnic facilities. The De Bortoli family is legendary when it comes to Australian wine.
De Bortoli has an impressive fine dining restaurant serving great dishes in the Italian tradition. The restaurant overlooks sweeping views of the vineyards.
We arrived at De Bortoli in the charming Yarra Valley to be greeted by Leanne De Bortoli (Manager of Vineyard and Restaurant) and Stephen Webber (husband and Chief Winemaker/Manager), with a glass of newly launched De Bortoli Prosecco. Is there a more agreeable place on the planet than the Yarra Valley on a sunny day? And the estate at De Bortoli is looking magnificent.
As we made our way from the outdoor area into Locale Restaurant Chef Adam Mead spoiled us with a magnificent lunch, with olives, fresh bread and radishes to begin...
Leanne De Bortoli spoke about the Stephanie Alexander Foundation and the wonderful work that is impacting schools across the country. De Bortoli are glad to be partners in such a significant program.
Stephanie Alexander surprised with her speech; giving us a culinary history of Australia. She spoke about her foundation but the insight into the culinary scene over decades (a scene she has helped shape) was compelling. An interesting comment was that food media is relatively new and that the first Good Food Guide was as recent as 1980.
De Bortoli thrilled with this entree of Warm asparagus custard with beurre blanc and asparagus tips, tempura of broccoli. This dish screamed spring; a seasonal triumph. Creamy goodness.
In between courses we were given a private audience with Stephanie Alexander. The World Loves Melbourne asked about any conflict between her program and the school canteens. Stephanie told us that many schools are consistent in their message of healthier eating; although some schools were keen on profits associated with unhealthy foods. If Stephanie had her way there wouldn't be soft drinks and sweets in the schools.
Stephanie gave us stories from schools where children's lives had been improved, and that the program was appealing to teachers because it educated children across subjects beyond just food. A garden program educates in maths and science for example.
Schools can get involved in the program through the website.
Stephanie Alexander has written a plethora of amazing cookbooks and food publications; including classics such as The Cook's Companion.
The main course of Crumbed Milawa free range chicken breast, capers and lemon segments, spring medley of vegetables. This was complemented by Witlof, watercress, Mt Zero extra virgin olive oil. This was another great Spring dish; zesty and rewarding.
Adam spoke about the philosophy in the kitchen at Locale and told us about his recent introduction to parenthood.
Dessert was served with the iconic dessert wine of the nation - Noble One Riesling. Golden joy.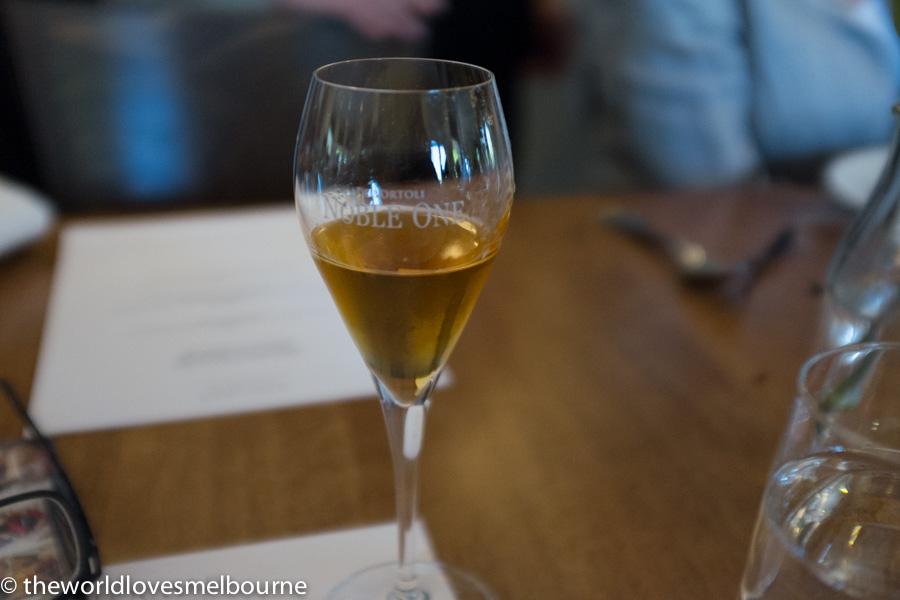 De Bortoli boasts sweeping views of hills and vineyards; idyllic.
After lunch we were taken into the Cheese Room, a place The World Loves Melbourne is mighty partial to. We noted the launch of the new Prosecco featured at the cellar door.
What an epic afternoon at De Bortoli with culinary royalty for a great cause.
The grounds are superb - grab a spot on the lawns and enjoy the kids play area...
---
Yering Station - 38 Melba Highway Yarra Glen
Yering Station is an amazing large winery tourism complex with plenty to offer showcasing the best of the Yarra Valley. Before you get to Cellar Door you imbibe the amazing views and facilities, and when you enter cellar door you find a world of gourmet regional delights and condiments even before you get to the wines.
As for me I'm a condiments tragic, so I always avail myself of an Aubergine chutney or two uopn arrival at Yering Station. But then its onto the wines, which pitch at the premium end. At Cellar Door you can taste the full range of the estate's award-winning wines, Barak's Bridge, Yering Station and Yarra Edge, along with tthe iconic Yarrabank.
Victoria's first vineyard was planted at Yering Station in 1838. The Scottish-born Ryrie brothers ventured into the Yarra Valley as they moved their cattle south from Sydney. Taking up a grazing license of 43 000 acres, they named the property 'Yering', its Aboriginal name.
In recent times, this vision has culminated in some exciting recognition, with the 'International Winemaker of the Year' at the highly coveted International Wine and Spirit Competition, London in 2004. As well as the property's induction into the Australian Tourism Awards 'Hall of Fame' in 2006.
Check out the Wine Bar Restaurant with stunning architecture and amazing sweeping views. This is fine dining featuring fresh, seasonal produce.
Yering Station also boasts an Art Galley that supports the Children's Hospital, and supports a Regional Farmer's Market on the 3rd Sunday of the month.
---
TarraWarra Estate - 311 Healesville-Yarra Glen Road Yarra Glen
We visited
TarraWarra Estate
on a hot summers day and were impressed by the awesome views and winery facilities, and the new underground cellar door. Stand on top of the hill and imbibe the views; serenity in overdrive. This is a great place to take out of towners and people you want to impress.
The first 10 acres of vines were planted at TarraWarra in 1983 along with the Besen family's vision to produce wines of superb quality and integrity and to share them in a location of great beauty and hospitality. The vineyard sits on 400 hectares of prime Yarra Valley farmland and some thirty years on, we are defined by this heritage and a deep sense of place. Under the watchful eye of winemaker Clare Halloran, all of TarraWarra's wines are meticulously grown, hand picked, vinified and aged on the estate.
TarraWarra Estate is best known as a producer of exceptional Pinot Noir and Chardonnay and we also make several other single block heritage varietals and estate blends. Our wines are made to express the unique terroir of the TarraWarra site, which is comprised of many individual blocks and planted with carefully selected clones, each contributing their own unique characteristics to TarraWarra wines.
TarraWarra Estate is internationally renowned as an unforgettable wine tasting and restaurant experience in the Yarra Valley. Respect for sustainability and provenance of the estate is integral to everything they do. The estate with its native bushland and waterways is where they cultivate their grapes, make their wine, graze their cattle and grow produce for their restaurant. The estate is the spirit of TarraWarra.
We indulged in several platters along with some of the TarraWarra Wines. We found that a couple of platters was a great way to enjoy the ambience, and the wines were superb.
The Yarra Valley remains as one of Australia's premier wine regions and their decision to up the ante on tourism some years ago is paying dividends.
---
Balgownie Estate is a magnificent property deep in the Yarra Valley with multiple attractions of day spa facilities, great accomodation and alluring Rae's Restaurant with killer views. The World Loves Melbourne was invited along to imbibe the food and wine at Balgownie Estate.
Rae's Restaurant is perched on a hill with sprawling lawns and vieyards to be seen from the large windows. The menu here features approachable cuisine from chef Graham Taute, and excellent wine from Balgownie's various regional vineyards.
Balgownie 2012 Shiraz was a compelling drop, perfect with our meal.
This is food for the casual visitor and many of the wineries cater for broad appeal. What is the point if bus loads arrive and punters can't find anything recognisable on a menu? I understand what they are trying to do here. It's about honest food using fresh ingredients, served in a stunning location, with brilliant service.
Much of the produce is sourced locally (this is a fabulous region for produce), and Rae's has it's own veggie patch. throughout our meal Deb was extremely attentive and engaging, adding to the whole experience. Kudos also that there's a kids menu (not that our kids used it).
Slow cooked pork belly and slaw was a winner, with slow cooking meaning the pork is soft on top and tender throughout. This was a decent portion for an entree.
The Salmon tasting plate was also a triumph, with smoke salmon and salmon fillet. The presentation was also first class.
After eating pork belly for entree, I loaded up with the signature Porterhouse steak, cokked perfectly as medium rare. There's a sense of theatre as the steak comes alone on the large plate then the waiter pours the jus over the top.
Sides are served seperately including hand cut fries and crispy beans.
We also enjoyed the Wagyu Burger, a popular choice.
White Rabbit Beer Battered Fish of the Day was tasty Rockling, excellent with the salad and hand cut fries. Rockling was tender and the celeriac roumelade was zesty. The hand cut fries here are chunky and not overly greasy.
It didn't take long to feel relaxed, gazing out of the windows to this view...
This picture was taken before the punters descended - the place became full by about 1pm on a Saturday.
Balgownie Estate is well worth a visit - only an hour out of Melbourne. From my experience punters want to know where to go for a Yarra Valley meal - here is an excellent option.
Rae's served us some of the desserts usually reserved for dinner such as sticky date pudding, semifreddo, panna cotta and delcious ice cream.
Down the bottom of the hill we found a few fake kangaroos, bringing some humour to the experience. I noticed several parties posing for photos with these kangaroos.
We were glad to visit on a perfect day with rolling clouds and great visibility.
Balgownie Estate is a rewarding destination, including the cellar door where we purchased some of their fine product.
We are already looking forward to returning here, including to the day spa. Highly recommended.
Agree? What's your favourite?