One Plus Piece Vibrant Cafe in Balwyn
One Plus Piece Cafe in Balwyn is one of the best cafes in Melbourne, and hits the high notes with brilliant food and fine coffee, all with an Asian twist. The World Loves Melbourne loves a playful cafe and One Piece Plus delivers with its Japanese anime theme.
One Plus Piece Cafe is located in a premium pocket of Whitehorse Road in Balwyn, with banks, eateries and high end shops surrounding. The decor at One Plus Piece Cafe is lively with an assortment of figurines displayed on the wall, animation characters painted on one wall, posters, plants, books and other quirky objects, as Melbourne loves all things quirk. Playful and fun!
Energetic young owner Yvette has created an artistic space with a plethora of small plants a welcome complement. The menu developed by passionate Head Chef Cain caters for a variety of tastes; the cafe serves up compelling burgers, moorish dumplings, imaginative breakfasts, and a series of healthier style dishes.
The coffee here is also on song, and unique offerings include Matcha green organic tea as an espresso. More antioxidant!
Here is Cain making a Matcha espresso...
One Plus Piece Cafe is super popular for its burgers; we enjoyed the Angas beef and cheese burger in a brioche bun with beetroot relish, tomato, lettuce, bacon, mustard and aoli. The balance of the burger was excellent and for us the burger was full of flavour. The richness of the Angas beef was evident in a seasoned patty. The burger was mouth watering with right amount of sauces, and some kick. Fresh lettuce was crispy, as was the bacon. The brioche brought a hint of sweetness and the gherkin on top was a nice touch. Presentation was superb on a board with pirate flag and golden chips.
The Nutella milkshake was indulgent with large marshmallow on top.
One Plus Piece also impressed with its Portobello Mushroom burger. Once again this was presented inside a brioche bun and the large portobello mushroom was lightly crumbed. We found this to be extremely satisfying with a creamy nuance; some places have the large mushroom acting as the bun but we love the portobello mushroom inside the brioche!
These burgers are One Plus Piece Cafe are not greasy affairs; but clean and flavoursome and well presented.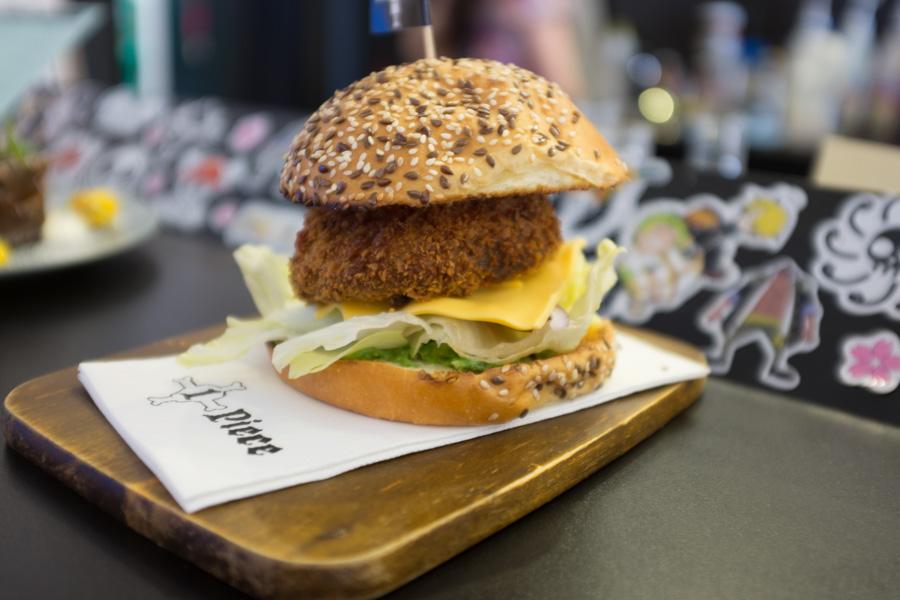 One Plus Piece is spacious with a welcome feel, including a hidden gem courtyard out the back (just walk along the path to the back of the cafe).
Breakfast options are compelling including the Eggs Benedict with the twist of slow cooked 12 hour braised pulled beef and poached eggs with house made hollandaise sauce for a hearty start to the day. One of the best eggs benedict dishes in Melbourne.
One Plus Piece also excels when it comes to healthy dishes; with a compelling selection of nutritious offerings such as the Ancient Grains Salad with pumpkin, sweet potato, kale, sesame vinaigrette, black quinoa, barley and sunflower seeds, with sous vide chicken or smoked salmon. A cracker healthy dish showcasing whole foods naturally.
Also check out the Matcha Tea; with loads of health benefits including more antioxidants than green tea.
Figurines abound...
One Plus Piece embraces Melbourne quirk but delivers on its cafe choices...
The display cabinet is full of fresh cafe treats including cakes, croissants and sandwiches...
Be Pirate!
One Plus Piece Cafe in Balwyn is a breath of fresh air on the Whitehorse Road strip with Yvette and Cain bringing their passion and verve with first class cafe options.