Our Lunch with Stephanie Alexander at De Bortoli for Kitchen Garden Foundation
Lunch with Stephanie Alexander at Locale Restaurant at De Bortoli was a sweet invitation; dining with culinary royalty at a premium Yarra Valley winery. Check out our Best Yarra Valley Wineries.
We arrived at De Bortoli in the charming Yarra Valley to be greeted by Leanne De Bortoli (Manager of Vineyard and Restaurant) and Stephen Webber (husband and Chief Winemaker/Manager), with a glass of newly launched De Bortoli Prosecco. Is there a more agreeable place on the planet than the Yarra Valley on a sunny day? And the estate at De Bortoli is looking magnificent.
Stephanie Alexander has selflessly devoted much of her time to The Kitchen Garden Foundation; with the program reaching over 800 schools Australia wide. The World Loves Melbourne considers this amazing in impacting the lives of children for greater health and healthy life habits.
De Bortoli are on board as a partner; which enables the work to flourish. This was a first class event with media and supporters of the foundation; including staff from the schools who run the program and see the excellent results.
As we made our way from the outdoor area into Locale Restaurant Chef Adam Mead spoiled us with a magnificent lunch, with olives, fresh bread and radishes to begin...
Leanne De Bortoli spoke about the Stephanie Alexander Foundation and the wonderful work that is impacting schools across the country. De Bortoli are glad to be partners in such a significant program.
Stephanie Alexander surprised with her speech; giving us a culinary history of Australia. She spoke about her foundation but the insight into the culinary scene over decades (a scene she has helped shape) was compelling. An interesting comment was that food media is relatively new and that the first Good Food Guide was as recent as 1980.
De Bortoli thrilled with this entree of Warm asparagus custard with beurre blanc and asparagus tips, tempura of broccoli. This dish screamed spring; a seasonal triumph. Creamy goodness.
In between courses we were given a private audience with Stephanie Alexander. The World Loves Melbourne asked about any conflict between her program and the school canteens. Stephanie told us that many schools are consistent in their message of healthier eating; although some schools were keen on profits associated with unhealthy foods. If Stephanie had her way there wouldn't be soft drinks and sweets in the schools.
Stephanie gave us stories from schools where children's lives had been improved, and that the program was appealing to teachers because it educated children across subjects beyond just food. A garden program educates in maths and science for example.
Schools can get involved in the program through the website.
Stephanie Alexander has written a plethora of amazing cookbooks and food publications; including classics such as The Cook's Companion.
The main course of Crumbed Milawa free range chicken breast, capers and lemon segments, spring medley of vegetables. This was complemented by Witlof, watercress, Mt Zero extra virgin olive oil. This was another great Spring dish; zesty and rewarding.
Adam spoke about the philosophy in the kitchen at Locale and told us about his recent introduction to parenthood.
Dessert was served with the iconic dessert wine of the nation - Noble One Riesling. Golden joy.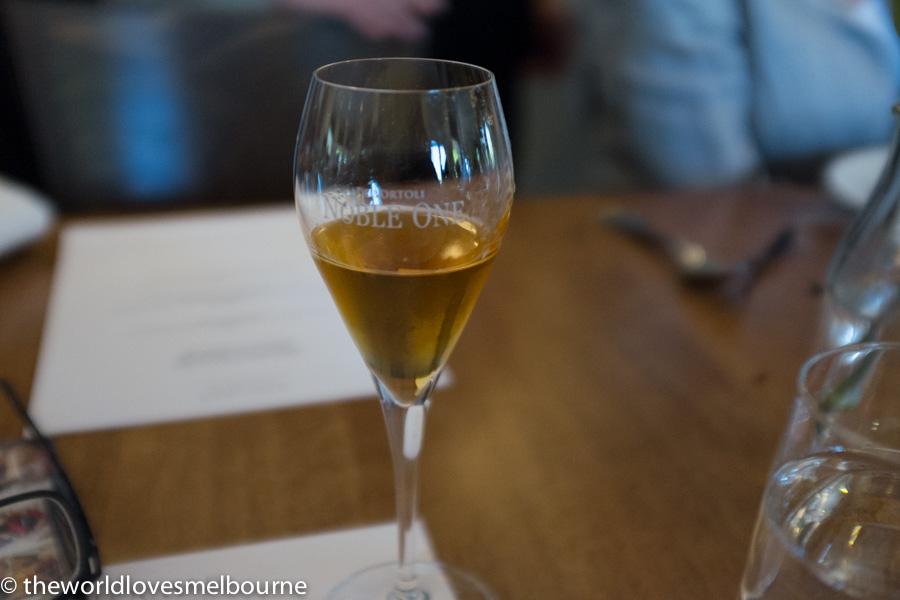 De Bortoli boasts sweeping views of hills and vineyards; idyllic.
After lunch we were taken into the Cheese Room, a place The World Loves Melbourne is mighty partial to. We noted the launch of the new Prosecco featured at the cellar door.
What an epic afternoon at De Bortoli with culinary royalty for a great cause.