Claremont Tonic - Pan Asian Cool in South Yarra
Now closed. Claremont Tonic is the dream of young restauranteur Davis Yu and brings Pan Asian cool to South Yarra. Recently I went to the launch of this uber restaurant. When Davis Yu throws a party it becomes the hottest ticket on the social scene. The point is that Davis Yu also brings the party to his restaurants, which all exude a sense of fun along with fine dining.
Davis Yu has an eye for fashion and it was great to see fashion icons at the launch including Louise Van Der Voorst, Toni Maticevski and Alex Cleary (Alpha 60). As was Chelsea Scanlan who we saw recently at LMFF.
We enjoyed Pan Asian dishes and engaging conversations while blistering rock riffs pulsated through high quality speakers. Davis Yu has said his aim was to create a restaurant that Keith Richards might enjoy.
Keith Richards may well approve of models dressed in Japanese apparel and draped in live snakes. This was no ordinary restaurant launch.
The fit out was designed by Hecker Guthrie and includes Asian influences with the rock and roll theme. They describe it as a place "where rockers go to recuperate from a rock lifestyle." Interiors are raw, expressive and slightly industrial. In the words of designer Hamish Guthrie "it's the interior you wouldn't take home to meet your mother."
The theme is enhanced with long sleek bar, neon lighting, animal figures, raw timber benches, spotlights for mood, a hanging globe, and various quirky pieces.
Davis Yu has taken the Melbourne restaurant scene by storm with great success at The Millswyn, Touche Hombre, and now with Claremont Tonic.
Like other Davis Yu restaurants the vibe and ambience is as awesome as the fine cuisine. At the launch we were treated to some of the creative cuisine on offer at Claremont Tonic.
Head Chef is Dylan Roberts who Davis righly calls a rock star chef following successful tenures at Cutler and Co. and Ezard.
Claremont Tonic features cuisine such as Cone bay barramundi, King of the Chimichangas of Raw king salmon and Nori tacos and a box of condiments, Pork bun with pork belly and crackling, and Chicken wing dumplings.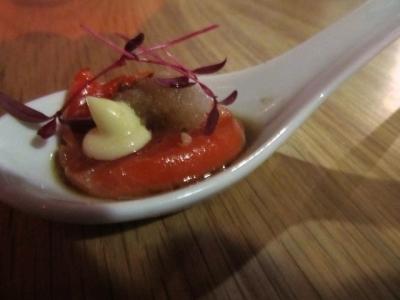 There is also an extensive cocktail menu and depth in the wine list.
This was an epic launch. Claremont Tonic is set to rock South Yarra with style and chic and raw rock and the passion of Davis Yu.