Best Fries and Chips in Melbourne 2020
Best fries and chips in Melbourne range from thin to chunky, spiced up to plain, as well as many being house cut. Gone are the days of rubbish soggy fries; chips are a big deal. Many Melbourne fries and chips offerings are well considered and have descriptive names and personalities. One of the best things to do in Melbourne is to enjoy top notch fish and chips; with many offerings fitting the gourmet bill.
8-bit - Beer Battered Fries
8-bit delivers at every level including in the fries department with quality beer battered fries. The loaded Chilli cheese fries are also a welcome complement to the top notch burgers.
---
Belles Hot Chicken - Old Bay Fries
Cant get enough of these chips. In fact seeing them makes us salivate. Perfect;ly cooked crunchy crinkle cut chips with addictive seasoning. Like everything here there's surprising kick and heat. A large bowl is a must; if sharing you may need to grab them before your dining partner.
---
Big Boy BBQ - Crunchy chips lightly spiced
Chips are first class at Big Boy BBQ, and you find yourself dipping them in the delectable American BBQ sauces. All the sides at Big Boy BBQ rate mention, including the Slaw and Onion rings.
---
Charlie & Co Burgers - Parmesan and Truffle Fries
The Parmesan and Truffle fries are sensational; the fragrance of truffle comes to the fore before you are met with crunchy golden chips and the nuance of parmesan and truffle oil. We love our fries crispy on the outside and hot but tender inside.
---
Hello Sam - Beer battered chips
We recommend orfdering the chips and the nacho chips; having enjoyed both with our burgers. A theme in this article is the number of beer battered chips; with beer batter producing that light crispy texture and a beer flavour nuance.
---
Le Bon Ton - Fries with spicy ketchup and aoli
Fries are crispy and come with decent spicy sauces. Recommend the loaded fries.
---
Tuck Shop Takeaway - Hand cut triple cooked chips
Tuck Shop Takeaway is a sensation with compelling burgers, fries and these hand cut triple cooked chips. Triple cooked chips; say no more.
---
YOMG Glen Waverley - American Fries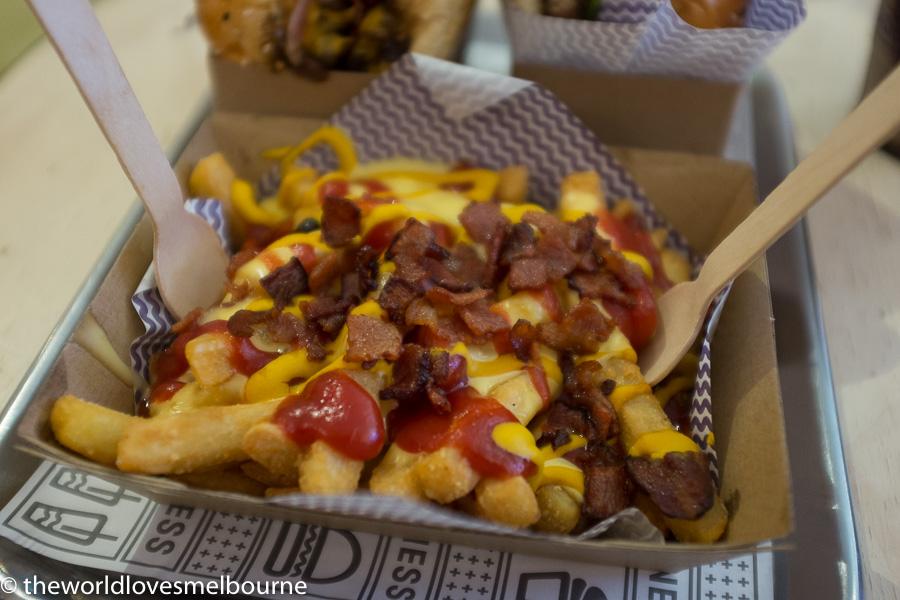 Elvis would be proud of these loaded American fries with oozy melted cheese, cripsy bacon, ketchup and American mustard. Almost a meal in itself and hits the spot.