Best Restaurants in Melbourne 2016
Who are Melbourne's best restaurants? The following list is abased on the overall experience of a restaurant, not just ffod and wine, but ambience and service. We are always on the look out for places to take high profile national and international foodie guests so we also have this in mind. What is an iconic Melbourne dining experience? One of the best things to do in Melbourne is to dine out at a standout restaurant. We will add to this selection further during the year and we get inspired by our culinary experiences.
Here are our best restaurants visited (recommended for 2016):
Best Restaurants
Attica
Attica brings a unique dining experience, not just in relation to Melbourne, but the whole of Australia. Attica doesn't care about trends, other than setting them. Ben Shewry is a genius, with a passion for innovative use of native Australian ingredients. We have had the pleasure of visiting Attica several times and it never disappoints.Ben Shewry, the inspiration behind Attica is a softly spoken genius whose ethos is to make the food and the fine dining experience centre stage. In an industry of large egos, Ben Shewry is refreshing as a focussed visionary who manages to keep evolving. The passion here is for sustainability, natural and native ingredients and modern food techniques.
Attica soon received wide acclaim and jettisoned to number 21 in the World's 50 Restaurants. According to Ben Shewry this was not through fad or fortune but through "brutal hard work" and famous signature dishes gained traction such as "Snow crab" and the "Potato cooked in the earth it has grown".
The menu is ever changing and while there can be signature dishes they are not always etched in stone. This is a restaurant where the staff aim to impress; if you've had a terrible day the chances are you'll leave Attica inspired.
A course often served towards the end of the evening is the famous Pukeko's Egg, which came with a picture of a painting from Ben Shewry's father and a description from Ben Shewry. The dish pays homage to Ben Shewry's New Zealand roots and is a delicate rich dessert with salted caramel and chocolate. You have to get inside the ethos and emotion here; and imbibe the hit of salted caramel and chocolate.
---
Vue De Monde

We've had the privilege of dining at Vue De Monde several times and each occasion has been a memorable experience. Shannon Bennett, what a legend he is! Shannon is a man who understands the customer and delivers on service and imaginative cuisine time and again. He pushes boundaries and always seems to keep his creativity flowing despite huge business demands of his many interests.
Vue De Monde is a fine dining restaurant that pushes boundaries with its modern cuisine. On arrival diners are escorted to an exclusive lift that takes them straight to the restaurant located 55 floors above Melbourne, with spectacular views of the city and Port Philip Bay. Shannon Bennett has wide experience having worked in the best kitchens in the world. Vue De Monde is acclaimed for its culinary innovation, sustainability, emphasis on local organic ingredients and fine service. Come here for a slice of Australia with tables featuring kangaroo leather surfaces, and carefully curated degustation dishes including Australian seafood, meats, plants and berries, for example.
Apart from dining at Vue De Monde, during 2014 we attended several events catered for by Vue De Monde and couldn't get enough of the Vue De Monde Apple and Macadamia, and their Classic Lamingtons, not to mention the Vue De Monde version of Fried Chicken and Fish and Chips.
---
Kappo
Kappo doesn't always get the kudos it deserves. Kappo takes you on a dining journey through tastes, textures and innovative treatment of fine Australian produce with first class Japanese technique. The World Loves Melbourne loves the concept of the counter experience, and to have Simon Denton host us at the counter was a privilege and memorable experience. The Herald Sun lists Kappo as among the top 5 restaurant experiences in Melbourne and we can see why. Check out the winter menu (or any season in fact).
The high note of the night was the theatre and taste around the Tasmanian green lip abalone tempura with guts sauce. Simon explained the only description of the abalone sauce could be "guts sauce". The theatre of the guts sauce poured around the abalone tempura was classic. A great sauce stands on its own and this sauce was compelling, rich and almost rustic. The combination with the tempura was stunning. This had the "wow" factor. A unique and compelling Japanese culinary experience in Melbourne.
---
Flower Drum
The Flower Drum is a world-famous fine-dining restaurant in Melbourne's Chinatown, celebrating 40 years as a leader in Cantonese cuisine. Against a backdrop of red carpet and panels of Chinese art lining the walls, this is a place where finery meets tradition and consistency. Over the decades, The Flower Drum has retained most of its wait staff. The Peking duck is legendary, served for decades with precision and skill. The combination of perfectly cooked crispy skinned duck and the delicate, thin translucent pancakes is extraordinary, served with a compelling sense of theater by skilled waiters. With customers including some of the world's top chefs, there are several other must-order dishes on the menu, including the shallot cake, pearl meat, baby pigeon (drunken or BBQstyle), mud crab with ginger and shallots and lobster with egg noodles and XO sauce. Image: Flower Drum
---
Tippo 00
Tipo 00 is a touch of class when it comes to Italian dining; greeting you like a Nonna with warm hospitality while serving up fine rustic Italian fare. This is the sort of place you seek out to spend several hours imbibing. Don't let the office contact you. Tell the Secretary to put everything on hold; you're in a meeting. The romance of Italian dining is alive and well in Melbourne. Check out our Best Italian Restaurants in Melbourne.
There's nothing like sitting down to a welcoming authentic bowl of top class Italian pasta (hand made of course). It warms the soul. Melbourne does Italian fare well, but some do it better.
Scanning the restaurant on a weekday lunchtime we noticed loads of "suits" packing out the restaurant from 11.30am right through to the early afternoon well beyond 2pm. I asked Luke Skidmore behind the bar, "Aren't these people meant to be at work?" But this is part of the working day for professionals who work long hours. We suspect lawyers and bank execs have a penchant for fine Italian cooking. If you want to to dine at Tipo 00 you best book.
Two dishes stood out in the Pasta menu immediately; the

Pappardelle –
braised rabbit, marjoram & hazelnut (how often do you see rabbit on a menu?) and the striking Tagliolini al nero – squid ink tagliolini, squid & bottarga. We settled on the Tagliolini al Nero upon the waiter's recommendation as it's such a unique dish.
---
Supernormal has lived up to its strong reputation on the occasions we've visited. This is one of Melbourne's best restaurants when it comes to entertaining your international guests, in ticking all the boxes. We visited Supernormal on a Saturday night with our Canadian friends and expectations were exceeded. Melbourne is full of standout culinary options but we wanted to take our friends to somewhere that's "so hot right now" and somewhere acclaimed and hatted. Supernormal has made a big impression from the "get go" winning a hat at The Age Good Food Guide Awards, let alone a bold neon window display.
Supernormal is about Andrew McConnells favourite dishes from trips to Asia, notably Shanghai and Hong Kong. The menu is set up well for groups - just share dishes from small to large offerings and you can cover a lot of ground. Start with the Raw bar and the Snacks and appetisers and move on from there. Or select the set menu options which are great value. Supernormal has picked up on some trends in Melbourne, bringing its own twist. What we love is that it's a unique offering in Melbourne, not a copy of another, or indeed predictable. This is exciting modern food built on traditional roots and stories.
---
Altair Restaurant
Altair Restaurant is a leader in innovative use of Australian native cuisine. Kelvin and Michelle Shaw are foodies through and through and are known for their epic degustation events; where Kelvin has been known to thrown in an extra course or two.
The dining experience is such that there is a lot of repeat customers, passionate about the food, ambience and service. Kelvin is also famous for his brilliant use of native ingredients - from berries to saltbush, Warrigal greens and native river mint, to the use of bush tomatoes. The food at Altair is top notch; this is fine dining in the eastern suburbs. They destroy the myth that you have to travel into the city of Melbourne for fine dining. Think loads of technique and innovative dishes such as the Goat and charred vegetable pie, or the Carpaccio entrees...
Having visited many times each experience has been brilliant; whether breakfast, lunch or dinner. With a huge local following the word is spreading across Melbourne.
---
Best Cheap Eats
Babu Ji
We're not sure if this is strictly a cheap eat but it's affordable. Babu Ji brings a modern twist but also honours Indian tradition. Dishes comes not just from one area, but the north and south are both represented. Our dinner began with a medley of Indian street food including this Pani Puri; fried puff pastry balls filled with mashed potatoes and chick peas. Pour in the broth for a tangy, spicy, sweet delight.
Babu Ji also impressed with the Achari Fish Tikka; Tandoor cooked Atlantic Salmon with ginger, pickle and punch phoron. The World Loves Melbourne loved this Atlantic Salmon treated in the tandoor tradition, honouring the salmon and bringing tandoor nuances.Babu Ji is a modern Indian restaurant with simple but elegant fit out. We enjoyed the custom of the beer fridge; select your beer from the huge range of beers in the fridge, rather than just read it off a menu...
Babu Ji enthralled with the Butter Chicken main, Free range chicken cooked with tomato, cardamom and fenugreek. Behind the Butter Chicken (above) was a superb Fish Curry; Blue Grenadier turmeric, mustard seed and coconut milk curry - a must try for the adventurous!
We also enjoyed top notch Raita with our mains; Crisp cucumber, carrot and yoghurt salad. What impresses us is that the menu is ever evolving. Highly impressive Indian cuisine and upbeat ambience.
---
Jinda Thai
Jinda Thai has quickly established itself as a formidable modern Thai restaurant and has a large fan base. Dishes are authentic, with the odd modern twist, and the staff are upbeat and service excellent. One of Melbourne's best restaurants for Thai cuisine. Jinda Thai is also giving back to the punters with a meagre $3 corkage. Walk in to a vibrant modern space full of natural light, which has a different but alluring ambience at night with chic lighting. Jinda Thai has a modern feel with large warehouse converted into a trendy restaurant. Exposed brick and wooden floors ensure vibrant noise levels. This is a place we also visited several times for its authenticity, affordability and ambience (and approachability on the edge of the city). Check out the Moo Ping Sticky Rice, the Skewers, Barramundi Fillet (crispy), Green Curry Chicken, Pork Neck, Special Fried Rice, Seafood Noodles and pretty much everything else. And the desserts - cake and coconut ice cream.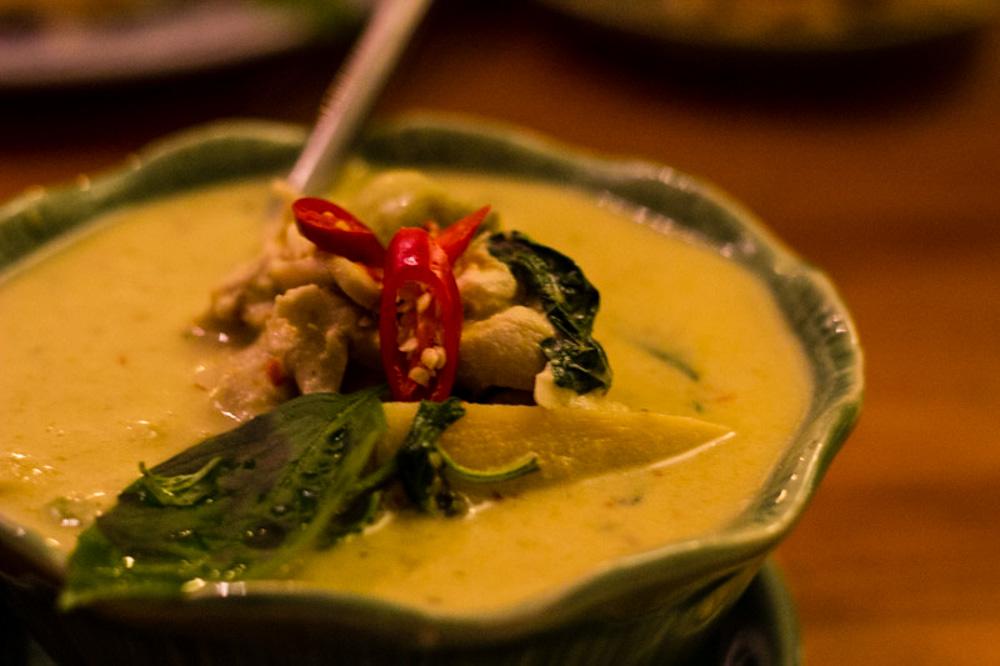 ---
ShanDong Mama
ShanDong Mama in Bourke St has taken all before it in terms of Melbourne's best dumplings and is a value for money champion. One of Melbourne's best restaurants in terms of cheap eats. Having been to ShanDong Mama since their humble opening we've been tracking them since - and the quality continues to resonate. The story of Mama Wang coming from the ShanDong Province of China to bring her expertise to Melbourne is compelling. With family alongside her, Mama is unstoppable. She has strict quality standards and picks the ingredients from the markets herself for her dishes.
This restaurant serves up dumplings not found anywhere else in Melbourne. The famous Pan-fried pork dumplings with dill, shrimp, ginger and spring onion are considered by The World Loves Melbourne as the best in this city for the excellence of the skin, the right amount of crispiness, and importantly the quality of the filling. (We also recommend the Fish Mackerel dumplings and the Melbourne dumplings). Check out ShanDong Mama Mini in Centre Place, which has the killer combination of craft beers and dumplings.
---
Chin Chin
Chin Chin continues to colourfully dominate in a competitive Melbourne culinary scene after about 3 years, with kudos to Chris Lucas and the team. This is one of Melbourne's best restaurants for it's buzz and consistently excellent cuisine. With heralded restaurants stumbling and some falling, Chin Chin is still packed with diners every day rain, hail or shine. The World Loves Melbourne popped into Chin Chin for lunch, dining solo. Whereas on a previous visit we experienced the fabulous "Feed Me" option, this time a couple of dishes and rice, and a glass of wine was sufficient (before my business meeting).
Chin Chin has a striking ambience with pop artwork, Asian images, the neon rabbit, and cool typeface of its logo. The lighting is slightly dim, the crowd energises at atmosphere of its own, there's activity and sometimes there's a sense of rush. In fact these are elements of Asia itself and you feel like you actually might be somewhere in Bangkok or Singapore or some other Asian city.
---
Delhi Streets
Delhi Streets is an exciting colourful if not chic Indian restaurant in The Archway precinct and has become our new Indian favourite. The World Loves Melbourne feels Melbourne has decent Indian restaurants but not that many of them. Delhi Streets captivates with its approacheable street food, Bollywood posters and fun ambience.
In terms of smart cheap eats Delhi Streets has burst on to the scene as a chart topper. We were impressed by the quality of cuisine and the overall experience, having been invited to imbibe the lunch menu.Delhi Streets is about fun, but with substance. Spectacular is the Pan Puri, Indian street food at it's best, with a sense of theatre. Pour the jug of spiced water into the Pan Puri and get an intense hit of flavour and freshness. Crispy lentil cracker balls stuffed with potatoes, chickpeas, onions, tamarind chutney. Delhi Streets also delivered on the Tikki Chaat - two potato pea patties on a bed of spiced chickpeas, then drizzled with sweet yoghurt, tangy tamarind chutney and zesty coriander and mint chutney. A flavour explosion.
Delhi Streets had us impressed already, but the high standard continued with the Mixed Thali, including Lamb Curry and Butter Chicken (also told Paneer is good). The Thalis come with rice, pappadums, naan bread and a small amount of salad. The spice was right for us, and you can always amp it up.
Wraps and burgers are also a highlight on the menu. Specialising in Indian street food, nothing is particularly expensive. We think it's the perfect meeting place for friends and groups to catch up.
---
Best Burger Joints
Rockwell & Sons
Rockwell & Sons Double Patty Smash is one of the best burgers in Australia. Quality beef in the form of a double smash rather than well formed patty, oozy cheese, killer sauce and zesty pickles. A must have dish in Melbourne.
---
Huxtaburger
Huxtaburger has done its homework on what makes a great burger. They simply have great buns. The glazed brioche bun melts in the mouth. You don't get that heavy starchy hit of bread but rather the bun combines wonderfully with the rest of the burger. The strength of Huxtaburger is fresh quality ingredients and simplicity. My favourite is "The Huxtaburger" which has those awesome buns, crunch of great lettuce, quality gherkin, sublime patty of MoondarraWagyu beef and melted cheese, tomato, mayo and ketchup. For a little extra you can get some great crinkle cut chips. Like everything Daniel Wilson does, there is adventure; amazing gourmet flavours yet sublime balance. There is kick in the mayo and pickles but it doesn't dominate the quality beef. The sensation is of a delectable light and slightly sweet burger. A contender for Melbourne's best burger.
---
8 bit
Footscray is a culinary hub for a wide range of cuisines. It's better known for its Asian and African expressions, but now add the mighty burger to the scene. 8bit is an obvious "play" on 80s video games, with their marketing pointing to retro pop culture. Burger options range from the standard 8bit with cheese featuring Beef, Tomato, Lettuce, Red onion, Pickles, Mustard, Cheese, 8BIT sauce, to the Double Dragon featuring Double beef, Double cheese, Double bacon, Pickles, Mustard, Lettuce, 8BIT sauce. These burgersare juicy and addictive, flame grilled and in the American style. Check out the beer battered fries, also addictive.
---
Grand Trailer Park
As we entered the trailer park we were met by wait staff full of personality and banter - they are a big part of the experience. It's fun here if not a little glamorous. Grand Trailer Park captures the essence of the American Trailer Park in the fit out but is the antithesis in terms of mood. Trailer Parks in America have a certain romance but are also a place of social challenge. This trailer park is a happy place with compelling dining spaces and an artistic touch. Grand Trailer Park is the masterstroke of Dani Zeini (the man behind the acclaimed Dandenong Pavilion noted for its burger offerings) and Joshua Lefers (design mastermind behind Pawn & Co. and Big Dog Creative).
The Atomic Burger is a chart topper and definite contender for best burger in Melbourne. The Atomic has taken on legendary status in Melbourne featuring Premium Aussie beef pattie, American cheddar cheese, chilli cheese kransky, crispy bacon, BBQ sauce & truffle cayenne mayonnaise on a lightly toasted brioche bun. This is juicy goodness that is so right. From the photo above you can see it's a substantial burger with lashings of caramelised onions and bacon and chilli cheese kransky. The Chilli cheese kransky is like having another patty, and combines wonderfully with the beef pattie. The crispy bacon is another highlight, living up to its name and in generous proportion. Grand Trailer Park make their own sauces and they are tangy and complement perfectly. The cheese oozes over the patty while the kransky already has cheese and chilli in it. This is a burger with several talking points. So good.
---
Best Regional
Lakehouse
A culinary highlight was our visit to the Lake House in Daylesford with iconic Alla and Allan Wolf-Tasker, foodie visionaries who operate one of the best restaurants in Australia. What a thrill for The World Loves Melbourne to meet Alla Wolf-Tasker at lunch; her burning passion for food and hospitality after over 30 years is inspiring.
A highlight was the Shared plate for 2 of Flinders Island rump of saltgrass lamb, roasted with Moroccan flavours, tagine of winter vegetables, mint labna, parsley, pine nut, currant, coriander salad, harissa. Sam remarked this was the best lamb she'd ever eaten; perfectly cooked with a tinge of pink. There was crunch and sweetness, and we enjoyed the refreshment of the mint labna.
Breathtaking vistas of Lake Daylesford at Lake House. A restaurant that changed an industry.
---
Best Cafes
Mammoth
This cafe in Armadale has taken many by surprise as it's not the usual cafe fare, but comes with the level of finesse and creativity of a top restaurant.
There's some serious cafe clout behind this venture; Loren and Jamie McBride from Touchwood, Barry and Pillar of Salt fame (cafes we love and adore). As great as those cafes are, Mammoth is discernably different with bold flair. Is this the brave new world of cafes?
The Benedict - duck sausage, orange and corn blini, pickled onion, fried egg, smoked maple hollandaise. Simply sensational, the duck sausage was the hero and a surprisingly generous portion to boot. Duck and orange are a killer combination and the orange and corn blini was a perfect taste, as well as texture match. The impression was instant; how good is this dish!
---
Little Sunflower
Little Sunflower is a new light and airy cafe in Ormond Rd Elwood that excites with its healthier style menu, great coffee and chic fit out. The cafe is warm and intimate with a stunning fit out that could be described as Scandinavian style, able to seat 32 customers. Ormond Rd Elwood is coming alive with a series of new ventures, and Little Sunflower is at the fore and on trend. Elwood has a boutique charm and sense of community, and Little Sunflower comes with a boutique style.
Little Sunflower's owners Grant Waters and Angie Robertson are as warm as the sunflower itself, with 10 years experience in Melbourne hospitality. The philosophy behind the menu is impressive; an Elwood cafe supporting artisan organic seasonal wild crafted handcrafted sustainable free range ethical nutrient dense produce. Says Angie, "Our focus is on providing the whole food, naturally."
Little Sunflower serves up raw granola which takes 3 days to make! Says Angie, "First we activate the buckwheat & sprout it. Its then mixed with other activated nuts and seeds & dehydrated. Sweetening the granola is carried out with medjool dates and fruit only.
Soaking increases the nutrient value along with breaking down the problematic compounds that help enhance their digestibility. This dish is gluten free and dairy free."
Customers are loving the Lemon, turmeric & quinoa pancakes, mascarpone,organic maple syrup.
---
One Plus Piece
One Plus Piece Cafe in Balwyn hits the high notes with brilliant food and fine coffee, all with an Asian twist. The World Loves Melbourne loves a playful cafe and One Piece Plus delivers with its Japanese anime theme.
One Plus Piece Cafe is located in a premium pocket of Whitehorse Road in Balwyn, with banks, eateries and high end shops surrounding. The decor at One Plus Piece Cafe is lively with an assortment of figurines displayed on the wall, animation characters painted on one wall, posters, plants, books and other quirky objects, as Melbourne loves all things quirk. Playful and fun!
Energetic young owner Yvette has created an artistic space with a plethora of small plants a welcome complement. The menu developed by passionate Head Chef Cain caters for a variety of tastes; the cafe serves up compelling burgers, moorish dumplings, imaginative breakfasts, and a series of healthier style dishes.
One Plus Piece Cafe has become famous for its burgers; we enjoyed the Angas beef and cheese burger in a brioche bun with beetroot relish, tomato, lettuce, bacon, mustard and aoli. The balance of the burger was excellent and for us the burger was full of flavour. The richness of the Angas beef was evident in a seasoned patty. The burger was mouth watering with right amount of sauces, and some kick. Fresh lettuce was crispy, as was the bacon. The brioche brought a hint of sweetness and the gherkin on top was a nice touch. Presentation was superb on a board with pirate flag and golden chips.
---
Feast of Merit
Feast of Merit are a favourite cafe of The World Loves Melbourne; and apart from excelling in terms of food, service and social concern, the produce here is so damn good! Feast of Merit serves up exceptional seasonal produce and the breakfast menu hits the mark. We had one of our favourite cafe experiences of the year imbibing the high class dishes and meeting the standout staff. This cafe has a joy about it and the feel of an understated revolution. The charity passion is tangible but the food speaks for itself.
Remaining authentic, local and sustainably-sourced, Feast of Merit offers a "farm to table" philosophy for ethically-conscious Melbourne diners.BBQ ocean trout, hummus, preserved lemon, baby peas and tendrils smoked almonds, poached egg, toast. This was a cracking breakfast dish with the generous portion of BBQ ocean trout a highlight (love that pink flesh and crispy skin). The oozing poached egg and the smoked almonds brought wonderful texture and flavour for an exceptional breakfast dish.
The World Loves Melbourne also enjoyed meeting inspirational Elliot Costello the CEO of YGAP and innovator visionary of Feast of Merit, as well as the young chefs, who have loads of passion, skill and wide experience.
Feast of Merit's Head Chef has wide experience within the industry, having worked within prestigious kitchens across the globe. "We use only the best produce that has been sourced and grown using the most sustainable and ethical practises, celebrating community and the future of the slow food movement.
---
Bossy Boots
Bossy Boots cafe is a revelation to The World Loves Melbourne, being super popular with Brighton locals and now fast growing in its gourmet take home food offerings. Iconic cafe in Brighton. Bossy Boots café is the masterstroke of Melbourne chefs Ben Forehan and Rachael Browne who have taken their cooking talents working at notable Melbourne kitchens such as Stokehouse, Circa and Dench Bakers, and 10 years cooking to the rich and famous on super yachts, to create a unique foodie haven in Brighton. The World Loves Melbourne stopped by for lunch to check out the amazing large gourmet sausage rolls and delectable salads.
Bossy Boots café lays claim to the best take home food in Melbourne. Locals are flocking to the café each day to grab dinner or a meal to take home. We were amazed at how many locals visited in the couple of hours we were there on a weekday lunchtime. This is a unique foodie experience in Melbourne with few if any cafes as successful at providing such quality take home food options. Each day the kitchen team prepare 3-4 tasty curries, salads, pastas, Tuna and Sweetcorn patties, filled crepes, and a killer Eggplant parmigiana.
For time poor professionals Bossy Boots is the perfect destination to get an impressive dinner, desserts and gourmet treats. The display cabinet is spectacular with take home treats on display. You will find it hard to resist the choices.
In recent years Nonna Thomasina (known as Nellie) has graced the kitchen at Bossy Boots and delivers some of the best lasagne and cannelloni you'll taste in Melbourne. Salads here are super popular including a Tuna Nicoise and Moroccan cous cous salad.
---
CH James
CH James, a trio of festive spaces, is a stylish cafe serving modern food in Station Street Fairfield. Locals are keen to experience the modern menu and character of the venue, which includes a stunning outdoor courtyard. The World Loves Melbourne was invited to experience CH James and some of its signature dishes. The ambience here is a standout, with large welcoming windows and bright spaces, giving a feel of light and airy. Fascinating farm implements adorn the wall, a reference to the period of CH James and heritage. The fit out is such that the indoors and outdoors meets seamlessly, with the windows opening up to accommodate the coffee bars, and its an easy stroll to the courtyard.
CH James is modern but features a nod to yesteryear with its compelling story of local CH James who was prominent in the northern suburbs in the halcyon period of Melbourne's development. Charles Henry James was a businessman extraordinaire in the 1870s and 1880s, and hugely influential in forming the unique community dynamic of the north we love today. Dreamer, innovator and fiercely local, CH James was an influencer who was keen to "have a go", connect with his community and he conducted his business with distinctive flair. CH James became a model and mentor to young businessmen of the era.
CH James represented the interests of the northern community in the Legislative Council and was a champion of Fairfield, Alphington and Thornbury as well as suburbs such as Essendon, Brunswick and Flemington. CH James was also a man of style and could be spotted handsomely gowned in his silk brocade with heliotrope ribbon and fine diamonds with spangled sleeves. Hipster and fashionable. CH James and his wife Harriette were keen supporters of local charities, community projects and help to the underprivileged.