Best Mediterranean Restaurants in Melbourne
One of the best things to do in Melbourne is to appreciate diverse cuisines; and mediterranean cuisine is top notch in this city. Here are some of our favourites:
Movida Bar de Tapas - CBD
MoVida Bar De Tapas is a Spanish and Mediterranean sensation that many claim to be better than the food in Spain. A big call but MoVida does invoke international acclaim. Several years after Frank Camorra's masterstroke in opening MoVida it still wows and is one of the best places to take international guests.
Image: Movida Facebook. MoVida is a cosy intimate affair with a degree of chic. The long bar area is sensational. One of the best ways of experiencing MoVida is to do what I did and sit at the timber bar and engage the staff. In fact this is one of my favourite things to do in any restaurant. I settled in for lunch on a sun filled Melbourne day...
You are struck by the art on the walls, the funky lighting, intimate tables, large blackboard with menu choices, ambient music, open kitchen,and just the sheer business of the place. Watching the staff is a treat as they move quickly to satisfy the many guests. This restaurant fills quickly. And the staff are all engaging and professional. You are dealing with a level of dining sophistication.
Image: Movida Facebook. MoVida has some famous standout dishes. Being a lover of tapas I was keen to taste several of their well known offerings. Check out the delicate sublime Hand-filleted Cantabrian Artisan Anchovy on Crouton with Smoked Tomato Sorbet. Too good. Close your eyes and hear a symphony. The balance was amazing. A hit of salt from the anchovy offset by the tomato sorbet, together with the crunch of the crouton. The MoVida website tells us this dish was inspired by the Basque Bar culture. Anchovies are big business on the northern coastline of Spain and this dish combines their saltiness with a hit of tangy salty tomato. The recipe is even on their website at http://movida.com.au/movida/
The Spanish are known for their croquettes and MoVida delivers with this Squid Ink Croquette wrapped in Cuttlefish, black salt and a delicate aoli. I was tempted to pick this up with my fingers but sanely opted for my fork... The Croquette had that crispness on the outside and super creamy in the middle.
Perhaps my favourite was the Spicy chicken with a hit of Tabasco and a trace of carrot... And it looks great like all the tapas at MoVida... The chicken was creamy with the right amount of spice and superb with the thin crouton.
MoVida certainly excels when it comes to the visual. This dish of House Cold Smoked Spanish Mackerel with Pine Nut Gazpacho Sorbet came in a pot and when the lid was lifted there was a spectacular burst of vapour.
After four amazing tapas I chose the larger signature Cecina from the raciones selection - Air-dried Wagyu with Poached Organic Egg and Truffle Foam. This was again great theatre with sensational cuisine to back it up. The staff bring out this incredible looking dish then proceed to combine the egg and the foam before your eyes with a fork.
Movida is a place that offers fine dining but not in a stuffy way. It's an intimate space so it's more for singles, couples or small groups - but not for large groups. MoVida Aqui is a larger venue for that. In fact the dream has grown to include a stable of MoVida, MoVida Next Door, MoVida Aqui, MoVida Bakery, Paco's Tacos, Bar Pulpo at Tullermarine and MoVida Sydney.
Check out the artistic entrance...
MoVida is located in one of the greatest gems of Melbourne - Hosier Lane. MoVida impresses at every level from visual presentation, creativity, sophistication of the cuisine, great wine list (half are Spanish) and the engaging service... David Roberts is an incredible head chef. You can even purchase some great books and access the recipes yourself. Still one of Melbourne's best.
---
Maha - CBD
Maha Restaurant from the Made Establishment stable and Shane Delia, is one of the most popular restaurants in Melbourne - with Middle Eastern cuisine that dances on the taste buds, impeccable service and chic ambience.
This is Middle Eastern fare with a modern twist featuring Chef Shane Delia and his enormous kitchen prowess. The highly successful SBS series Spice Journey is a revelation and a further source of acclaim for Shane Delia. The series is a nod to Middle Eastern culture as much as a culinary odyssey.
My wife and I wanted to experience Maha again, a Mediterranean sensation with Middle Eastern influences after watching the Spice Journey series. The thought of dishes from the series was highly appealing. We elected the 6 course Latifa and were pleasantly surprised by a few extra courses. The staff also allowed us to customise the menu to our tastes. Much appreciated.
Maha never stands still. It's ever evolving, pushing boundaries. I got the impression the staff love working here - there's a discernible culture of passion and innovation. The ability of Shane to take dishes from around the globe and bring them to his restaurant is exceptional. Maha has an attractive ambience with spacious dining areas, exquisite glass collection (pieces for sale), interesting decor and textures with Middles Eastern styles, open kitchen, and sensory delight of fragrant incense. Waiters smartly dressed in black attend enthusiastically.
We visited Maha a while ago and enjoyed Chicken kibbeh, jamon butter, corn and coconut, flowers and cresses; White miso, scallops, smashed potatoes and Lebanese cress; Armenian Ma'hani lamb sausage stuffed chicken wings with sour sherry bbq sauce and Shane's version of Beirut lamb pizza. Also enjoyed was Boat smugglers stew with prawn filled snapper, pork belly, tamarind, saffron and tomato - and Nigella flat bread. A showstopper. The story goes that Shane met a boat smuggler in Iran and was able to dine at the smugglers house. In a small kitchen this smuggler produced an extraordinary meal that Shane translated to his restaurant.
Maha then served us Seven spiced rangers valley wagyu rump cap marble score 9+, tahini mayo, black beans, beetroot and barberries. Quality wagyu with excellent accompaniments such as tangy mayo and earthy flavours of black beans and beetroot.
The signature dish of Maha is the 12 hour roast lamb shoulder, pistachio and green olive tabouleh. It stays on the menu and is so popular (have a feeling the Boat smugglers stew is also vying for permanent status). Succulent lamb (with some of the fat I'm glad to say) and tasty yoghurt is so soulful and satisfying. The tabouleh is sexy and the dish can only be enhanced by a squeeze of lemon.
We were also served the Milk fed veal cutlet, smoked freekah, eggplant, awarma, and kefalograviera. This veal was so rich in flavour. For tonight this dish also featured Yarra Valley cheese.
Image: Maha Facebook. The pilaf rice was also exceptional, with aleppo pepper, coriander and noodles.. And the Fattouche salad was delectable. Sauteed greens, tahini, sweet soy, mushroom and roasted shallots.
Loved this salad with sumac, tomato, cucumber, mint, leaves and roast garlic. So refreshing.
Maha had been spectacular until this point. And the desserts dont diminish the quality. Check out the Turkish delight doughnuts with rosewater honey and walnuts. So moorish with quality turkish delight.
The pomegranate ice cream served with sumac and pomegranate foam was spectacular. Gels and foams.
This restaurant targets all the 5 senses - the food has varying exciting textures, the flavours are strong and wholesome and expertly balanced, the visual appeal is strong here in terms of food presentation and restaurant ambience, there is a cool sound of music and conviviality, and the fragrance of the food but also the permeating Middle Eastern incense.
Image: Maha Facebook. Check out the discreetly displayed merchandise, including this book by chef Shane Delia.
One of the attractive dining spaces at Maha is this lounge area...
Maha is a consistently hatted restaurant (The Age Good Food Guide) and I'm keen to return to soon. The team here provides exceptional service and this includes the little touches such as repeated cleaning of our table, explanation of dishes, recommendations, turkish fragrance for the hands and a small sample of tea on departure. Having eaten many times in the Middle East I can vouch for that explosion of freshness, subtle marinade and perfectly slow cooked meat, and imaginative dishes. Highly recommended.
---
Merricks Creek Winery - Merricks Creek, Mornington Peninsula
Merricks Creek Winery on the Mornington Peninsula (open weekends) is a standout with shared Mediterranean influenced dishes for around $12 - $15 each. GRAM Magazine says it so well, "The food is fresh and punchy, highlighting seasonal produce and letting the wine shine. With fresh tarragon and other herbs grown on the property, and gorgeous goat curd sourced from nearby Main Ridge Dairy, the fare is simple, yet gourmet-level tasty." You may be planning a Mornington Peninsula trip but we say it's worth visiting Merricks Creek just for the drive.
Image: Jamie Durrant. For those contemplating a visit to Merricks Creek it's only about an hour from Melbourne. Peter Parker the owner and winemaker is a Clinical Psychologist in South Yarra who has also been making some of the best Pinot Noir around for the last couple of decades. This is a James Halliday 5 star winery with exceptional Pinot Noir (range of 5) and crisp Chardonnay. A stylish new cellar door awaits with stunning views of the vineyards from the raised deck. One of the most spectacular settings in Victoria!
Tasting Pinot Noir or Chardonnay at Cellar Door is a highlight in itself; especially if you engage Peter or Sam Parker the winemakers. The winery is family run with each member of the Parker family actively involved.
The cuisine is Mediterranean influenced (there are other types of cuisine on the menu) and includes Roasted tomatoes, Meredith Dairy goat curd, grilled ciabatta and rocket; or delicious Tarrago marinated mushrooms with ciabatta; and a highlight of Rare eye fillet, caper vinaigrette and ciabatta.
Stylish, delicious, well presented affordable Mediterranean influenced style cuisine strikes a chord; we think it's what the punters want.
Also popular is the 20 month aged Italian prosciutto di Parma, Shaw River buffalo mozzarella, tomatoes and basil with ciabatta; the Crispy thins with pistachio, hazelnut, fetta, mint and spinach that are full of flavour and wonderfully crispy, creamy and crunchy; as well as the equally rewarding crispy thins with parmesan, prosciutto and rocket.
Desserts are a standout featuring super popular Kahlua espresso deconstructed tiramisu and the The White chocolate mousse mini pots that are superbly presented and delectable creamy bliss.
Image above: Jamie Durrant
Peter Parker used to have psychoanalysis books at his bedside table; now they are replaced with books about viticulture and winemaking.
Merricks Creek Winery is also family friendly with large expanse of lawn for the kids to run around. Only an hour out of Melbourne and open on weekends - get on it!
---
Caffe La Via - Malvern
Caffe La Via is a compelling Melbourne foodie destination in Glenferrie Road Malvern; a stylish, elegant restaurant to enjoy Mediterannean cuisine. Owners Anil and Sulekha Chawla, and son Dhruv are passionate foodies and hospitality enthusiasts, and have created a fabulous foodie haven on Glenferrie Road. Modern Australian dishes with a Mediterranean influence are hitting a chord. Dhruv has created an extensive wine list with quality wines from iconic Australian wine regions, which are kept at more than reasonable prices.
Mediterranean dining is relaxed and Caffe La Via is a hub of elegant and relaxed dining; the look is upmarket but you can sit back and imbibe. Interesting spaces here to meet up with groups, friends and family (or enjoy a solo dining experience), abound. Caffe La Via is spacious and inviting; with a light and airy feel thanks to a first class Richie Brownfield fit out (long term connection with St Ali brand). Fashionable wall of tiles, chic wooden handcrafted pendant lighting, long thick timber tables and smart chairs adorn. An outdoor courtyard beckons; or maybe dine out the front on the pavement tables.
A chef that has a fine dining background brings technique and excellent presentation to dishes. Head Chef Rajat Suri is a talented chef (ex Crown, The Merrywell) who brings a modern menu that is continually evolving with seasonal changes and new dishes.
St Ali coffee is a standout. The coffee culture is serious here, with one of only a few Gravimetric Black Eagle Machines in Melbourne. This is the Maserati of coffee machines; Gravitech gives users a higher level of consistency and control over coffee brewing with maximum precision. Baristas can set the weight of ground coffee and liquid in the cup for each blend. The display group shows the principal parameters: brewing time and weight in the cup.
The cafe is open during the day and becomes a restaurant at night; with some additions for the dinner experience including stunning shared plates; the famous 650gm Cape Grim Ribeye on the bone, 400gms Cape Grim Tasmanian grass fed Eye fillet, Wild Atlantic Salmon and Whole marinated & slow roasted Jerk spiced Spatchcock.
Mediterranean style pizzas are a highlight and you can even make your own.
Individual plates include Marinara : Handmade Fettuccine ribbons with Tiger prawns, Canadian scallops , green mussels, squid, garlic confit and dill tossed in e.v.o. oil and herbs; Surf n' Turf: 250gm Cape Grim Porterhouse, char-grilled tiger prawns with broccolini, slow cooked mushroom sauce and thick cut chips; and the Gamberi : Linguini with tiger prawns, baby spinach, fresh chilli and garlic confit tossed in e.v.o. oil.
An extensive wine list at affordable prices is a significant attraction of Caffe La Via. We love that it's evolving all the time and encourages customers to try selected wines they might not have experienced.
Caffe La Via is the place to come for a catch up, excellent affordable wine and smart food that caters for different tastes.
Battered Seasonal Zucchini flower stuffed with ricotta and served with mint sauce is a flavoursome dish.
Crispy Mac Squares with homemade bbq sauce is a wonderful dish with wine; gooey Mac and cheese inside while crispy on the outside.
Caffe La Via also excites with the Spiced Prawns, chickpea & baby fennel salad with tahini yoghurt and freshly ground dukkah; a perfect dish over summer. Large juicy spicy prawns are the hero, with texture of creamy tahini yogurt and the crunch of the chickpeas delightful. This refreshing dish is well balanced in flavours and textures.
---
Gazi - CBD
Gazi is an exciting chic and vibrant restaurant in a great part of Melbourne on the corner of Exhibition and Flinders Streets. We ventured there as a work team, eager to experience this new concept that brings Athens street food to Melbourne. Gazi serves up Greek fare with a modern twist in a fun and eclectic atmosphere. In fact visiting Gazi in Greece, its a hip trendy sort of place - not unlike say Brunswick or indeed hipster Melbourne.
Gazi is not designed to rival say Vue De Monde as a fine dining zenith - Gazi is unapologetically casual and noisy - even slightly grungy. You need to "get" Gazi and understand where it's coming from as a taverna. It's just so different as a playful reinvention of the previously upmarket Press Club.
Gazi is the brainchild of George Calombaris and is the place to go any day of the week. We were amazed that Gazi was packed early at 6pm on a Monday night with a waiting queue. Perhaps the most happening place in Melbourne right now. Of course everyone immediately notices the stylish roof with enough hanging terracotta pots to make a passionate gardener drool. A wow factor. But of equal appeal are the attractive dining areas including the sleek bar and the intimate booths by the window.
We were all excited by Gazi as soon as we entered and were greeted by the hipster staff. Such a perfect place to come with work colleagues. The name "Gazi" refers to an eclectic neighbourhood surrounding an old gasworks in Athens. The restaurant website calls Gazi "a place where anything goes". For us Gazi is a place that is not predictable - a place that's unique in Melbourne.
We developed a perfect strategy of ordering from the shared plates on the left of the menu, and then selections from the larger plates (that we wouldn't share). The Mousaka Omelette was a fun and a welcome twist on a traditional mousaka. Lamb, pickled eggplant and potato done in such a way as to be a light dish rather than the heaviness of a traditional mousaka. Who would have though a Mousaka could be a fun entree dish - but this version had us impressed. I venture to call it a deconstructed mousaka. Some purists might struggle but we loved this fresh and tasty dish.
How can you not love a deep fried golden Saganaki? Dense and surprisingly filling, this is pure comfort food. The twist here is the cumquat jam - the sweetness just sets off the cheese perfectly.
Or order this Eggplant dish with grilled eggplant, seeds, kefalograviera, and spring onion garlic dressing. For some this was their favourite small dish. Fresh eggplant done simply but singing Mediterranean to my palate. This was National Marketing Manager Emily's favourite...
Greek beer and wine features at Gazi and it's a hit...
I've rarely enjoyed Greek fare without ordering the dips. Here at Gazi we were brought a tasty Hommus dip with flat bread. Simple and delightful. Admittedly they bring out a good amount of bread but I always want more...
Up till now we were enjoying our experience at Gazi. The noise, the buzz, the style, the hip crowd, the intimate spaces in the room, and of course the fascinating ceiling with waves of hanging pots... And the small dishes had hit the mark. But things reached a new level with the advent of the Souvas.
I often rave about my local souva joint in the Eastern suburbs. Everyone needs such a place. Especially late at night. But however good my local has been we celebrated the delicious souvas at Gazi as the best souvas we've tasted. Our CEO Damian went for the Beef brisket souva which was so tender and succulent. Several of us went for the Chicken souva and loved our choice - delectable slow cooked chicken in tasty flat bread infused with a few chips. Craig our new Business Development gun helped himself to two of these Souva beauties...
The Souvas are wonderfully presented in cones with infusion of aoli. Our CEO turned his Souva towards his chest and nearly stained his Ralph Lauren shirt with some of the aoli seeping through the bottom of the cone. But maybe that's all part of Greek dining. After all its described as "Greek dirty street food"! Fortunately the Ralph Lauren shirt survived.
The outstanding dish at Gazi for me is the lunchtime Greek Bend Over Box - with a collection of delights from savoury to sweet.
---
Byblos Bar & Restaurant - WTC Wharf near Docklands
Byblos Bar & Restaurant is an attractive Mediterranean restaurant in WTC Wharf near Docklands and the CBD, which excels in ambience, tasty authentic cuisine and affordability. We were invited along to experience the Express Lunch deals in WTC Wharf and in particular the delights of Byblos. There's a Lebanese influence across the dishes.
Byblos boasts an expensive well appointed fit out creating an enticing atmosphere. think sandstone bricks, expensive high back styled chairs, red carpet, tables with mosaics, and alluring and colourful banquette seating along the wall. You could come here equally for a business lunch as a family special occasion, or even that romantic night out... Even the cutlery boasts fine detail.
Byblos is well known for its diverse menu featuring many tapas style options, but the Platter for 2 was our port of call. For $49 at lunch time and $69 in the evenings, the value is exceptional.
Here we have the tower of Platter for 2 with tasty treats at every turn. For some it's a great introduction to Lebanese food.
This platter includes Hommos, Tabouleh and two each of:

Rekakat, Fatayer, Lahim bil Ajeen, Sambusek, Shish Tawook

and Lahim Meshwi.
The Rekakat was a delicate and tasty dish featuri
ng l
ightly fried filo pastry filled with feta and mozzarella cheese,
freshly chopped onion, and fresh herbs. Fresh and zesty.
Similarly impressive was the Fatayer featuring f
reshly baked homemade pastry filled with spinach, onion,
walnuts, tomato and Lebanese spices. My favourite was the Homemade open pastry with marinated lamb, fresh tomato, onion and traditional spices. Baked until golden brown and served with natural yoghurt.
Lamb is a favourite, so I enjoyed imbibing the Sambusek with Homemade pastry filled with marinated lamb, pine nuts, onion and traditional spices. Sambusek is lightly fried.
Skewers are either great or forgettable - and at Byblos the skewers are exceptional. Cooked to juicy perfection the cuts of meat are excellent and the portions on the skewers generous. Both the Shish Tawook (char grilled chicken tenderloin) and the Lahim Meshwi (char grilled lamb) were a triumph.
By now my guest and myself were feeling rather full on the hot food from the tower. Yet we also indulged in these dips as part of the Platter for 2.
Tabouli and Hummus (with baba ghanouj) were the order of the day. Quality dips with generous portions, and more than enough pita bread and labneh yoghurt!
Says the Byblos website, "The Byblos Dining Menu is built upon a foundation of traditional Mediterranean recipes and culinary techniques. The Byblos team of international chefs build upon this foundation by adding their own imaginative twists and by embracing newer, lighter cooking methods. All of our dishes are created using fresh, high quality ingredients and are created with a passion to meet world-class standards."
After raving about the quality of the Platter for 2 noticeably the pastries and the skewers, we were invited by the manager to venture upstairs to the function room. The views from the function room are nothing short of spectacular along the Yarra River. At night this must be stunning.
We greatly enjoyed our visit to Byblos and see it has a high rating on Urbanspoon with many stories of great food and service. Highly recommended.
---
Public House - Richmond
Public House has been making waves in Richmond and you will find it pumping on weekends. Both the upstairs and downstairs spaces are attractive to diners and party goers and The World Loves Melbourne was invited to imbibe on a sunny Sunday afternoon. Apart from the great location the quality of the Mediterranean style food itself stands tall. We enjoyed a selection of shared dishes that we found compelling.
We took in the open festive ambience of the upstairs courtyard with several groups of friends imbibing nearby. The garden has a tropical feel and the timber panelling stands out.
Tempura battered zucchini flowers were a joy, delightfully filled with persian feta and mint. We noted that the presentation of all dishes was first class; the chef taking pride in every offering.
The Cripsy pork belly was a high point with hoi sin, Vietnamese herbs and pickled vegetable salad resonating with The World Loves Melbourne. The pork belly had that wonderful crispy exterior with soft pork belly inside, infused with hoi sin. The zesy salad was a great complimentary addition.
Manager Jess adds much to this venue with her vibrant engaging hospitality; here bringing us drinks including an imaginative beer list.
Soft shell crab? The Fried soft shell crab tacos were delicious with corn and avocado salsa and kewpie mayo. Refreshing and tasty.
Public House knows that diners love decent chips and these crispy golden fries ticked all the boxes, served with aoli.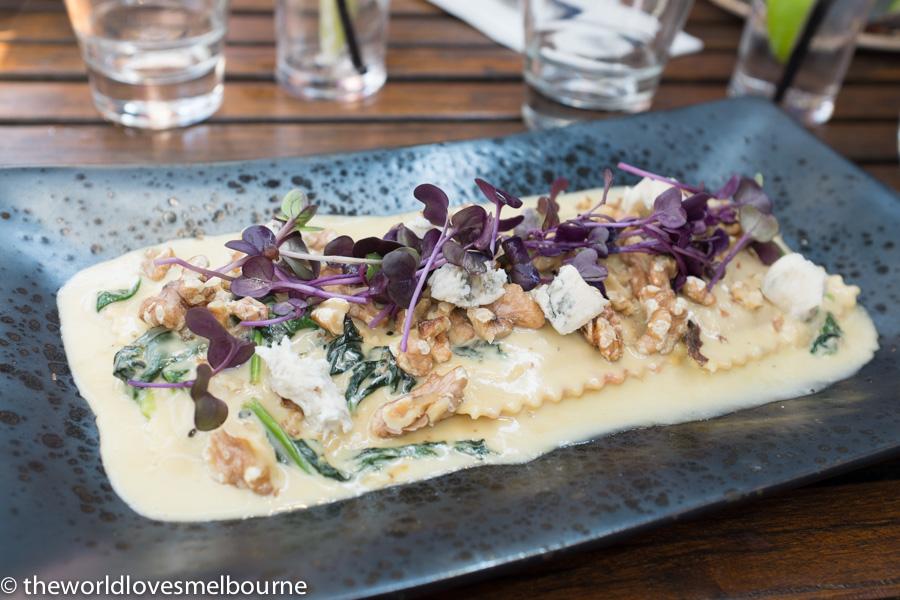 A popular dish is Beetroot ravioli, blue cheese, walnuts, and cream sauce. This was a rich and rewarding dish (we especially love the blue cheese element) and a great balance of tastes and textures.
We revisited our penchant for pork with this triage of bao - irresistable!
Who doesn't love fried chicken? Some do it well and some don't. This was a cracker dish; Southern fried chicken and jalapeno mayo was the perfect fried chicken expression with welcome kick from the jalapeno nuance! Crispy outside and perfectly juicy inside.
A retractable roof like Etihad Stadium makes this an all weather venue; open on this glorious spring day!
The smart food continued with this Saganaki and cherry tomatoes dish...
Public House then delivered on this Spiced lamb sliders dish with tzatziki and cos lettuce. This is the perfect food for family get together or catch up with friends.
Coming down from the stairs we viewed the attractive modern bar and dining area...
Public House is a gem we highly recommend; for its stunning location and upstairs facility but also for its high quality food offerings that stand on their own. Hospitality is first class and Jess is a sensational host. Get on it!
---