Best Steak and Meat Restaurants in Melbourne
Got those meat cravings? Here are some of our favourite steak and meat restaurants in Melbourne:
Pure South - Southbank
Some of the best meat in the world comes from Tasmania; and Pure south showcases the best of Tasmania in style including steak.
Pure South is not only a popular destination for steak but celebrates produce from farms and producers across Tasmania. Check out the view from our table upstairs!
Fine cuts of beef are a talking point; but for us the Wallaby dish is also a sensation. We also fell in love with the Robbins Island Wagyu pastrami, eggplant, pickle. Of sophistication is the King Island grass fed beef tartare, bois boudran, chive. What is bois boudran? It's a famous sauce from Michel Roux and is a perfect match for the beautiful grass fed King Island Beef.
Scottsdale pork belly, peaches, Heidi Farm tilsit, lobster bisque excites. This pork belly is from a farm that celebrates rare breeds of pork. And the glisten of lobster bisque on the plate is stunning. the peaches refresh and cut through the pork. Perfect crackling and tender pork, this is a highly rewarding dish. David Hall is a Michelin star chef hailing from Scotland; comparable to Tasmania with its wild country and premium produce. The location at Southbank is one of the best in Melbourne with stunning views of the river and eclectic Southbank.
---
Wilson & Market - Prahran
Wilson & Market was a welcome addition to the Hottest 50 Restaurants published in The Australian. Bursting on the scene, this restaurant is a labour of love for celebrated chef Paul Wilson. It's all about the quality and locality of the produce, the way it's cooked and ethical considerations. We enjoyed an epic dinner at Wilson & Market and understand Paul Wilson is at the top of his game when it comes to meat dishes (and seafood for that matter).
When meat (love) comes to town I'm gonna catch that train...
The kitchen has some cool toys and some fine produce. It's a cheery vibe. The essence of Wilson & co is to celebrate the diversity and blessing of Victorian and Australian farmers, vignerons, distillers, fishermen, butchers, cheesemakers, providores, market traders and many more dedicated industry professionals.
Chestnut wood roasted rare breed suckling pig served with Organic fennel & radicchio salad with mustard fruits and Transition Farm heirloom pumpkin with olives, brown butter and sage. Is there a more rustic dish than suckling pig? Even more so, rare breed suckling pig? While the pig was the star, the vegetables were next level in their organic gloriousness. The dish came with a sense of theatre and looked somewhat Medieval with a large dark glistening portion of pig with a massive knife sticking out; as I pictured myself reclining at a Medieval feast at the Great Table with esquires of the kitchen in attendance.
Paul Wilson (ex London's Quaglino's, Melbourne's Botanical and Radii, Icebergs in Sydney, among others) has created some taking points here at the Wilson & Market Brasserie. One is regarding the produce - local and ethical produce (with a good deal of it sourced from artisanal producers Transition Farm on the Mornington Peninsula). Much produce is also sourced from Macedon and Daylesford, bringing a fine Victorian representation to the table. We often hear about "local and seasonal" but not always "local, seasonal, organic and biodegradable." Paul Wilson takes things further.
Beautiful dining spaces.
And decent sides which is critical at a restaurant serving top quality meat.
Paul Wilson in the kitchen with captivated foodies.
---
The Dutchess - CBD
The Dutchess is a chic place for a meal, just walk up the stairs from Flinders St into a room with several dining spaces including dining at classy booths. We've eaten there several times and enjoyed it, but on the last occasion we were drawn to the steak special, not realising the sheer quality of the steak. Look around in the display window by the kitchen and you will see prime cuts hanging. The Dutches prides themselves on high quality steak and meat offerings, washed down with a savvy beer and wine list, or even a sexy cocktail.
Combining exquisite international flavours with premium quality local produce, the Dutchess menu captivates for lunch right through to late into the night. Their ample selection of grain and pasture-fed steaks hail from the finest beef regions in Victoria and Tasmania and are dry-aged on site. Ranging from a 150g eye fillet to a 600g rib eye, each cut is expertly cooked with care and precision.
---
Le Bon Ton - Collingwood
Le Bon Ton is a meat revelation in trendy Collingwood; a "go to" happy place for many meat lovers. We were literally drawn by the aroma as we drove through Collingwood; having to stop the car and wander in to catch some "smoky meat action". The World Loves Melbourne loves their monastic seriousness about southern style BBQ. Is there anywhere better for your BBQ fix? Pit-smoked meats baby! There's almost certainly other house specials but we couldn't get past The Smoker's Lot. Le Bon Ton is also famous for its Buttermilk fried chicken, Crab cakes, Oysters and Cheese Burger.
What to order? We wanted it all. The engaging waitress suggested the Smoker's Lot - a massive meat tray of smoky-moist meat. What a sensation. For The World Loves Melbourne this was the best BBQ imbibed in Melbourne. The meat came out warm and smoking and featured Grain-fed Riverina Angus Beef Brisket (1/2 lb), Otway Ranges pork shoulder (1/2 lb), Jalapeno and cheddar hot-link sausage, and 1/2 Chicken basted in apple BBQ sauce.
Every element was a knockout and a home run "out of the park". The brisket was high quality meat smoky-moist and with fat - melt in your mouth. The smoky flavours hit you and all meats on this board were smoked over iron bark and fruit woods for up to 12 hours...
Texan style BBQ features sausage and the meat board here featured amazing sausage infused with jalapeno and cheddar - intense and rewarding. All the meat here is intense in flavour - but the adventurous will still add the hot sauces on the table. As you do. The hottest sauce hit me between the eyes like a redneck punching me in the face...
The pork shoulder seemed a mountain of pork and more than the 1/2 lb advertised. Again, it was smoky-moist and delectable. Note the salad on the board - you need something refreshing to contrast all the meat.
A cool surprise was the 1/2 Chicken - it turned out to be a highlight with intense smoky flavours. Yep, there were no weak links in this southern style slow cooked meat bonanza...
Nothing better than imbibing amazing southern BBQ while listening to vintage Johnny Cash.
---
Meatmother - Richmond
Meatmother now stokes the fire with a different kind of heat! The World Loves Melbourne was invited along to experience the new Meatmother.The cooking method is charcoal, with coals in the pit. The menu offers more choice, a step up from the previous limited menu.
With meat still as ever at the heart of their menu, the new Meatmother is now focussing on cooking over premium white charcoal, which allows all the natural flavours of their amazing locally sourced produce to come through. They're grilling, (still smoking), roasting and barbecuing until scorched and succulent.
The menu is Australian BBQ reimagined – incorporating the best techniques for cooking over charcoal from around the world, not limited to one cuisine.
Not only have the team changed the heat in the kitchen they have also enlisted the talents of renowned chef Adam Liston from Northern Light in Smith Street as a consultant, remodeling the kitchen and menu, with nearly every element having some contact with their custom made pit.
The re-launch into Melbourne's coveted food scene has seen Meatmother transform into Meatmother 2.0 with the introduction of daily pit specials – think charcoal skewers of milk-fed lamb and pulled suckling pig buns, a new look, sharp, refreshing cocktail list and a tight craft beer and wine list. Meatmother has changed, but ultimately the proposition remains the same: that if you treat ethically-raised, quality produce with the same respect and approach the cooking process in the most natural way, the results are simple but incredible.
A highlight for The World Loves Melbourne was the Beef Brisket, smoked and peppered, with burnt eggplant and zucchini pickle. The Brisket had wonderful smokey flavours. Charred broccoli was a perfect accompaniment. These guys are famous for Brisket and the new Meatmother is still bringing their Brisket A game.
---
Dinner by Heston - Crown
The sensory experience begins as you glide through the dark corridor, scented with woody smoke and heady leather aromas. Once inside, the fit-out is all class; think smooth timber tables, stylish circular banquets and lime green furnishings, all with that celebrated Yarra River view. Known for many things, you can also put Dinner By Heston up as a haven for meat lovers.
Meat fruit. Mandarin jelly, Chicken Liver Parfait and Grilled Bread.
Not to be blurred with the wild magic of The Fat Duck, the food at Dinner is inspired by the historical dishes of the British Isles dating as far back as the 13th century. Heston has researched these dishes throughout his journeys and has developed with flecks of Australian ingredients. This fascinating culinary exploration is manifest throughout the menu which references the source of origin of each dish, from which one can feel the sense of place on the plate, reincarnated with each little bite.
Service is superbly polished and the floor is graced with approachable ease. When explaining the bible of a wine list, there is real enthusiasm and an educational element from sommelier, Loic Avri. Have no doubt you will drink like a king from all corners of the globe, albeit with a hefty price tag.
Lamb and Cucumber is an amazing dish; the composition of best end of lamb with roast cucumber hearts, delicately cooked sweetbreads and broad beans is hugely satisfying.
---
A Hereford Beefstouw
A Hereford Beefstouw has been making waves in Adelaide for several years and has launched in Melbourne with its premium steak offerings with success. We've enjoyed several experiences at A Hereford Beefstouw including a 5 hour dinner that pushed past midnight. The Scadinavian influence is enjoyed; don't go straight to steak but also take in the Salmon gravad lax. If you're night goes well you may well end up on the bespoke cognac displayed on the wall. This restaurant has become a favourite with corporates.Nestled amidst cobblestones and street art, A Hereford Beefstouw offers a relaxed Nordic style menu that celebrates high quality steak in a Danish designed setting.
A Hereford Beefstouw is a steak specialist, but it does more than steak (amazing saltbush mutton, cured lamb shoulder, house Armagnac and more). Owner and Dry Ageing Specialist Tim Burvill said that while 'in house' Grass Fed Dry Aged Beef is central, seasonal cool climate produce and wholesome eating features throughout the menu, spearheaded by Head Chef Daniel Groom.
STEAK! We sampled high quality steak from the menu; wet aged eye fillet, 45 day dry aged rib eye and the 35 day dry aged mutton. I enjoyed them all for not only taste but texture. The saltbush mutton on the bone is something I wouldn't normally get to experience and it was delicious and distinctive.
---
Epocha - Carlton
Epocha is simply one of Melbourne's best dining experiences, featuring a formidable team, stellar European cuisine and a killer ambience at this terrace property. Nestled in Rathdowne Street close to the city and opposite Carlton Gardens, Epocha exudes charm and elegance, if not an air of sophistication. The World Loves Melbourne was invited with other media to sample some of the fine wines and cuisine offered by Epocha.
The fit out is a nod to the classic, and is understated rather than overstated. Large windows with chunky frames, elegant timber floor, and green wicker chairs and wooden tables embedded with tiles.
We dare to place Epocha in a meat and "dude food" line up, even though this is fine dining with finesse and known also for other things. The large share plates would make any dude estatic - Lamb Backstrap, Bird, Scotch Fillet, Rib Eye 550g, and Veal Rack 700g. Scotch fillet with a bone marrow sauce has been enjoyed by The World Loves Melbourne on several occasions; perfectly cooked and pleasant on the eye...
---
Steak Ministry Bar & Grill - Glen Waverley
Steak Ministry Bar & Grill are surely one of the top go-to places for a fantastic steak experience! They are the only Australian restaurant to serve the 1.2-2kg Sher Wagyu Tomahawks.
Steak Ministry are also a restaurant that pours award winning wine, spirits and beers from around the world. As well as stocking limited edition bottles such as: Penfold Grange Hermitage, Rockford Basket Press Shiraz and the Bogle Phantom Red.
Executive Chef Chris Wade has worked in famous kitchens around the world and in Melbourne and boasts associations with Marco Pierre-White and Gordon Ramsay, as well as Michael Lambie and Scott Pickett. We had a chat with Chris and got to hear his passion for fine dining in a relaxed atmosphere. The fact that Steak Ministry has been packed out since it opened a couple of years ago is a testament to Chris Wade and his team! The customers love it!
When we dine we don't just have ourselves in mind; we're looking for restaurants we can take friends, family and international guests. Australia boasts some of the best beef and meats in the world. We are looking to showcase such amazing produce to our overseas friends. Steak Ministry is the perfect place to take 'out of towners'.
---
Nieuw Amsterdam - CBD
Nieuw Amsterdam the New York style restaurant in Hardware Street is where the foodies, as well as hospitality crowd, love to visit. It's become somewhat of a foodie icon in Melbourne. You can feel the energy. Staff are upbeat and engaging and know their stuff. American style cuisine with a twist is playful with quality meat offerings.
Southern fried chicken? How about Southern Fried Quail? This is a delightful dish; we enjoyed the spices on the juicy quail, as well as the crumbed crispy exterior. This dish links back to a much older southern tradition when quail was a staple. Nieuw Amsterdam have used pickled grapes to link in the tradition of preserves being served with meals throughout the colder months.
The World Loves Melbourne's favourite for the night was the Curry Spiced Lamb Rib. Lamb in America has its history rooted in immigration largely from Middle Eastern and Mediterranean countries. Nieuw Amsterdam cooks this dish low and slow to maximise the flavours of the lamb, while slowly infusing the flavours of the curry. These ribs were on point and the nuance of the curry added delightfully to the dish.
Brisket baby! Brisket has become a chart topper here in Melbourne and all around the world in recent times. A favourite of pitmasters in Texas and NYC Jewish delicatessens alike, brisket has taken centre stage. That tender cut from the breast or lower chest. Brisket needs that long cooking process to break down the tough connective tissue to ensure a juicy cut. Nieuw Amsterdam spice rubs the brisket, in this case a coffee rub, and then sous vide for 48 hours before placing it on the charcoal pit grill. Finishing in this way enables a "bark"; a feature of BBQ brisket.
We were surprised at the thickness of these brisket cuts; we're used to thin pieces of brisket served on paper. This was an eloquent dish with juicy smokey brisket, served with onion, mushroom, blue cheese (wow) and a red wine jus. The crispy potatoes and salad were also perfect accompaniments.
---
Meatworks - South Melbourne
Meatworks in South Melbourne has burst on to the slow cooked meats scene with a canteen style eatery opened by the man behind Jones the Grocer and The Victoria Room in Sydney, Lindsay Jones-Evans. The signage may be nondescript but this place is an eatery to be reckoned with; slow cooked meat paradise.
Meatworks is serving a selection of smoked, slow roasted and braised meat dishes, prepared to mouth-watering perfection. The World Loves Melbourne was invited along to sample some of the fare and we were highly impressed.
During our visit the lunch time hordes descended on Meatworks; the local creatives excited by this new affordable, ambient and savvy eatery. What's there not to like? The meats are succulent. With brisket we know it can easily dry out but Meatworks has a process that retains the moisture.
The meat platter was extremely affordable and generous for the price (and a wow factor as it came to our table on a board). The brisket and the lamb were standouts, but the rest of the platter was also sensational. Lamb, pork, beef and chicken, all locally sourced. Downed with a beer, this was what the punters want and hope for. We even consumed a delightful pickled cucumber salad - perfect accompaniment to the meat. Delicious, engaging and approachable are words that befit Meatworks.
---
Carne Grill - Chirnside Park
Carne Grill is a superb casual dining destination in Chirnside Park that excels when it comes to steak and meats. Carne Grill has a stunning menu that focuses on quality local and seasonal produce. One of the co-owners Steve Kepper told us that they are not looking to "overwork" the food but offer quality first class produce in ways that showcase the hero ingredients. The Executive Head Chef Anthony Iscaro told us that he loves working in the region and the accessibility of produce readily available - compared to say working in the city.
Carne Grill, seating up to 240 guests, is the jewel in the precinct crown, where stylish dining meets rambunctious feasting. And The World Loves Melbourne loves feasting with family and friends! Already, the new Carne Grill is well patronised throughout the week.
Options are provided so that you can feast "your way". The premium feasting style menu focuses on the finest local pork, beef, lamb, poultry and seafood, flame and charcoal grilled to perfection. The hero 'Let Us Create the Feast' set menus are available for four people or more, from $25 per person, and include carnivore and seafood options. 'The Big Board' allows guests to choose from three of 11 main options, and comes with two sauces and hand cut chips.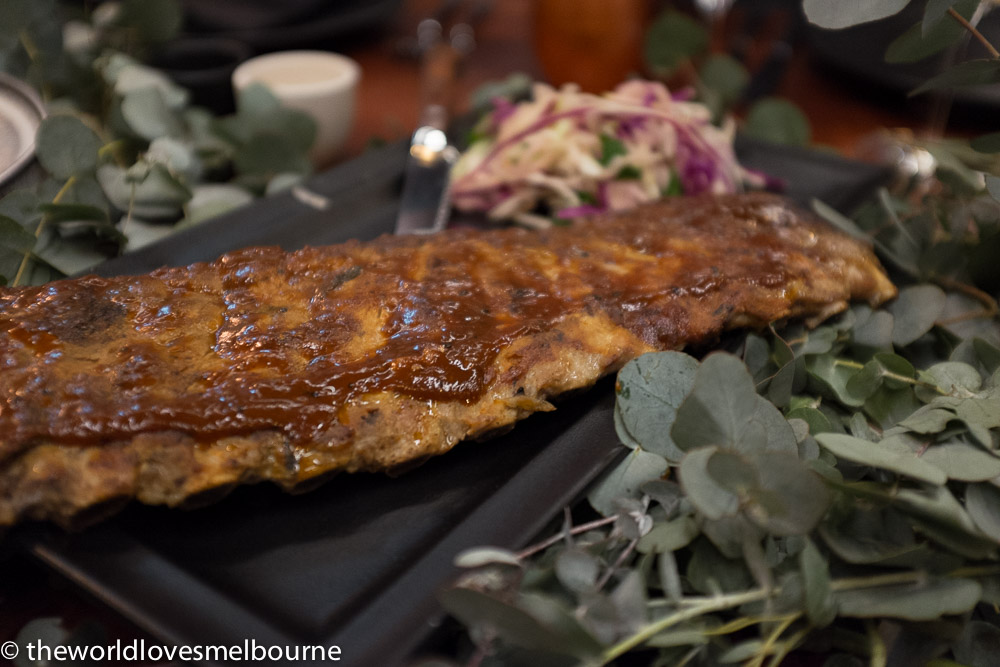 Ribs! The Carne BBQ pork ribs with apple slaw are to rave about; in fact you'll be hard pressed not to pick up the bone!
If sharing isn't your thing, try the pasture fed dry aged rib eye, 1kg T-bone, whole crayfish, or a pasta dish, with sides of course. We were also struck by the depth and thought that has gone into the wine list. The wine list is proudly 7/8 Australian, with a third of the varietals sourced from the local Yarra Valley region. The interiors are warm, welcoming and festive, with large bench tables and communal seating arrangements encouraging shared-space vibes. We love the relaxed vibe at Carne Grill with a touch of class in the decor (and cool music playlists in the backgound). Service here is top notch with staff enthusiastic and going the extra mile.
Come to me Hanger Steak, T-bone and Tomahawk steak!
T-bone cooked to perfection with slight char and sear marks!
Hanger steak is melt in your mouth. The touch of lemon and the smoking rosemary is first class.
Steamed black lip mussels, white wine, chilli, garlic and soldiers is the perfect winter warmer. And you know you want to get to the tasty broth!
Marinated grilled baby squid, roasted heirloom baby tomatoes and basil is a rustic dish to be savoured. We enjoyed the grill taste of the freshly cooked seafood.
The Pork Belly is to rave about with crispy crackling skin and melt in your mouth texture inside...
Sides are also top notch with Truffle Honey roasted carrots, almonds, pomegranate the perfect accompaniment for meat and seafood dishes.
---
Big Boy BBQ - various
Big Boy BBQ impresses with a broad ranging menu of something for everyone. Come here for a massive meat fix, or choose items that are not so heavy. The kids will love it here too, and mine have repeatedly asked us to return. If you place Big Boy BBQ in the fast food bracket then its a great option for what you get. A quick burger and chips does the business. They say it's about slow food, fast.
Get around a generous pile of beef brisket, smoked cheese, fried onion strings (addictively crunchy) and BBQ sauce. A knockout. While I love a burger with a large juicy beef patty I'm prepared to jump out of my comfort zone into the realm of slow cooked beef brisket in a burger. The beef brisket sings with the flavour of the American south, slow cooked and sassy.
---
Rockpool - Crown
Rockpool has a modern fit out with high ceilings, great use of timber panelling, subtle mood lighting, large artwork tributes to the humble cow, several attractive dining areas and luxurious tables and chairs. What struck me about Rockpool was the finery and great use of textures. The ambience here is refined yet relaxed. Waiters dressed impeccably attend to your dining needs and are engaging and knowledgeable.
The meat here is sourced from Australia's best producers and dry aged on the premises. Rockpool are strict about humane treatment of cattle and about no hormones or antibiotic feed supplements. Welcome to 9+ marble score steak! Rockpool features David Blackmore's Dry Aged Mishima, Cape Grim Dry Aged and Robbins Island Dry Aged Wagyu meat. It's the best of the best.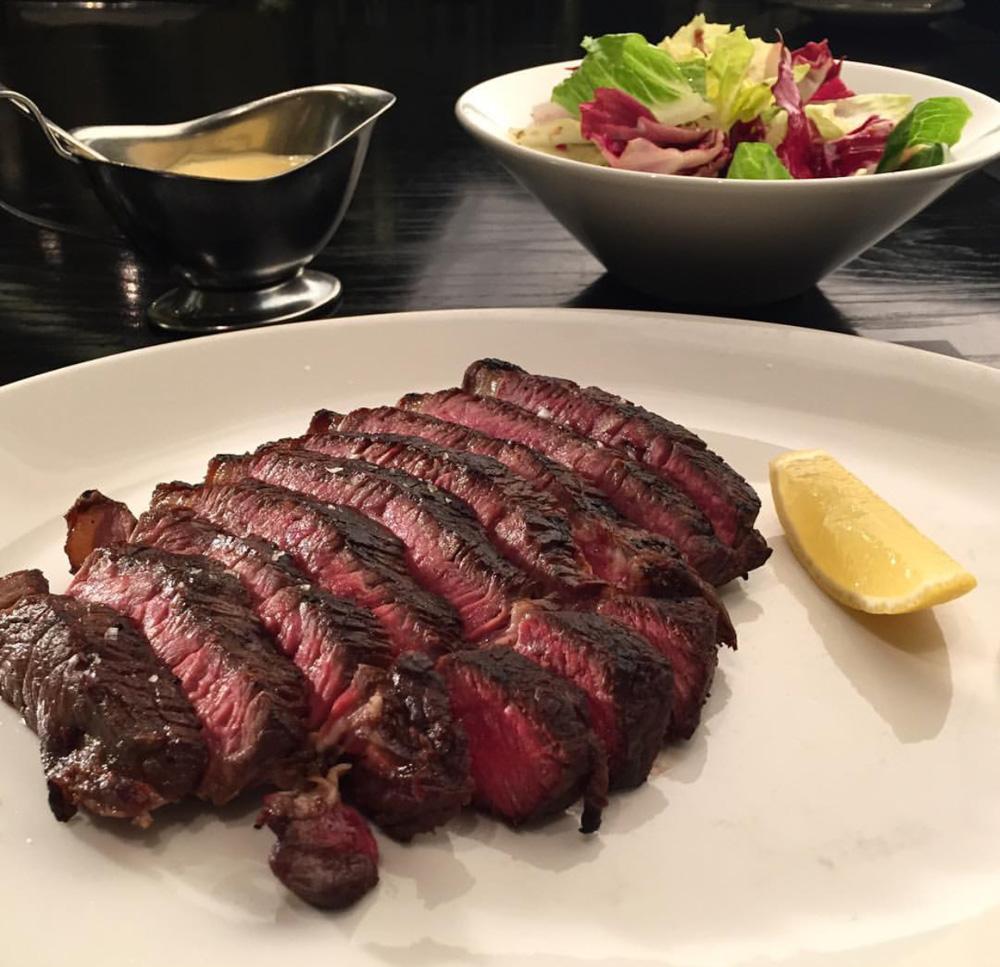 image: Rockpool Instagram.
---
MPD Steak Kitchen - Berwick
We stepped into the space that previously hosted a night club, past cow hides and onto reclaimed wood flooring to to find ourselves under hanging greenery, a wall of bovines across the room from a row of gleaming spirits, the western theme flowing throughout.
Sophisticated, atmospheric, and delightfully a little quirky, this certainly is setting a new standard for suburban fine dining; once through the wooden doors we found ourselves transported to another world, the thoughts stuck on repeat, we're not in Kansas anymore.
Bonello's menu at MPD is steak focused – offering a selection of regular, to the more unusual cuts of beef, like Pope's Eye which is part of the rump and full of flavour.
Bonello sources the majority of the beef locally from suppliers like O'Connor Beef and Vic's Premium Quality Meat, and also brings in the big guns like David Blackmore Wagyu and Cape Grim to complement. Lamb (Flinders Island), fish, poultry and pork lovers should be satisfied, with shared entrees and sides rounding out the offering.
---
Entrecote - CBD
Entrecote now with 2 venues, burst on to the scene with it's signature dish of Steak frites; grilled O'Connor porterhouse, frites, sauce Maison au beurre et aux herbes. The Parisian influence is evident, bringing class to a steakhouse experience. While there are other attractive options on the menu it's the signature dish that's the big deal. Do one thing and do it well. The herbaceous buttery sauce is a distinctive that also excites.
Image: Entrecote Instagram
---
San Telmo - CBD
The World Loves Melbourne loves the dark tones of San Telmo with its South American vibe echoing the neighbourhood of San Telmo in Buenos Aires (a place visited by The World Loves Melbourne). Yes we've eaten fine steak in Buenos Aires so we were keen to compare.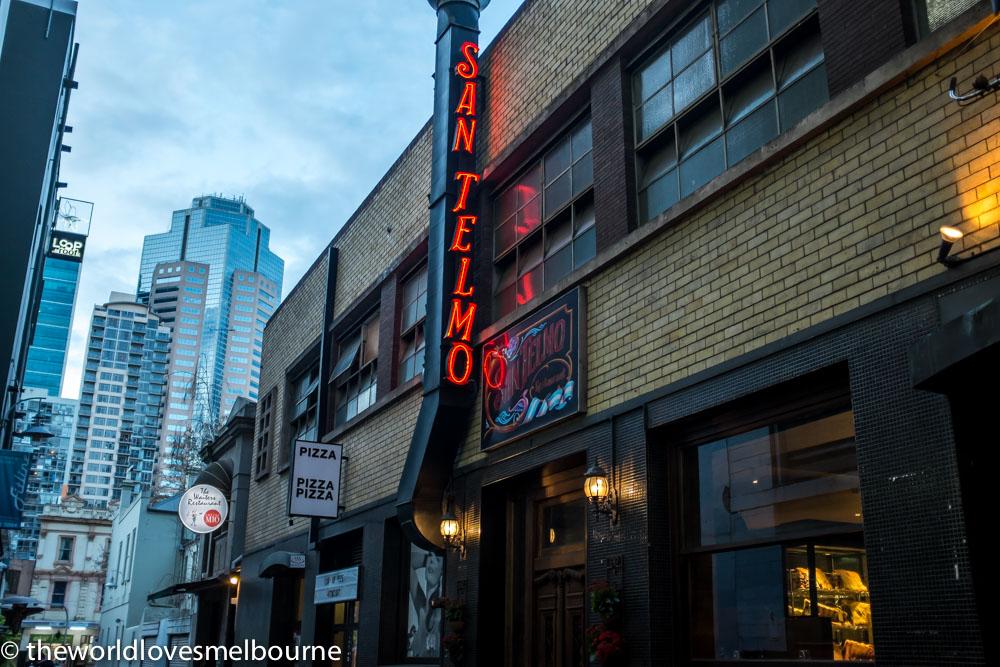 The Argentinian Parrilla Grill is also a standout attraction, particularly the theatre from sitting at the counter with the kitchen action unfolding in front of you.
A highlight was the Vacio steak featuring O'Connor's premium pasture fed flank steak. This was served with fresh and zesty Lechuga baby cos lettuce with shallots and horseradish dressing, and the Papas crushed potato, green olive, parsley and garlic aoli. The perfect combination. Of course O'Connor meats are some of Australia's finest, and are taken to next level from cooking on the parrilla.
Another highlight is the small dishes such as this Morcilla, spiced black sausage. this was so flavoursome melt in your mouth. One to file away for next time.
In the mood for steak we ordered the Ojo de Bife O'Connor's premium dry aged rib eye. This is the premium cut of steak at San Telmo and was again a melt in your mouth experience. Bring on the marbled fat we say!
---
Steer Bar & Grill - South Yarra
The World Loves Melbourne enjoyed one of our best steak nights ever at Steer Bar & Grill with several courses of steak that were spectacular; from a tartare to prime cuts. These guys know what to do with steak; it's not just plonked on a plate but served with flair. They market themselves as a specialty steak house, and we agree. Grain fed, pasture fed, ration fed; take your fancy. Some of Australia's finest beef is here such as David Blackmore (a favourite of ours), O'Connor Black Angas, Rangers Valley Export Quality Black Angas, John Dee Supergold Black Angas, and Sher Wagyu.
Image: Steer Bar & Grill Instagram.
One of the best things to do in Melbourne is to visit a top notch steak and meat specialist (most have vegetarian options also and cater for broad needs).