Best Student Hangouts in Melbourne CBD
Best Student Hangouts in Melbourne? Here is our list of the best for your catch up, hang, drinks or after class feed:
1. Asian Beer Cafe (known as ABC) - Melbourne Central
Asian Beer Cafe is a perennial favourite of students with its proximity to RMIT and its cheap offers and views (balcony is often crowded). We frequented this place when working at the State Library; always a buzz here over the last 8 years or so.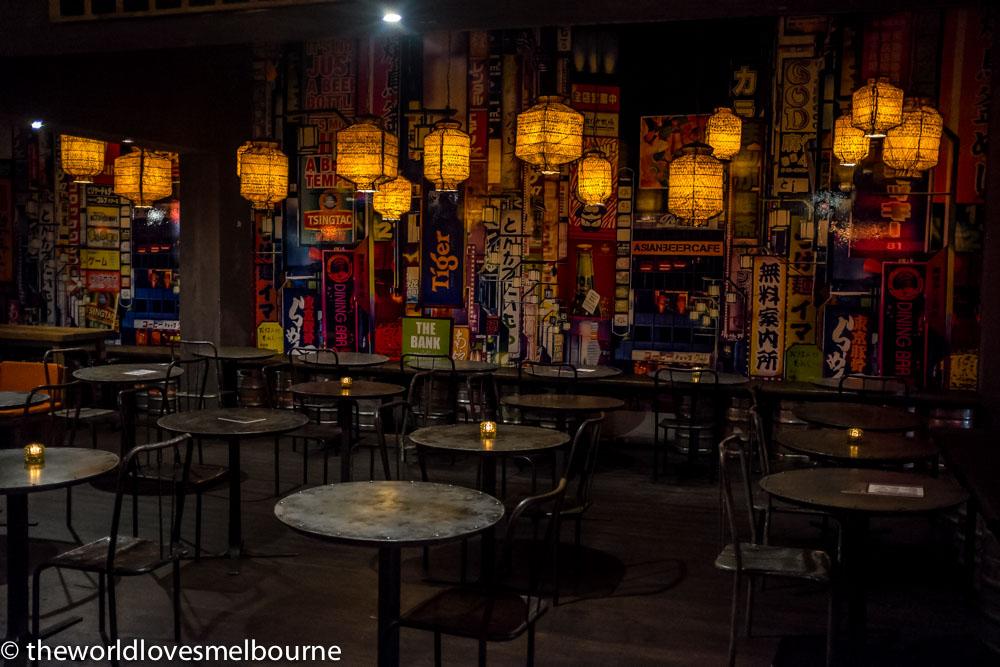 Asian Beer Cafe features an elongated space with Asian decor. It can be tough to grab a seat at peak times. The balcony is excellent and cosy, with heaters in winter a needed addition. Great burger offers and steak and fries for $10 are compelling. The food is serviceable without being top notch. We've had the pizzas and they are cheap but not A grade.
Cocktails deals and wide range of beers on tap, along with Happy Hour and DJ's, makes Asian Beer cafe a popular student hangout.
There is a bevvy of specials; we enjoy the $5 pizzas which come with some degree of flair. The Meat Lovers pictured below comes with decent topping and a hint of chilli (and it's served hot!). What the punters want.
A pizza and a beer on the balcony overlooking State Library is almost therapy. Of course you can also order a Salad Bowl for $5 but we wouldn't know too much about that.
Students tend to hangout where it's affordable and there's a great atmosphere. Asian Beer Cafe delivers on both counts.
---
2. Lounge Kitchen - Swanston street
Lounge Kitchen is an iconic venue in the CBD and a great student hangout. We've visited several times over the years, lapping up its charm. In recent times it has reinvented itself. Walk up the stairs off Swanston Street into a cool ambience of dark timbers, various dining spaces, mood lighting, plants and character booths. Quintessential Melbourne we say. They even have tables on the standout balcony overlooking Swanston Street (best in Melbourne?).
This is a perfect place to dine out with your student colleagues; a place with atmosphere that delivers on quality affordable dishes, and has engaging service. As one blogger put it, "It's nice to get some change in your pocket."
The Lounge Kitchen balcony is a like a secret hideaway and one of the best balconies in Melbourne. During the day there's natural light that streams in and with hanging plants the vibe is exotic. Also add to this the vibe of eclectic Swanston Street below, and it's the perfect CBD haven. Another feature of Lounge Kitchen is tunes from quality speakers while you enjoy your catch ups and meals. image above: Yelp Melbourne.
Lounge has recently launched an exciting new Classic Cheeseburger featuring fresh made bun in-house, 200g Black Angas Beef Patty (150 day grain fed and dry aged in-house for 21 days), Swiss Cheese, Pickles, Ketchup and Classic American Mustard. The Classic Cheeseburger with fries and a soft drink is only $12.50 - a great deal!
The food here is of a higher level than some of the other popular student hangouts, with consultant chef Raffy and his team delivering on tasty affordable dishes. This Fried Chicken burger with blue cheese sauce has finesse and is cheap.
Cocktails menu brings a sophistication such as this Velvet Manhattan. Happy Hour for students is from 12-5pm Monday to Friday with house wine and sparkling only $5 a glass, Cocktail jugs only $18, Beer jugs only $12, and Cider jugs $15.
Burgers and sliders are a feature at Lounge Kitchen.
Lounge Kitchen boasts a diverse menu and top notch vegetarian options such as the Fritters above. Wrap your lips around this Melbourne!
A range of craft beers on tap is compelling.
Lounge Kitchen is an iconic destination in the Melbourne CBD that has you coming back again and again. Get on it.
---
3. Fathers Office
Father's Office is in proximity of various universities and caters for office workers as well as the student crowd. Father's Office has many specials to attract students, however the lunch special for $20 is good but pricier that some of the other student lunchtime offerings. There's a sleek level of sophistication here.
Image: Fathers Office Instagram
With stunning views overlooking State Library it is similar in its views to Asian Beer Cafe, diagonally opposite. Views are evident through most of the venue but the best are from out on the balcony or dining by the window.
Comfort food modern style food includes this Fried Chicken Burger with Slaw and chips; a tangy burger with attractive black bun.
---
4. Captain Melville
Captain Melville is another popular student hangout with its modern spacious venue with bluestone walls, hip vibe and gastro pub style meals. Being centrally located and having excellent happy hour specials also helps.
Captain Melville has a sense of history being part of what was originally Melbourne's oldest pub. It gets kudos for its historical metts modern atmosphere.
The menu features usual suspects such as burgers, parmas, nachos and steak. Image below: Captain Melville Instagram.
The Wednesday 250g Rump Steak deal for $15 is one of the best lunch deals in Melbourne, and we see why people gather for this! The steak is excellent quality, not just a token steak, with decent sauce and fries and salad. Winner.
Mmmm juicy steak! With an excellent range of beers on tap, Captain Melville delivers.
Dark ales are the best ales.
Funky spaces and DJ area. The variation of dining and bar spaces adds to the versatility and attraction of Captain Melville. The dining area below looks canteen-esque, with chefs and kitchen in full view
Captain Melville is in the heart of student territory and well worth a visit.
---
5. Oxford Scholar
Oxford Scholar has been a student favourite for years, with its historical frontage eye catching on Swanston Street. Parma fiend? Here is the place to go for your Parma ($14 at time of article) and pint.
Bistro meals, with burgers as well as parmas, await and pool for your leisure pleasure. They really promote the live sports on TV including Fox Sports.
Or sit outside and enjoy the CBD eclectic experience for your after class feed.
---
6. Workshop Bar
Workshop Bar is another CBD hideaway perfect for a student hangout on Elizabeth Street. This is one of the more hipster student hangouts in Melbourne. Plants abound, from exotic palms to weeping figs (I think)...
The entrance is non descript, with a garage style roller door and adjacent door to stairway. Walk upstairs to a secret world. Natural light during the day, views to Elizabeth Street, windows within windows, large tables and a chic bar.
We enjoyed the $8.50 pizzas and found them to be tasty; albeit a plain unsophisticated base. Art/mural adds to the vibe at Workshop Bar.
Cocktails are on point (image below: Workshop Bar Instagram).
Workshop Bar is also worth a visit as one of the more interesting student hangouts in Melbourne. One of the best things to do in Melbourne is to visit a casual bar and student hangout for a great vibe and affordability. Get on it!