The Cut Steakhouse Brings New York Syle
The Cut has arrived in Melbourne after being held in high esteem in Sydney. A specialist steakhouse, The Cut arrests the attention with its sexy ambience, standout meat cuts, fine service and compelling wine list. It's a corporates' long lunch dream; to cut a deal (excuse the pun) or to connect with clients to impress. And indeed the place to come for your romantic interlude, with alluring dark wood and leather all around.
I'm not sure what it is but I've been dining out at several steakhouses recently, as well as cooking steak at home in between. I have to boast that I often purchase top cuts of meat and always seem to nail the cooking process in the pan (on the home gas stove). With some choice "rub" to marinate I can cook up a storm, even with appropriate grill marks seared across the steak. Which means the savvy at the steakhouse is often in sourcing the premium cuts of meat; cooking a steak isn't rocket science. An experience to be sought and savoured is a great red wine, large juicy quality steak, some decent sides and impeccable service. Furthermore when the menu is mainly steaks, you don't need to ponder too much, or wonder if you're taking a risk, compared to some nouveau menu.
So I can understand the appeal of The Cut for those who hunt for decent steakhouse experiences in the Melbourne CBD like stormchasers looking for tornadoes in Tornado Alley.
Negroni on tap in the downstairs bar to begin of course. One of the best things to do in Melbourne is to search for the ultimate steak; and The Cut is on the foodie radar.
Romantics take note. Up your first-date-game from a boring pub steak dinner and head to The Cut Steakhouse to experience some choice cuts of in-house dry-aged beef from boutique producers (the 36-month grass-fed scotch fillet from Cape Grim in Tasmania is the Cut of choice). Yes we've always been of the opinion that Cape Grim cuts are the best we've had. Fresh unpolluted air and all that.
Be transported to an elegant New York-style steakhouse with parquetry and black and white marble tiled floors; rich, deep-green, leather-upholstered, custom-made banquettes and chairs and luxurious curtains. We were amazed by the transformation from Stokehouse City with its sea themed casual elegance to something less of an open design and instantly sophisticated and sexy.
A trip to The Cut isn't complete without a viewing of the dry aging room, which is one of the largest and most impressive in Melbourne, supplying the kitchen with beef that has been dry aged for up to 200 days. A great way to add a touch of visual drama and excitement to your dining experience, in case the chemistry is low. The Cut Steakhouse was awarded Australia's Best Steak Restaurant in the Restaurant & Catering Awards 2015.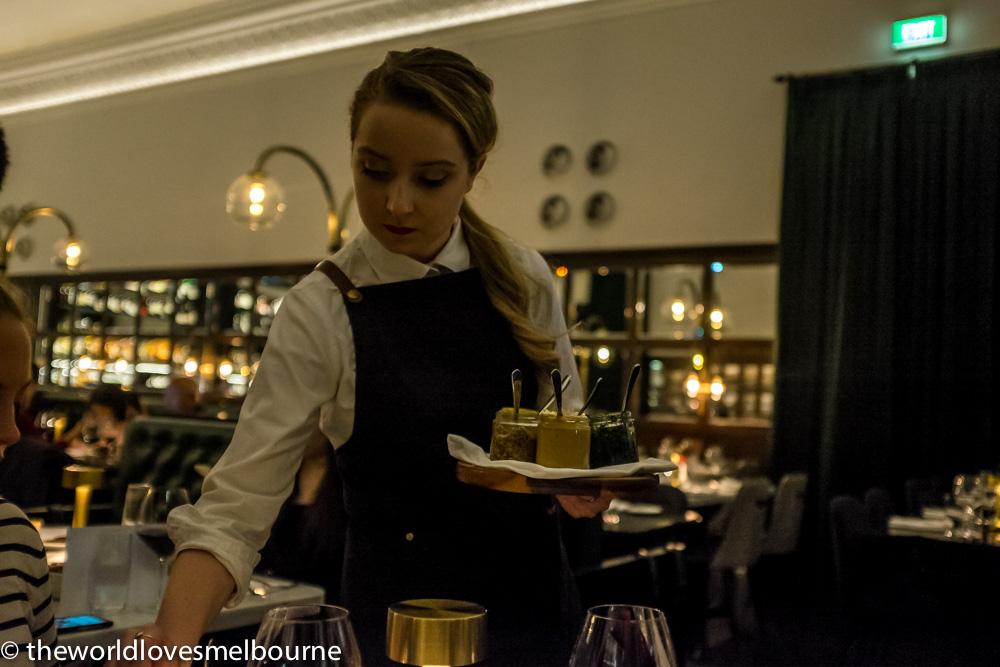 Service is a strong point at The Cut (as we experienced). Although I may have missed this mustard tray despite the photograph (multitasking blogger).
Head Chef Timothy Martin (ex Woody P and the European) oversees both venues (Fratelli Fresh and The Cut) and has been formative in terms of the menu.
Hand selected oysters were fresh and served with lemon.
Calamari at its finest; with mussels, nduja, broccoli. I actually found this to be one of my favourite dishes of the evening as there was savvy added of fresh, creamy and kick.
The dry aging room, which is viewable from street-level windows and an all-glass internal wall, is arguably one of the largest and most impressive in Melbourne, supplying the kitchen with beef that has been dry aged for up to 200 days.
Steaks can be paired with one of nine sauces and condiments and 10 different sides, including buttermilk onion rings, hand-cut chips, roasted mushrooms and slow-roasted leeks. The menu also features Dorper lamb, Great Ocean free-range duck and oysters from boutique producers, including limited-release Hidden Cove oysters from Tasmania.
"Fried pie" with chicken, wild greens is a welcome starter.
An adjoining bar called The Library is just the place to relax with one of The Cut's quintessential cocktails. Guests can also globe-trot the impressive 300-strong wine list that includes natural produced local Victorian wines; a collection of over 80 of the world's finest whiskies, including those from Australia and Tasmania; and local and international craft and bottled beers. You have options in terms of your dining experience.
We were able to choose a steak knife.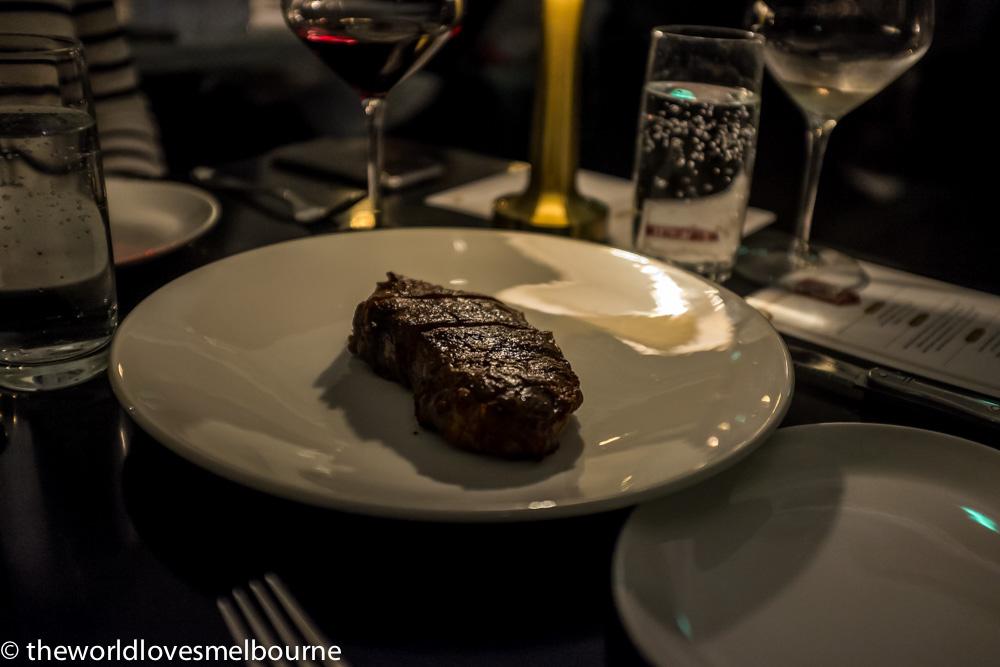 As for the steaks - there are 10 cuts of beef from five top-tier farms, including boutique Victorian producer Seven Creeks Wagyu that supplies The Cut exclusively with premium scotch fillet and flank steak.
Hand-selected cuts from 36-month grass-fed cattle from Cape Grim in Tasmania, 270-day grain-fed Black Market Rangers beef, 150-day grain-fed John Dee scotch fillet, and full-blood wagyu from Robbins Island, Tasmania complete a portfolio of Australia's beefiest pleasures.
The World Loves Melbourne was able to taste four fabulous steaks: Seven Creeks Scotch Fillet, Robbins Island Wagyu Dry Aged Rump, Black Market Rangers Inside Skirt and the Cape Grim Sirloin. All steaks were cooked to perfection and top shelf quality. They pride themselves on char, essential for New York style steaks.
Sides were a perfect accompaniment including Roasted mushrooms, Buttermilk onion rings (below), Garden leaves, Roasted bone marrow and Baby Kipflers. These are the sorts of sides you would anticipate, with the steak the main centre of attention.
Urban Purveyor Group Chief Executive Thomas Pash said the restaurants at The Alfred perfectly complemented each other. "Having a premium casual restaurant like The Cut and a full-service casual restaurant like Fratelli operating cheek by jowl means there is something for every occasion and potential for diners to explore both options," Mr Pash said. "We hope our Sydney stalwarts will be every bit as successful in Melbourne as we strengthen our portfolio in the city."
Urban Purveyor Group Culinary Director Martin Heierling said both menus were produce driven and provenance inspired.
A cheese selection was a superb way to end the evening.
"We're working with best-in-class, boutique producers and the beef, especially, is the finest Australia has to offer," Mr Heierling said. "Aging premium beef in our own aging room is immensely satisfying, both for our culinary team and also our customers who will find our dry-aged collection difficult to beat."
The World Loves Melbourne was impressed with The Cut as a reliable sophisticated steakhouse as perfect for the corporate set, groups and for those looking to impress. Not in the top tier of hatted restaurant dining in Melbourne but we're not sure that's what it's trying to be. You may run into your accountant at The Cut.
The Alfred is a compelling events space and can be hired in its entirety with capacity for 800 guests, cocktail style. The ground floor, including laneway, caters to 400 guests, while the first floor can host up to 350 guests. For smaller events, Fratelli Fresh caters to 80 customers banquet style or 160 cocktail style, plus 40 in the Fratelli Bar. The Cut can hold a cocktail event of up to 200 guests, or 120 banquet style. For something more intimate, The Library bar caters to cocktail soirees of up to 60. Highly recommended.