'Gringlish Christmas Masterclass at Bahari'
The World Loves Melbourne (Randie) was invited to Bahari for a special fun participatory masterclass with talented chef Philip Vakos. I've always been a fan of Greek cuisine and I'm thankful that I don't have to travel very far to eat authentic Greek dishes in Melbourne.
Barhari's 'Gringlish Christmas' masterclass was held for the second year and it did not disappoint. When opening Bahari, MasterChef alumni Philip Vakos didn't want to compromise on his Greek roots but also wanted his dishes to have a modern style. Bahari is definitely a place to eat traditional Greek food other than souvlakis, as he's constantly reinventing the way Greek food is enjoyed.
Philip walked us through the creation of a Greek favourite, moussaka, which uses Christmas-like spices including nutmeg and cinnamon, and filled it with minced turkey instead of minced beef to create a one of the tastiest dishes I've ever consumed! Moussaka is layered like lasagna. The bottom layer is made with thin slices of potato, roasted eggplants, followed by seasoned minced turkey and finally a creamy layer of Béchamel sauce made from butter, cheese and milk.
This was an interactive Masterclass and so I was happy to volunteer and assist with layering the potatoes and eggplant for the moussaka. Philip was absolutely lovely to work alongside and I was pretty excited to be his assistant even for five minutes.
The final product was absolutely divine!
Afterwards, Philip took us through the creation of egg nog from scratch which is the perfect holiday drink. To add a bit of Greek flavour, mastika liquor was mixed in giving the drink some earthy notes including pine.
In between the cooking demonstrations the Greek feast continued with a spread from the Bahrai menu. From the classic saganaki to charbroiled octopus, roasted pork leg and Bahari's famous zucchini and fritters, the quality of food we ate was sensational.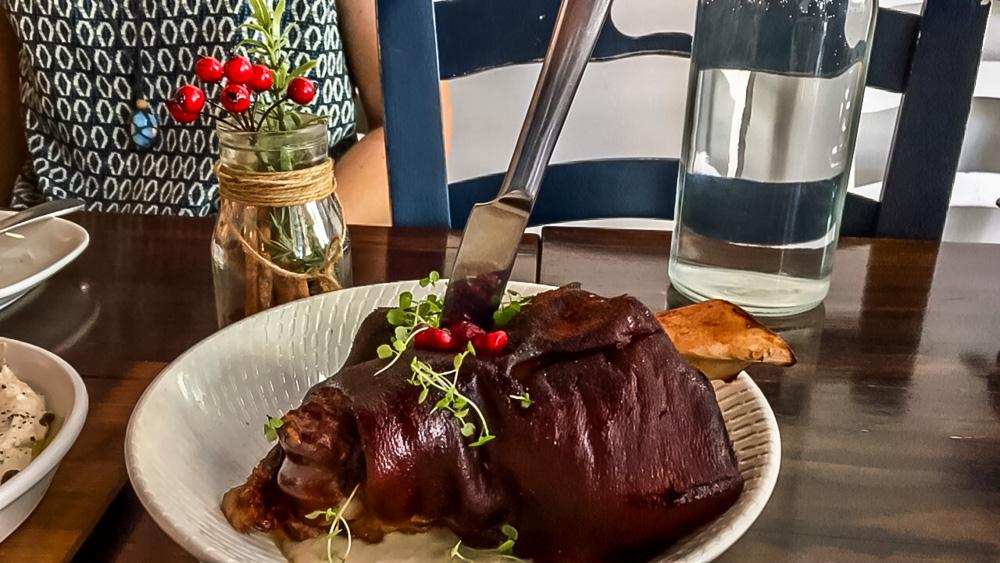 Apparently spending time at the dinner table, talking, drinking and eating ample amounts of scrumptiousness is the Greek thing to do.
As if we couldn't eat anymore we had to save room for dessert: baklava doused in honey, cinnamon and pistachio with a side of Halva ice cream.
It was a treat to get a glimpse into the skills of Philip Vakos! We sure hope 'Gringlish Christmas' will be back in 2017.
Bahari restaurant is a gem on the corner of Swan Street and Church Street in Richmond. Bookings can be made at
bahari-richmond.com.au