5 Best Things to Do This Weekend in Melbourne
What are the best things to do in Melbourne this weekend? Our weekends are a big deal; we need to spend them with activities that provide optimum enjoyment. Here are 5 suggestions from our team.
1. Winery Visit to Yarra Valley or Mornington Peninsula.
This is a quintessential Melbourne thing to do - relax by visiting a nearby wine region and imbibe it's pleasures. Only an hour from Melbourne you can experience fabulous wineries and world class wines. We love both the Yarra Valley region and the Mornington Wine regions - the obvious choices for Melbournians.
Our favourite is Merricks Creek Winery on the Mornington Peninsula. Only an hour from Melbourne you are taken to an idyllic winery with fabulous vineyards and grounds and a stylish cellar door. This is a family owned and run winery by the Parker family and the passion and hospitality is top notch. We get a bit sick of overpriced menus at wineries and Merricks Creek is one of the most rewarding and affordable wineries we've visited with fresh quality share plates at generous prices.They have the great combination of having some of the best Pinot Noir around with food that matches. Some wineries have excellent food but their wine is average - Merricks Creek has some of Australia's best Pinot Noir.
Merricks Creek has a relaxed vibe where you can while away a few hours without the stress of city life. Even as a boutique winery it gets busy but not overwhelmed with large crowds like a huge commercial winery. This is a beautiful and "feel good" destination. When you drive down the long driveway you're struck by the beauty of the property and the close planted vines. When you enter the cellar door you are greeted by wait staff and the charming Parker family. Peter and Sam Parker are at the Cellar Door, and will impress you with their obsession with Pinot Noir.
The secret is the close planting viticulture based on French methods of Burgundy. Dr Peter Parker and son Sam replicate the winemaking of Burgundy to produce intense Pinot Noir. Combined with the terroir of Mornington Peninsula they show what the region can accomplish. We've met a lot of people who have visited Merricks Creek and everyone has spoken with affection. Engage Peter Parker at Cellar Door and you will soon see he is "obsessed with Pinot Noir!"
---
2. Visit Premium Melbourne Markets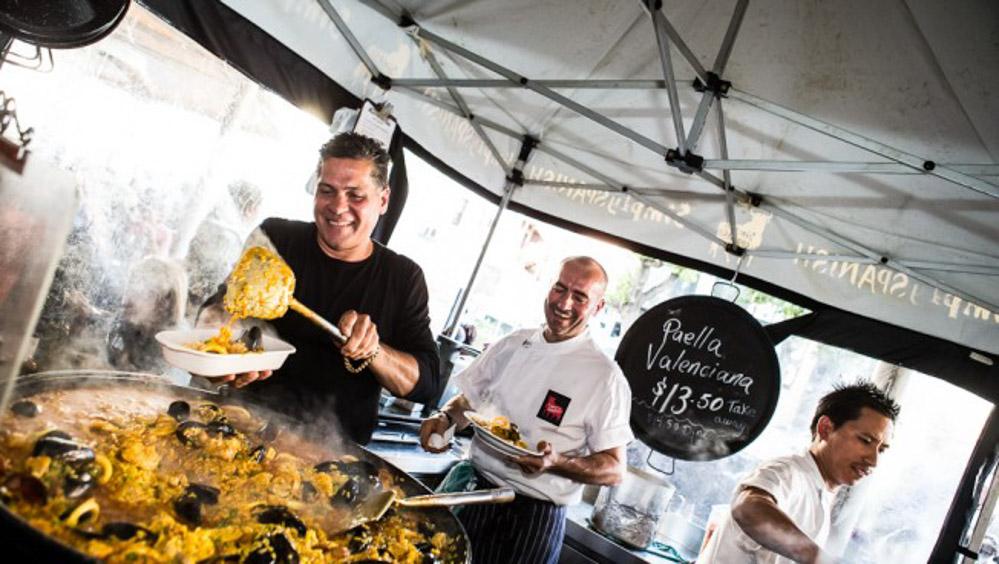 We live in a region with fabulous fresh produce. So a trip to some of the fabulous markets around Melbourne is highly rewarding. Most of the well known Melbourne markets have evolved to be world class. You can pick up some produce that is bespoke; top notch meats, cheeses, jams, olives, fruit and vegetables, pastries and other items that you may struggle to easily find elsewhere. And not just produce, but many markets also offer crafts, art, clothing etc.
Queen Victoria Market is arguably Melbourne's premier market and attracts both local shoppers and hordes of tourists. It's a market of fine quality with many specialty stores.
Popular with locals and tourists alike for bargains. Also boasts quality fresh produce in abundance. Love the buzz early in the mornings. This is a Melbourne institution for over 120 years and I know people who've been coming here for decades.
Prahran Market is a large and classy market in a great precinct. It contains many specialty stores and is a gourmet haven. Prahran Market is an institution! The current site is only 200 metres from Chapel Street and has been there for over 125 years.
We also love Camberwell Market! Always great crowds here and a pumping ambience every Sunday! This is an amazing market operated by Rotary – raising millions of dollars since 1976. This is all about community! And you feel a great sense of community at these markets. There are an incredible 370 stalls which can be booked up to 3 months in advance! We love to slowly stroll around the stalls looking for bargains. And bargains are there to be had. I know people who have offloaded their designer collections at Camberwell Markets – arriving near dawn and setting up their own stalls to make a few extra dollars.
South Melbourne Market is arguably Melbourne's best market. The precinct of South Melbourne is fabulous so you can combine a trip to South Melbourne Market with a visit to an iconic cafe or restaurant in the area. Notwithstanding there are some great coffee and brunch options within the market.
---
3. Arts and Culture Experiences
Our favourite is to visit the NGV, where there's often a major world class exhibition on display. The NGV is a must visit in Melbourne, a celebration of culture. Being in the heart of the city it is also close to other nearby attractions.
Incredible place to spend a day! Open in 1861 this is Australia's oldest art gallery. NGV is full of exceptional art and excellent exhibitions. One of the best galleries in Australia! I've been known to spend hours here with my family. Features arts covering the Eastern and Western hemispheres. Ancient and modern! The fine arts and applied decorative ones! Spend time both on St Kilda Road for the European collection and in Federation Square for the Australian collection.
Most of the gallery is free with some exhibitions incurring a charge (often with unlimited access).
---
4. Visit the Melbourne Zoo
We never get tired of visiting the Melbourne Zoo; it keeps evolving. Always a fun experience they offer a pass which allows you to unlimited visits to all their zoo locations over a year. And one of the best moves ever was to allow kids free access on the weekends! The animal enclosures are excellent and the food offerings there are varied and decent. At Melbourne Zoo, you can meet over 300 different species from around the world, only minutes from the city centre!
See majestic Asian Elephants, sleek Sumatran Tigers and Orang-utans swinging through the trees. Visit the Gorilla Rainforest, or see koalas and kangaroos in our Australian bush setting. And discover exciting new interactive exhibits designed especially for kids. You will get the chance to learn all about our animals, our fight to save wildlife from extinction and what you can do to help.
---
5. Melbourne Cafe or Restaurant Visit
Our favourite cafes right now are Lulu Cafe and Gallery, CH James, and Higher Ground.
LULU Cafe and Gallery is a shining European style haven in North Melbourne for foodies and art lovers alike. This is surely one of the hidden gems of Melbourne. The World Loves Melbourne was invited to LULU Cafe and Gallery to sample the menu (including breakfast/lunch all day menu as well as the dinner menu) and was highly impressed. Lulu has an alluring quality as it's not a formulaic one dimensional kind of place; there are many dimensions including food, art and style. This is the perfect place to take your lover as there are several spaces at Lulu to enjoy dinner and a drink. This includes the magical courtyard out the back of Lulu; surely one of the most attractive courtyards in Melbourne and a hidden gem. Sexy Lulu!
Nathan Toleman and his partners have excelled themselves with Higher Ground after a string of cafe hits. Is it a cafe? Is it a cathedral? (Expecting Lenny Kravitz to appear on that balcony singing "Are you going my way?") What is the rent here? I think Higher Ground is next level - if you are taking "out of towners" to Melbourne you would do well taking them to Higher Ground. You can put this food up as a fine example of a Melbourne cafe. The menu showcases cuisine on trend, gangster and grammable.
CH James has a community feel about it. Station Street in Fairfield is iconic in itself and the open design of CH James where the inside cafe flows through the open doors to the courtyard gives a sense of space and festivity. The cafe space is light and airy with period implements mounted on the wall in reference to local 1880s local entrepreneur hero CH James. Head chef Tallon has a fine dining background in top Melbourne restaurants and the food he brings to CH James is savvy, delicious and full of technique. For us this is not the normal cafe food but like restaurant quality food in a cafe.
With the old church next door, garden patches and a large spacious courtyard, CH James is the perfect brunch destination. The place was packed inside and out while we were there on this fine Saturday morning. With such a buzz the service standards were still high; this cafe priding itself on engaging and attentive customer service. Upstairs at CH James is the function space named Valensia which is extremely popular for events, occasions, functions, and business groups.