Impressive Tom's Thai in Seabrook
Tom's Thai is a shining light in the Seabrook/Point Cook area with it's impressive Thai dishes. Named after it's owner, Tom's Thai has a selection of signature dishes experienced by The World Loves Melbourne. We highly recommend this local hero restaurant for your Thai food fix.
We were struck by the quality of ingredients, the string of top notch dishes, upbeat staff, and authentic Thai flavours. Tom's Thai on Point Cook Road in a strip of shops and restaurants (good parking) is a Thai restaurant with interesting dishes - some well known Thai favourites including curries and some street and "off the boat" Thai excellent dishes. We also felt the prices were more than reasonable, especially for feeding a family.
Singha Beer on tap is refreshing with floral notes. Nothing like fresh beer on tap with top Thai cuisine!
The meat is premium and halal (beef and chicken), other ingredients are fresh and high quality, and the curry pastes sauces are home made (no short cuts) from talented chef and owner Tom (with wife serving on the floor). This is a standout Thai restaurant in Melbourne's west.
The restaurant itself is modern and charming, even cosy, with a great vibe (Tom did the fit out himself). Photos from Thailand adorn the walls, as well as choice paintings. Tom's Thai also offers catering services and you can order takeaway for your convenience.
Scenes from Thailand and a vintage radio.
Tom's Thai is a perfect destination to come for dinner (or lunch on Thursday, Friday and Saturday), as well as for takeaway. Tom cut his teeth in the kitchen at some of Melbourne's premium Thai restaurants and opened up in Melbourne's west about a year ago.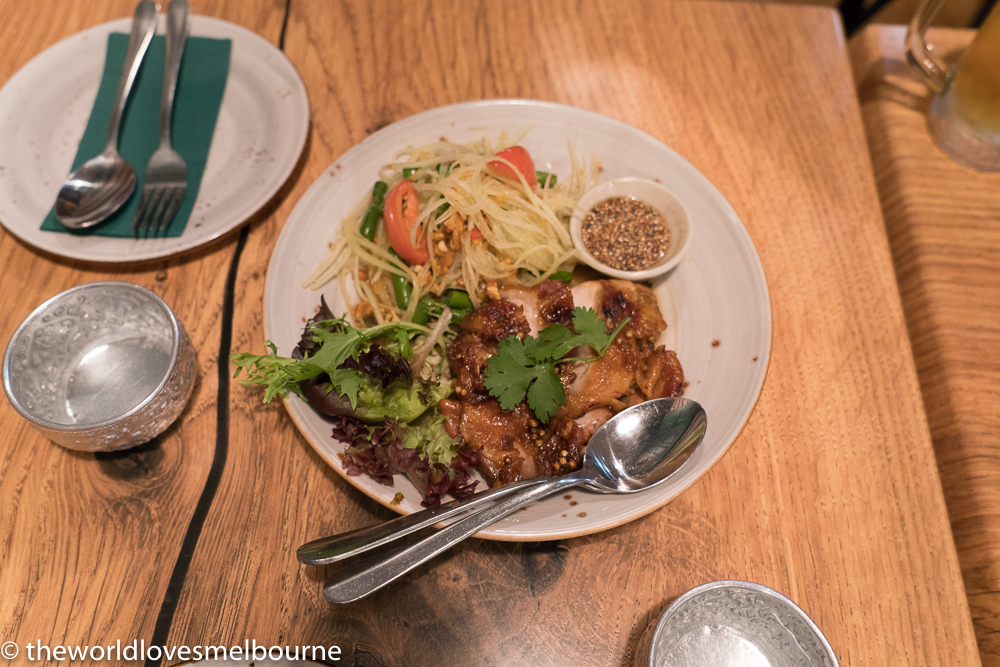 Som Tam Gai Yang with green papaya, beans, roasted tamarind sauce, chilli with Char Grilled Chicken is a standout dish. Papaya salad and grilled chicken is one of the great Thai food combinations, with each served separately on the plate rather than mixed together. Soft tender quality chicken with crispy skin, combined with a compelling papaya salad. Pour some sauce over the dish for extra heat. Such a tasty dish and a generous amount of chicken for a salad. We also loved the juice of this dish in the bowl and I found myself dipping my spoon to catch more of the sauce/juice.
Loving that Singha beer on tap with the Som Tam Gai Yang.
Love roti? Enjoyed this Roti Duck with roast duck wrapped with roti bread and Thai peanut sauce. A delicious hit of roast duck with generous filling inside roti, with thick sauce made by Tom.
Skewers at Tom's Thai are another highlight. Moo Ping grilled pork skewers were rewarding with dipping sauce. Melt in your mouth.
I would recommend ordering a selection of dishes from say the entree menu, the salad menu, off the boat menu, wok star and the curry menu.
Skewers and Roti Duck together - great dining at Tom's Thai in Seabrook.
Red wine also paired well with the Thai dishes.
Pad Pik Khing Moo Kob is a fabulous traditional Thai dish that is zesty and tangy with fresh Thai ingredients as well as subtle spice and first class pork belly. Features crispy roast pork belly with green peppercorn, green beans, kaffir lime, chilli, seasonal vegetables, red curry paste and Thai basil. Such a great dish! For those who love pork belly this is a must order.
A signature and highlight of the menu is the Penang Beef Cheek from the curry menu featuring tender melt in your mouth beef cheek (slow cooked for 3-4 hours), dried chilli, lemongrass, kaffir lime, seasonal vegetables and coriander root in peanut coconut red curry. A sensational dish. This is a southern Thai curry of note, and Tom's Thai executes it brilliantly. I would describe this as a thick curry with a thick broth that will draw you in (once again found myself dipping a spoon into the broth) - also enjoyed with coconut rice. I would also describe the dish as having a subtle but not overpowering spice, everything was in perfect balance so that you are raving about the beef cheek and the curry sauce together. Creamy goodness.
Great Thai dining in Melbourne's west.
Penang Beef Cheek curry is best with rice (below).
Now it was time for dessert and we enjoyed the Black Sticky Rice with quality ice cream.
A fabulous local hero Thai restaurant in Melbourne's West that is doing well and a restaurant we celebrate. Tom is a wonderful chef who hits the high notes with great value, and who doesn't cut corners in bringing compelling Thai dishes.
Tom's Thai is well above what you would expect from a local Thai restaurant in its authenticity and flair. Highly recommended.