Longrain - Dinner with the Band
Longrain is an impressive Thai restaurant that pleases with its sexy fit out, high calibre cuisine and exceptional service. It brings fine dining to the Chinatown precinct. Longrain was an impromtu venue to catch up with fellow members of The TV Dinners new wave band that thrilled audiences in the 1980s.
The lads were in town from Adelaide to see the resurgent Sunnyboys (who the TV Dinners once supported) at the Corner Hotel in Richmond. As new wave rockers we were into driving guitar, seedy venues and loads of anarchy... We looked to bands like The Clash, The Buzzcocks and The Jam for inspiration.
The anarchists JL and Tony (aka Johnny Dynamo and Fab Charisma) are now lawyers and professionals but still love to rock out... We were also joined by a Melbourne filmmaker. Crazy stories of rock and roll and filmmaking over sophisticated Thai dinner...
This slightly grainy photo (no pun intended) is not unlike the lighting conditions when the band played. It features our first course of pork on pineapple - great combo and delectable...
Longrain is a cool place to connect with its exposed brick, creative artwork, eclectic lighting and timber floors...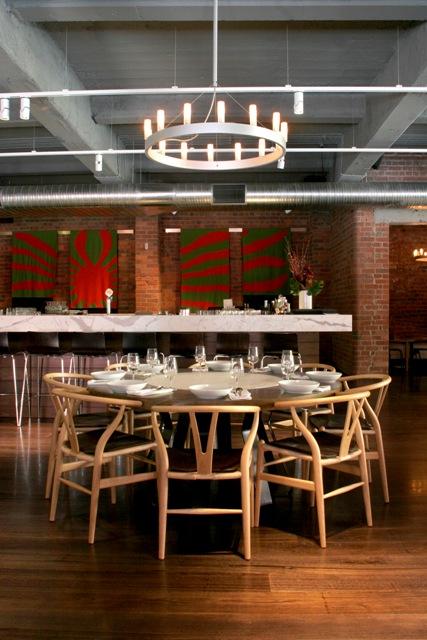 These oysters at Longrain were a hit with Freshly shucked oyster, red chilli nahm jim, coriander and lime... Loved the Thai influences.
Another hit at Longrain is the Betel leaf, either with smoked trout, mint, peanuts, chilli paste or with pomelo, mint, green papaya, toasted coconut...
Betel leaf was once a kind of novelty but is now a common feature at Thai restaurants. Of course Longrain has been doing it so well for so long...
Longrain also has a great wine list and Heathcote Shiraz was the right choice...
The pork skewers at Longrain were also tasty with right amount of spice.
The highlight at Longrain was the Caramelised pork hock, chilli vinegar, crisp garlic. The Caramelised pork hock with chilli vinegar at Longrain is a melt-in-your-mouth delight. The pork is cubed then deep fried until it is crisp and has an irresistable sweetness. This is serious caramelisation that causes the pork to have a lovely stickiness. The chilli vinegar cuts through the sweetness like South African fast bowlers through the Aussie middle order. We ordered a second serving .
The TV Dinners were known for hits such as You Got It (profound lyrics of "she's my nightime girl with long black hair, who's always with me, cause she don't go anywhere...") and Avon Lady (Avon Lady - if you don't come back I'll join the navy)... Entertaining and energetic with raw emotion and passion. Playing many a venue and the odd crazy party. Some of the live venues we played have now been replaced with apartment blocks.
Other courses were ordered at Longrain but I had to leave... I intend to return soon for the Duck salad, famous Eggnet and the curries. The Sunnyboys went on to smash it at the Corner Hotel and are now playing gigs over the summer in Melbourne.
The TV Dinners have played the odd reunion gig over the years and are set to play another one in 2013...
Longrain continues to rock on as an iconic and fine dining sensation in Little Bourke St. I'm a happy man.