Lunch at World Class Fable Dining Room at Bianchet Winery
Lunch at Fable Dining Room at Bianchet Winery in the Yarra Valley is a top notch dining experience of note. The World Loves Melbourne (David and Gary) was invited along to experience the degustation with matching wines, a joyous world class experience from a world class chef Paul Cooper. I feel that winery dining experiences can be on the dull side of generic (to appeal to the masses) but Paul Cooper brings the innovation, flair, passion and technique to Bianchet. For those that are looking for an exciting dining experience and to be taken on a journey, Bianchet delivers. This has now become one of my favourite dining experiences in the Yarra Valley.
World class chef Paul Cooper working wonders at Bianchet.
Stunning degustation with perfectly matched wines. Pizzini Wines (King Valley) "Lana" Prosecco to start our journey.
Chef Paul Cooper has returned home to Victoria in 2018 and bought Bianchet Winery in the Yarra Valley, an exciting development for the region. Cooper, who moved to Sydney in 2012 to open Bishop Sessa in Surry Hills returned home to Melbourne, bringing with him his Sydney experience but also having worked in top restaurants in Australia and Michelin star restaurants overseas. He is also about to open up a pizzeria in the casual space of the winery; perfect for those summer days and nights.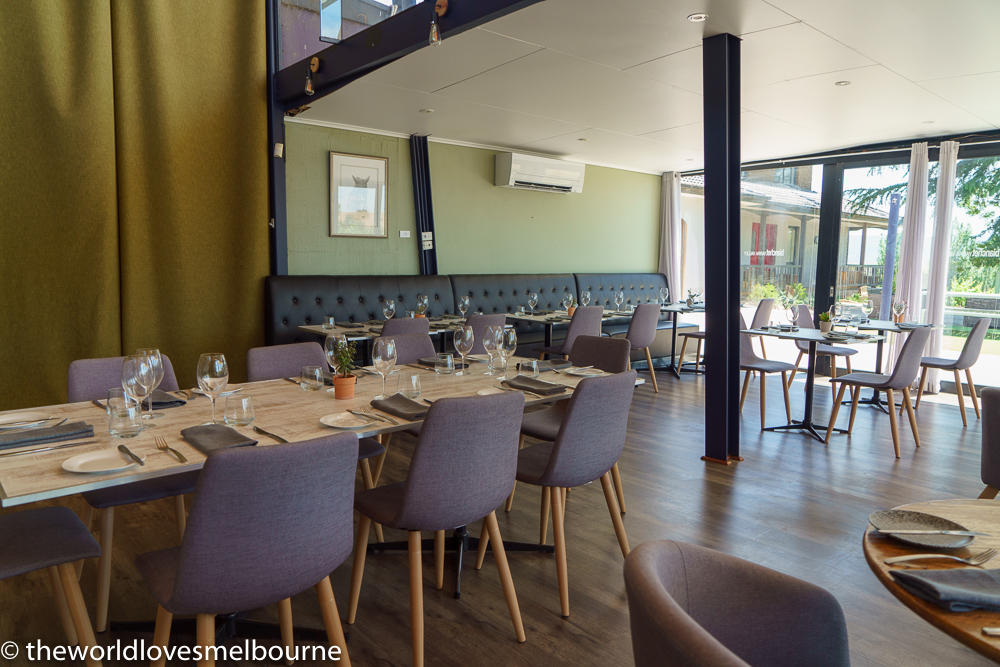 Charming restaurant with loads of natural light.
The 30-seater offers an eight-course degustation menu built around a changing theme - hence the dining room's name - and it moves with the seasons. Fable has become a destination dining experience for the Yarra Valley and is well worth the drive from Melbourne, and even closer for those living in the eastern suburbs like myself.
Starter compliments of the chef (not on the menu).
With Paul in the kitchen and Sam as the Sommelier, it's a crack team bringing the best of local and seasonal produce and savvy dishes with matched wines. The Asparagus "en Papillote", lemon myrtle ricotta, lemon relish, herbs is a seasonal dish that is refreshing, excellent textures, and just plain delicious. The lemon myrtle ricotta is a fabulous nod to native ingredients. Crunch of the perfectly cooked asparagus with the creamy ricotta was a perfect combination. For me this was spring (now moving into summer) on a plate with a crisp Sauvignon Blanc from Rob Dolan wines.
Marinated scallops, confit fennel, carrot, cultured cream, burnt lime also hit the high notes and displayed the diversity of Paul Cooper and his command of seafood. Once again, not overdone, this dish was refreshing and imaginative. In fact none of the dishes of the degustation were overly heavy; a good thing as we don't like a series of overly rich dishes when it comes to degustations.
A highlight was the Lime cured Salmon, Japanese pickles, apple, buttermilk, herbs. Melt in your mouth salmon, perfectly cured with a refreshing citrus hit and smoky flavour. The thinly sliced apple added to the refreshing nature of this dish. Matched with an insanely good (a meal in itself with so much complexity) Pure Vision single vineyard organic Rose.
Again, in the spirit of diversity, the Wood grilled beef tongue, Warrigal Greens salsa verde, melon was another standout dish. I'm used to ox tongue, but beef tongue brought a similar texture. Again, smoky flavours delighted, as did the native Warrigal greens (James Cook's crew dined on warrigal greens on The Endeavour). The Steele's Gate Pinot Noir is a revelation.
These entree dishes were perfectly matched by Sam with a welcoming Prosecco, a Sauvignon Blanc, a Rose and a Pinot Noir. We took note that they were all excellent wines and of higher quality than at many other degustations we've experienced.
For main course the Wood grilled Yarra Valley Lamb, pumpkin, peas, pickled Davidson was a cracking dish highlighting the quality of the lamb. Perfectly pink lamb, offset with creamy pumpkin and peas and the wonderful touch of pickled Davidson plum. One of my best dishes for 2019. And perfectly matched with a delightful Tokar Estate Cabernet.
Desserts were also of a high standard with Chocolate tart, milk chocolate mousse, pear, salted caramel a crowd pleaser. As was the Rhubarb and lemon myrtle Panna Cotta, beetroot, almond, vanilla. Matched with Antipodes Pink Gin and tonic and grapefruit.
Bianchet is a compelling dining experience worth the drive from Melbourne (not that far on the edge of the Yarra Valley) with Paul Cooper a creative genius. Highly recommended.