Shandong Mama - New Dumpling Sensation in CBD
Shandong Mama is an exciting addition to the Melbourne culinary scene in Mid City Arcade and can lay claim to the best dumplings in Melbourne. Mama is a retired ex accountant from China who spent years cooking for friends in her social circle in Shandong Province. She's had the courage to start this homely restaurant with her delightful family here in Melbourne. Friends and relatives are part of the scene. Mama has a passion for healthy, delicate cuisine. It's exciting to see a Shandong Restaurant (one of the 8 major Chinese cuisines) in Melbourne. Check out our Best Cheap Eats in Melbourne.
Mama is particular about process and having the best ingredients. You may find her at Footscray or Springvale markets sourcing the finest ingredients for her dumplings. The fish dumplings include expensive mackerel in the filling, for example, hand picked by Mama.
Mama is not keen to use electric kitchen tools to stir the dumpling mixture, but she throws her shoulder into every batch. These dumplings have the perfect (thin) casing, exciting fillings and broth. There is more imagination here than most other dumpling houses in this city.
For example the Prawn, Black Fungus and Chives Dumplings are delectably filled with large chunks of prawns with chopped chives and black fungus, a small amount of mince for texture and flavour, wrapped in thin dumpling skin in-house.
Mama uses the highest quality prawns in these dumplings, not shrimps. Being from the coastal city of Yan Thai in Shandong Province Mama has an affinity with the sea and loves to cook seafood.
The Fish Dumplings consisted of fresh mackerel fillet mixed by hand with coriander ginger and chives, into a mousse-textured filling, wrapped in home-made thin dumpling skin. The dumpling holds together well, and is tasty without being overpowering. This is a delicate dumpling.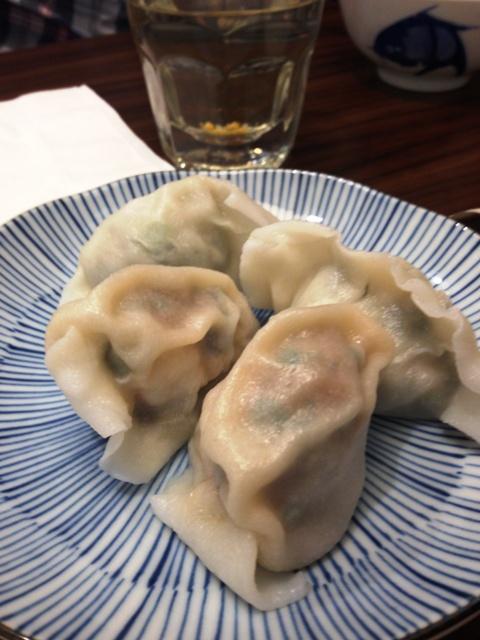 The Pork and Cabbage Dumplings also have spring onions, ginger and a dash of dried shrimps for a superb dumpling.
When you think you've just had some great dumplings, out comes the Melbourne Dumpling. It's Mama's nod to multiculturalism in Melbourne. This baby sings! I managed to catch an aftertaste of the lemon rind and it was wonderful.
There's also a beautiful Vegetarian Dumpling (above) with zucchini...
For me these dumplings are the most delicate, tasty, and well made dumplings I've eaten in Melbourne. Both the pan fried and boiled dumplings were both sensational.
You can get the larger Shandong dumplings here, bigger than the usual size around Melbourne.
Then there are the small plates, which are delightful. A plate of Mama's spicy Sichuan Pepper Beef (above) was moorish with perfectly cooked beef and layers of spice. Some customers come here just for this dish. The Beef in Special Brown Sauce and the Wasabi spinach was refreshing.
Along with the meal I enjoyed some 8 Treasures Tea - something I've never had before.
The fit out is pleasant and spacious with some plants, menu boards, and plenty of tables.
Filmaker Colin is part of the crew and his high quality clips of Mama making dumplings appear at the front of the restaurant for passers by to see...
Given the quality the prices are reasonable, and accessible for students.
I highly recommend Shandong Mama as the highest quality dumplings and a homely ambience with passionate owners...