King Valley Feature - Brown Brothers Innovation
Brown Brothers are a powerhouse winery of the King Valley and beyond. In my opinion they're inspiring for their innovation and quality across the label. We were privileged to visit Brown Brothers stunning winery and grounds during our four day bloggers/media trip to King Valley. After 3 hours down the Hume Highway trying to avoid a speeding fine we were greeted (after a glass of Prosecco) by several members of the Brown family. Like other premium wineries in the King Valley the generations of the family are heavily involved in the business (here its the third and fourth generations since 1889!).
First stop was a stunning lunch in the Brown Brothers Epicurean Centre restaurant. Here the doors are flung open and the sun streams in on a fine Melbourne day. Reclining at a long table we were treated to a lunch of note. This is a serious culinary destination in the region featuring seasonal and local produce. While it's casual in ambience the fare at the Epicurean Centre is fine dining all the way. The head chef was on a culinary tour of Italy at the time but the kitchen team excelled in all areas. We were joined at lunch by Ross Brown (Executive Director) and Caroline Brown (Public Relations Manager).
Check out the board above in terms of presentation and technique. These tasty sharing dishes were delicate and balanced, including pork belly with a slaw, calamari with ginger and cucumber, and prawns with interesting foraging accompaniments. Delights also included porcini mushrooms and local cheeses.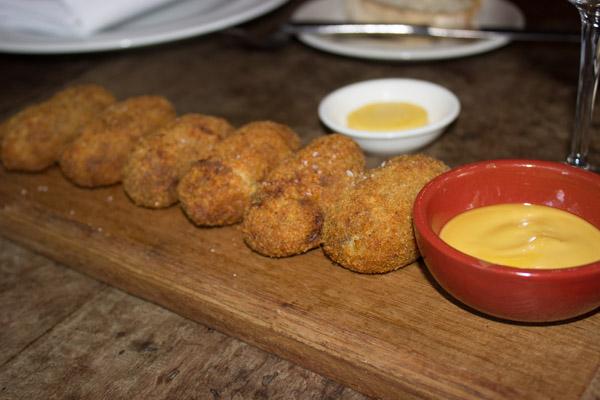 Croquettes at Brown Brothers were crisp on the outside and creamy inside with a killer aoli.
Enjoying Brown Brothers hospitality where food is matched with their stunning range of wines, we were treated by Ross Brown telling us the stories, proud history and vision of Brown Brothers.
Here I am in photographer mode...
What a Merlot!
Then we adjourned to the Cellar Door where we were taken on a journey of Brown Brothers wines. We heard about the success of Prosecco - fresh and zesty and affordable. Prosecco is arguably the fastest growing white varietal. Thanks Brown Brothers for the tasting of rare wines including a 2006 Riesling.
Wines at Brown Brothers are innovative - over 60 varieties! Check out the popular 2012 Cienna -
Cienna is a light wine with a vibrant ruby red colour and aromas of fresh red berry fruit and a hint of spice. With fruit sweetness on the palate it is rich and juicy with a refreshing spritzig finish. A sip of this wine is like tasting summer berries in a glass, while the mixture of natural acidity and fruit sweetness leaves a refreshing sensation on the palate. This wine is best enjoyed young and well chilled.
Then we experienced rarefied air in being invited to the family cellar bunker below the winery. In event of nuclear war this would be a great place to stay. A cellar built by the brothers in the 60s is full of choice premium wines and back vintages. Old films were being played on the wall, giving us insight into the Brown Brothers history.
Ross told us the story of how Patricia Brown was approached by the family to have a premium wine named after her. She agreed "as long as it is bloody good!" And so the Patricia reserve wine is not neccessarily released every year unless it's at the highest quality. We drank the 2002 Patricia Shiraz and this was breathtaking. Patricia must have been quite a woman! Silky. Chocolate. Rasberry. Premium.
And it was pleasurable to taste a massive Durif featuring Heathcote fruit.
The final triumph was the famous Brown Brothers Noble Riesling - a stunner I've been drinking since heady banking lunches in the late 1980s. Noble Riesling is only made 3 or 4 times a decade. What a dessert wine.
The King Valley is all about the families of the region. And Brown Brothers is a wonderful family that loves to share good food and wine with locals but also all punters. Their reach extends far and wide on the international market. It's worth the 3 hour trip from Melbourne to visit Brown Brothers for lunch and imbibe the ambience of its well kept grounds. With premium accomodation nearby it's a winner.
Thanks to Ewen Bell for some of the photos above - check out ewenbell.com