King Valley Feature - Gracebrook Vineyards and Restaurant
Gracebrook is an alluring winery destination in the mighty King valley region of Victoria. When I stake out winr regions I'm always wondering which wineries have the best restaurants. By that I mean the view has to be top notch, the general atmosphere classy but convivial, and the food up to scratch. I still like to know I'm getting value for money, even though I realise large wineries have plenty of overheads and have to recoup to make a profit.
(Credit for above photo and "platter" photos below from top Australian photographer Ewen Bell).
Gracebrook pretty much lives up to its name. Come here to a peaceful rustic setting where you can settle out on the deck under an umbrella and while the hours away with a gourmet platter and a Prosecco (or Gracebrook "Sunshine" or Sangiovese) or two. As we did on our Media/Blogger tour of King Valley (thanks to Squawk Media).
Rustic charm from the "get go" as you approach the winery cellar door and restaurant with this old coach on display...
Then enter the rustic cellar door and restaurant that is a converted 150 year old barn and stables (with a long deck). Strong sturdy timber surrounds you and a chunky cellar door of redgum is staffed by engaging hosts. Tasting the wines we enjoyed the fruit driven style and the benefit of some French Oak for the Chardonnay and red varietals... Nice tannins.
Check out the nearby fire - great for those cold days but we visited on a fine sunny day so it was out to the deck...
Yeah baby! My favourite winery food has to be a gourmet platter. Recently I visited a winery and just ordered 3 platters for lunch. Check out the presentation as well as the gourmet antipasto ingredients presented here. Fresh and seasonal. You're saying, I know this is a foodie place.
And what is of comfort is that this platter is made up of local and regional ingredients. Dips and meats and cheese and fruits - the coup de gras being The Milawa Cheese platter...
And the little touches like these local flowers... (Ewen Bell professional photographer was all the while giving me photography tips).
Gracebrook is elegant...
When I think of Gracebrook I will always remember rustic, deck and quail. And yes, the Sangiovese... This quail was delectable and spectacular on the platter.
Apparently there's pets to inspect out the back, but I was lazy and too into this platter...
Gracebrook also delivered in terms of dessert with these doughnuts...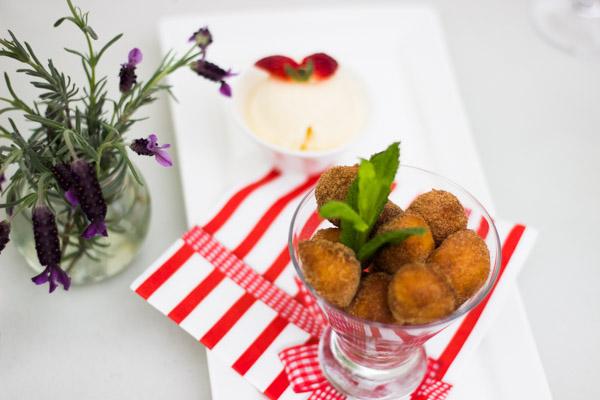 And this Tirra Misu... (And there was delicious panna cotta).
Here I am gangster style enjoying the conviviality at Gracebrook...
Gracebrook is a world of charm and rustic elegance and is a must visit winery in the King Valley. Ask for the Farmers Feast grazing platter. Check it out!