High Tea and Living It Up at The Adelphi
The Adelphi on Flinders Lane has added a sophisticated Sunday High Tea to its many pleasures, inside the modern and elegant Om Nom Dessert Bar. The World Loves Melbourne was invited along for an afternoon of indulgence. Just a step off Flinders Lane, diners can imbibe the delights of a three tiered tray of high class desserts and a glass of Veuve to wash it all down...
The High Tea includes both savoury and sweet and we were taken by the intricacy, flavours and variety of the cuisine. Overall, the Om Nom High Tea is somewhat filling, so don't come here on a full stomach.
SUNDAY HIGH TEA
JOIN US EVERY SUNDAY FOR OUR FAMOUS HIGH TEA
SOMETHING SAVOURY
Poached Bug Tail with Sweet & Sour Sauce
Vegetable Tempura, Soba Noodles, Dashi Broth
Vol au Vent with Mushroom and Asparagus
S O M E T H I N G S W E E T
Peanut Butter, Chocolate & Raspberry Gateau
Monsieur Green Tea Gateau
Mango and Shiso Profiterole
65 PER PERSON minimum 2 guest
For Sam and I this was a pleasant if not romantic ambience away from the bustling Flinders Lane. Staff here are particularly professional and warmly engaging. The fit out is the latest modern look with unique high back dark chairs, warm colours and modern metallic features combining with the glow of the well stocked bar.
The champagne was most welcome, then it was a matter of tackling the High Tea one tier at a time beginning with savoury. All were enjoyable but I loved spooning in to the Vegetable Tempura and broth. The Foie Gras Macaron was delicate.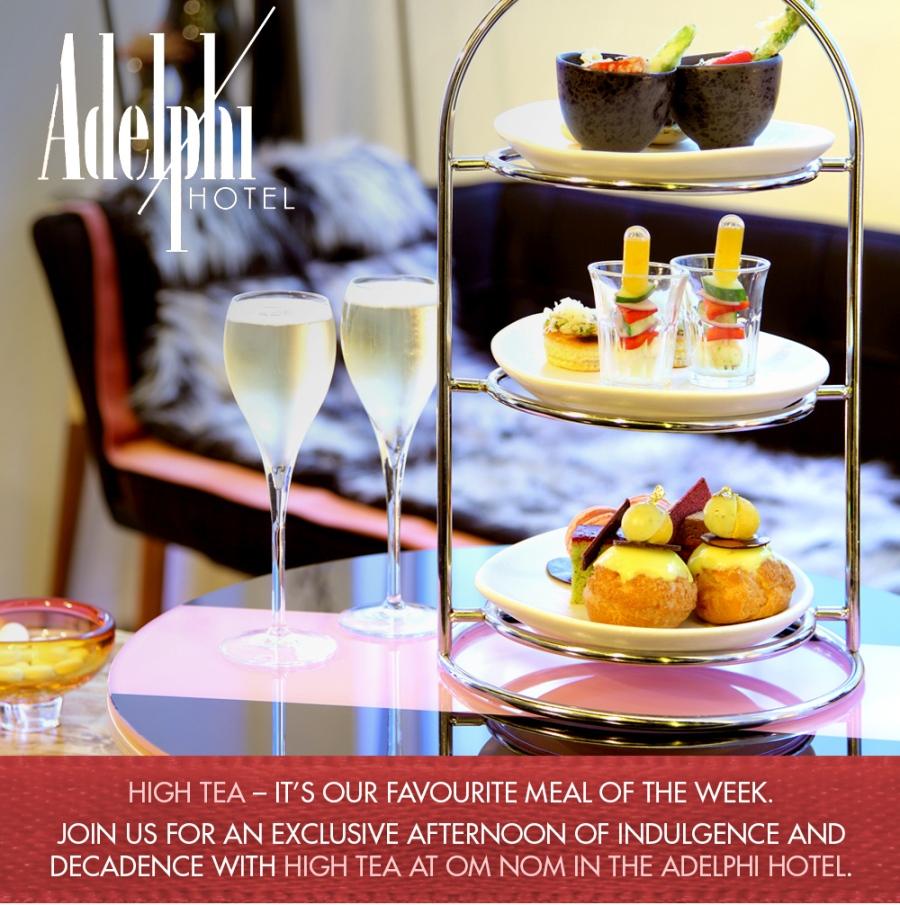 A sense of theatre was evident when it came to the Poached Bug Tail in squeezing the sauce from the pipette. Fun and sophisticated!
Every component is prepared expertly with finesse and style.
Another highlight is the cakes, with the Peanut Butter, Chocolate and Rasberry Gateau a rich but rewarding hit. Talk about indulgent, but this is what High Tea is all about. The Monsieur Green Tea Gateau was also not far behind on rich flavours.
And just when we were getting into the swing of things we noticed this funky furniture. While modern stylish furniture is a highlight of Om Nom, we noticed The Adelphi itself is well appointed when it comes to furniture. Sam was able to gently swing on the luxury couch, noting the pillow was shaped like a sweet.
We enjoyed our sweet interlude at Om Nom at The Adelphi, as a place of class, style and distinction. And as one of the best High Tea's in Melbourne.