Pho24 Vietnamese With Style
Pho24 is a quick and modern take on an old Vietnamese classic, and with no added MSG, offers a healthy alternative for lunch or dinner and even better, it's super easy on the hip pocket.
Located near Southern Cross Station and convenient for the footy follower near Etihad Stadium, Pho24 is a crowd pleaser with it's affordable, fast and even gourmet dishes. A bus load of Vietnamese recently reported that "this is better than Vietnam".
The menu offers pho, banh mi, spring rolls and rice paper rolls, and DOC Wines on tap from the King Valley. Open from 10am - 10pm, it's perfect for lunch on the go, dinner with the family before the footy, and late night guilt-free snacking.
The World Loves Melbourne was invited by Pho24 and Squawk Media to experience Pho24 and sample a cross section of the menu. Everything here is made fresh on site.
If you think you know pho, think again.
PHO24 restaurants are already a household name in Asia, with over 80 stores operating successfully throughout Vietnam, Hong Kong, Cambodia, Indonesia, Korea and the Philippines, offering a healthy alternative to other fast food outlets, with a combination of simple, fresh ingredients in a modern, stylish and welcoming environment.
The fit out is modern with scenes from Vietnam projected on the wall and modern chairs and tables. Not to mention free wi-fi. And you can reserve tables!
Craig Birchall (above) and Andrew Bunn (below) are the masterminds behind Pho24, each with an extensive background in hospitality.
Australia's first PHO24 restaurant opened in January 2014, on the corner of Little Bourke and Spencer Streets, opposite Southern Cross Station, and is open 7 days a week 10am -10pm.
PHO24 is affordable and delicious, offering traditional Vietnamese food with a modern twist. The open kitchen allows customers to watch the entire menu being prepared, including rice paper rolls, spring rolls, banh mi and pho meals.
Check out the ambience (below), a perfect dining space for city workers and the footy crowd.
Using a sous-vide process, meats are guaranteed to be moist, tender and consistent day to day. Whilst there is no "definitive pho", Pho24 is definitely the healthy no-added-MSG version.
This sleek, industrial Quick Service Restaurant takes traditional rice noodle meals to a new level; being the fastest in the west. The unique design of the nickel plated vats (our PhoStillery), control evaporation, flavour and temperature, providing consistency to the clear amber stock infused with the flavours and influences of the French, Chinese and Vietnamese people.
PHO24 provides an interactive approach, offering customers the option of cutting fresh herbs to enhance their pho, and tailor their meal with the many condiments provided on each table.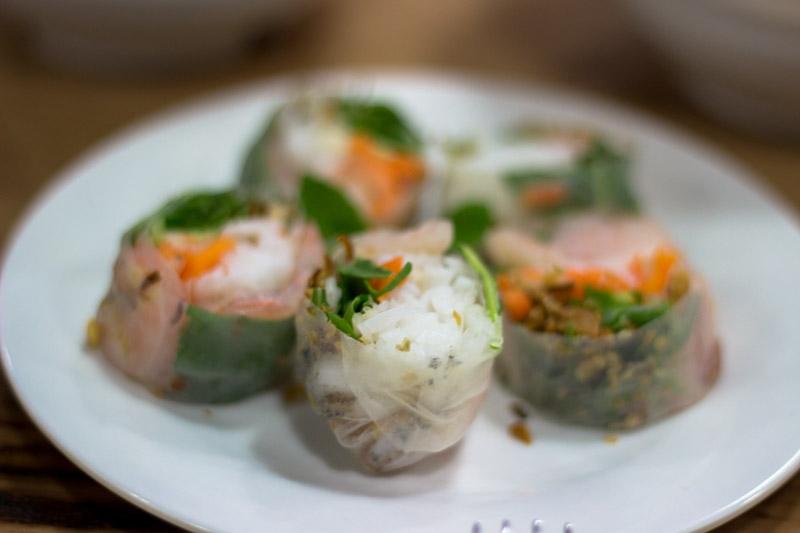 We enjoyed the rice paper rolls, with the smoked Barramundi a favourite (the rolls were cut for sampling purposes but are normally served whole).
For the uninitiated, PHO24 offers information on how to enjoy the perfect pho meal, and through projections of images of Vietnam onto the central pillars in the restaurant, creates an atmosphere and awareness of origins of pho and Vietnamese culture.
A fresh Octopus salad was the perfect starter...
You can use the scissors supplied to cut fresh herbs for your meal!
Pho24 impressed with its Banh mi selection. All were excellent, but the Pork was a personal favourite. The sous vide meat makes a great difference - soft and tender and full of flavour! Even the pate was impressive, something you could just eat on its own.
I followed the process as staff made my Banh mi...
First the pate then the meat, followed by fresh salad...
The pate was so good we enjoyed it with prawn crackers... All the while we were drinking DOC red wines from King Valley at $6 a glass!
Pho here at Pho24 is top notch. Having experienced pho across Melbourne, I enjoyed the full body of the broth and the quality of the sous vide meat. Not to mention my pho only took 27 sec to prepare!
Dessert was also excellent with Coconut Cello, Taro pudding and Sago black bean available.
Pho24 also delivered on these Vietnamese coffees.
Pho24 is a standout in Melbourne, with links to Vietnam. The addition of quality ingredients such at Ottway pork and Smoked barramundi only enhances the experience. Affordable, fast, quality.