Fred Siggins & The Humble Tumbler Whisky Appreciation Classes
Uncover the mysteries of whisky and uncork the incredible stories waiting in every bottle. Fred Siggins & The Humble Tumbler are holding a collection of signature whisky classes beginning in March at The Attic above Black Pearl. The World Loves Melbourne is in awe of the cocktail knowledge of Fred Siggins, his bar skills are acclaimed as among the best in the world, and his all round conviviality and articulation skills inspire. For corporates or groups of friends, these whisky classes are compelling.Check out our Best Bars in Melbourne.
Fred Siggins and the Humble Tumbler is not in fact the name of a band (but would be a good one). Clare from Humble Tumbler has been dazzling corporates and others with her charming wine education classes. Teaming up with Fred Siggins for whisky education is a masterstroke and the duo complement well. The World Loves Melbourne notes that whisky itself has been on the rise in the last decade. Melbourne bars are flush with whisky cocktails. The advent of Japanese whisky's into Australia has been a revelation in a Scottish/Irish/American whisky world.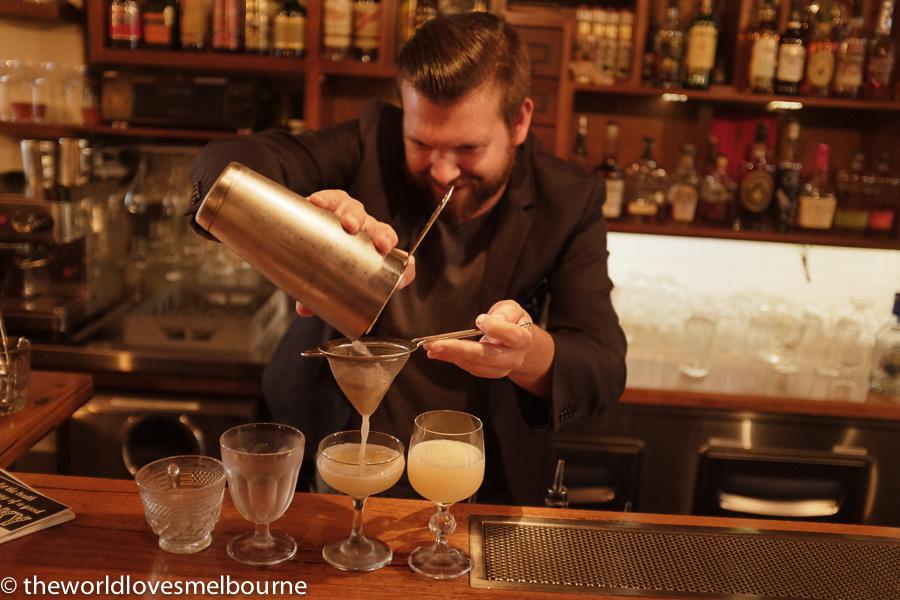 Says Clare, "The Humble Tumbler's honest, social and approachable whisky courses will guide you through the world of whisky, from Scotland and Ireland to Japan and Australia, bringing to life the amazing mythology and history behind the spirit."
Arriving at iconic Black Pearl we were ushered upstairs to The Attic bar space, which is the primary domain of Fred Siggins. Fred was in fine form in mixing whisky cocktails, and our night began on a winning note with a sumptuous whisky cocktail. The World Loves Melbourne noted that Fred had trimmed his beard since the Melbourne Racing Carnival.
The three week whisky course runs on three consecutive Wednesdays and costs $300 per head. All bookings through the website.
All the content details are on the website http://www.thehumbletumbler.com.au/whiskey/courses/
These are the scheduled course dates:
*[MARCH WHISKY COURSE] 3 X WEDNESDAY EVENINGS IN MARCH/APRIL – 18th , 25th MARCH & 1st APRIL | 6.30 – 8.30pm | The Attic – Level 2/304 Brunswick Street, Fitzroy (Above Black Pearl)
*[JULY WHISKY COURSE] 3 X WEDNESDAY EVENINGS IN JULY – 8th, 15th & 22nd| 6.30 – 8.30pm | The Attic – Level 2/304 Brunswick Street, Fitzroy (Above Black Pearl)
They have two scheduled masterclass events coming up: both of these are a one-night format and focus on a more specific theme:
All the content details are here on the website http://www.thehumbletumbler.com.au/whiskey/classes/
* SCOTLAND VERSUS JAPAN: A WHISKY SHOWDOWN | WEDNESDAY 6th May | 6.30 – 8.30 pm | The Attic – Level 2/304 Brunswick Street, Fitzroy (Above Black Pearl)
*SINGLE MALT SCOTCH MASTERCLASS | WEDNESDAY 10th JUNE | 6.30 – 8.30 pm | The Attic – Level 2/304 Brunswick Street, Fitzroy (Above Black Pearl)
Clare was able to introduce the activities of Humble Tumbler to the drink media. Humble Tumbler has experienced a rise and is greatly in demand for bespoke wine and beverage events and education.
Says Clare, "Written and hosted by whisky expert and beard-wearer Fred Siggins, our courses are original and independent, so we can give you the whiskies we love and the truth behind them. Learn how to taste, evaluate, and talk about whisky, and most importantly - identify the whiskies you want to drink and why. "
Fred told us of his love for history, including whisky history. He spoke of nuances of adding water and ice to whisky, the origins of whisky, the nuances of regions, the effect of barrels on whisky, and a plethora of other whisky related topics. Says Clare, "We choose excellent examples of every style to give you a real sense of whisky from the ground up, and there are always a couple of rare gems on offer, so whether you're a whisky lover in training or a lifelong connoisseur, there's always something to learn. We can cover the origins of flavour, whisky regions, food pairing (cheese! meat! pickles!) and lots of tips on how to buy whisky like a pro."
A highlight was the tasting of four top line whisky's from around the world;
Scotch: Adelphi Fascadale: Highland Park 12yo
A beautiful private bottling 12yo casks from Highland Park, one of the superlative producers of highland style single malt Scotch whisky despite being located on the far northern island of Orkney. Lovely straw, dried grain and honey nose with a chewy texture and warm, spicy finish leading to lingering hints of peat smoke.
American: Buffalo Trace Single Barrel
Single barrel Bourbon hand selected by Fred in 2012 from 6yo white American oak casks at the Buffalo Trace distillery in Kentucky. Classic Bourbon profile of oak and damp forest floor, but with a refined and delicate note of orchard fruits and a sweet gentle palate.
Japanese: Hibiki 12 year old
Prestige blended whisky from Suntory, the oldest whisky producer in Japan. This whisky combines column and pot stilled whiskies from all three of Suntory's Japanese distilleries, each producing several unique styles. This blend is robust and complex with fantastic palate weight, but maintains the sweet taste and easy finish so desired among blended whisky drinkers.
Australian: Sullivan's Cove Double Cask
This multi award winning Tasmanian distillery is at the pinnacle of Australian whisky and produces only a few hundred bottles at a time. The double cask is a combination of single malt whiskies aged in American oak (ex-Bourbon) and French oak (ex-Port) barrels. Fantastically balanced between oak and grain characteristics with the cherry and banana of American oak and the tannic richness of French. A beautifully constructed whisky.
Each whisky had its strengths and nuances. Some were smoky, some clean. Fred Siggin's took us through the characteristics of each whisky, and his depth and knowledge was something to behold.
As Fred explained, many trade tastings concentrate on one brand or a collection of whiskies from one importer. With Fred's masterclass you get the benefit of tasing diverse whiskies so you can compare, and develop your own journey to find your favourite whisky.
The food at the event was perfect, in matching and accompanying the whisky. Clara brought some top notch cheeses and home made salami.
How good was the cheese! The French cheeses were sourced from La Parisienne pates's; and the Cheddar from King & Godfree. Bread was Irrewarra Sourdough.
Brillat Savarin Fromage de Monsieur White Mould | Cow | France
Tomme de Chevre | Aged Goat | France
Demi Pont L'eveque Le Conquerrant Washed Rind | Cow | France
Pyengana Mature Cheddar | Cow | Australia
Fred Siggins, showing us he can do anything, brought us a house made pickle selection. We were given a cheese cleaver, which The World Loves Melbourne dropped promptly on the floor. Fred walked over and replaced my cheese cleaver as he continued to instruct the class. Hospitality to the core.
Fred also engaged in class participation where we could ask anything about whisky. The World Loves Melbourne was glad he validated our quirky drinking habits.
Ostensibly, Fred can't stand "stuffy" whisky classes, and his classes are lively and not without humour. Book your class today. Highly recommended.