Fabulous Weekend at RACV Inverloch Resort
Inverloch is one of the premium seaside resort towns in Victoria, and The World Loves Melbourne was delighted to be invited to spend a weekend at RACV Inverloch Resort in the heart of the Gippsland with the family. In summer Inverloch is packed with holidaymakers as well as locals, and the place hums. The World Loves Melbourne believes Inverloch is on the rise and many of our friends head there regularly. For families it's ideal because you can choose between the Surf beach which has excellent wave action and pristine sand. Or you can hang out at Anderson's Inlet where the beach is tranquil with the odd sandbar - perfect if you have young children. The drive from Melbourne to the stunning RACV Inverloch Resort is manageable, in under 2 hours.
To our delight we scored a massive Acacia Villa (there are 20 villas on the property, as well as 26 Ocean view and Premium ocean view rooms). This villa is as big as a house, featuring large main bedroom and bathroom, large second bedroom and bathroom, a well appointed kitchen and huge living area. Parents and children each have their own space. We enjoyed the 2 widescreen TV's and the toasty gas heating. The large deck is to be enjoyed with a glass of wine. We were also delighted to find fresh sourdough, local relish and jam on our arrival, which we imbibed on the deck with some wine.
After a relax it was off to dinner at Radius Restaurant. The modern restaurant has high ceilings and large windows overlooking the ocean. The menu is also modern with wide ranging choice. Our favourites were the platters with local produce, as well as the Crispy skin high country pork belly and the Sesame crusted Yellowfin tuna.
All the while the views of Bass Strait and Anderson's Inlet are stunning.
A highlight was spending time with Pastry Chef Jared in the kitchen making bread. Jared has become well known for his exceptional bread making using his own yeast culture.
We were privileged to see Jared in action making Turkish bread. His mixture was prepared using top grade stone ground organic flour - this makes a massive difference. We watched while Jared kneaded the bread, applied extra virgin olive oil, and then added various ingredients such as olives, semi sun dried tomato, and herbs.
Jared supplies the Resort with his breads, including all breads in the restaurant. An allocation is also delivered to reception, where many locals descend to grab a loaf or two. We checked out Jarad's exceptional Sourdough bread, enjoyed when we first arrived in our room - with signature blistering on the crust indicating high quality bread. This guy is a bread making legend and we couldn't stop eating his bread all weekend.
After a session with us, Jared made around 600 canapes for a wedding - what a machine!
Fresh Turkish bread straight out of the oven, fresh and warm, was compelling. Definitely the best Turkish bread we've ever tasted.
Another highlight was the activities at RACV Inverloch Resort, such as the Resort Pool area above (behind the window). We didn't take photos while in the pool area for obvious reasons. The heated indoor pool is fabulous, with top notch spa and sauna. We spent hours in the Resort Pool area as a family. After hours of swimming we grabbed a tasty burger next door at the Kiosk.
In an action packed Saturday we then headed for the Jumping Pillow and the plethora of play areas, as well as the Games Room and Gym. Fun for the family.
Breakfast was excellent with a hot buffet and wide selection to suit all taste buds. For the health conscious there's a great selection of options, and for those that like their hash browns, sausages and poached eggs, you won't be disappointed. If you get to Radius early enough, you might see a Wallaby or Kangaroo near the large windows (as we did).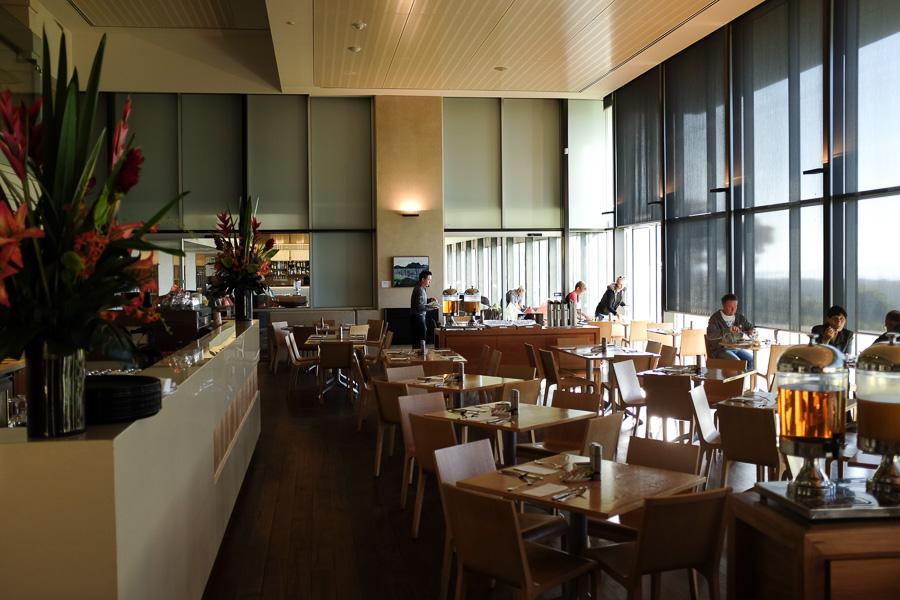 RACV Inverloch Resort is modern with ocean view villas and rooms, as well as cabins and nearby camping facilities. The 32 hectares of grounds are attractive with natural bushland amongst the facilities.
Staff at RACV Inverloch Resort are helpful and professional, with service standards consistently high during our whole stay.
After imbibing the facilities at RACV Inverloch Resort, we drove a short distance to the Inlet beach. The Inlet is almost magical with superb swimming and clear waters, walking tracks and the town of Inverloch nearby. We were treated to a Sailing race just in front of us!
The Sunday Farmers Market in Inverloch is an outstanding community market, with a great turnout enjoying the fresh produce of the Gippsland.
Inverloch township is charming with old heritage buildings mixed with the modern.
Our stay at RACV Inverloch Resort was simply outstanding and we highly recommend this resort for families, couples, Seniors and for all. Thanks to RACV, Caillin and the team at RACV Inverloch Resort, and Fuse Melbourne.