Best Burgers in Melbourne 2022
Best burgers in Melbourne, we have searched high and low for the best this city has to offer. The humble burger has risen in status to be a gourmet item of choice on menus across Melbourne. Culinary giants are making their own burger versions for customers.
There seems to be a trend away from old school burgers to burgers that incorporate more gourmet and quality ingredients. The trend is away from the huge burger to something almost stylish and smaller - yet packs a punch.
Do you prefer nouveau burgers or the traditional burger
College Dropout Burgers - Ivanhoe
College Dropout Burgers excites as one of the best burger joints in Melbourne, bursting on the burger scene with an immediate splash. This place is the real deal for burger lovers with flair, innovation and burgers that more than deliver for the money. Part of the fun is the Kayne vibe that runs through everything from the name, the menu and an impressive Kayne mural in the store.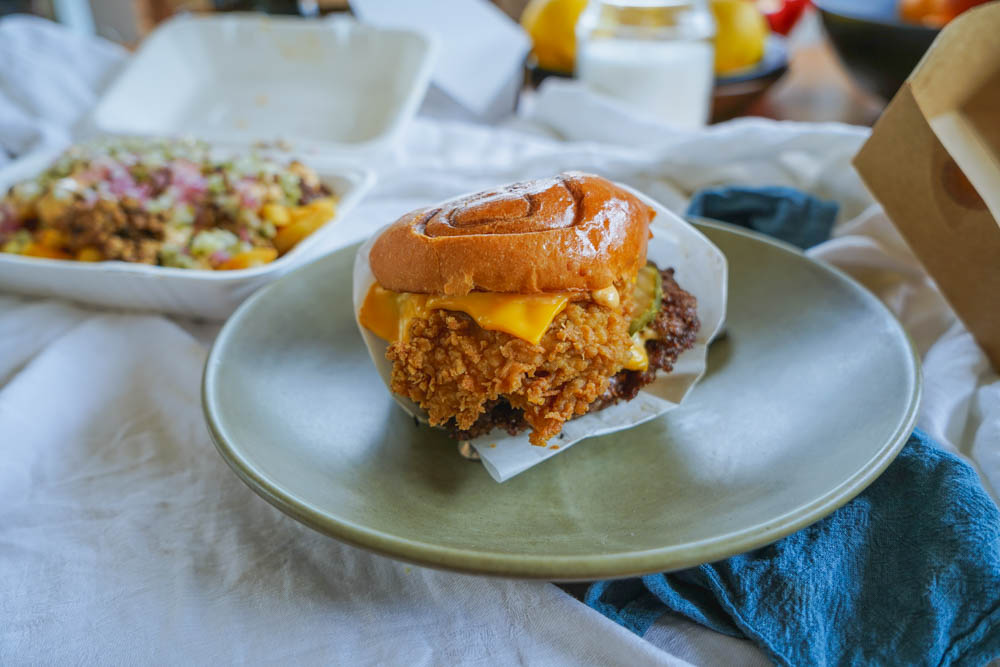 The go-to burger is the College Dropout Burger, everything you need in a burger with Double Beef Patty, Secret Southern Fried Chicken, Triple American Cheddar, Dropout Sauce and Ketchup. It's a monster of a burger at a reasonable price. Also check out the Parties in L.A., Gorgeous, Gold Digger, Graduation and the Zingers in Paris.
Sides also excite with the Big Mac Loaded Fries a popular favourite and virtually a meal in itself. Even though Ivanhoe is a blue chip suburb in Melbourne we reckon College Dropout raises house prices even more for those in the vicinity. Burger perfection and a touch of playfulness.
---
Mr T Burgers & Fried Chicken - Croydon
Is there anyone more passionate about burgers than Mr T (ex Geologist Dean)? Mr T impresses with everything made from scratch, smash patties with perfect crispy bits, and fried chicken cooked to perfection. No wonder locals flock to this place - a true burger destination - but also worth a drive across the city. Favourites include the Mr T Meatlover with brisket, Mr T Cheese, Mr T Chicken with superb crispy chicken and the Mr Nashville Chicken.
---
Mad Patties - Mitcham and various locations
Mad Patties has been a burger stalwart in the east of Melbourne and is heading towards rock star status, with consistent quality (from what we've experienced), excellent range of "mad" burgers and specials. Standout burger is the Double Madness, which won't leave you hungry, and is quality all the way with sensational patties, strong bacon and cheese game, and perfect bun to patty ratio. A meatfest but Mad Patties also serves up exceptional vegan options. Also strong in the chips and loaded fries department.
---
Easey's - Collingwood
Easey's in Collingwood is an iconic Melbourne burger joint serving up some of the best burgers in town. This burger destination is a cultural experience as you imbibe your burger delights inside a train carriage (amazingly 5 floors above the ground) for retro classic vibes and stuning views. Classic American style burgers that aim to please.
---
Smoke & Pickles - temporarily closed (ex Changz) - Elsternwick
Smoke & Pickles serves up some of the best burgers in Melbourne, as well as top notch sides and drinks. The in house smoking and pickling brings a depth to this eatery that few can boast. Burgers are fresh and come with exceptional house made sauces. We are huge fans of the off menu Canteen burger, as well as the Chipotle Chicken burger and the Double Chilli Cheese burger. Also popular are the Reuben burger and the Truffle and Mushroom burger.
Sides are stunning, setting Some & Pickles apart from the pack.
Sides are top notch including the Smoked chicken wings, Boston Pickles, a showstopper Pastrami and pickled watermelon (highly recommended).
---
Balwyn Canteen - Balwyn
Many say this is the best burger joint in Melbourne with many of the ingredients made in house. Get it on with quality Gippsland Grassfed Beef blend for the beef patties and you can tell the difference. Juicy melt in your mouth beef for our Double beef and bacon (added) Senoir burger. Cheese melt on point as is perfectly cooked bacon and zesty pickles. Also a winner Canteen sauce.
Fries are spot on extra crispy and generous for the large size. And the Crispy Chicken burger lives up to its name.
Mural is a winner with old school charm here.
---
PHAT Pizza Burger - Elwood
Reasonably priced with a selection of great sides like popcorn haloumi, chips with liquid cheese, and every type of thick shake under the sun, it's impossible to go past their stacked burgers.
If you've got an outrageous request – they'll make it happen. Whether you want three burgers morphed into one, triple patties loaded with fries and mac'n'cheese bites, or fried chicken wedged between oozing patties in a fluorescent red bun – they'll make it happen.
They also have great options for vegetarians, meaning you can forget limp, sad veggie patties. My favourite is the super crunchy and delicious zucchini fritter burger with grilled haloumi and spicy mayo, beetroot, tomato, onion and lettuce.
Owner Kemal Barut also owners the 15 year old Anatolian establishment next door, Lezzet, meaning he has some serious nouse when it comes to what Melburnians love.
---
8bit - Footscray
8bit is surely in contention for best burger in Melbourne, located just off the main drag of Footscray. The World Loves Melbourne considers a great burger to be about the whole experience not just marks on the individual parts or ingredients. As an experience 8bit kicks burger butt. The flavours of the burgers are magnificent and the elements are in harmony, with no ingredient over dominating. Although the meat patty remains the hero as it should. Word had been spreading fast in the foodie community about these burgers, but it was while enjoying a burger tour of Adelaide I met burger joint owners there who had travelled to Melbourne to check out the wonders of 8bit. Rather compelling.
Check out the sexy juicy large Double Dragon, with double the good stuff! Check the 2 patties of char grilled beef, oozing with double cheese, double quality bacon and fresh accompaniments of pickles, lettuce, mustard and sauce.
This burger is so good it's addictive. I couldn't put it down. It all comes together. The bun was soft and perfect, and interestingly not part of the Melbourne obsession with brioche. The meat is perfectly char grilled and smoky. The pickles crisp. The sauce compelling. Not too much lettuce. The cheese melted into the meat. The 8bit and cheese is a great burger in the classic style. Locals love 8bit but we contend it's worth the drive across town for these burgers. It speaks volumes when customers converge when the doors open at 11am, including a few tradies in their gear.
---
Rude Boy Burger - Brunswick West
Rude Boy Burger is a revelation in Brunswick West - worth a drive from anywhere in Melbourne for a full burger experience we think. Already Rude Boy Burger is an award winning burger joint and is still running hot, always evolving, and keeping to its values including top notch ingredients. It's fun coming here as the owners are great hospitality people full of passion and have skills in executing awesome burgers. Franco has a background in fine dining which he applies in getting the little touches right - both the meat and chicken here are of the highest quality.
A feature is The Hot Chick – Fried chicken, grilled cheese, jalapeños, chipotle seasoning, Louisiana slaw and spicy island sauce. We made it an epic double and added a mozzarella fritter and bacon! The burger stood proud as a tower of oozy and crispy awesomeness; it had a stature of its own that beckoned like a wanton lover. Cheese cascaded down the burger like a waterfall. The fried chicken has a superb heat to it and the smoky sauce drew us in wanting more. Each chicken fillet appears to be a whole breast, so the doubling of the burger sends it into fried chicken overdrive.
Or you may want to try the epic The Big Cheese burger with 2 x 150g Wagyu patty, 4 x cheese, pickles, red onion, and Rude sauce. This is a burger triumph for those who love a double burger and a hit of quality beef. The cheese game is spot on with instant appeal when you see the oozy cheese dripping down. Rude sauce is no slouch as far as sauces go and despite its massive size, this is a well balanced burger.
Check out the Ghetto fries with cheese sauce, avocado, chipotle relish and jalapenos (wow, generous amount of jalapenos!). Also check out the Cheese & Bacon Gravy Fries with crispy bacon bits, cheese sauce, bacon gravy & spring onion for a rewarding side. We ordered both and found them compelling - you know when you start digging in and can't stop before you start eating your burgers. and the Shakes such as the Tim Tam Slam! A burger lover must visit!
---
Leonards House of Love - South Yarra
Leonards House of Love is a must visit burger destination in Melbourne. Like many great burger houses it has chefs with fine pedigree behind the scenes; Nick Stanton is a Melbourne chef legend and we have enjoyed his spectacular cuisine in recent years. The venue is a 1970's style retro vibe in the theme of a log cabin. It feels more like a clubhouse than a restaurant. The burgers here are some of the best in Australia. If you enjoy a double cheeseburger classic style burger then this is the place for you.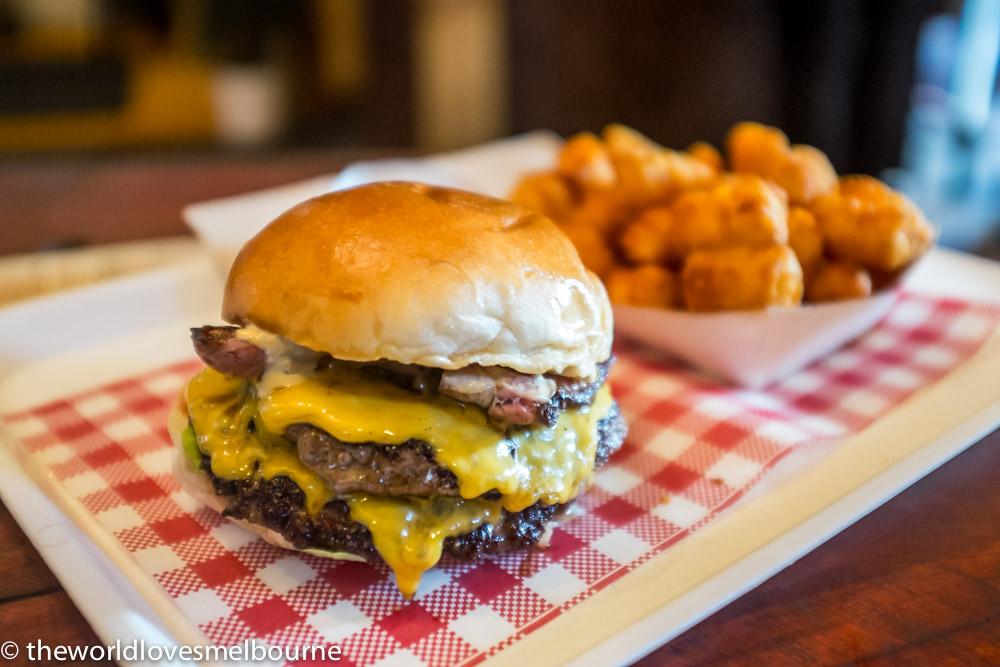 Is this the best burger in Australia? Double beef brisket & short rib patty, American cheese, special burger sauce, pickles and green oak lettuce. Pink in the patty, this was juicy and perfectly cooked. The patty is premium with good amount of char. I added bacon, in itself superb, but which set off the burger nicely. Soft bun suited the burger with all that meat. And the cheese is a highlight, dripping over the meat. So freaking good.
The most unique burger vibe in Melbourne. Clubhouse meets ski lodge meets house party. You can lose the tie. Longhorns, mongoose, a fire, retro games, and a retro soundtrack makes you feel like you're in another world.
We took the burger out of the box that it was served in for a burger selfie. Dripping goodness! Leonards House of Love should be in any burger love list. There is a house in South Yarra...
---
Grand Trailer Park Taverna - temporarily closed - Bourke St CBD
Grand Trailer Park Taverna is a burger wonderland, cleverly taking up the American East Coast theme of a trailer park and turning it on its head with a killer fit out of booths and trailer structures. Surely this is taking the burger culture to its zenith and is a must visit for burger aficionados in this city. Simply this is the most creative burger joint we've seen in Melbourne. The World Loves Melbourne was invited to the launch but couldn't make it, and so we (Dave and Mario) had the opportunity to visit some weeks later. Had the hype settled down? No chance. On a mild Tuesday early evening this place was pumping.
Grand Trailer Park captures the essence of the American Trailer Park in the fit out but is the antithesis in terms of mood. Trailer Parks in America have a certain romance but are also a place of social challenge. This trailer park is a happy place with compelling dining spaces and an artistic touch. Grand Trailer Park is the masterstroke of Dani Zeini (the man behind the acclaimed Dandenong Pavilion noted for its burger offerings) and Joshua Lefers (design mastermind behind Pawn & Co. and Big Dog Creative).
The Chunk - Double Double is a cracker burger and reminded us of In and Out Burgers in California, and we understand In and Out Burgers are part of the burger inspiration here. The Chunk - Double Double features Two premium Aussie beef patties, double American Cheddar cheese, caramelised onion, jalapenos, diced gherkins, American mustard and tomato sauce, on a lightly toasted brioche bun. The burger comes neatly wrapped in paper a la In and Out burgers, making this massive burger easier to consume. Juicy and rewarding with the patty the hero - Aussie grass fed beef that gets freshly minced every day. The taste has some heat and kick with the jalapenos and tangy sauce. The balance of the burger is excellent. A contender for best burger of Melbourne.
---
Tuck Shop Takeaway - Caulfield North
Tuck Shop Takeaway is a killer burger joint in the burbs run by Clinton and Katrina Serex ( ex chefs at Fat Duck with Heston Blumenthal, Attica and Vue De Monde) and is a contender for Melbourne's best burger. No frills here only quality. Walk in to a retro world of burger charm with quirky decor and sensational burgers, with engaging staff. Nostalgia baby.
Buns on the grill. I can imagine it's busy here every day, and we watched as a stack of tradies, hipsters and people of all descriptions made their way in to experience a burger high. Seating is limited but we scored some stools by the window. Staff were engaging, even showing us their tattoos.
The Bully burger from the secret menu is world class and is a double; featuring double beef patty, double cheese, bacon, jalapeños and Sriracha hot sauce, all inside a milk brioche bun. The meat patty is a special blend made up daily from some of the best grass fed beef in the world from Victoria's Gippsland. With perfect char the meat is a high note. Light seasoning only takes place on the grill. Of course the meat is perfectly juicy and pink inside.
The warming heat of The Bully creeps up on you; this is a rewarding burger with high quality ingredients and superb balance. Arguably Melbourne's best burger.
The Double Major and the Minor burger also feature quality Otway free range bacon and lettuce, onions, tomato, pickles, secret Tuckshop Takeaway sauce, American cheese (plus you can order an egg). How good is it? Surprisingly filling due to the 100% beef patty and the brioche bun, not to mention the bacon and cheese oozing over the meat. When you bite into the burger you just go "Yes!" and groan. Juicy goodness with beef patty cooked to perfection... Chips at Tuck Shop Takeaway are thrice cooked and were superbly moorish. We thought thrice cooked chips would be "dry as goat's knees" but not so. Crispy and golden on the outside and some tenderness inside. Some of our favourite chips in Melbourne.
---
Frank's Cafe - Cheltenham
Frank's surprises with its burger offerings from a suburban cafe. Frank and honest food is the name of the game including the burger - but not without a touch of class.
Their option simply called "Burger" was a take on American In N Out burger (which we have enjoyed many times) and comes fresh and juicy. Check out their take on Big Mac sauce. Like all great burger places the fries were top notch.
It might seem crazy for a cafe to be included in our Best Burgers of Melbourne article that boasts one great burger on the menu, but it's that good!
---
Burgerlove - South Melbourne and other locations
Burgerlove (ex Cafe 51) is an eclectic iconic cult burger joint in a semi industrial area, where lines out the door are the norm and all walks of life are flocking to this burger haven.
The World Loves Melbourne was keen to visit, and we just wanted to sample the best burger of the house. We were told upon our visit that The Meataxe was the pick of a great list; juicy Gigi beef patty, crispy southern fried chicken, crispy bacon, double dirty cheese, lettuce, onion rings, two jalapeno poppers, chipotle and XXX BBQ sauce. Now there's a description. We enjoy burgers with kick or heat, and the Meataxe seemed the way to go.
The Meataxe came as a massive tower served on a sturdy board. We found it hard to put your hands around this burger; really it's a beast.
Every element of The Meataxe was spot on from the crispy southern fried chicken fillet to the juicy chuck brisket patty to the crispy bacon and the heat elements that gave the kick. Even the soft bun rocked. It's tempting to take the bun off the top and pick at the various elements, but we recommend tackling The Meataxe head on and biting into this juicy bliss as a whole burger in all its glory!
---
Betty's Burgers - Elizabeth St CBD and other locations
Betty's Burgers arrived in Melbourne as a much raved about burger joint from Queensland. It's managed to attract a strong burger crowd for a prolonged period.
Personally I like to see a double patty burger in any menu - and you can here - just order the extra patty. I met my match though with the popular Betty's Classic Stack. (I prefer the word "stack" to "tower"). This burger combines the Betty's Classic with Angas Beef and the Shroom Burger - then add pickles and bacon for a monumental tasty burger. With sriracha mayo sauce for some kick!
The bun held the burger together well, there was decent char on the suitably seasoned patty, the oozy cheese was perfect and the shroom added to the flavour of the burger. I wasn't used to the hit of salad on a burger (extensive lettuce) but it all worked well. What I was left with was a large, well balanced and fresh burger. Yes I would come back for this.
---
Royal Stacks - Collins St CBD and other locations
Royal Stacks is a winning burger house with packed houses each day lapping up the juicy burgers that contain local produce and free of GMO. The World Loves Melbourne caught up with owner Dani Zeini who researches burgers from all round the world, and delivers to Melbourne inspired burger choices. We couldn't make it to the media launch but went slightly later and there was a line up out the door at Monday lunchtime.
Dani has been working at Royal Stacks and ensuring the team get the quality right throughout; and we were highly impressed with the burger offerings. It seems each of Dani's ventures has its own personality and menu. Dani told us he also likes hanging out at Grand Trailer Park and the location are top notch. This location of Royal Stacks in Collins St is also top notch with nearby law firms, banks and creatives salivating.
The burgers are sensational; not surprising given Dani's expertise but also the meat patties are supplied from premium producer Vic Meats. You can tell the quality.
Another smash hit is the 'Bacon Bacon' with double all Australian pasture fed beef patties, double bacon, American cheddar, caramelised onion, American mustard, tomato sauce and pickles. Juicy and elegant. A crowd pleaser with it's sheer amount of quality beef, as well as bacon overdrive. What the punters want.
---
Stagger Lees - Brunswick St Fitzroy
Stagger Lees is an exceptional cafe and delivers when it comes to burgers. Having eaten scores of burgers around Melbourne I found the Stack & Billy Burger to be one of the best around. A chart topper featuring Black Angus shin patty, bacon, American mustard, catsup, aioli, pickles and cheddar served with bacon croquettes and greens. The balance of flavours is perfect. The patty is magical. Brioche buns are a great texture and mild sweetness. Much thought has gone into this burger including killer aoli, quality pickles and cheddar. Please remind me to put this burger in my "Best burgers of Melbourne" section. Kudos to Head Chef Chris Hamburger (do I say the obvious?)...
The burger comes with amazing creamy croquettes that are almost a meal in themselves. When I said to the waitress, "Wow, I didn't realise these amazing croquettes come with the burger!" she said "Read the damn menu." But she said it in a playful kind of way that didn't offend. Banter in Brunswick...
---
Huxtaburger - Smith Street Collingwood & Various locations
Huxtaburger is a contender for Melbourne's best burger. Just across the road from the epic Huxtable restaurant on Smith Street is this popular burger joint that delivers big time on quality gourmet burgers, great crinkle cut chips and beer. A killer combination. The value here is incredible and might just get you through the latest Global Financial Crisis.
Huxtaburger has done its homework on what makes a great burger. They simply have great buns. Glazed brioche buns. The burger bun melts in the mouth. You don't get that heavy starchy hit of bread but rather the bun combines wonderfully with the rest of the burger.
---
Hello Sam - Chapel St South Yarra
Hello Sam has an impressive backstory, with the owner Katherine Sampson having risen from a small shopping centre business to a savvy burger sensation in South Yarra. At the end of Chapel St not far from Richmond, Hello Sam is a light in this foodie precinct with its massive quality burgers and attractive ambience. Burgers should speak for themselves without hype, and these burgers speak volumes.
The menu at Hello Sam is top notch in satisfying tastes for all including beef, chicken, veggie, lamb and fish. Clever names abound such as Chipotle Bandido, Sam-On (with Salmon), the Parme-Sam, as well as Sam-Brero. Behind the quirk of the names is an authenticity of flavours.
For those who love a big stack Hello Sam has it covered. The Sam the Man Double is a massive burger that hardly fitted into my Instagram frame forcing me backwards to capture the dimensions of the burger in my photo. Yes the burger forced me backwards! The patties are char grilled and exude thick meaty goodness, not overcooked but juicy. We naturally gravitate to The Big Sam's part of the menu - where you can enjoy up to 3 patties in your burger. Size does matter when it comes to burgers but quality must match. Hello Sam prides itself on the finest and freshest of ingredients including Angus patties.
The Bean burger is perfect for those not keen on a meat fest. For those who want some kick, the heat on the Spicy Sam burger is perfect thanks to jalapenos and fiery harissa. Hello Sam boast simple modern decor and an impressive outside area with heaters for the cold. Or try the Too Cheesy which lives up to its name with a mustard mayo cheddar ale melt. We note 2 mustards in the mustard mayo and the sheer cheesy joy in this burger. One of the best Cheeseburgers in Melbourne.
---
One Plus Piece Cafe - Balwyn
One Plus Piece Cafe in Balwyn hits the high notes with brilliant burgers and fine coffee, all with an Asian twist. The World Loves Melbourne loves a playful cafe and One Piece Plus delivers with its Japanese anime theme.
One Plus Piece Cafe is super popular for its burgers; our favourite is the Double chilli beef, double bacon, double cheese, caramelised onion, mushroom, lettuce and their secret One Piece sauce. This burger is juicy bliss from the"get go". Soft brioche melts into double of everything; how we like it!
The house made patty with chilli is outstanding and has that welcome kick to it. Cheese is also a standout, melted over the patty bliss. Double bacon is not to be underestimated and generous portion hits the spot. Caramelised onion also generous and with the lettuce provides some crunch. Mushroom in the mix makes this a hearty substantial burger, but it's the taste and texture high that impressed. The secret sauce is sensational adding to the already great burger. A pleasure to eat such a burger.
We also enjoyed the Angas beef and cheese burger in a brioche bun with beetroot relish, tomato, lettuce, bacon, mustard and aoli. The balance of the burger was excellent and for us the burger was full of flavour.
These burgers are One Plus Piece Cafe are not greasy affairs; but clean and flavoursome and well presented.
---
The Burger Block - Kew
The Burger Block in Kew is a delightful burger cafe that offers unique Asian fusion flavours and is one of the best burger houses in Melbourne. These are juicy melt in your mouth burgers with much thought (and presumably testing) put into the various burgers. Word about The Burger Block has spread in the burger world. We couldn't get over just how many fusion burgers are on offer here.
Then it was on to the main game. The Red Lantern came with generous beef pattie, bacon, Spannish onion, lettuce, American cheese tomato, and hot chilli mayo. With the pattie cooked medium with slight pink, and a soft patty, the advent of melted cheese made for a burger of sheer melted juicy pleasure. The tomato and bacon were also worthy ingredients in this excellent burger. Despite the juiciness of the burger it still kept together during the eating process and didn't fall apart.
Check out The Chainsaw Massacre as an insane massive burger that won't leave you hungry.
---
Mr Burger - Food trucks, Brunswick, Bentley, Thornbury, Docklands
Melbourne has a love affair with Mr Burger, often paying a visit to a food truck to satisfy a late night hunger. I've been grateful so many times for the truck stationed in Fed Square. Love these big gooey burgers with soft bun and patty as the hero. Mr Burger's Therry St store opened in November 2012 with their first food truck parked inside the former mechanics workshop. As bookings increased, the truck was sent back on the road and has been replaced by a 20-foot shipping container with a fully functioning kitchen. The new store's cooking capacity has increased thanks to a larger grill, and the dining area now offers seating for 45-plus burger-eaters.
"We're very happy with the new renovations, and think they'll make the Mr Burger experience even better. We've addressed two of the main customer requests: the need for more seating and less wait time, as well as making the space more inviting and comfortable to be in", says owner Myles Munro.
Since Mr Burger's launch in 2012, the Melbourne-based burger business' arsenal
has grown to four trucks and three stores. Their orange trucks and delicious burgers
have become a common sight on the streets of Melbourne and at many large events
and festivals.
---
Rockpool Bar and Grill - Crown Casino
Rockpool Bar and Grill is a fine dining haven in the Crown Casino and is known for its spectacular meat dishes and the culinary genius of Neil Perry. The conversation around here is all about "dry-aged", "grass-fed", "rib-eye" and of course "wagyu". In fact it's the David Blackmore Full Blood Wagyu Hamburger with bacon, Gruyere cheese, and Zuni pickle that drew me here. Could this be Melbourne's best burger?
Rockpool has a modern fit out with high ceilings, great use of timber panelling, subtle mood lighting, large artwork tributes to the humble cow, several attractive dining areas and luxurious tables and chairs. What struck me about Rockpool was the finery and great use of textures. The ambience here is refined yet relaxed. Waiters dressed impeccably attend to your dining needs and are engaging and knowledgeable.
The meat here is sourced from Australia's best producers and dry aged on the premises. Rockpool are strict about humane treatment of cattle and about no hormones or antibiotic feed supplements. Rockpool features Blackmore's Wagyu, Greenhams and Rangers Valley meat. It's the best of the best. Now to the burger... Caramelised heaven. Wagyu heaven.
Rockpool has smashed a home run with this David Blackmore Wagyu Burger in terms of quality, taste and balance. My first impression was that this is a work of art and a celebration of the hamburger. Secondly I was amazed at how big this burger actually is. I was expecting a smaller burger as is the trend. This was actually a meal to satisfy your lunch craving. Along with say, some hand cut chips.
And I aim to be back for more Rockpool fare...
---
Rockwell and Sons - Smith Street (now closed lest we forget)
Rockwell and Sons provides American style soul (comfort, dude) food in Smith St and has one of the most acclaimed burgers in town with the Double patty smash burger. Another contender for best burger in Melbourne but not the mainstay of their imaginative menu.
Rockwell and Sons has a modern fit out with chic timber framing, funky lighting and exposed brick walls. Rockwell also pours a mean latte...
The Double patty smash burger consists of a sexy brioche bun from Brasserie Bread (important to have great bun), excellent juicy patty action, cheddar cheese drooled all over the meat, crunch gherkins and a killer sauce. For mine it's the sauce that makes it... This sauce reputedly includes 3 different kinds of mayo. So good. The burger is a triumph of juicy melted and crunchy bliss! and the price point is kind to the wallet.
---
Lord of the Fries - Brunswick Street and Other Locations
These guys are super popular and have a cult following. Lord of the Fries is an award winning restaurant group that delivers incredible vegetarian flavoursome food and modern tastes at value prices. Even Prince has enjoyed their cuisine on his last Australian tour (several music icons dig LOTF). Having sampled the burgers here - they are a strong contender for the best in Melbourne. Bring on the vegetarian burger for 21st century tastes!
I love the multicultural flavour of Lord of the Fries with its different sauces and tastes celebrating nations and their cuisine. Very Melbourne methinks.
Lord of the Fries began from humble beginnings visiting music festivals in a mobile van to an icon in Melbourne with many stores. They are growing with new stores established recently and stores where there's a funky vibe and extra room to enjoy their fine fare. We enjoyed lunch at the iconic Brunswick Street store - a retro style diner. Prince enjoyed and inspired a Purple Rain sauce but here it's more of a red haze. Lord of the Fries has a striking red theme - I really enjoy their marketing and Facebook page.
A burger we greatly enjoyed was The Guru, with Guru vegie patty, tomato, onion, lettuce, and green chilli sauce. I love this burger, with plenty of spice (it has more kick than other places). The green chilli sauce is a winner.
We ordered two of the mini burgers - the original and the spicy mini burger. These were delightful and are a great option amid the mini burger craze around Melbourne right now.
Image above from Lord of the Fries Instagram.
Lord of the Fries hits the spot and is an edgy eatery that ticks so many boxes in terms of concept, quality, freshness and taste. We look forward to their continue growth and expansion in Melbourne and beyond.
---
The Merrywell Burger Bar - Crown Melbourne

The Merrywell is a fabulous spacious restaurant in the Southbank precinct near the Crown that serves up American style diner dude food. It's a stylish establishment that also exudes a sense of fun.
The Merrywell is a great place to meet up with people over a drink and a burger - as we discovered. When we arrived at around 4.30pm on a weekday it was relatively busy then it seemed to explode in the next half hour as over 100 people streamed in (at the end of the work day). Suddenly the place was packed with cityworkers clustered around the bar and around the tables overlooking the promendade... The noise levels rose and it was a happening venue...
Not only is there a burger wave/trend in Melbourne but a trend towards the American diner concept. Having been to America I understand the excitement over burgers. I'm grateful we have moved from burgers mainly at fast food joints and local fish and chip shops - to the gourmet offerings of today.
The Merrywell has a simple but pleasing menu with burger highlights such as the above "The Merrywell" burger. For $20 it's a tad pricy on the Melbourne burger scene but you get a large burger with thick juicy quality meat patty, delectable cheese melted all over, lettuce, onions, sauce, crispy bacon and excellent tangy pickles. All in a large soft bun. And the burger comes with delicious golden chips/fries.
Service here is engaging and friendly, and staff are on their game. You do however need to order at the counter. (I haven't dined upstairs yet but I understand it's a step up in finery).
As we left The Merrywell two helicopters launched from the adjacent pad across the Yarra - reminding us that The Merrywell is in an upmarket part of town. The Merrywell is a restaurant I'd like to return to, for its simple but tasty burgers and its top notch ambience.
---
Grill'd - multi locations
Grill'd Healthy Burgers is famous for its healthy style burgers.
The Mighty Melbourne Burger has been a favourite of mine for years, but also the Baa Baa burger and Hot Mama are right up there in Melbourne's best burger territory. Not to mention some of the best chips in Melbourne with herbs and killer aoli options.
Grill'd founder Simon Crowe said "Grill'd is more than just a great tasting, healthy burger restaurant. We place a huge emphasis on offering a great environment where people of all ages can enjoy a fresh and convenient meal in a casual environment with their friends and family," he said.
Grill'd stocks an exciting alcohol range including local craft beers and ciders – the perfect accompaniment for any of the menu's 30 fresh, and healthy options including 100% grass fed, hormone free beef and lamb, chicken and vegetarian burgers as well as a range of salads and steak sandwiches.
Simon says they're not interested in developing a "big company" attitude, and each restaurant remains focused on local community initiatives.
---
Danny's Burgers - St Georges Road, Fitzroy North

For a true Melbourne experience one has to imbibe the joys of Danny's Burgers on St Georges Rd. The sign says "since 1945". Wow! This is an institution. I loved every minute of my experience here.
You need to come with the right attitude and "get into it." This is old school burgers done with charisma and love. The burgers are fantastic evoking memories of the best fish and chip shop hamburgers but better. It's better because the burgers are nicely layered so you can eat them without them falling apart. Well put together buns, egg, bacon, a great patty with proper grill taste.
Danny's are famous for the double and triple lot hamburgers. They are enough to fill the hungriest mouths. And they are made at 1950's prices! Great value dinner option for the family.
Don't underestimate the chips here. You get a great pile of chips for your money. And they are nice and crispy. Danny's has some other great options including lamb burgers, open burgers with greek salad and chips and much more. People also rave about the chicken burgers.
---
The Burger Lounge - Eltham
The Burger Lounge rocks. Are these the best gourmet burgers in Melbourne? Many of my friends think so.
Burger Lounge ticks so many boxes and in fact redefines the gourmet burger. The burgers are large, made with healthy ingredients, and the flavour combinations are amazing. These guys were voted ib Nova radio competition as the best burgers in Melbourne.
I've driven for an hour through Melbourne peak hour traffic just to get the family burgers here. In fact turning around and coming back down the main street of Eltham can be tricky in peak hour. The place itself has a great vibe and is colourful and modern. A great option is to actually eat in, even for groups.
The Burger Lounge is so refreshing in terms of menu choices and gets it so right. Reading the menu is fascinating as burger descriptions are like reading a menu from a top fine dining establishment.
The Signature Burger is a sensation and includes 100% beef prime organic pattie with harvati cheese, basted with balsamic glaze, pickled cucumber, red onion, lettuce, tomato, relish and herb aioli.
The Kofta Burger with a lamb pattie is another sensation and the pinenuts and Moroccan spice are great gourmet touches.
The prices are extremely reasonable with these huge gourmet burgers. A lot of thought has gone into this. They offer organic meats. The coffee is also great at Burger Lounge – from 5 Senses. The herb chips are amazing. Everyone talks about the chips. They also have a really successful chicken shop nearby in Eltham.
---
Ziggy's Eatery - Balaclava and South Melbourne
Ziggy's Eatery is a highly impressive modern burger joint on Carlisle St St Kilda that specialises in gourmet burgers and dude food at excellent value. These are not burgers slapped together but you get the impression of a kitchen of skilfull and passionate foodies that care for their customers. We were impressed at the high level cuisine here and the resonating passion of the owners. They simply serve some of the best burgers in town. The World Loves Melbourne was invited as a guest of Ziggy's.
Check out the Texan Giant Burger at Ziggy's as one of the best in Melbourne. It ticks all my burger boxes. The bun is critical to any burger, and where some burger joints in Melbourne fall down. Ziggy's offers a fresh soft brioche of high quality. Next, the meat patty is quality beef with right amount of seasoning and is a giant 250g. Not for the faint hearted!
Aoli is excellent adding to the flavour of the burger, together with a killer Texan sauce. Not to mention the tomato, cheese, onion and lettuce of quality. Overall juiciness factor was high. Unapologetically I prefer a juicy burger to a dry one. The combination of flavours just works here. A burger to reckon with.
Ziggy's is an all round dude food destination of note. Even the chicken wings with 3 types of tangy sauce hit the mark... Especially with a Mexican beer...
Ziggy's has an attractive fit out with edgy artwork adorning the walls. The use of timber is attractive including a large communal table. Or eat outside and enjoy the ambience of bustling Carlisle Street.
The World Loves Melbourne was highly impressed with Ziggy's Eatery and plans to return soon. A revelation and highly recommended.
---
Andrews Hamburgers - Albert Park
Andrew's Hamburgers is a super impressive burger joint that knows what it's doing (since 1939), offering great burgers at value prices. Andrew's Hamburgers has a superb customer focus with service with the lot - engaging staff, great menu options and reasonable prices - that keeps customers returning.
Andrew's Hamburgers seems to be the toast of Victoria with visits by celebrities, sporting personalities, the Masterchef judges with their photo on the wall, and many people of our city that have been visiting for years.
Andrew's Hamburgers makes traditional, as distinct from nouveau burgers. You can get yourself an egg and bacon roll or a chicken burger, for example. But the popular choice is the hamburger with the lot.
I enjoyed the famous burger with the lot for a value price plus chips ($2 for a mini). For a start the burger is large. It takes two hands for sure to handle this mother.
Image above: Andrews Hamburgers Instagram. The staff here are fantastic and add to the experience. They love what they do. There's a team of guys all wearing Andrews Hamburger's T shirts. I was surprised my eat in burger arrived on a silver tray. I wasn't fumbling around with paper.
If you eat in (limited seating) you will be amazed at how many people come through this place in a short time, even on a supposedly quiet Saturday afternoon.
I noticed families arriving and looking over the photos on the wall that include celebrities posing with owner Greg Pappas.
I can see why people love this place. While I love a nouveau burger I also love that traditional hamburger that's done well. Andrew's Hamburgers has been setting a high standard for decades and are still shining as ever.
---
The Royale Brothers - Brighton
The Royale Brothers was founded by the crew from The Pantry in Brighton, Daniel Vaughan, Guy Mainwaring and Tim Purton-Smith, burger royalty themselves.After squeezing past a late model Mercedes double parked in the nearby car park in Brighton, The World Loves Melbourne was invited to see what all the fuss was about at Royale Brothers.
The Royale Brothers construct and tailor various burgers from their menu to suit a plethora of tastes. Large burgers with massively wide buns sit alongside regular and spicy burgers, and imaginative fillings such as pork shoulder and crispy fish. Then there's the Hippy Royale with Panko crumbed pinto bean patty, house slaw, avocado, mayo, tomato & pickles.
My preference was for the Bacon Royale, a popular seller. Royale Brothers use a unique milk bun which is soft but less sweet than brioche. My first bite drew me into the world of Royale Brothers burger awesomeness, with the alluring softness of the bun, juicy thick meat patty, stunner pickles, fresh lettuce, generous melted cheese placed where it should be, delightful onions, and right amount of sauce (you can select from a range of Famous Royale spicy tomato sauce, aoli, onion gravy, jalapeno salsa, and Coney Island cocktail sauce).
---
Trunk Diner - temporarily closed - CBD
Now serving a range of burgers. Every self respecting dude food haven needs a killer burger, and Trunk delivers. This is a standout from the pack - using premium ingredients. I found it to be one of the best in Melbourne. The foundation is -
175gram Fresh Ground Wagyu beef, grilled brioche, baby cos lettuce, thick cut tomato & house-made pickles... and I added extras such as Gruyere cheese...
The joy was in the Supersizing of doubling everything! Yeah baby! Rock and roll.
The cheese melts down on the juicy Wagyu...
And every dude food lover knows chips have to be top notch - these are golden and crispy. Always a good sign when your first movement is to grab some hot chips - but then you can't stop picking at them...
---
YOMG - Glen Waverley
The Creeper at YOMG is arguably the best burger in Melbourne. Soft bun, with Double beef (100% Angas beef grass fed and house made, massive patties), triple cheese (decadent overdrive), double bacon, onion, jalapeno jam (packs some kick), jalapenos and Sriracha Mayo (a creamy hot sauce). You know you're alive when you take on this burger. The name of The Creeper is apt as it creeps up on you with surprising heat, but also as being a massive burger you may struggle to complete. It also creeps up on you to win you over. So good!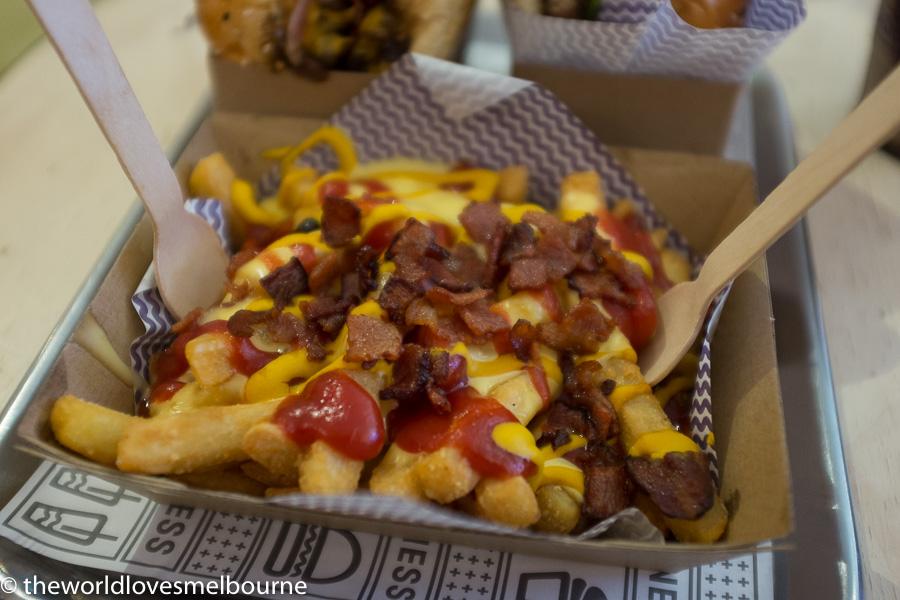 YOMG is known for frozen yoghurt but is also now famous for burgers; the Glen Waverley store is pumping all the time.
---
1090 Burger - Richmond
1090 Burger is a standout burger joint on Swan street Richmond having started out in life as a food truck (still going strong in Ruckers Hill Northcote); boasting quality affordable burgers and is the home of the notorius Rocky burger. 1090 Burger is unpretentious in a world of burger hype. No fanfare here; no heralding or trumpeting. The proof is in the pudding, or should we say "patty"; all massive 330g of it.
The custom 1090 burger is a double burger of great value; soft brioche bun holds beef, cheese, mayo, ketchup, mustard, pickles, lettuce, tomato and red onion. 1090 Burger also impresses with the Thunderburger for $13 - a double burger of note featuring grass fed Angas Beef and top notch with beer. If you want to satisfy your burger craving the 1090 burger and Thunderburger are both up there with the best. But why not live a little dangerously and step out into deeper burger waters...
Go a few rounds with Rocky. If you're into heavy patties man then this is your place. No 100g patty to be seen for the Rocky. Not 150g or even 180g, but an insane 330g.
So if you order the Rocky you're told you have to wait about 25 minutes for the patty to cook - the same amount of time it takes The World Loves Melbourne to cook a BBQ for 10 friends (and clean the BBQ after).
Even so the patty comes out suitably "medium" and juicy, not at all overcooked. The "juiciness" factor is insane; it's like your baby kid just sprayed all down your front (in a good way).
That's if you can lift the burger - a deadlift at the gym might not be so heavy.
The Rocky burger seemed more like Rocky IV than other Rocky movies I've seen; the burger comes at you with full intimidation like a monster Drago, but get your revenge even if it takes you a few pile driving rounds.
Rocky comes fully loaded with the 330g patty perfectly seasoned, loads of caramelised onion, loads of secret sauce, loads of crispy bacon and cheese, all in proportion and balanced. And of course pickles for some zesty respite. A soft bun is on point and it looked slightly toasted for mine.
---
Three One 2 One - Richmond
Three One 2 One on Bridge Road Richmond has been bringing it's A grade burger game to Melbourne, with a new selection of burgers hitting the menu. Bridge Rd is again on the rise and is finding its burger mojo.
The Ghetto burger was our favourite - a double burger featuring Two beef patties with melted cheddar cheese, pickled cucumber and special mayonnaise on brioche. It's a crowd pleaser with compelling patties and spot on cheese melt, with tang of the pickled cucumber and rockin' mayo. Not to mention a soft brioche bun. How we like it.
Also packing a punch was the Los Pollos Hermanos (pictured above bottom right) with Panko crumbed chicken breast with crispy prosciutto and mushroom creamy sauce on brioche. Again Krishna delights with gourmet combinations; panko crumbed chicken and crispy prosciutto is the perfect match. Comments at our table were around the deliciousness of the mushroom sauce.
Burgers at Three One 2 One are sizeable and affordable...
Damoforce smashed his own beast of a burger creation on the night, which combined a couple of the burgers on the menu...
The World Loves Melbourne was impressed by the quality of burgers and the overall fun playful vibe of Three One 2 One. Get on it!
And the winner? For mine I enjoy College Dropout Burgers, Rude Boy Burger, Leonards House of Love, Rockpool Bar and Grill, Tuck Shop Take Away, and YOMG as the major standouts, but it's a personal preference. All should be celebrated.