Spectacular Eat Street 2015 at The Sofitel Melbourne on Collins
One of the best events on the Melbourne calendar is Eat Street, now in its 16th year, raising funds for charity (Variety) and supported by Melbourne's top chefs and wine companies. Eat Street 2015 featured some 40+ restaurants including Estelle Bistro, Cumulus Inc, Tonka and Coda, Saint Crispin, Bottega, No 35, Coombe The Melba Estate, Captain Baxter, Sails on the Bay, Pei Modern, and Flower Drum to name a few. We journeyed "Aound The World in 40 Dishes" but it seemed like more than 40! If you're looking at events to attend next year we recommend this event as a "must attend" with the most fun.
Not only did top restaurants support Eat Street but the chefs themselves graced the event, accessible to the patrons. Auction items raised considerable funds on the night, with fabulous prizes up for grabs, including dinner for 5 guests at no 35 restaurant and a fabulous dinner experience with Scotty Yeoman from Masterchef. The World Loves Melbourne was inspired by the high standard of excellence, glamour and conviviality of this charity event, but was also struck by the sheer quality of culinary offerings from some of Melbourne's best in one location.
Eat Street is a coming together of the Melbourne community in generosity. The World Loves Melbourne believes one of the reasons this city of Melbourne is so great is that it does charity events superbly and gets behind those in need with compassion. There was no lack of glamour on the night with Miss World Australia and Miss Universe Australia contestants in support. Also spotted were TV personalities including Real Housewives of Melbourne, Masterchef Australia and My Kitchen Rules stars.
Entertainment was in overdrive with various bands and vocal groups in full flight, adding to the conviviality and colour of the occasion.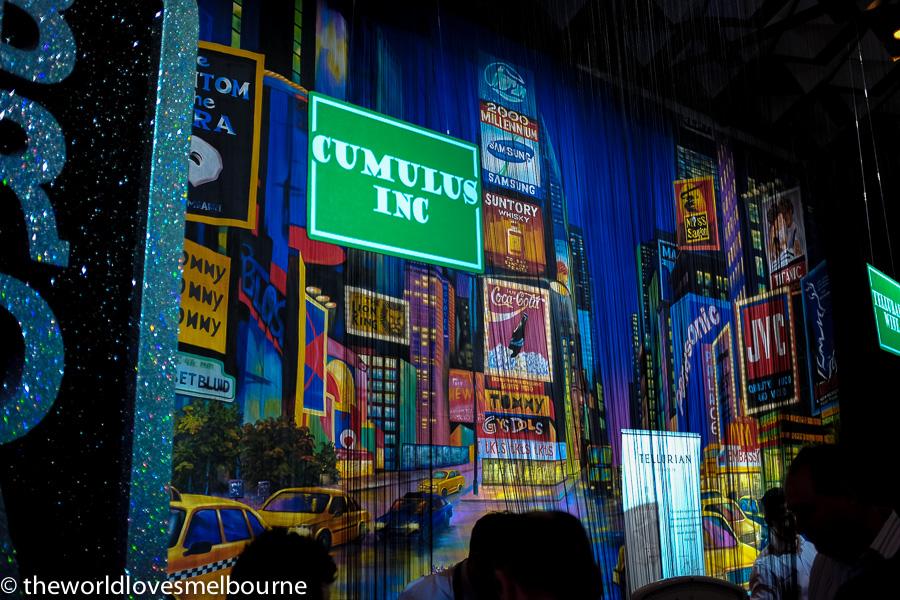 Cumulus Inc served up some impressive food including the Spanner crab, brioche and iceberg lettuce (top above) and the Salt Cod soup and parsley (above).
Variety is one of Australia's best known charities and does an amazing job raising money for kids - Helping kids be kids.
Sofitel's Lounge was a postcard of Europe full of delectable offerings. The World Loves Melbourne indulged in the superb 25 top wine stations including Wines of France and Pizzini Wines. Cotes du Rhone was flowing, as was King Valley Sangiovese.
Variety Volunteers added to this magnificent occasion, engaging and full of playfulness and fun.
We headed to the La Trobe Room which had a distinctive Asian flavour. Flower Drum were a compelling attraction with some of the best Pork and prawn siu mai, Prawn and sesame toast, Chicken spring rolls, Vegetarian spring rolls, Vegetarian dumplings and other treats you will ever encounter.
Saint Crispin served up these delectable croquettes (below).
Then it was back to another wine station...
Tonka and Coda provided another culinary highlight with their amazing curry...
Adam D'Sylva had just arrived from overseas, jetlagged but committed to this charity event...
Estelle Bistro, one of the hottest restaurants in Melbourne, was generous in its Osso Bucco offering...
Bottega also stepped up to the plate with this pasta dish sensation...
Pei Modern is a close neighbour of Sofitel Melbourne on Collins and wowed punters with its culinary offerings.
Pei Modern served us this spectacular Burrata with Buffalo Mozzarella.
Desserts and cheese also figured highly in our culinary tour over 3 large dining spaces in Sofitel Melbourne on Collins. Le Petite Gateau served up superb Murray River, Salted Caramel choux pastry above, while Woombye Cheese Company was on hand with their fine Camembert.
The amount of choice was overwhelming for The World Loves Melbourne. Every food and wine station resonated with high quality offerings. The Grand Ballroom referenced the USA and Australia. A highlight was @edvmelbourne Cocktail station and their Corpse Rose-Viver cocktail.
Kudos also to Fiona Byrne from Sofitel Melbourne on Collins, Variety Victoria (@varietyvic) CEO Janette Connolly and the General Manager of Sofitel Melbourne on Collins Clive Scott.