Best Melbourne Markets
Melbourne has outstanding markets full of fresh exciting produce… Each is excellent and has their unique strengths and ambience… They're certainly not all the same! We've written these reviews having visited the markets to get the real deal…
Here are some of the best in Melbourne…
Queen Victoria Market - Rating 9/10 – world class
Queen Victoria Markets is arguably Melbourne's premier market and attracts both local shoppers and hordes of tourists. It's a market of fine quality with many specialty stores.
Popular with locals and tourists alike for bargains. Also boasts quality fresh produce in abundance. Love the buzz early in the mornings. This is a Melbourne institution for over 120 years and I know people who've been coming here for decades.
​
Borek Shop, Queen Victoria Market
It wouldn't be a visit the Vic Market without stopping at the Borek Shop. Ask for a borek with cheese and spinach, one with lamb or order one with potato and vegetables, then hand over your $3 and you have in your hands one of the cheapest, most popular lunches in Melbourne.
Many shoppers come for the stalls and bargains on belts, flags, clothing, toys and leather jackets which is cool. All kinds of unique products are sold here. Something for everyone. I've enjoyed trying to score bargains among the rows of clothing. Trying on leather jackets and belts.
Frankly, I'm also a big fan of the gourmet offerings here. It's not hard to part with lots of cash when you see all the cheeses and fish and meats and olives and specialty coffees.... And so it goes on. I love to walk around the Fish Market and the Meat Market next to each other and pick up some great fish fillets and quality steak cuts.
Large parking area is great or simply catch a tram up Elizabeth St or train to Melbourne Central or Flagstaff and walk. I walk to the markets often during the week and love the ambience. This is Melbourne at it's best.
Check out the Turkish Borek Shop with amazing cheap eats. I always visit this place whenever I'm at the markets! Spicy lamb! Chicken! It's all good! Or the French Shop for cheeses and French food. And of course The Bratwurst Shop.
Great fruit and vegetables here in a huge complex including items not always east to get. Love getting here early as they set up for the day.
Bratwurst Shop & Co, Queen Victoria Market
Famous for their brat on the go - the Bratwurst Shop & Co's grilled bratwurst can be served in a white or wholemeal roll. With the choice of mild, spicy, cheese, weisswurst, black pepper, chorizo or chicken & mushroom with your selection of mustards,sauces or sauerkraut - the bratwurst is classic Market experience!
Also check out the fine establishments serving great coffee including Coffea, and Market Lane Coffee who opened up across the road in Therry St. I had one of the best coffees in my life there sourced from a farm in El Salvador. As for Coffea it's a Melbourne institution with tasty treats and top notch coffee. They make it a little on the strong side, how I like it. The staff are characters which adds to the ambience.
The Queen Victoria Market trading hours are 6am to 2pm on Tuesday and Thursday; 6am to 6pm (with the general merchandise section closing at 4pm) on Friday; 6am to 3pm on Saturday; and 9am to 4pm on Sunday.
The Suzuki Night Markets are popular on Wednesday nights from 5-10pm running through summer to March.
---
South Melbourne Night Market - Rating 9.5/10 – magical night market with high quality music, designers, food stalls, trucks and bars
For eight glorious weeks the city's oldest market is transformed at twilight into a magical night market, offering hawker style food, pop-up stalls, entertainment and music in one big cultural feast.
Melbourne's love affair with dining out and new experiences is intensified with the charming South Melbourne Night Market. The World Loves Melbourne was invited along to the first night launch (with media group), and was amazed at the huge buzz and attendance on a coldish Melbourne evening. Now in it's sixth year, set amidst the beautiful Victorian streetscape of Cecil and Coventry Streets in South Melbourne, the Night Market has become an annual staple on Melbourne's events calendar. The city's north south divide is bridged as Melburnians from all over come to enjoy the festival atmosphere and ever-changing, eclectic offerings from stallholders.
Claypots Evening Star was our first destination, a sister to the iconic Claypots Seafood Bar in St Kilda. How good is this place! Claypots Evening Star is a Teppanyaki-style seafood restaurant, complete with a peddler cart on the footpath.
Renowned community identity, owner and chef extraordinaire Renan Goksin (pictured below surveying the scene in blue jacket) takes the helm on this culinary journey, where you can enjoy the spectacle and great taste of seafood fresh off the teppanyaki grill.
The World Loves Melbourne was taken by these giant prawns from the grill. I could stay on these all night...
Across from Claypots Evening Star is the impressive Mexican restaurant Paco y Lola. The sardine toast above was delectable, a sample of Paco y Lola's simple yet delicious street style including tostaditos, quesadillas, burritos and share plates. Nachos cannot be found on the menu carefully designed by Chef Fabian Diaz, but there is tequila, tequila and more tequila.
We were highly impressed with this modern Mexican restaurant.
Then it was off to the SO:ME space inside the Market where we encountered DJ's pumping tunes...
For shoppers, creative hub SO;ME Space welcomes people to chill out with a drink, catch their revolving line up of DJs and check out the best emerging and established designers including Mr Simple, The SuperCool, Lost in Seasons, Kreel, Bakerlite, LO & Behold and Stone Glint & Bone, as well as pop up stores. Retail stores, set up along the skirts of the Market, offer an eclectic range of fashion, design and craft.
The Red Hummingbird & The Emerald Peacock Pop Up Cocktail Bar was the next station on our tour, brought to the Market by two of Melbourne's iconic rooftop bars - The Red Hummingbird & The Emerald Peacock. This is a stylish mini bar carrying a collection of premium spirits and bespoke cocktails. Enjoy a glass of Champagne, a cocktail from the cocktail catalogue or perhaps a drink designed especially for you! We imbibed these refreshing cocktails served in jars.
Great shopping in the SO:ME Space...
South Melbourne Night Market has a festive vibe - enhanced with bands like La Rumba gypsy flamenco live action!
Snag Society hit the mark with a dedication to exploring their curiosity with people and their diverse cultures through the wonderful and all conquering Snag. These are savvy snags with the flavours of the nations. Bringing real food, inspired by real people and real cultures, Snag Society's gourmet edge takes the backyard bbq hotdog to a whole new level.
White Guy Cooks Thai uses fresh seasonal ingredients, sourced from local suppliers. White Guy Cooks Thai is bringing his take on Asian Hawker Food to the streets. With gluten-free and vegetarian options, White Guy delivers restaurant quality fresh and fast fare. Having travelled, cooked and eaten all over Asia he has been cooking furiously ever since, capturing the fresh, clean flavours of authentic Asian Street Food.
We then enjoyed the hospitality of Overdosa, Indian street food merchants, a mobile pop up street food experience that provides affordable, healthy and delicious Indian snacks (Dosa) to the adventurous taste-buds of Melburnians.
Food with nuances and subtle spice...
Although we didn't have time to stop at the Greek Street Food experience with Kara's traditional Kalamaki, we admired the freshest traditional Greek souvas of lamb, pork, chicken, beef and falafel cooked on a stick and served with chips.
We were also taken with Nem n Nem Vietnamese street food, taking market goers from Coventry street to Vietnam. Nem n Nem offers a selection of snacks that you would find in Hanoi's narrow alleys and tree-lined boulevards.
We managed to visit St Gerrys donuts and fudge puppies, a fresh and exciting modern spin on traditional world sourced desserts.
Those Girls Iced Tea were a refreshing station, with iced tea specialists Lauren and Elena fulfilling their self described "life long duty" bringing market goers the most superb, unique iced teas for those summer nights. The World Loves Melbourne enjoyed the home made lemonade iced tea.
Finally we journeyed to Golden Gate & Dutchess pop up bar for a final cocktail and more cuisine. Brought to market goers by two of Melbourne's sublime watering holes, the Golden Gate Hotel and city hotspot Dutchess have joined forces to serve a selection of classic and bespoke beverages from their pop up bar. Their menu will surprise and delight the thirstiest of market goers.
What a first night! For a full line up of music, designers, food stalls, trucks and bars go tosouthmelbournenightmarket.com.au.
Whether you're meeting with friends after work or entertaining the family, the South Melbourne Night Market has something for everyone this summer.
Dates: each Thursday evening, from dates in January to March.
Time: 5.30pm to 9.30pm
Price: Free entry, Music and Entertainment
Address: South Melbourne Market, Under the Verandahs, Coventry and Cecil Streets, South Melbourne
---
South Melbourne Market - Rating 9/10 - world class gourmet and quality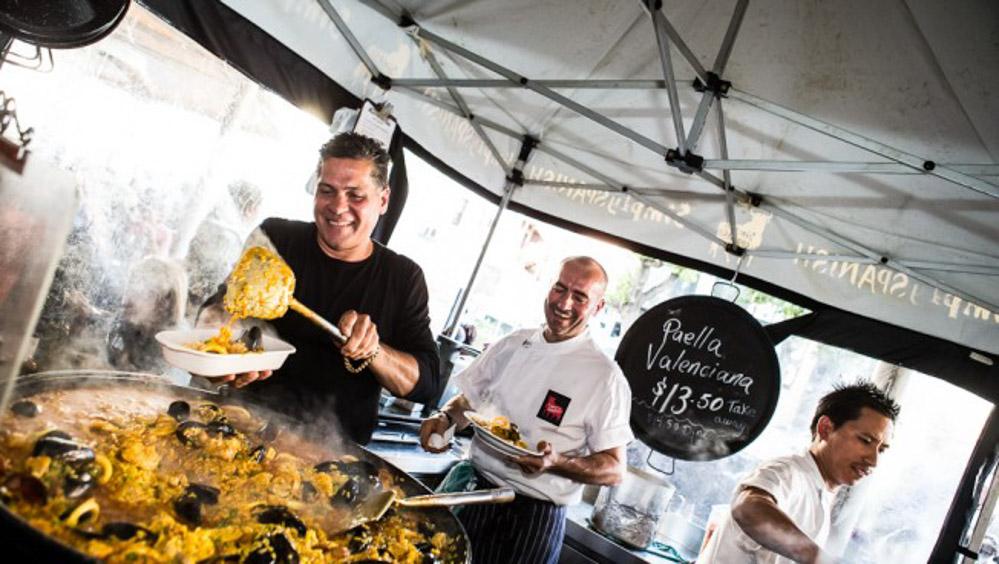 South Melbourne Market is arguably Melbourne's best market. The precinct of South Melbourne is fabulous so you can combine a trip to South Melbourne Market with a visit to an iconic cafe or restaurant in the area. Notwithstanding there are some great coffee and brunch options within the market.
Simply Spanish, South Melbourne Market
The perfect spot for fun loving tapas, where you can sit back, relax and enjoy some delightful food and fine wine or homemade sangria. Simply Spanish is home to the famous paella cooked in big pans on the street. Delicious!
South Melbourne Market is undercover and there is ample parking nearby, including the rooftop carpark. You may need to be careful on weekends as there is ticketed parking nearby.
Come to South Melbourne Market for excellent quality fruit and vegetables and gourmet fresh foods. It's the gourmet factor that's impressive. Here there's a step up in class with higher end stalls. There are specialists in breads, potatoes and pumpkins and fresh juices, for example.
The market has around 150 stalls including fruit and vegetables, fish and seafood, quality meats, fashion and apparel, giftware and boutique services.
Like any great market these days there is a good amount of organic options.
​Koy, South Melbourne Market
Meze sharing plates, traditional Turkish breakfast and gozleme cooked on the street by Turkish mamas. A fabulous place to sit down with an Efes and watch Market life stroll by.
Many like South Melbourne Markets for the quality delis with smallgoods and gourmet delights.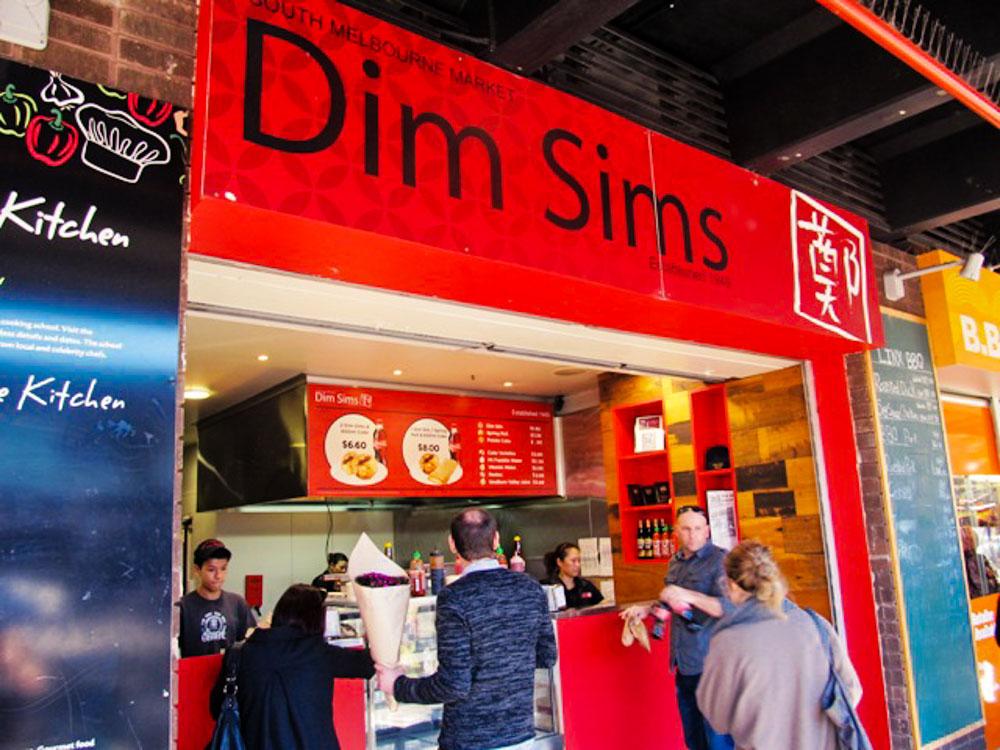 South Melbourne Market offers some great value Asian cuisine including South Melbourne Dim Sims (iconic throughout Melbourne since 1947), Yo Yo Sushi, and Linx BBQ Yum Cha.
Prices are reasonable but this is not a discount market. You get quality and pay for it.
South Melbourne Market is located at 322-326 Coventry Street South Melbourne.
Opening hours are Wed, Sat-Sun 8am to 4pm and Fri 8am to 5pm
---
Camberwell Sunday Market– Rating 8.5/10 – great vintage bargains and ambience!
Love Camberwell Market! Always great crowds here and a pumping ambience every Sunday! This is an amazing market operated by Rotary – raising over $9M since 1976. This is all about community! And you feel a great sense of community at these markets!
There are an incredible 370 stalls which can be booked up to 3 months in advance!
We love to slowly stroll around the stalls looking for bargains. And bargains are there to be had. I know people who have offloaded their designer collections at Camberwell Markets – arriving near dawn and setting up their own stalls to make a few extra dollars.
I love the sheer variety at Camberwell Markets! This market has many stalls devoted to clothing and accessories, collectibles, books, and hand crafted goods. The prices are great! Other stall holders are seasoned campaigners and regulars week after week. About 180 of the stalls are casual stores which can be booked a week in advance!
It's basically a market of second hand goods rather than new goods. And it's an open air market!
We checked out rows of vintage leather jackets. The key was to identify a bargain and try and agree on a price with the stallholder! Half the fun! Vintage clothing bargains are a highlight of this market!
Then there's the brick a brac items. Odds and ends.
The kids love the toys and figurine collectibles on display.
There is also great food to be had on a trip to Camberwell Sunday Market. There are vans that sell great donuts and the like. We don't mind lining up to indulge! And some excellent coffee!
But there are other options around in Camberwell – you just need to walk for a couple of minutes, particularly to Burke Road. We enjoyed nachos at a café right next to the Market.
We have spent the whole morning wandering around these markets and thoroughly enjoyed the experience!
The market is located in Station Street Camberwell.
Visitors are asked for a gold coin donation on entry to give to the needy.
The market begins incredibly early at 7am and trading goes through to 12.30pm. It's open every Sunday (except within 10 days of Christmas, the Sunday between Christmas and New Year, and Anzac Day when it falls on a Sunday).
Three tram services pass through the Camberwell Junction. Directly across Station Street from the market is a 700+ car park.
---
Prahran Market– Rating 8.5/10 – great fresh produce and gourmet offerings!
Prahran Market is a large and classy market in a great precinct. It contains many specialty stores and is a gourmet haven. Prahran Market is an institution! The current site is only 200 metres from Chapel Street and has been there for over 125 years.
Maker & Monger, Prahran Market
Trading from a beautifully restored French food cart in the Harvest Hall, Maker & Monger is the brainchild of world class cheese-monger, Anthony Femia. Tempting shoppers with the theatre of oozing raclette and stringy cheddar, Maker & Monger is famous for its all-American grilled cheese sandwich and the traditional Swiss raclette served over potatoes and pickle.
With a rotating seasonal offering and Mork iced chocolate on the menu, there's more than enough cheesy goodness to keep you satisfied all year round.
Prahran Market also offers variety but mostly in terms of fresh produce. It's an undercover market. Check out the fresh fruit and vegetables, including unusual varieties. This is quality produce. Check out the meat and fish cuts. The difference between markets like this and a supermarket is the ability to obtain some specialty and unusual items.
Plenty of gourmet offerings on display to fill the pantry. Deli goods are in abundance! Great cheeses! Pete n Rosies Deli offers gourmet treats from around the world! Foodhouse Deli a sensation with great variety! Rumbles Patisserie offers fine cakes and croissants. Loving fresh pasta! Condiments!
Also great cafes! A highlight here is Market Lane Coffee – one of the best in Melbourne. Their roastery and café, located on the corner of Elizabeth Street and Market Lane, is at the entrance to Prahran Market. They roast all their coffee here, and offer a large range of single estate coffee beans to take home, as well as brewing equipment. They serve espresso beverages and pour over coffee. They have a small selection of cakes and other tasty offerings. Market Lane Coffee holds free public cuppings (coffee tastings) every Thursday to Sunday from 10am - 11am.
Prahran Market has a dedicated Market Square where the community can enjoy entertainment, cafes and a playground for children.
We like to combine a visit to Prahran Market with a visit to eclectic Chapel Street.
Prahran Market is open Tuesdays, Thursdays 7am to 5pm, Fri 7am to 6pm, Saturdays from 7am-5pm and Sundays (selected traders only) from 10.am to 3pm.
---
Esplanade Market St Kilda– Rating 8/10 – great art, jewellery and crafts!
Loved strolls along the Esplanade in St Kilda on a Sunday taking in the Esplanade Market. It's surprising maybe that around 150 artisans participate in these markets. The Market stretches from near Luna Park right around to near Fitzroy Street. It's another iconic market operating since 1970.
I love it because of the creativity and the fact the stallholders are meant to be the ones who craft the items. Therefore you don't only just admire the goods but you can talk to the artisan about how they made them etc.
This market is unique because many of the crafts you don't find elsewhere. Items like architectural cards. Unique animal and car design magnets!
Sometimes it can get a little windy – as it's an open air market by the sea. But it's great to combine a visit to the market with the delights of St Kilda! Stroll along the Esplanade then visit Acland Street, or check out the beach and Pier.
St Kilda Esplanade Market is open every Sunday of the year from 10am – 5pm. The location is at the Esplanade along St Kilda Beach, from near Luna Park to near Fitzroy Street.
---
Preston Market - Rating 7.5/10 – diverse and large
Preston Market at The Centreway in Preston is one of Melbourne's oldest (over 40 years) finest and most colourful markets and offers a great diverse range of produce and goods for all. Preston Market provides a fabulous multicultural experience. You feel you've been all around the world as you visit these markets.
Preston Market has been a favourite since 1970 and many of the current generation remember going there as a youngster. Parking is excellent and if you're there for just a couple of hours you can enjoy free parking.
Over the years Preston Market has changed from humble beginnings and now offers an abundance of specialities from over 130 stores and from several ethnic groups. Occupying several buildings it is now the second largest market in Melbourne.
The meat and fish hall is a great place to start. The meat section is a colourful place with the shouts and sounds of each butcher premises. Here you can get cuts to suit almost any international dish. With several butchers in the area competition is fierce on price and quality. There are also some great specialty butchers that focus on certain types of meat such as the poultry specialists. Check out the pig heads hanging for all to see.
Like other markets the butchers look to sell trays of meat. This can be excellent value – often you can get 3kg of meat say for the price of 2kg. Something to watch out for is if meat is stored by layers – we picked up 3kg of lamb chops but found the underneath layer was inferior with extra fat and bone and less meat. Make sure you get what you can see!

The fruit and vegetable section is excellent with huge variety, quality and again fierce competition. To be able to get bananas for 99c per kg on the day I did was remarkable. I have to say quality is mostly good but it pays to check before purchase.
The European delis are also an attraction with excellent deli meats and breads and cheeses. We were offered some home made extra virgin olive oil at one establishment at a cheap price (after a tasting in the deli).
Come here for clothing, electronics, flowers and general home items, particularly if you're looking for a bargain. Also great for the kids with bargain toys. You will find small businesses where the owners print up T shirts and the like, rather than the large designer brands.
A highlight is a visit to Tip Top to enjoy reduced prices on products such as bread, English muffins, hamburger rolls and crumpets.
Another highlight is to grab a hot donut from the donut wagon after a shopping session. The donut wagon is reasonably central to everything.
Coffee places are reasonable in Preston Markets but there are also some great options nearby such as Pearl Oyster and Jackson Dodds.

Accessibility to Preston Market is great with the Preston Station next door and only a 20 minute train ride from the city.
There are rumours about redevelopment of the Preston Market.
Wednesday - 8.00am to 3.00pm
Thursday - 8.00am to 6.00pm
Friday - 8.00am to 8.00pm
Saturday - 8.00am to 3.00pm
---
Dandenong Market
Vietnamese Food Bar,

Dandenong

Market
A new eatery at

Dandenong

Market, the Vietnamese Food Bar offers a delicious range of Vietnamese pork rolls, rice paper rolls, Pho and a delicious range of Vietnamese dishes, handmade by owner Oahn Nguyen.
Dandee Donuts,

Dandenong

Market
For the sweet tooth, you can't go past the best hot jam donuts in Melbourne! One of

Dandenong

Market's most popular and iconic stalls, Dandee Donuts draws people from all over Melbourne and Australia with a strong and loyal following, being managed by the Bell family for over 40 years.
The secret to Dandee Donuts huge popularity is that they are freshly made, cooked in store and on demand. They are also dairy free, egg free and have no additives (other than in the jam) as well as all ingredients being Australian grown, with the original recipe developed in the 1950s.
---
St Albans Market
Brunswick St Market