Art: Shipping containers to light up Port Melbourne Waterfront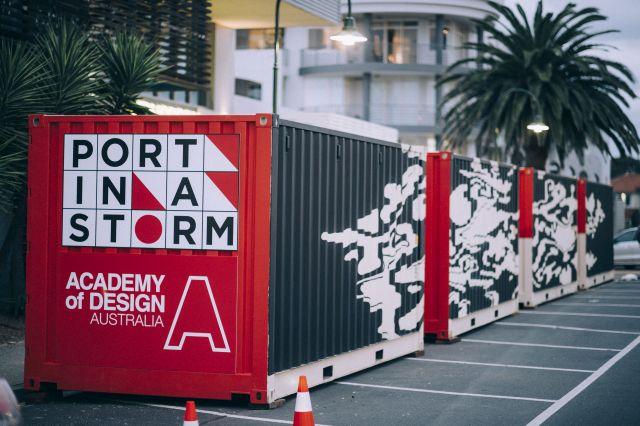 An evolving art space is taking shape at the Port Melbourne waterfront with some unlikely canvases.
Funded by the City of Port Phillip as part of the Vibrant Villages program, ARTcontained features six shipping containers along the Station Pier shopping precinct, which will be transformed into a series of artworks between now and April next year.
Artists and students from Melbourne-based institutions including the Australian Academy of Design, Multicultural Arts Victoria and a third design school yet to be decided will take over the shipping containers for three separate art projects.
Each curator has a fixed time slot to curate, install, exhibit and decommission their artworks over an eight week period.
The first exhibition, Port in a Storm, will shed light on Port Melbourne's history of multiculturalism with the containers lighting up each night.
Mayor Amanda Stevens said ARTcontained is part of Council's ongoing commitment to bring more visitors to the waterfront.
"This changing and dynamic space will encourage people to keep coming back to the area to see the latest works by the exhibiting artists, which will have a flow on effect for local traders," Cr Stevens said.
"Council has worked closely with the exhibitors and local traders to enhance the attractiveness of the area for locals and visitors alike through this exciting project."
The community will get hands on with the project from January to April after pitching their creative ideas and activation opportunities to Council.
ARTcontained is part of Council's ongoing commitment to reinvigorate Port Melbourne's waterfront through community and business partnerships, helping to create an attractive and prosperous place for all.
Last summer, Council launched the Waterfront Welcomers program with Inner South Community Health, which trained local volunteers to greet cruise ship passengers and promote local tourist attractions.
The first exhibition, developed by the Academy of Design Australia, will officially open on August 14.
Led by artist and tutor Michael Peck and Carlo Pagoda, Academy of Design Australia's Port in a Storm project will transform the shipping containers into larger-than-life light-box installations.
"The dynamic project will embrace the changing weather conditions at station pier and celebrate Melbourne's rich cultural heritage and the pier's historical role as a gateway for new immigrants and goods," Mr Peck said.
During the day the outside of the Port in a Storm containers will display a mural made up of cultural patterns and text. At night the container doors will be opened to reveal patterned screens, back-lit by slow moving, pulsing lights.
The second phase of ARTcontained is scheduled to commence on September 21 and the third phase on November 30.