New Outdoor Dining at Fowles Wine
One of the most popular wineries to visit in Victoria, Fowles Wine's new cellar door sits amidst acres of sprawling lawns and gardens, just 90 minutes from Melbourne. Recently, Fowles has set a new benchmark in outdoor dining in regional Victoria.
When its CEO, Matt Fowles, saw the State Government signalling a push to outdoor entertaining, he grabbed his tractor, some hay bales from a mate and his talented 'stylist' brother-in-law, Jay Phillips, and quickly built some outdoor hay bale 'dining rooms'.
"I wanted to create a haven for diners to safely escape and reconnect" Matt Fowles said. "It was important for me to make it easy for people to enjoy nature while indulging in beautiful food and wine."
The new hay bale dining rooms complement Fowles' existing outdoor spaces and are situated beside a 50-metre-long timber Feasting Arbour with blossoming wisteria climbing all over the structure.Each bay of the arbour has a picnic table with white sun umbrellas and a soft green lawn for a post-lunch laydown.
Nearer the restaurant you will find the Terrace area where diners can sit amongst an expansive organic herb garden. While the main job of the herb garden is to feed the kitchen, it also feeds an array of butterflies.
Across the rest of the site is a mostly native garden, designed by Philip Johnson, that is flourishing in the wet Spring. After lunch, visitors can wander through the gardens full of banksias, flowering gums and bottle trees, and dotted with ancient granite boulders from Fowles' Strathbogie Ranges vineyards. If you bring the kids, there's a sheep paddock with hand-reared lambs to feed.
Under the watchful eye of Venue Manager Peter Baker (formerly of the Botanical and Builders Arms), Fowles has introduced an entirely contactless ordering system through beacons at the table. It is easy to use through your mobile phone, but – don't worry – the Fowles team will still give you plenty of warm hospitality as they run food to you, clear and clean your table, and make sure your glass is charged.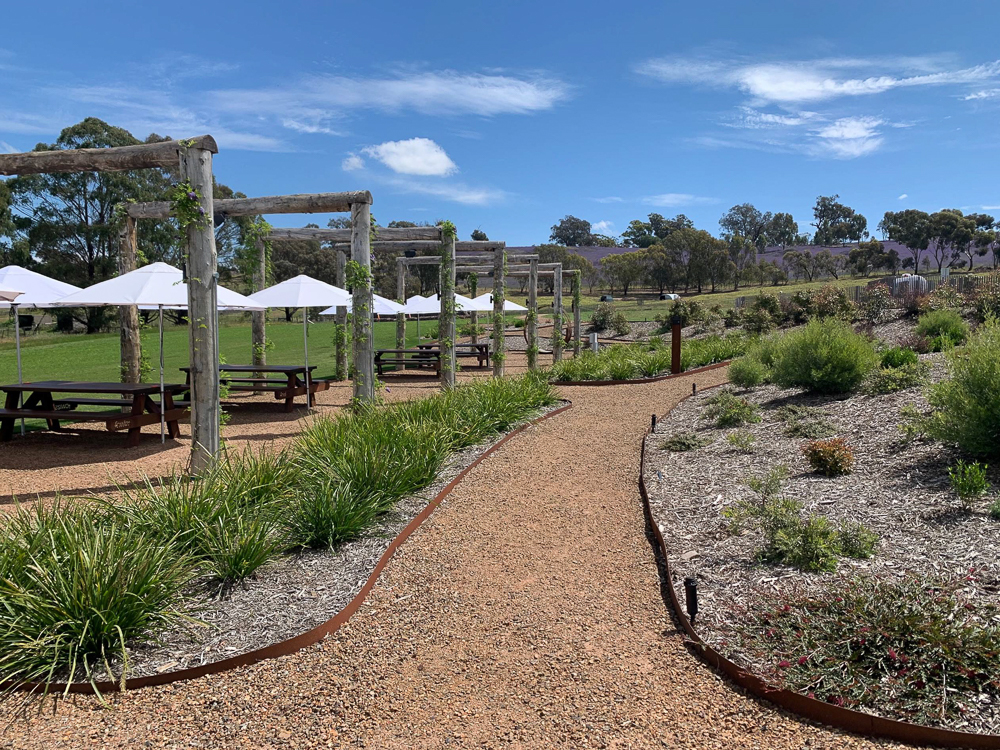 The outdoormenu has been designed for casual, yet finedining, featuring 'Brochettes' from the open-air kitchen. The Brochettes are skewers that combine ingredients in the most adventurous and delicious way. Fowlesproudly sources produce from their own and nearby farms, before skilfully weaving together flavour combinations to pair with Fowles' broad range of wines.
The new menus, both in the restaurant and outside, have been pulled together by a dream team of Josephine Prendergast (formerly of the European Group) and Steve Lichter (Butchers Diner). Fowles has always been about simple regional produce done well and using all parts of the beast and garden. Josephine and Steve have run with this philosophy and are taking it to new heights.
Fowles Wine is located conveniently 90 minutes from Melbourne, just off the Hume Highway at Avenel. It is open every day (except Christmas) from 9am to 5 pm and also open for Friday night dinners.