Ramen and Beer: Perfect Combination at Mr Ramen San
Ramen and beer. Mr Ramen San is the perfect place to go for ramen and beer in the Melbourne CBD. Sometimes you just have that craving for ramen and beer. You need a fix. While wine has its place, we believe ramen is best paired with beer!Also check out our Best Ramen in Melbourne.
Ramen is known as Japanese soul food. The fresh complex tasty Tonkatsu broth has an earthy tone having been cooked in premium pork bones for 10 hours. Rich and cloudy white reveals authenticity. Fat on the surface is customary. Unabashed big bold pork flavours need a beverage that complements not overpowers.
For such tasty and complex broth you need beer that "relates" to food. Mr Ramen San have put much into developing their beer list. One of Japan's great beers Sapporo Draft is on tap. This is a foodie beer with a clean finish.
Not only that but Mr Ramen San staff can recommend to you a rewarding ramen and beer match. Staff here are engaging and passionate about beer and ramen.
Enjoy Sapporo Draft with Charsu Tonkatsu Ramen or Beef Miso; it cuts through the flavours of the rich cloudy broth and richness of the meat for refreshing nuances.
We also enjoy Asahi (in the bottle) with ramen. The World Loves Melbourne finds both Sapporo and Asahi crisp and refreshing! Sapporo is the oldest brewery in Japan and its beer is slightly darker than Asahi and more "hoppy".
Roystan is pictured here with noodles next to beverages in the fridge. Ramen is about Japanese wheat noodles so beer matches perfectly!
Where Mr Ramen San also shines is in its boutique beer selections. Robot Ninja is a superb premium crafted Japanese style beer, actually developed by Aussies captivated by the spirit of the Japanese dining and drinking experience. Robot Ninja website says that it "revels in the underworld" and "celebrates the colourful dark side of Tokyo". Robot Ninja has a delightful rice blend with the hops. Think malt flavours with touch of rice and caramel, along with light citrus and fruity notes. There are wonderful complexities about this beer! Perfect for ramen!
Mr Ramen San also serves up cocktail draft beers such as mango, pineapple, soda grape and plum umeshu. These cocktail beers are popular in Japan and bring an exotic twist, with natural flavours. Why not try this in Melbourne?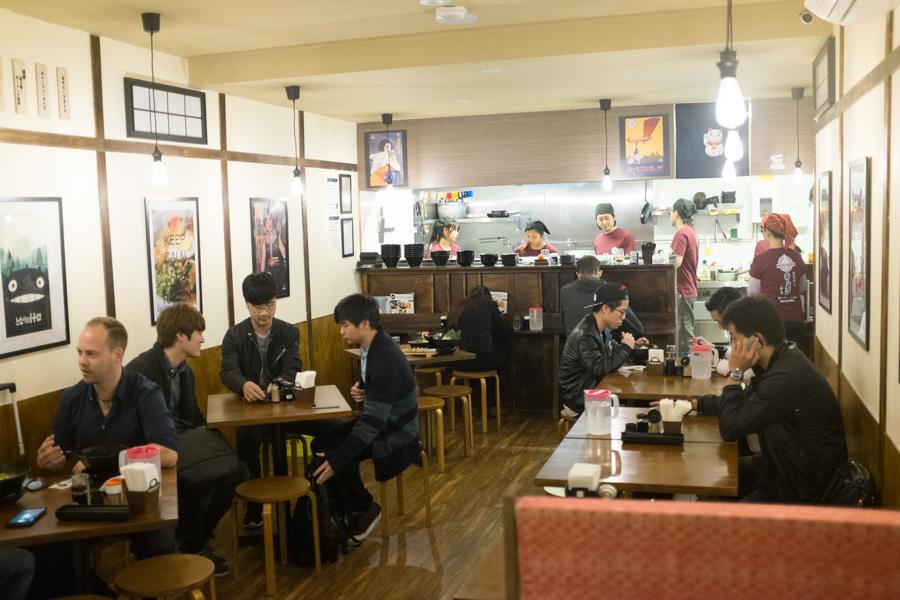 Beers at Mr Ramen San are also superb with sides such as the Gyoza.
The Kiku-Masamune Sake Flight pairs sake with ramen (also a great match), which includes three shots of top Japanese brand Junmai sake for a refreshing clean taste. For only $6 this is a great opportunity to experience sake with ramen!
The Kimoto method of making the Junmai sake is a traditional and painstaking technique for cultivating robust yeast slowly and methodically by tapping the natural biological power of living lactic acid bacteria. Strong yeast cultivated using the Kimoto method continues to actively ferment even as the alcohol content of the sake mash increases toward the end of the fermentation period, creating a refreshingly dry sake with very few impurities. Kiku-Masamune has produced a refined taste of this dry Junmai Sake, which is made possible by the Kimoto method.
Mr Ramen San is the place to go for your beer (and sake) and ramen fix! Get on it!