Mammoth Loves Melbourne
Mammoth remains as one of the best cafes in Melbourne. This cafe in Armadale has taken many by surprise as it's not the usual cafe fare, but comes with the level of finesse and creativity of a top restaurant. Check out our article Best Melbourne Eastern Suburbs Cafes and Eateries.
There's some serious cafe clout behind this venture; Loren and Jamie McBride from Touchwood, Barry and Pillar of Salt fame (cafes we love and adore). As great as those cafes are, Mammoth is discernably different with bold flair. Is this the brave new world of cafes?
For those who may be bored with the same old same old food options of many Melbourne cafes, Mammoth brings a point of difference. When we scan cafe menus it's often a case of wanting 2 or 3 picks out of the menu then deciding. Call us snobs but that's the way it is. In this case it was about what not to order. Interesting and compelling menu options.
Mind you there are many dishes we are yet to taste. Stumbing along on a quiet week day in the school holidays we were met by a packed out cafe. Lucky to get a table, dining solo on occasion has it's advantages. We love the light and airy feel to the place, designed by Techne Architecture. Blues and browns, great use of timber and a spacious minimalist look, borders on Scandinavian. The triangular shape of the cafe is unusual but there's several compelling spaces for your dining pleasure.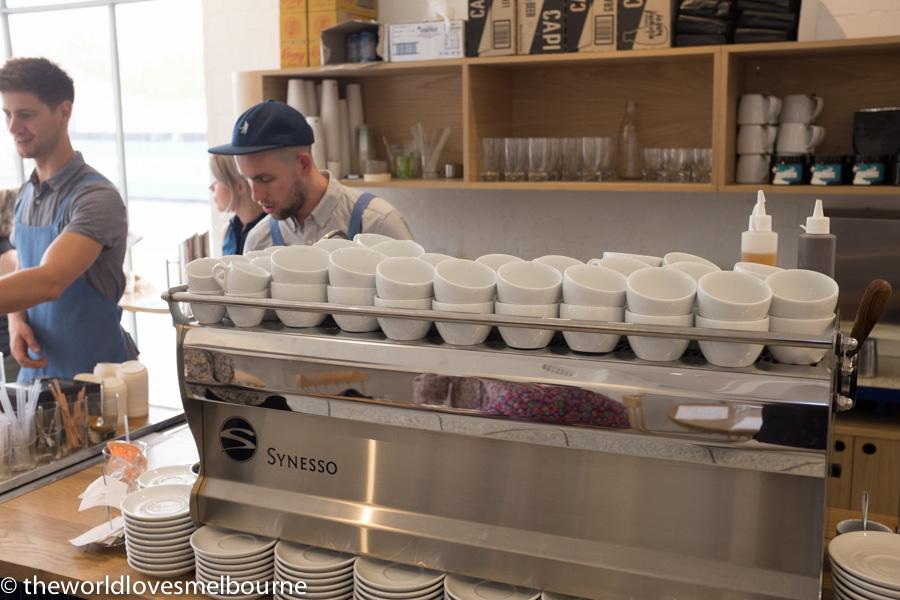 Coffee is a big deal at any cafe and Mammoth delivers. We enjoyed a sumptuous filter coffee that hit the spot, although we were drooling over the shiny Synesso.
As for the menu options we chose The Benedict - duck sausage, orange and corn blini, pickled onion, fried egg, smoked maple hollandaise. Simply sensational, the duck sausage was the hero and a surprisingly generous portion to boot. Duck and orange are a killer combination and the orange and corn blini was a perfect taste, as well as texture match. The impression was instant; how good is this dish!
It's art on a plate, although no sense of pretension. It's an Instagrammers dream, but with foodie substance behind it.
Other options that we'd like to try include Cherry lamington puffed pancake; or the Lobster donut burger; or the Szechuan spiced spare ribs. The waitress also raved to us about the salads; the Black Russian salad and the Smoked chicken salad. Next time.
Or indeed hit up the Golden Gaytime panna cotta for dessert. And did someone say Egg and bacon popcorn?
Staff were professional and passionate about this cafe when we engaged in conversation. Mammoth was a standout cafe experience; pushing boundaries is what we love to see.