Best Melbourne Eastern Suburbs Cafes & Eateries 2022
The World Loves Melbourne has visited a ton of Melbourne Eastern Suburbs cafes and we have selected our best Eastern suburbs cafes. The East has seriously great cafes that are some of the best in Melbourne, worth a trip across town.
In no particular order the Best Eastern Suburbs Cafes in Melbourne are -
Shanklin - Hawthorn
Shanklin is a bright vibrant cafe in Hawthorn in a surprising location away from the main strip in attractive suburbia. Detail and imagination go into the cafe dishes from an impressive menu. Sit outside or inside, it's popular with Hawthorn locals.
If you're a fan of fritters then Shanklin will not disappoint.
What we love is the ability to add extras to dishes, rustic dishes of substance, the little touches, excellent service and loads of natural light.
---
Jade Fox - Doncaster East
Jade Fox is a top notch cafe by day and modern Thai restaurant by night (on the edge of Jackson's Court), the way of the future. Each cafe inspired dish is well thought out in terms of taste, texture and high class presentation.
They are somewhat of a new kid to the block in terms of established cafes, but have qualickly made their mark. Already they have excited locals with a number of signature dishes including Red Ocean Sunset with Red curry, snapper, prawn, pipi, squid, basil, pineapple, tomato, green bean, capsicum, potato and garlic bread crisps.
Coffee at Jade Fox is top notch.
Red Ocean Sunset.
Or try brunch dishes such as House of Jade Fox with poached eggs, prosciutto, chorizo, tomato, onion, mushroom, pickled pepper, sauteed kale and mixed nuts served on sourdough. Or the Beetroot Cured Salmon, the Happy Avocado and the famous Hash 'N' Ham Steak. For the health conscious they have a wide range of dishes such as Acai Bowl, and Mango Bircher Muesli.
Jade Fox is building up quite a reputation in the area, it's spacious and modern, and service is friendly and engaging. As you can see by the dish descriptions there are many elements to each dish; a great example of modern cafe dining.
---
Rustica - Hawthorn
Rustica has a history over the years starting out with the first location in Fitzroy, which we visited in the early days. Cream rises to the top in the bakery world (pardon the pun) and Rustica now shines at several locations.
We get excited about a bakery driven cafe because it comes with a strong foundation. The menu here is rewarding and innovative and the vibe is sensational.
Rustica gives the locals what they want in style and the advent of plants and high ceilings, with large windows adds to the attractiveness.
---
Riddik - Templestowe
Riddik captured the imagination of the eastern suburbs as soon as it opened. The main talk of the town was that you didn't need to travel to the city for a city-like cafe experience. Riddik goes the extra mile in terms of its all encompassing menu - you would be hard pressed not to find anything you'd fancy on this menu. An old bank has been extensively renovated to make a modern cafe that resonates with cafe lovers.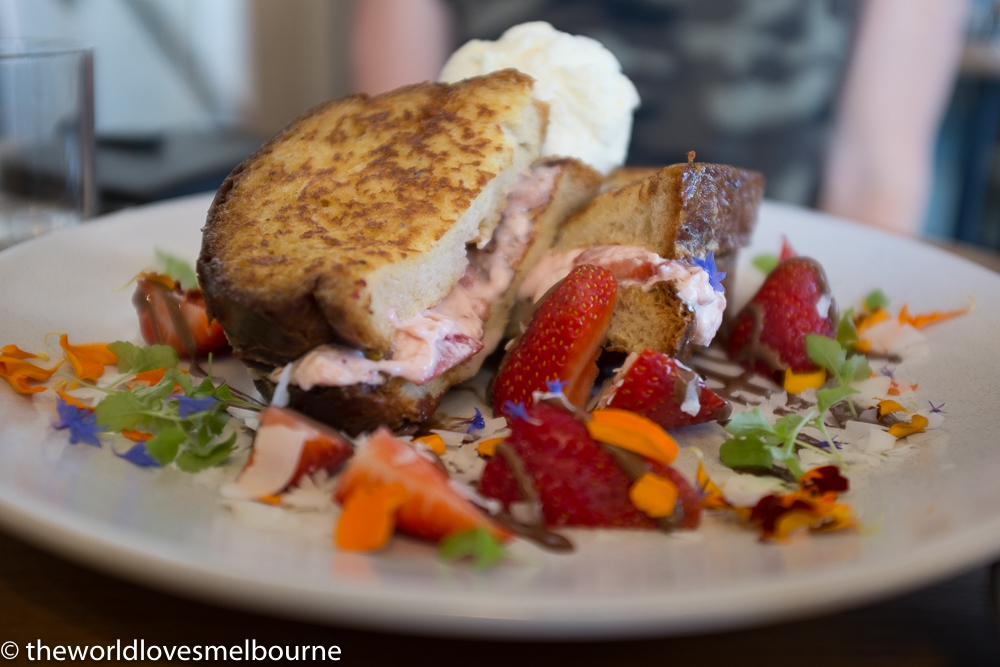 French Toast was never this good.
Spacious with high ceilings and stunning mural it's a social hub. Also open in the evenings.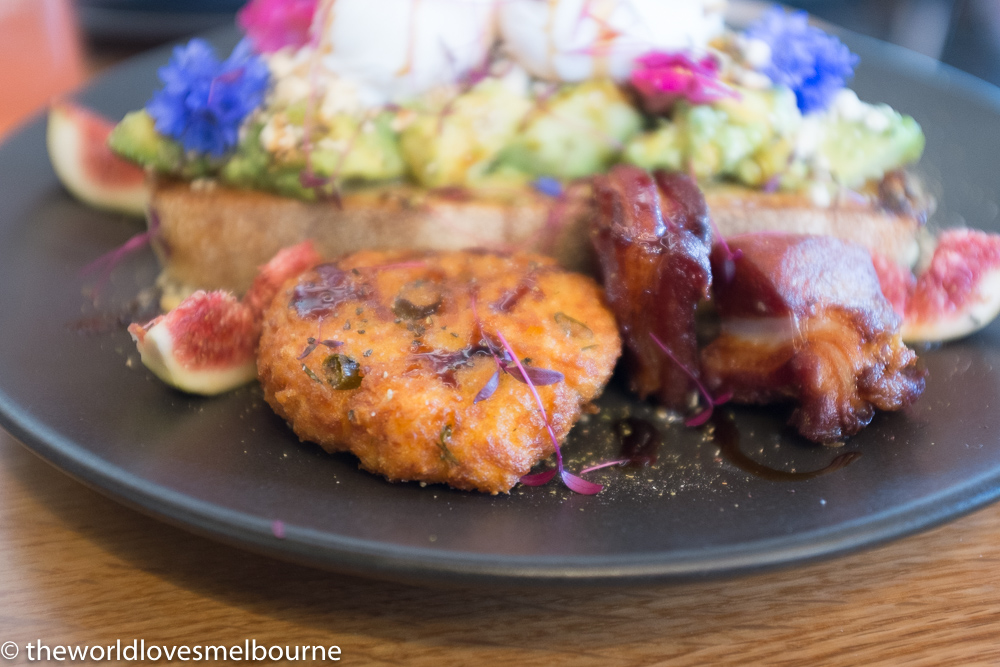 ---
Down the Rabbit Hole - Templestowe
Down the Rabbit Hole is another cafe that captures the attention in the eastern suburbs and is a class act. Just ask the locals about their favourite cafes and this cafe is usually around the top of the list.
I've eaten several of their dishes but some of the more simple dishes are extremely rewarding like this breakfast burger.
Fit out is modern and you can dine inside and out.
Coffee here is also exceptional.
---
Mammoth - Armadale
There's some serious cafe clout behind this venture; Loren and Jamie McBride from Touchwood, Barry and Pillar of Salt fame (cafes we love and adore). As great as those cafes are, Mammoth is discernably different with bold flair. Is this the brave new world of cafes?
For those who may be bored with the same old same old food options of many Melbourne cafes, Mammoth brings a point of difference. When we scan cafe menus it's often a case of wanting 2 or 3 picks out of the menu then deciding. Call us snobs but that's the way it is. In this case it was about what not to order. Interesting and compelling menu options.
Mind you there are many dishes we are yet to taste. Stumbing along on a quiet week day in the school holidays we were met by a packed out cafe. Lucky to get a table, dining solo on occasion has it's advantages. We love the light and airy feel to the place, designed by Techne Architecture. Blues and browns, great use of timber and a spacious minimalist look, borders on Scandinavian. The triangular shape of the cafe is unusual but there's several compelling spaces for your dining pleasure.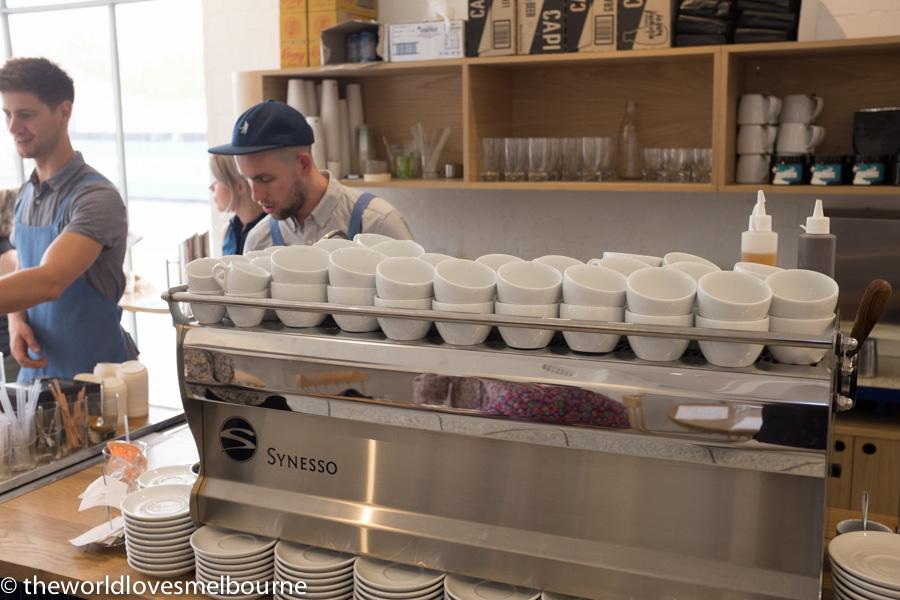 Coffee is a big deal at any cafe and Mammoth delivers. We enjoyed a sumptuous filter coffee that hit the spot, although we were drooling over the shiny Synesso.
As for the menu options we chose The Benedict - duck sausage, orange and corn blini, pickled onion, fried egg, smoked maple hollandaise. Simply sensational, the duck sausage was the hero and a surprisingly generous portion to boot. Duck and orange are a killer combination and the orange and corn blini was a perfect taste, as well as texture match. The impression was instant; how good is this dish!
It's art on a plate, although no sense of pretension. It's an Instagrammers dream, but with foodie substance behind it.
Other options that we'd like to try include Cherry lamington puffed pancake; or the Lobster donut burger; or the Szechuan spiced spare ribs. The waitress also raved to us about the salads; the Black Russian salad and the Smoked chicken salad. Next time.
Or indeed hit up the Golden Gaytime panna cotta for dessert. And did someone say Egg and bacon popcorn? Staff were professional and passionate about this cafe when we engaged in conversation. Mammoth was a standout cafe experience; pushing boundaries is what we love to see.
---
The Mabel - Mitcham
How good is The Mabel! Tucked away in a quiet part of Mitcham it is a revelation and salvation for locals. We know if a place is a foodie haven from our first visit. The Mabel is a sensation because it delivers on its innovative cafe menu. But there's more. Towards the weekends the daily specials board is packed with so many specials it almost becomes a second menu. Staff are quirky and fun and we indulge in banter.
Poached eggs with grilled salmon, shaved radish and wasabi hollandaise, on sour dough toast with a side of Potato Rosti was a mild sensation of a brunch dish. Poached eggs and salmon is always a winner combination but poached eggs and grilled salmon is not as common, but equally delightful. A generous portion of the grilled salmon was more than welcome.
This is not a formulaic cafe but a labour of passion. It's predictable in terms of quality and flair but is always evolving. The last time we visited they gave us a spur of the moment amuse bouche dish just for fun!
Choose from dishes such as Smashed avocado on potato rosti with roast pepper and legume salsa; or the Pulled pork baked potato with roast pepper bean and corn salsa, sour cream and chives; or the French Toast with poached fruit and coulis ice cream. Healthy options include Nicola Granola or the Chickpea and green tea pattie on an English muffin with kale and avocado. A Beef Burger (above) no doubt will do well, as will the Tasting Plate with Ham hock and chicken terrine with pickles, onion jam and sour dough. Get on it!
---
Coffeehead, Camberwell
Coffeehead is a groovy and serious coffee destination in Camberwell that soars high above the pack. Coffee devotees are impressed with the wide range of Melbourne's and Australia's top coffee brands and blends available for consumption. Check out the row of great coffee brands for sale along the wall or go online and order.
Image: Coffeehead Instagram
Coffeehead always has several coffee choices on hand and brand rotations. I didn't ask for any in particular trusting that anything they poured me would be great. My coffee was smooth and strong through the midfield. Coffeehead offers nearly every conceivable technique of coffee making.
One of Camberwell's finest, come here for amazing coffee, excellent food (I love the Spag Bol) and an appealing ambience with plenty of space. Coffeehead combines retro with a modern fit out. There's interesting quirky and retro pieces including neon concert posters, cool lamps, retro chairs and modern stools, recycled metal tables, communal tables that are grungy being ex-factory benches, retro yellow tiles along the counter, and floor which is partly tiled and partly carpet.
---
Liar, Liar - Hawthorn
One of the best cafes in the Eastern Suburbs and indeed in Melbourne, this place hums just off Glenferrie Road. Liar Liar has a great reputation as a modern chic meeting place and forall things coffee.
Image: Liar Liar Instagram
You know you're in a serious coffee establishment when you have a 15 minute coffee conversation with the manager and barista while he's making coffees.We had a big discussion over Honduras single origin versus Brazilian. He wondered whether I'd noticed the berry characteristics in the Honduras blend. In fact I couldn't recall. I also tried the Brazilian and found it to be quite a strong flavour yet smooth. Weighing up the merits of various single origins is a huge decision. Eventually I opted for the Honduras. The barista pointed out to me that Honduras had climbed from number 3 to number one in the world rankings in general. I said that means I must be discerning and have good taste. So I got me some Honduras beans from Liar Liar.
Come here for a great meeting place with dominant theme of red. If you like Ferrari you'll love Liar Liar. Modern décor abounds and there's daily specials on the boards. Come here for decent food such as a salmon fillet or settle for a friand.The place is full of bustling conversation. Locals love it here.
---
Axil Coffee Roasters - Hawthorn
Axil Coffee Roasters is a classy yet slightly grungy coffee specialist in Hawthorn that can claim coffee royalty. It's been an iconic bastion on the coffee scene for several years and can claim consistency in coffee passion and quality.
Image: Axil Coffee Roaster Instagram.
Axil Coffee Roasters knows what it's doing in all respects. The staff greet you as you enter and look to find you a seat, which can be tricky on a packed Saturday morning. Each of the staff is knowledgeable in all things coffee. As we know there's a difference between a mere cafe and a coffee specialist. These guys roast their own high quality coffee beans. Nuff said.
Even though the house blend is a corker the waitress promoted the Single Origin of the day to me over the house blend. The Guatamalan espresso was bursting with flavour. So intense on the palate. Meals here are also top notch including amazing brunches of the parfait, Bircher muesli, steak dandwich and scrambled eggs.
---
Coin Laundry - Armadale
Coin Laundry is one of the best cafes in the eastern suburbs. I enjoyed a lazy session here with my friend Mark the CEO who works in Armadale and tells me the coffee here is consistently excellent.
Image: Coin Laundry Instagram.
I still remember coin laundry's from my childhood as dingy, dark, grotty places full of weird smells. Hence the transformation of this coin laundry is some kind of miracle. I remember in the coin laundries of the 70s you had to watch your clothes really carefully lest someone steal your favourite pair of Levis. I also remember the coin slots, grimy as... Yes, you'd have to say someone had a lot of foresight to convert this great facility into a humming uber cool café.
I traversed Melbourne to get to this gem! So good to catch the train from Richmond to Armadale and find the Coin Laundry right across the road.The Coin Laundry is nestled in suburban bliss in a great leafy neighbourhood. I'm told it's always packed and for our visit (pre 8am) there was no exception. I was thrilled to score a table by a large window with the sun streaming in. Love the sense of space here. And when the sun gets too much they lower the blinds. Come here for impressive brunch selections such as corn fritters and salmon with eggs.
---
One Plus Piece Cafe - Balwyn
One Plus Piece Cafe in Balwyn brings a sense of fun and playfulness with its Japanese anime theme but it serves brilliant food and fine coffee, all with an Asian twist.
One Plus Piece Cafe is located in a premium pocket of Whitehorse Road in Balwyn, with banks, eateries and high end shops surrounding. The decor at One Plus Piece Cafe is lively with an assortment of figurines displayed on the wall, animation characters painted on one wall, posters, plants, books and other quirky objects, as Melbourne loves all things quirk. Playful and fun!
Energetic young owner Yvette has created an artistic space with a plethora of small plants a welcome complement. The menu developed by passionate Head Chef Cain caters for a variety of tastes; the cafe serves up compelling burgers, moorish dumplings, imaginative breakfasts, and a series of healthier style dishes.
The coffee here is also on song, and unique offerings include Matcha green organic tea as an espresso. More antioxidant!
One Plus Piece Cafe is super popular for its burgers; we enjoyed the Angas beef and cheese burger in a brioche bun with beetroot relish, tomato, lettuce, bacon, mustard and aoli. The balance of the burger was excellent and for us the burger was full of flavour. The richness of the Angas beef was evident in a seasoned patty. The burger was mouth watering with right amount of sauces, and some kick. Fresh lettuce was crispy, as was the bacon. The brioche brought a hint of sweetness and the gherkin on top was a nice touch. Presentation was superb on a board with pirate flag and golden chips.
The Nutella milkshake was indulgent with large marshmallow on top.
One Plus Piece also impressed with its Portobello Mushroom burger. Once again this was presented inside a brioche bun and the large portobello mushroom was lightly crumbed. We found this to be extremely satisfying with a creamy nuance; some places have the large mushroom acting as the bun but we love the portobello mushroom inside the brioche!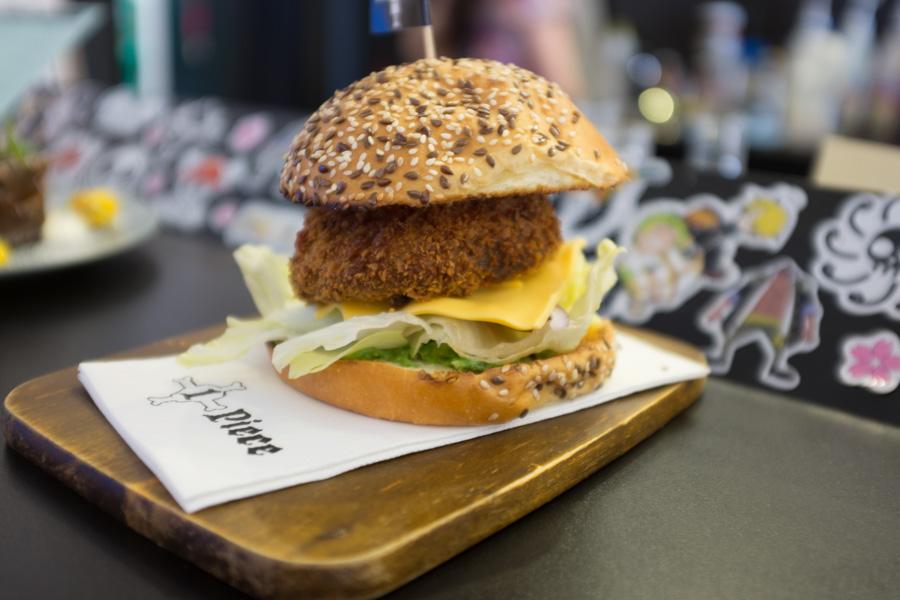 These burgers are One Plus Piece Cafe are not greasy affairs; but clean and flavoursome and well presented.
One Plus Piece is spacious with a welcome feel, including a hidden gem courtyard out the back (just walk along the path to the back of the cafe).
Breakfast options are compelling including the Eggs Benedict with the twist of slow cooked 12 hour braised pulled beef and poached eggs with house made hollandaise sauce for a hearty start to the day. One of the best eggs benedict dishes in Melbourne.
One Plus Piece embraces Melbourne quirk but delivers on its cafe choices..
---
Mocha Jo's - Glen Waverley
After driving around for 20 minutes trying to get a park on a weeknight I was struck again by how popular this precinct is. When the evenings are warm everyone gathers here and it's a cool ambience. Mocha Jo's is one of the iconic places to visit and a great cafe to meet with your friends. I've been here about half a dozen times and it's always packed with loads of atmosphere.
Image: Mocha Jo's Instagram.
Mocha Jo's has a modern fit out with quality furniture, modern lighting and intimate timber tables and kinda retro brown themes. Service is sharp and the young hip waiters and waitresses are engaging. Come here for banana bread, NY bagels and MJ's The Works breakfast - oh and the Wagyu Beef Burger for lunch.
---
Porgie & Mr Jones - Hawthorn
From the same stable as Friends of Mine, Snow Pony and others, Porgie & Mr Jones is a welcoming haven for foodies. A wait of 5 minutes was acceptable for a late Saturday morning. What I enjoyed was they called me by name when our table was ready.Come here for excellent coffee, interesting ambience and spaces, great service and top notch food.
Image: Porgie + Mr Jones Instagram
The fit out is attractive with large dining areas, distressed dark timber tables, palms against exposed brick, old bookcase and retro lighting. And the retro ceiling fans are very cool. I enjoyed the nice little touches like cactus on the tables and the eclectic artwork on the walls. Outdoors there is a funky courtyard area.
We visited during the brunch v lunch twilight zone. It was tempting to order the Parma or Steak Sandwich but we went for standard brunch options.
The menu features great brunch options from porridge to the classic Smashed avocado with poached egg, which I can vouch for. Sides are available and I ordered some chorizo to accompany my Smashed avo. The creaminess of the smashed avocado and fetta, along with runny egg and quality mushrooms, and a hit of spicy chorizo, is amazing. The best Smashed avocado I've had! Surely one of the best cafes in the eastern suburbs.
---
Ora Cafe - Kew
Ora Cafe is a popular funky cafe in Kew that brings the love, and is several of my friends favourite cafe in Melbourne. For those of us in the Eastern suburbs it's just a hop skip and jump off the Eastern. Ora exudes funk and charm being in a wonderful pocket of Kew and is a winner with the locals. It has a homely and welcoming feel altogether enhanced by the more than friendly staff.
Image: Ora Specialty Coffee.
The building has its own charm and the large windows bring in welcome natural light. The ambience is accentuated by the quirky artwork, naked bulbs, the thatched roofing material above, a mother of a communal table, and the retro tiles.
Coffee is a big deal at Ora Cafe. You know this after you find yourself engaged in a 5 min conversation with a waiter as you order your cofee. I was leaning towards espresso but then I leaned back to the filter. I was also intrigued by the Cold Drip Rwanda "Buf".
Then the waiter hit me with "Try our magic brew." Too enticing so I went with the magic. Slightly smaller coffee with much less milk and intense flavours. Glad I did. The coffee I would describe as nutty with some chocolate and rasberry characteristics. And it was their house blend. Magic. A Strada coffee machine was doing the business. Come here also for tasty food treats such as Prawn Toast, fritters and bakery treats.
---
8 days - Armadale
8 Days Cafe is pleasing many a coffee lover and brunch devotee in classy Armadale. Surrounded by galleries and antique shops on the High Street 8 Days Cafe is a shining light in a precinct crying out for a serious cafe and coffee haven.
8 Days Cafe delivers on ambience with a modern fit out and plenty of space. They make good use of their tables on the pavement although I had to be careful not to lean back into the flower garden...
In a precinct where the coffee can be "hit and miss", 8 Days Cafe shines through with excellent coffee - their website says the name 8 days comes from the peak time of beans after roasting... Specialty coffee abounds. For me I feel like writing poetry or even blogging, when it gets that good. Great crema and lovely complexity. The locals have checked out the coffee and find the consistency to be good.
Happy from the first of my coffees here, it was time to order from the extensive breakfast menu. Check out the Blueberry and ricotta hotcakes or the 8 days benedict. Or even the Smashed avocado and Persian fetta on 6 grain with smoked bacon and poached eggs. But for me it was about the toasted Glicks bagel with smoked salmon, spinach, avocado, poached eggs and the most unbelievable hollandaise with lime... This was an awesome breakfast with bagel slightly crispy toasted and generous portion of salmon and avocado with well poached eggs. But it was that hollandaise that got me with the punch of lime. As the Beatles song goes, 8 days a week I love you!
---
Snow Pony - Balwyn
Snow Pony is a standout cafe of class and style that is one of the best in the East. Says the website, "Snow Pony is an eclectic space made up of white washed walls, terrazzo floors, beautiful old leather banquettes, industrial communal tables and lights, and an impressive photo as the main feature of the café. Or meander through to the back room, where French tables mingle with white linen and onto the outside decking lined with wisteria and old industrial church pews." I particularly loved the rustic appeal and intimacy of the back room and courtyard. Snow Pony has an elegance and sense of occasion.
Image: Snow Pony Instagram.
The World Loves Melbourne is impressed with the devotion to fresh quality produce and a broad ranging menu that pleases most. We enjoy their famous gourmet alternative to the McMuffin – which is the McPony – English muffin stuffed w/ ham off the bone, emmental cheese + creamy dreamy scrambles… A classic. Other breakfast options hit the mark including the 'Bang Bang' eggs - poached on toasted grain bread w/ fresh spinach, roasted pepper salad, hazelnut dukkah is almost a health option. The Giddy Up, poached eggs, bacon, slow roasted tomato, avocado + thyme buttered mushies, is a great option for the big breakfast.
---
Collective Espresso - Camberwell
A "collective" is a trendy term these days and the name reflects the group of friends who opened this cafe in the heart of Camberwell. I've felt part of the "collective" myself the few times I've visited, with vibrant music, hipster staff who engage, and superb food and coffee.
Images above: Collective Espresso Instagram.
Collective Espresso is just across from the Camberwell railway station - so I took the opportunity to dive off the train one morning, engage with Collective Espresso, then dive back on. These tables outside are a desirable place to enjoy your morning coffee and are often full by 8am. It's amazing how many school students frequent the cafes of Camberwell - obviously they've done their homework the night before...
The breakfasts are a cut above most other cafes with a plethora of interesting choices delivered with flair. I enjoyed the Ham Hock breakfast sensation. Not politically correct but hit the spot. The pork was wonderful and poached eggs superb. The rosti and fresh peas gave the extra zing.
You can choose off the menu from great selections such as Avocado feta mash with eggs, Ricotta and blueberry dumplings, Sake, orange and miso cured salmon with herb abd zucchini pancake and eggs, or go the architect route and build your own from the free range egg base. Another popular choice is the "Collective Sigh of Relief" big gourmet breakfast.
The fit out is awesome with a long communal table that takes communal tables to another level. I noticed a corporate gathering metting for breakfast around this table. I couldn't quite glean their company secrets. (Unlike the other day where I overheard some high profile property dealings in another cafe). Imagine having high security in your office, internet security, confidentiality agreements etc - only to be overheard by a blogger in the local cafe... In fact due to my corporate background I am tempted to weigh in and give advice - but better stick to the food blog...
---
The Maling Room - Canterbury
The Maling Room is a serious coffee establishment housed in a heritage old post office in the leafy Eastern suburbs. I love that they roast their own coffee and are arguably Melbourne's best roasters (at least The Age thought so). Coffee is a culture here. While enjoying breakfast at Maling Room I got some coffee counselling and advice from a barista... She was prepared to offer me great advice on my single origin purchase. This is a great place to buy your coffee.
Image: Maling Room Instagram.
The Maling Room is one of the coffee culture influencers in Melbourne. People train here and get experience here at the highest level. Other cafes source from here.
The World Loves Melbourne is impressed with their two Synesso power. Great baristas and two Synessos spells awesome coffee! Great crema! Great aroma! Great after taste. I've also enjoyed breakfast at Maling Room with 63 Degree Eggs and the Chorizo Breakfast.