Merricks Creek Winery and Foods to Pair with Pinot Noir
Merricks Creek Winery is one of our favourite wineries in Victoria and the Pinot Noir it produces is one of the best around. In this article we look at recommended pairings of delicious Merricks Creek Pinot Noir with food.
Pinot Noir is a versatile wine, perfect for pairing with food. Some wines are overwhelming and "heavy" and create too much attention for themselves; difficult to pair with food. But top notch Pinot Noir complements the food and vice versa. Merricks Creek Pinot Noir is a premium wine and all class with excellent length on the palate and nuances from the closely planted vines. Of course the quality produce-driven share plates at Merricks Creek pair perfectly with Merricks Creek Pinot Noir; for example Award winning pork and pistachio terrine with lightly marinated red onion; Free range chicken liver pate with a carrot and daikon pickle; Rare eye fillet, caper vinaigrette and grilled ciabatta; or the lightly seared Atlantic salmon with a soy ginger sauce, and more.
We've taken home some Merricks Creek Pinot Noir and below we reveal some favourite foods to pair with Merricks Creek Pinot Noir. Grab some Merricks Creek Pinot Noir on your next visit and try these pairings at your next dinner party or occasion.
From the big bold smash your face Cabernets and Shiraz wines of the 80s and 90s there's a new appreciation for food friendly medium bodied wines for which Pinot Noir is a great example. Deep cherry and plum nuances with a touch of sweetness and spice, Merricks Creek Pinot Noir is alluring.
Merricks Creek Pinot Noir and Whole Snapper. Throw a whole snapper on the Weber with onions, capsicum, even chillies, and serve up with Pinot Noir. Many fish dishes have an acidic component and it's often felt white wines are the perfect pairing for fish. A well known cliche is "white wine with fish and red wine with meat". But this is a fallacy. It's true that the high acidity in white wines makes them a great match for fish, but Pinot Noir is also outstanding as a match with seafood. As a medium bodied lower tannin wine, Pinot is excellent with fish, including this Whole Snapper.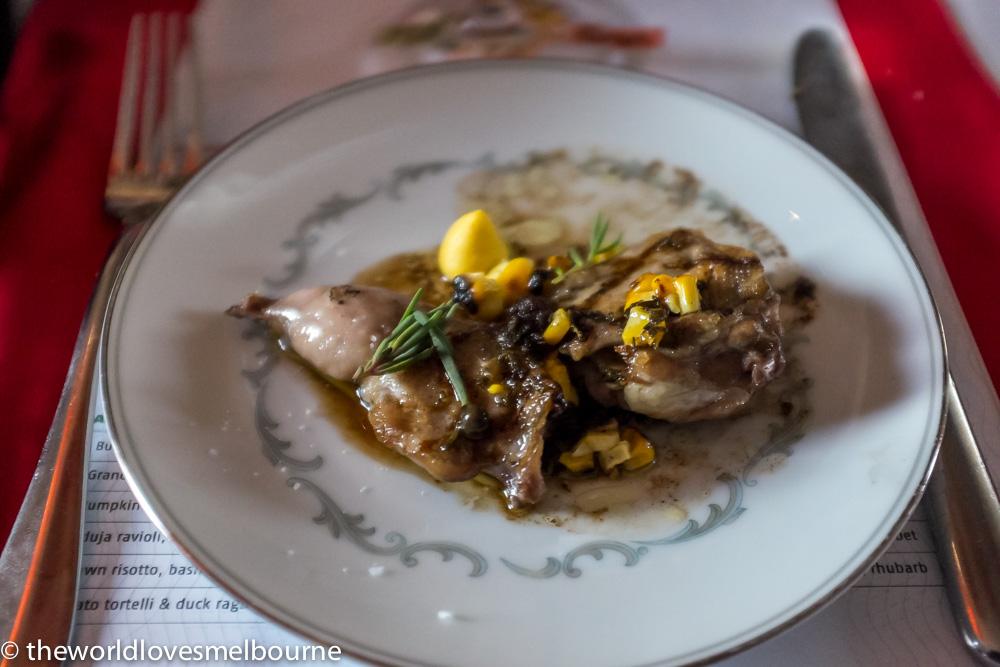 Merricks Creek Pinot Noir and Quail. Rich tasting quail is a traditional match with Pinot Noir. Dark cherry characteristics of Merricks Creek Pinot Noir match perfectly with game meats. Grab some quail from the butcher and cook over the BBQ. Of course the quail needs to be opened out and flattened. Marinade the quail and they only need a few minutes or so to cook. Serve with corn and charred leeks.
A success story of the Mornington Peninsula for the last 18 years, Merricks Creek Winery has recently launches a stylish new Cellar Door and serves up superb Mediterranean influenced shared dishes to go with its stunning Pinot Noir and Chardonnay.
Pinot Noir is known to be a difficult grape to cultivate in the world of wine, but Victoria's Mornington Peninsula is perfectly conducive to making great Pinot. The Pinot Noir in Mornington Peninsula is world class. The skins on the Pinot Noir are lighter in colour than say a Cabernet, and also the skins are thin, making it tougher to work with. Peter Parker has had great success with some of Australia's finest Pinot Noir offerings.
Another small share plate on the Merricks Creek menu is the Roasted tomatoes, Main Ridge Dairy goat curd and grilled ciabatta.
Merricks Creek Pinot Noir and Smoky Beef Short Rib. Pairing huge reds with one of the more fattier cuts of meat is not the greatest match. The medium bodied spicy Merricks Creek Pinot Noir is a perfect match. We recommend slow cooking the short rib with a light smoking, then serving with creamed corn, onions and spinach.
Relax by the fireplaces in winter (or on cold days).
Merricks Creek Pinot Noir and Lamb. Sometimes contrasts are perfect rather than the food trying to mimmick the wine. A touch of spice nuance with Merricks Creek Pinot Noir works well with the lamb.
Pates and terrines always pair wonderfully with Pinot Noir. Classic French dishes. Here is the Smoked salmon and cream cheese terrine with lemon and a horseradish cream. A match made in heaven.
Close planting of the vines at Merricks Creek with French viticultural techniques adds to the intensity and nuances of the Merricks Creek Pinot Noir.
Merricks Creek Pinot Noir and Duck. One of the most famous of wine pairings is Pinot Noir and duck; with the bright acidity and complexity of Pinot Noir matching the delicate flavours of duck. Pinot Noir is one of the few varietals that pairs perfectly with duck.
Merricks Creek Pinot Noir and Charcuterie. The Pinot Noir cuts through the rich meats and cheeses and olives. Another dish on the menu at Merricks Creek Winery is the (above) Salumi Finocchiona - garlic and fennel infused salami with manzanillo olives and pear. Perfect with Merricks Creek Pinot Noir.
Relax with friends on the raised deck at Merricks Creek Cellar Door.
Merricks Creek Pinot Noir and Australian Pork. Perfect with Pinot Noir are fattier style meats such as Pork Belly and Pork Cheek. Another perfect match in terms of acidity and medium body, Merricks Creek Pinot Noir is perfect with both lean and fatty pork cuts. Get down to Merriks Creek Winery in Mornington Peninsula (only an hour from Melbourne) and enjoy Pinot Noir and share plates at the modern cellar door, then grab some bottles of wine to take home and pair with the types of foods above. Highly recommended.