Rockwell and Sons - Smashing the Burger
Rockwell and Sons provides American style soul (comfort, dude) food in Smith St and has one of the most acclaimed burgers in town with the Double patty smash burger. Another contender for best burger in Melbourne but not the mainstay of their imaginative menu.
Rockwell and Sons has a modern fit out with chic timber framing, funky lighting and exposed brick walls. Rockwell also pours a mean latte...
Rockwell and Sons offers "dude" food gems such as Southern Fried chicken sandwich, Rib sandwich, cheese dumplings, Lamb dog, Calamari roll with pickles, or even a delectable Lamb shoulder... But the star of the show is the Rockwell Double patty smash burger of rock star fame...
The Double patty smash burger consists of a sexy brioche bun from Brasserie Bread (important to have great bun), excellent juicy patty action, cheddar cheese drooled all over the meat, crunch gherkins and a killer sauce. For mine it's the sauce that makes it... This sauce reputedly includes 3 different kinds of mayo. So good. The burger is a triumph of juicy melted and crunchy bliss! and the price point is kind to the wallet.
The burgers are better at Rockwell and Sons...
Rockwell also boats amazing home made french fries with aoli... Critical to get this right when you've got a rock star burger.
Rockwell and Sons is the perfect place to dine with friends or even pull up at the bar on a stool as I did. Service was engaging and friendly. Even the barista chatted to me over the bar while pouring coffees...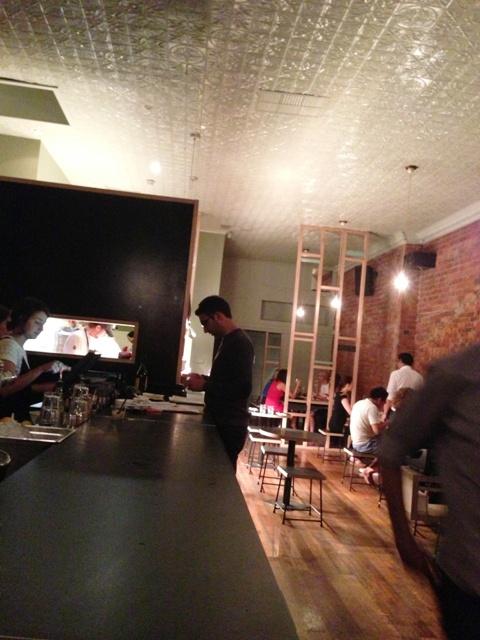 Rockwell is long and elongated... Cool tunes playing. This is a great vibe without pretense.
The logo is a classic...
Rockwell and Sons is highly recommended for unpretentious dude food with great vibe and at a reasonable price in a cool part of Smith St.