Best Gourmet Burgers in Melbourne
The best burgers in Melbourne? This is a hot topic since a recent burger renaissance. The humble burger has risen in status to be a gourmet item of choice on menus across Melbourne. Culinary giants are making their own burger versions for customers...
There's a trend away from old school burgers to fancy burgers that incorporate more gourmet and quality ingredients. The trend is away from the huge burger to something almost stylish and smaller - yet packs a punch.
Do you prefer nouveau burgers or the traditional burger?
Here are 12 worthy contenders for Best Burger in Melbourne (more to follow later) - Huxtaburger on Smith St, newcomer Tree of Us in North Richmond, Rockpool Bar and Grill in the Crown Casino, Rockwell and Sons in Smith Street, Lord of the Fries on Brunswick Street and 6 other locations, Strange Wolf in Strachan Lane CBD, Drugstore in South Yarra, Jus Burgers from Chapel St South Yarra, Danny's Burgers on St Georges Road, Burger Lounge in Eltham, Joe's Bar and Dining Hall in St Kilda and Andrews Hamburgers in Albert Park.
Huxtaburger - Smith Street Collingwood
Huxtaburger is a contender for Melbourne's best burger. Just across the road from the epic Huxtable restaurant on Smith Street (and now in Fulham Place off Flinders Lane) is this popular burger joint that delivers big time on quality gourmet burgers, great crinkle cut chips and beer. A killer combination. The value here is incredible and might just get you through the latest Global Financial Crisis.
To understand Huxtaburger you need to understand where it is coming from. To present such a quality burger as "The Huxtaburger" for only $8 is incredible. Who else can do this? No-one else I know of in Melbourne. Some burger joints serve old school burgers for around the same price but this is gourmet all the way.
They are bringing value and accessibility with quality.
Huxtaburger is usually packed with a line up out the door and people waiting to swoop on a table. You can eat at the counter or grab one of the tables and enjoy the ambience of Smith street.
With a black and white colour scheme you would think we are in Collingwood. But you also might think we are in an American diner in Collingwood.
Huxtaburger has done its homework on what makes a great burger. They simply have great buns. Glazed brioche buns. The burger bun melts in the mouth. You don't get that heavy starchy hit of bread but rather the bun combines wonderfully with the rest of the burger.
The strength of Huxtaburger is that they keep it quality and simple. Other burger joints add varieties of burger that just don't work. Everything at Huxtaburger works.
My favourite is "The Huxtaburger" which has those awesome buns, crunch of great lettuce, quality gherkin, sublime patty of Moondarra Wagyu beef and melted cheese, tomato, mayo and ketchup. For a little extra you can get some great crinkle cut chips.
Like everything Daniel Wilson does, there is adventure, amazing gourmet flavours yet sublime balance. There is kick in the mayo and pickles but it doesn't dominate the quality beef. The sensation is of a delectable light and slightly sweet burger. A contender for Melbourne's best burger.
At huxtaburger there is also a tie in with the Cosby show. The burger called "Bills" contains bacon, egg, pineapple and beetroot for only $10.
The "Theo" with the double pattie and double cheese caters for those that love a huge mother of a burger.
Then there's the "Denise" which has some kick with Jalapeno.
There are burgers for kids for only $5.
You can always tailor make your burger by adding stuff - like an extra pattie for $2.
Service is great here - in the three times I've been the staff have been engaging and friendly and professional. Table service at a burger joint is sensational.
Huxtaburger hums at night open 11.30am till late on Tuesday to Sunday.
Huxtaburger is a great place to dine with friends for amazing quality and value.
Tree of Us - Church Street North Richmond
Tree of Us is a cafe/restaurant sensation and a great find in the uber precinct of North Richmond. Being familiar with many of the cafes along Bridge Road and indeed throughout Richmond I am always looking for a cafe that stands out from the pack. I can throw a blanket across several and only a handful rise into the outstanding category. Tree of Us is a breath of fresh air with its understated charm and foodie gourmet excellence.
Started by three friends who went to Primary School on the Mornington Peninsular together, there is a sense of destiny and romance about this place. To be honest I don't even have one friend from Primary School. It was too long ago and I have no idea where they are now. Certainly none of my Primary School friends were ex chefs at Rockpool that I know of. Shaun is a top chef ex Rockpool and brings imagination, flair and skill to the kitchen.
Tree of Us is visually appealing and has a cool ambience. Check out the incredible street art along the side of the building by artist Putos, who has a great skill in painting animals street art style.
Tree of Us has a modern inviting fit out with hanging plants, elegant timber chairs and tables, tiled floor and ochre material against the white walls. The space on the footpath is inviting on a summers day. Soon they will launch a courtyard area out the back - I had a look at the progress and it looks promising with decking and enough seating for another 15 or so.
Tree of Us has a menu that brims with fine dining options at reasonable prices. It is clearly more than the usual cafe fare. For breakfast try out the Lentil, wild field mushrooms and poached egg stack or Tree toasties including the BLAT. Or go for the Smoked salmon with beetroot and avocado roquette salad on light rye or the soon-to-be famous Breaky Burger with bacon, sauasage, egg, hash brown and tomato relish. Or check out the Omelette with mushrooms, spinach, goat's cheese and thyme. The Tree Trunk breaky is large and gourmet.
For lunch Tree of Us serves some of the best burgers in Melbourne. I chose the Steak Burger for $16 which included brioche buns that inspired from Noisettes, an incredible organic juicy steak from Berties Butcher nearby, caramelised onion, swiss cheese melted over the top, crispy bacon and a kick butt tomato relish. You can see from the picture this baby was delectable!
The Fish Burger is also getting rave reviews and includes crumbed Rockling.
Tree of Us has an exciting dinner menu which is thrilling locals. Come along for Grass fed Scotch fillet with horsereadish cream, witlof and corella pear salad or some Coq a la Biere (chicken cooked in beer). Or choose the amazing Oyster porcini field mushroom risotto. At night the staff put out the tea lights for a cosy intimate atmosphere. Locals are also coming along just for cake and coffee.
Tree of Us pours some great coffee, with coffee sourced from Fair Trade Atomica in Brunswick.
The cakes and salads at Tree of Us are also wonderfully gourmet.
Service at Tree of Us is friendly, personable and engaging. Christian, Anna and Shaun are charming and passionate foodies.
When I visited on a Saturday afternoon it was ideallic with cool jazz playing, laughter from conversations at tables and the cafe filled with natural light on a sunny Melbourne day.
I enjoyed the modern menu board and enticing display cabinet.
Tree of Us is an exciting foodie and sustainable cafe restaurant in the north part of Richmond that I intend to visit again soon. I still dream about that Steak Burger.
Tree of Us is an exciting new addition to Richmond.
Check out their Facebook page.
Rockpool Bar and Grill - Crown Casino
Rockpool Bar and Grill is a fine dining haven in the Crown Casino and is known for its spectacular meat dishes and the culinary genius of Neil Perry. The conversation around here is all about "dry-aged", "grass-fed", "rib-eye" and of course "wagyu". In fact it's the David Blackmore Wagyu that drew me here. Could this be Melbourne's best burger?
Rockpool has a modern fit out with high ceilings, great use of timber panelling, subtle mood lighting, large artwork tributes to the humble cow, several attractive dining areas and luxurious tables and chairs. What struck me about Rockpool was the finery and great use of textures. The ambience here is refined yet relaxed.
Waiters dressed impeccably attend to your dining needs and are engaging and knowledgeable.
The meat here is sourced from Australia's best producers and dry aged on the premises. Rockpool are strict about humane treatment of cattle and about no hormones or antibiotic feed supplements. Rockpool features Blackmore's Wagyu, Greenhams and Rangers Valley meat. It's the best of the best.
Now to the burger... Caramelised heaven. Wagyu heaven.
Rockpool has smashed a home run with this David Blackmore Wagyu Burger in terms of quality, taste and balance. My first impression was that this is a work of art and a celebration of the hamburger. Secondly I was amazed at how big this burger actually is. I was expecting a smaller burger as is the trend. This was actually a meal to satisfy your lunch craving. Along with say, some hand cut chips.
Interestingly I was asked how I would like my wagyu patty cooked - does anywhere else in Melbourne do that? Of course I wanted it as the chef would recommend (normally my reply) - which I believe was medium rare. The wagyu patty was the hero of this burger, which for me is what it's all about.
Every morsel of that wagyu patty was delectable.
The bun was a wonderful brioche. And the combination of flavours was the genius. Smokehouse bacon and gruyere went so well with the wagyu, but then the red onion and zucchini pickles were such a zesty flavour hit against the meat.
I could eat those pickles just on their own. And the tomato relish was also a killer...
While I offered to sit and enjoy my hamburger at this bar Rockpool insisted I eat fine dining style at the table. Park of the experience. A true celebration of the hamburger.
I understand Rockpool is a nod to the great American diner and methinks they have done this to perfection.
Yes I would say this is the best burger in Melbourne...
And I aim to be back for more Rockpool fare...
Rockwell and Sons - Smith Street
Rockwell and Sons provides American style soul (comfort, dude) food in Smith St and has one of the most acclaimed burgers in town with the Double patty smash burger. Another contender for best burger in Melbourne but not the mainstay of their imaginative menu.
Rockwell and Sons has a modern fit out with chic timber framing, funky lighting and exposed brick walls. Rockwell also pours a mean latte...
Rockwell and Sons offers "dude" food gems such as Southern Fried chicken sandwich, Rib sandwich, cheese dumplings, Lamb dog, Calamari roll with pickles, or even a delectable Lamb shoulder... But the star of the show is the Rockwell Double patty smash burger of rock star fame...
The Double patty smash burger consists of a sexy brioche bun from Brasserie Bread (important to have great bun), excellent juicy patty action, cheddar cheese drooled all over the meat, crunch gherkins and a killer sauce. For mine it's the sauce that makes it... This sauce reputedly includes 3 different kinds of mayo. So good. The burger is a triumph of juicy melted and crunchy bliss! and the price point is kind to the wallet.
The burgers are better at Rockwell and Sons...
Rockwell also boats amazing home made french fries with aoli... Critical to get this right when you've got a rock star burger.
Rockwell and Sons is the perfect place to dine with friends or even pull up at the bar on a stool as I did. Service was engaging and friendly. Even the barista chatted to me over the bar while pouring coffees...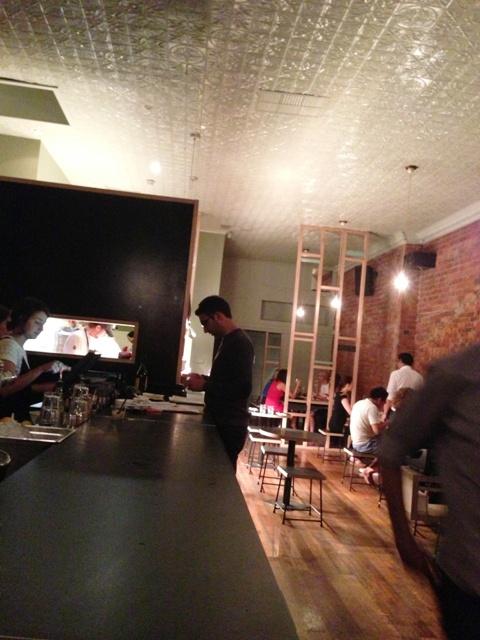 Rockwell is long and elongated... Cool tunes playing. This is a great vibe without pretense.
The logo is a classic...
Rockwell and Sons is highly recommended for unpretentious dude food with great vibe and at a reasonable price in a cool part of Smith St.
Lord of the Fries - Brunswick Street and 6 Other Locations
Lord of the Fries is an award winning restaurant group that delivers incredible vegetarian flavoursome food and modern tastes at value prices. Even Prince has enjoyed their cuisine on his last Australian tour (several music icons dig LOTF). Having sampled the burgers here - they are a strong contender for the best in Melbourne. Bring on the vegetarian burger for 21st century tastes!
I love the multicultural flavour of Lord of the Fries with its different sauces and tastes celebrating nations and their cuisine. Very Melbourne methinks.
Lord of the Fries began from humble beginnings visiting music festivals in a mobile van to an icon in Melbourne with 7 stores. They are growing with new stores established recently and stores where there's a funky vibe and extra room to enjoy their fine fare.
We enjoyed lunch at the iconic Brunswick Street store - a retro style diner. Prince enjoyed and inspired a Purple Rain sauce but here it's more of a red haze. Lord of the Fries has a striking red theme - I really enjoy their marketing and Facebook page.
Lord of the Fries has won major awards for Best Burger in Melbourne from The Age, then also Best Hot chips in Melbourne from The Herald Sun, Best Vegetarian Restaurant in Australia from the I Love Food Award, as well as Best Burger in Australia from Peta and Aduki.
Having sampled Lord of the Fries burger Parma, which consists of LOTF Chick'n Patty, bacon rashers, napoli sauce, cheese and onion - I can say this is up with the best in Melbourne. It's a great burger which ever way you look at it. It has great flavour, great napoli sauce and great combination of ingredients. The bun is excellent and totally fresh - which is really important.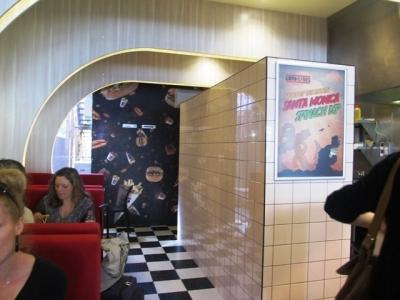 I am not a vegetarian as such but I love great vegetarian food. Lord of the Fries shows much flair when it comes to vegetarian cuisine. You feel like they are breaking ground especially when it comes to the convenience genre they operate in.
The Vegan Patty used by Lord of the Fries has the look, taste and texture of meat with virtually no fat. So you don't leave the restaurant feeling heavy and bloated. These are great health choices for the 21st Century.
The mock beef patties are high in protein being made from Textured Soy Protein. And gluten free!
The other burger we enjoyed was The Guru, with Guru vegie patty, tomato, onion, lettuce, and green chilli sauce. I love this burger, with plenty of spice (it has more kick than other places). The green chilli sauce is a winner.
We ordered two of the mini burgers - the original and the spicy mini burger. These were delightful and are a great option amid the mini burger craze around Melbourne right now.
Of course fries are important. Lord of the Fries has award winning fries that taste like potato and do this vegetable justice. Fresh not frozen. Freshly cut. Fries are cooked twice to ensure crispiness (most of us love our fries to be crispy). And no trans fat.
Also what I love is that they keep the skins on the potato. Something I like to do at home. It healthier and I believe the taste is enhanced.
Sauces are a highlight at Lord of the Fries. You can order a great range of classic sauces for $1 including my favourite, the Belgian with Euro Mayo.
The deluxe sauces are worth the $2 and my favourites are The French Canadian which is shredded cheese and hot gravy, as well as the Mexican consisting of Chilli Salsa and sour cream (and has some spice).
Sauce of the month right now is the Santa Monica Spinach Dip and this was a sublime sauce and something a little different. I found it to be moorish.
You just love the little toothpick prong things that you eat the chips with - rather than having to use your hands with all that sauce over the chips.
The Onion rings are also superb. Do I get excited about onion rings? Yes. I've been on the search for Melbourne's best onion rings. These are up there with the best because they are chunky and a little juicy and fresh and they are crumbed well. Not oily and dry but lean and flavoursome.
The Nuggets were also a sensation - not the usual kind of nuggets found in other stores but using soy protein. Tasty and healthy. I loved them.
Lord of the Fries has a delectable Chocolate Mousse.
The new Swanston Street store is an exciting development on one of Melbourne's iconic street corners.
Lord of the Fries hits the spot and is an edgy eatery that ticks so many boxes in terms of concept, quality, freshness and taste. We look forward to their continue growth and expansion in Melbourne and beyond.
Strange Wolf - Strachan Lane, CBD (just off Exhibition St)
Strange Wolf is a contender in the Melbourne burger stakes. The Wolf burger is a famous offering that stands out from the pack in the Melbourne burger scene. Strange Wolf is another nondescript Melbourne entrance in a laneway then down to a basement. Look for the blackboard out the front and then wind your way down the stairs past the neon sign.
Strange Wolf is a funky bar and venue that belies its humble entrance on Strachan Lane. So Melbourne.
Strange Wolf delivers on a range of burgers. The German burger with pork mince and saurkraut is a winner. But the Wolf burger is a mainstay sensation that many come back for time and again.
The Wolf burger is clearly a gourmet burger of note. It howls simplicity but also class and quality. The highlight is the patty that is so thick and juicy (charred on the outside and juicy pink in the middle - cooked to perfection). So so good... Combine this with large slices of pickles, fresh iceburg lettuce, awesome mozzarella cheese, roma tomato and caramelised onion. Another highlight is how the elements combine into one sensational burger.
Strange Wolf also serve up a fun cone of crispy golden fries with your burger (along with a shot of sauce). It cost me only $12 for the burger and fries - excellent value. My only preference (a personal preference not a criticism) would be to have a full brioche bun with this burger. Having said that this bun is a good one and the bread holds up well to the juicy elements without breaking up. You definitely need two hands to eat this baby...
Strange Wolf may surprise you with its cool fit out and ambience featuring great use of timbers, plants in the bay windows, grungy pillars, modern stools, funky lighting and excellent spaces.
The lady on front of house greeted me on arrival and the staff work hard to ensure excellent customer service. They're proud of the venue and the quality of the burgers.
Strange Wolf is a popular venue for city workers. Come on a Friday and find it packed with professionals from nearby offices. There is also a cool sound system and a space for live bands.
The Wolf burger is rated highly. I have a penchant for burgers where the meat is the hero and Strange Wolf delivers. Another test of a burger is how good you feel a couple of hours later - the Wolf burger had me on a burger high and it took hours to come down. The burger wasn't greasy at all but a triumph of quality ingredients that satisfied.
Bands, burgers and beers in a cool basement is very Melbourne.
Drugstore - Toorak Road South Yarra
Drugstore is possibly the home of Melbourne's best burgers. It's an amazing cafe and burger joint on Toorak Road South Yarra. Being a burger junkie and in search of Melbourne's best burger I decided to try Drugstore out.
At Drugstore it's the meat in the burger that is celebrated - with Wagyu all the way. Other burger joints celebrate some other aspects of the burger but to have such high quality meat in the burger is an absolute winner.
As the restaurant is related to the sensational Steer Bar and Grill, one of the best steakhouses in Melbourne, Drugstore is supplied with top grade Wagyu for the burgers. The big deal is the Blackmore wagyu, one of only two venues in Melbourne that supplies this high grade Wagyu.
The key is that the burger meat is cooked to medium and not overcooked. There are plenty of places that overcook a meat patty. At Drugstore the patty is juicy.
The Mr. Mitagi is one of their most popular burgers and is a magnificent burger, with blackmore full blood wagyu, teriyaki, wasabi kewpie daicon and chips. A good size burger and gourmet all the way. 100% wagyu. Intense beef flavour.
Other popular burgers include The Hot Denver and The Classic. All seem to feature a dfferent type of wagyu.
Here's the amazing thing. These Wagyu burgers should be about $30 with substantial amounts of top wagyu. But right now - not sure how long for - the burgers are only $12.50 including a serve of chips. Unbelievable.
The vibe at Drugstore is rock and roll with pop culture look. Impressed with the low ceilings, the funky lamps, the black and white photos, the art work on the walls, and even the water in the red jug.
By day Drugstore is a fine cafe with excellent breakfasts and great coffee. Then it turns into a first class burger joint.
Service is also excellent here. The waitress engaged me and chatted about the product. She gave some great recommendations from the menu. The chef also came out and chatted about the menu and the cooking approach. Then the barista at the front counter was also engaging and upbeat. Went away feeling good about the team here.
Hamburgers that celebrate beef. It's a great thing.
Jus Burgers - South Yarra
Jus Burgers delivers on premium gourmet burgers and is a serious contender for Melbourne's best burger. Come here for exciting burger options, classy sides and friendly service with a cool ambience.
Jus Burgers are a modern Aussie take on the gourmet burger. Categorically this is not an American diner.
Jus Burgers have taken a winning formula from Perth (where they have 4 eateries) to the Melbourne burger scene. In my opinion they do it really well, even expertly. The big deal is that they have real chefs who make the burgers and a policy of no frozen food. The burgers are made from scratch using Victorian produce (with strong relationships with quality Victorian suppliers). Even the aoli and relishes are made on site. No preservatives or additives.
The fit out is cool and modern with a dark brick wall, colourful tiles behind the counter, open kitchen with char grill (as opposed to flat grill), colourful signage, spectacular street art by W.A. artist Dave Garland, concrete floor and cool timber tables and stools. There is more seating out the back and on Chapel Street. Great tracks play through the speakers to enhance the ambience.
Burger options excite including Original Beef, Cheeseburger (with blue cheese, swiss and cheddar options), Pommy Burger (cheddar and black bacon), Spanish Snag (chorizo sausage and sweet red peppers), The Mullet (bacon, beetroot, cheddar, and free-range egg), and The Guvnor (270g beef burger).
All beef is grass fed beef from the Gippsland region. Then there is organic beef option which is 100% Cherry Tree Organic grass fed beef.
After all this Jus Burgers also has a stack of chemical free Chicken burger options, as well as Vego burgers, Lamb burgers, Fish burgers and even a Roo burger.
Kids can even enjoy The Grommit burger.
I ordered the Blue Cheeseburger with Onion rings side lunch special for only $11. This was a highly impressive delicious burger that ticked a whole lot of boxes. Firstly the bun was quality - crisp on the outside Turkish bread and soft inside. It worked well, keeping its form as the burger was devoured. The bread is slightly char grilled and basted with a touch of garlic and salt. The patty itself was thick and juicy (not dry) and good quality - and I love that char grill taste. The house made relish was stunning and you can tell that its not from a bottle. Also some fresh lettuce. But it was the blue cheese sauce that was superb and gave me a great hit of flavour.
I loved the Blue Cheeseburger and would order it again, although next time I might go for the Roo to check it out. While the blue cheese sauce was a winner it wasn't overpowering. The balance of flavours was great.
To top it off the Onion rings side was outstanding with crispy but not too dry onion rings coated with Japanese crumbs. And the aoli was sensational and there was lots of it.
The lunch deal that included the onion rings is outstanding value. I would recommend it over the $10 lunch deal which has sides and a smaller burger option.
Jus Burgers comes in at the right price point for gourmet burgers. With some other joints in Melbourne starting to charge towards $20 for a burger, Jus Burgers allows a family to enjoy a burger without visiting the bank manager.
These guys are multi award winning over several years and you can see why. In 2010 Jus Burgers were voted the nation's best burger in the I Love Food awards.
Customer service is great with Corey the manager passionate and engaging the customers. Jus Burgers is open 7 days per week from 11.30am to late.
Jus Burgers is a fabulous burger house and a serious contender for Melbourne's best burger.
Danny's Burgers - St Georges Road
For a true Melbourne experience one has to imbibe the joys of Danny's Burgers on St Georges Rd. The sign says "since 1945". Wow! This is an institution. I loved every minute of my experience here.
You need to come with the right attitude and "get into it." This is old school burgers done with charisma and love. The burgers are fantastic evoking memories of the best fish and chip shop hamburgers but better. It's better because the burgers are nicely layered so you can eat them without them falling apart. Well put together buns, egg, bacon, a great patty with proper grill taste.
Danny's are famous for the double and triple lot hamburgers. They are enough to fill the hungriest mouths. And they are made at 1950's prices! Great value dinner option for the family.
Don't underestimate the chips here. You get a great pile of chips for your money. And they are nice and crispy.
Danny's has some other great options including lamb burgers, open burgers with greek salad and chips and much more. People also rave about the chicken burgers.
Seating is limited to the counter but there is a great area with a few tables on the pavement. We soaked in the atmosphere of cosmopolitan St Georges Rd on a warm night.
Burger Lounge - Eltham
The Burger Lounge rocks. Are these the best gourmet burgers in Melbourne? Many of my friends think so.
Burger Lounge ticks so many boxes and in fact redefines the gourmet burger. The burgers are large, made with healthy ingredients, and the flavour combinations are amazing. These guys were voted ib Nova radio competition as the best burgers in Melbourne.
I've driven for an hour through Melbourne peak hour traffic just to get the family burgers here. In fact turning around and coming back down the main street of Eltham can be tricky in peak hour.The place itself has a great vibe and is colourful and modern. A great option is to actually eat in, even for groups.
The Burger Lounge is so refreshing in terms of menu choices and gets it so right. Reading the menu is fascinating as burger descriptions are like reading a menu from a top fine dining establishment.
The Signature Burger is a sensation and includes 100% beef prime organic pattie with harvati cheese, basted with balsamic glaze, pickled cucumber, red onion, lettuce, tomato, relish and herb aioli.
The Kofta Burger with a lamb pattie is another sensation and the pinenuts and Moroccan spice are great gourmet touches.
My wife loves the pumpkin burger with homemade roasted pumkinand kumera pattie with feta, walnuts and basil pesto, covered in Japanese panko breadcrumbs, spinach leaves, beetroot relish and aoli. Great flavours.
The prices are extremely reasonable with these huge gourmet burgers about $12. A lot of thought has gone into this. They offer organic meats. The coffee is also great at Burger Lounge – from 5 Senses. The herb chips are amazing. Everyone talks about the chips. They also have a really successful chicken shop nearby in Eltham.
Joe's Bar and Dining Hall - St Kilda
Joe's Bar and Dining Hall is a dude food haven with American style diner food using Victorian produce at a cool junction in St Kilda. A huge revamp, the masterstroke of owner Rob Gringlas, has seen a change from the previous Greasy Joe's - to "drop the grease" and "get on the gourmet". Joe's has a talented chef Katrina who wows with killer sauces and dude food winners such as Southern fried chicken, awesome sliders kick butt burgers and sublime ribs.
Joe's is a great place to drop by for a major meal - or drinks and a bite with friends. And we discovered it is family friendly with our kids loving the sliders and ribs in particular. The crowds were out and about in St Kilda and there was a festive tone in the precinct.
Joe's has a retro cool fit out and a great ambience with plenty of space, a large central bar with modern panelling, chunky timber tables including a large communal table, chic artwork around a beach theme, cool lamps and leather around the walls, and large windows with natural light flooding in. The ambience continues at the outdoor tables overlooking eclectic St Kilda.
Joe's serves up some excellent sliders including the Berkshire pork shoulder with Joe's killer bbq sauce and apple puree. Sublime.
Check out this piece of slider action...
Check out our table at Joe's, conviviality central...
After all this we sampled Joe's killer ribs - the six hour slow cooked pork rib with Joe's bbq sauce and slaw. These are so melt in your mouth kick butt delicious ribs and contender for best in Melbourne. As Katrina the chef said "We are proud of our ribs."
Joe's has a great reputation for its burgers so despite the extraordinary amount of food consumed I took on one of their trademark burgers. The two most popular burgers are the Joe's Classic and the Habenero. I elected to go for the Habenero as a kind of exotic option.
Joe's Habenero burger kicks butt with 100% grass fed patty (sublime), crispy bacon, lettuce, tomato, sliced red onion, pickles, double cheese (important and melted wonderfully all over the patty), and mustard aoli. What I loved was the 3 sauces involved in this burger - the habenero, the tomato chutney and the aoli - all home made. The combination is excellent and this is one sexy burger. I also loved the bun from Dairy Bell Bakery - not a straight brioche but soft and some sweetness.
The hand cut crispy chips were also a highlight, a great accompaniment with the burger.
Joe's is described by Katrina the chef as "food for everybody". This approacheable feel good cuisine was embraced and loved by my whole family. Service was excellent and engaging. We also enjoyed the live entertainment on a Sunday afternoon. Joe's is highly recommended for its superb cuisine as well as its ambience.
Andrews Hamburgers - Albert Park
Andrew's Hamburgers is a super impressive burger joint that knows what it's doing (since 1939), offering great burgers at value prices. Andrew's Hamburgers has a superb customer focus with service with the lot - engaging staff, great menu options and reasonable prices - that keeps customers returning.
Andrew's Hamburgers seems to be the toast of Victoria with visits by celebrities, sporting personalities, the Masterchef judges with their photo on the wall, and many people of our city that have been visiting for years.
Andrew's Hamburgers makes traditional, as distinct from nouveau burgers. You can get yourself an egg and bacon roll or a chicken burger, for example. But the popular choice is the hamburger with the lot.
I enjoyed the famous burger with the lot for a value price plus chips ($2 for a mini). For a start the burger is large. It takes two hands for sure to handle this mother.
The buns are fresh and quality - very important for a good burger. The bacon and egg (cooked in rings) is quality, the lettuce fresh and crunchy, the cheddar cheese wonderfully melted and the burger has the right amount of sauce and fried onion. The star of the show is of course the patty which is quality beef. I felt I could detect some sublime seasoning coming from the patty.
The burger is delicious and they get the balance of elements right. You feel like the burger is neither heavy nor greasy.
And the chips have that crispiness that people want.
The staff here are fantastic and add to the experience. They love what they do. There's a team of guys all wearing Andrews Hamburger's T shirts. I was surprised my eat in burger arrived on a silver tray. I wasn't fumbling around with paper.
If you eat in (limited seating) you will be amazed at how many people come through this place in a short time, even on a supposedly quiet Saturday afternoon.
I noticed families arriving and looking over the photos on the wall that include celebrities posing with owner Greg Pappas.
I can see why people love this place. While I love a nouveau burger I also love that traditional hamburger that's done well. Andrew's Hamburgers has been setting a high standard for decades and are still shining as ever.
And the winner? For mine I enjoy Rockpool Bar and Grill, Huxtaburger and Tree of Us as the major standouts, but it's a personal preference. All should be celebrated.