Bar Nacional Sophisticated Spanish With A Twist
Bar Nacional formed with a Pete Evans and Gavin Baker partnership, delights with its modern Spanish cuisine with a twist and loads of sophistication and technique. At the same time it remains honest cuisine without pretense. This restaurant has come to play. The World Loves Melbourne was here to investigate the claim Bar Nacional is bringing San Sebastian to Collins Street.
Bar Nacional boasts a crack team including Chef Gavin Baker (ex Fat Duck) as well as Chef Alex Drobysz (pictured above - ex Bistro Moderne and Gordon Ramsay) from the UK. We caught up with Alex the night we were there - Alex's strength is in European dining including French as well as Spanish. We were not quite prepared for the level of sophistication here.
I was joined by my friend Jonathon (one of Melbourne's best baristas and ex St Ali) for a complimentary dinner to sample the Bar Nacional menu. From the outset the staff were professional and engaging, bringing context and explanation of dishes with enthusiasm.
Bar Nacional occupies a compelling space at the end of Collins St in a legal and professional precinct. It opens up for the after work office crowd with delightful tapas but also brings finery and sophistication if you want to dine in for a longer stay. The fit out is modern with fashionable tables and chairs including high stools, mood lighting, and an attractive counter/serving area where cured meats hang from above.
Smoky Bay Oysters with a jamon vinaigrette were fresh and arresting as we began our culinary journey.
Famous already are the Charred brussel sprout croquettes with preserved lemon aoli - anyone with an aversion to brussel sprouts and haunting childhood memories needs to head to Bar Nacional for some therapy. For a start the croquettes are perfectly cooked with crispy outside and super creamy inside, but its the flavour of the croquette which is the killer. And the dab of lemon aoli is the signature note. Rustic pleasure.
Bar Nacional thrilled with this quality Charcuterie board full of A grade Spanish treats such as Bull Negro, Guanchiale, Lomo (beef tenderloin), Jamon, Chorizo and Terrine with pickles. Notably the 2008 Jamon (can that be right?) was a chart topper, as was the Duck terrine.
Served with crunchy biscuit breads, these cured meats were top notch.
The World Loves Melbourne was allowed in the kitchen and we chatted with the friendly staff who exude passion for their craft.
Morcilla! Blood sausage baby. Seriously this was the best I've tasted so far in Melbourne. Moist blood sausage with a spice kick. Not dry. Not benign. It's alive. And perfect with apple puree.
We were loving the journey so far. Many of the dishes are clean, but Bar Nacional lifts the lid on some delightful rich and indulgent dishes. This is not the quinoa revolution by any means! A good example is this Crispy pig head, served up in its rich indulgent glory but with a playful plate up with shallots and carrots. How can a pig head be served up with such refinement?
Dining in a suit I felt like I needed some tracky pants as we slipped into this moorish dish of Duck and chicken liver parfait with brioche. Indulgent yes.
And it all went superbly with the Spanish Tempranillo we were drinking. The Sommelier was recommending Spanish wines all the way which is fair enough. We stayed with this Tempranillo the whole night but the wine list at Bar Nacionale is highly acclaimed (Lady Oenotria has described it as "banging").
Meanwhile the attentive wait staff were quick to spot we needed more brioche for our parfait and obliged.
The standard at Bar Nacional is consistenly high across dishes. No weak links. I enjoy simple Spanish food but there's something impressive about the sophistication at Bar Nacional.
Lardo, pickled vegetables and radishes is a simple description for a dish that sings. Slivers of Pork fat greeted us, again arranged in playful fashion, surrounded by pickled vegetables and radishes, and a large Duck egg. I made use of leftover brioche from the previous dish to mop up runny duck egg and fat - indulgent overdrive.
I felt like I was being satiated into oblivion. Bring it on. The Ox heart charred in the Josper oven with artichoke foam was brilliant, again displaying technique. Nice touch with the cress on top. Ox heart is tasty at the best of times but these guys have the oven working a treat to add a further dimension. Big flavours but also with nuances.
Honestly we were super impressed and thought we were at the culinary summit. Only to be told larger Raciones were to come.
From the moment I set eyes on the next dish I was in love. The Flathead with smoked eggplant cooked on pear tree wood was amazing - smoky woody flavours permeating the sweet Flathead was a winning combination. Normally I find most fish dishes fairly tasteless, but this one hit me between the eyes.
I checked out the oven in the kitchen later - it's unique how they cook the dish on flat wood (having experimented with different wood flavours) with a smokiness coming from the bark.
The Wagyu from Robin's Island (not where Nelson Mandella was incarcerated but off the coast of Tasmania) was tender and a premium cut of meat. The Jerusalem artichoke puree and crumbs were spot on.
Being a pork belly tragic I was enthused by this Greenvale Farm Pork Belly with compressed pear and mint. The pear and mint were so refreshing complimenting the pork. The mint added an extra dimension and was in no way a token add on. And the salt and vinegar crackling was a hit!
Another already famous dish is the Tocino del Cielo – heaven's bacon, salted maize caramel... Heaven's bacon - pork infused salted maize caramel flan had us floored! Caramel Flan infused with pork, and served with dehydrated popcorn and large cornflakes. Elements of sophistication and fun. The Caramel Flan was high powered and combined brilliantly with the infused pork. Ebullient bliss!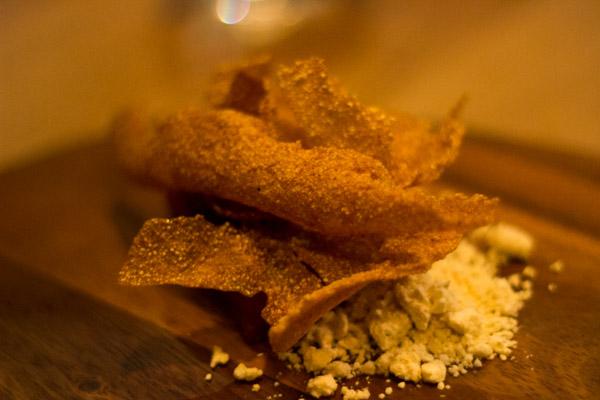 The second dessert experienced was described to me as Rice Pudding and was a kind of deconstructed cereal dish. What looked like rice bubbles was in fact candy. And the large flakes on top were in fact made from milk! Inside was a delighful scoop of ice cream.
An award winning dessert (Gourmet Traveller Top 10 Dishes of 2013) was my pick of the amazing array. The Burnt orange crema Catalana, bay leaf, polvorón and crunchy fennel seeds is a stunning dessert. The various textures combine together with crunch and creaminess, and the hit of orange is ultra satisfying. The top of the brulee is covered in fennel seeds and something resembling a Spanish shortbread biscuit that crumbles easily. The dish is not sickly sweet but sophistiated with nuances.
Bar Nacional served us up a Spanish feast. Since then I've recommended it highly to my corporate colleagues for sophisticated and creative, even fun dining, but without pretense.
Bare Nacional reaches the heights in terms of its cuisine - it certainly does bring San Sebastian to Collins Street.