Coffee Max A Family Italian Coffee Experience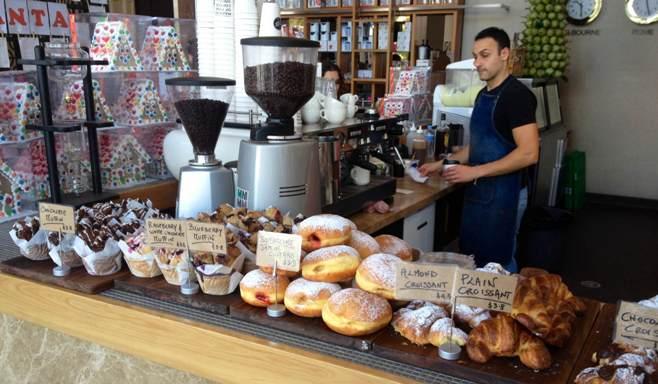 Dino Crevelli loves his cafe and treats customers and staff like family. Coming from a coffee roasting family (since 1959) Dino continues the tradition through his roastery-cafe in Camberwell and the jewel in the crown is at Doncaster.
Coffee Max Doncaster is a palatial Italian coffee experience in a shopping centre. Positioned enviously at the door to the Westfield Bus Terminal Coffee Max serves hundreds of commuters and all of the loyal workers inside the 250 store mega mall. As well as multiple blends of coffee they also serve hot and cold food and decadent snacks. Marble bench tops, decadent cakes and very Italian decorations are all signs you are in for an Italian experience.
Carmine, a career barista from Italy has been behind an espresso machine for over twenty years. However he is one of many Italian staff at Coffee Max.
Service is prompt and friendly and the quality of coffee and snacks are what you would expect from a traditional Italian caffe. Depending on which roast is on offer you will always find a full bodied and robust espresso with lingering caramels and dark chocolates.
This email address is being protected from spambots. You need JavaScript enabled to view it.