Epocha One of Melbourne's Best Dining Experiences
Epocha is simply one of Melbourne's best dining experiences, featuring a formidable team, stellar European cuisine and a killer ambience at this terrace property. Nestled in Rathdowne Street close to the city and opposite Carlton Gardens, Epocha exudes charm and elegance, if not an air of sophistication. The World Loves Melbourne was invited with other media to sample some of the fine wines and cuisine offered by Epocha. Check out our Best Steak and Meat Restaurants in Melbourne.
Epocha has an immediate impact as you enter; this is about a fine dining experience, with Epocha meaning "a new or distinctive era". Distinctive and distinction. Epocha blazed from the "get go", gaining a hat in The Age Good Food Guide and quickly establishing itself as a serious culinary destination in Melbourne.
Greeted by owners Angie Giannakodakis and Guy Holder, we were given a taste of their culinary and hospitality philosophy before sampling the food. Angie has a pedigree of running the front of house at The Press Club, and Guy has worked at fine Melbourne dining establishments and as Catering Manager at The House of Commons in London (I could imagine The Chancellor of the Exchequer dining at Epocha). They know what they're doing ten times over, and work hard at providing diners with that certain je ne sais quoi.
The fit out is a nod to the classic, and is understated rather than overstated. Large windows with chunky frames, elegant timber floor, and green wicker chairs and wooden tables embedded with tiles.
We were treated to a presentation from award winning Dan the Sommelier who has recently returned from France working in some of the great wine houses. Dan and the team thrilled us with exciting wines that the Sommeliers are talking about in France.
Having been brought up on big Australian reds I enjoyed the nuances of these French wines. Of late I've been breaking out of my "big red" mould.
The European inspired menu offers a plethora of highlights, with head chef Michael Bolam brilliant at the helm. Mini crumpets, honeycomb was a brilliant starter.
The house made dark bread was served warm inside these knotted cloths, with generous amounts of freshly house churned butter. Another nod to the European.
The Fava puree and brioche toasts was a delight, with us wanting more of the toasts to accomodate the generous amount of exceptional fava puree.
I was taken by the artistic presentation and indeed the stunning floral crockery (haven't seen this number in Ikea), as we were served Swordfish carpaccio, grapefruit, caperberries. I love a carpaccio and the flavours balanced wonderfully with the creamy Swordfish and piquant graperfruit and caperberries. My carpaccios of late have been beef and kingfish, and I found the creamy Swordfish carpaccio unique and refreshing.
I was also taken with the fine cutlery that wouldn't have looked out of place in my late great grandmother's mansion in Kew.
Imbibing on a Thursday night, the restaurant was packed and humming. No need for background music, as the ambience feeds of itself in this house of finery.
Whole fish oven baked with lemon, dill. There was a sense of theatre as the whole fish was presented then served with French wines.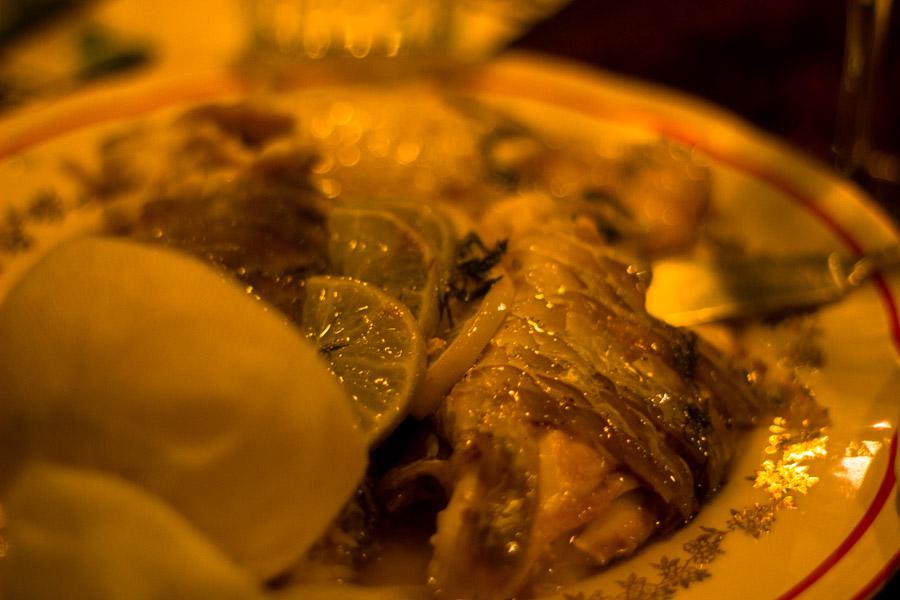 The accompanying salads were fresh and zesty.
Bird - breast, thigh, leg and wing was cooked to perfection, and was further enhanced by crispy Roast Potatoes with duck fat. Indulgent.
Scotch fillet with a bone marrow sauce was again perfectly cooked and pleasant on the eye...
With Angie a passionate Greek, we were served Ouzo of the highest quality.
Desserts at Epocha are served table side from the trolley. Basil panna cotta with rasberry jelly was totally unexpected - but worked so well - surely one of the best desserts in Melbourne.
In fact the night was rounded off with Sauternes.
Epocha is a restaurant of distinction of the highest order, and I want to return for a romantic evening or dinner with business friends. A keeper.