Miguel Maestre Spanish Armada at Robert Burns Hotel for MFWF
Spanish chef Miguel Maestre and the Robert Burns Hotel teamed up for The Melbourne Food and Wine Festival, guiding diners through a Spanish Armada four course journey of sustainable Spanish dishes, matched with fantastic Spanish wines.
Upon entry enthusiastic group of diners was greeted by Miguel in the courtyard, where we were handed a glass of Cava (Spanish sparkling) and an oyster by Miguel which he then injected with foam. The Robert Burns Hotel has a serious reputation among the foodie community of Melbourne for its authentic Spanish cuisine and wine, and having also been here for a Spanish Regional Dinner, has become a favourite of mine. The World Loves Melbourne was excited to be invited to this event.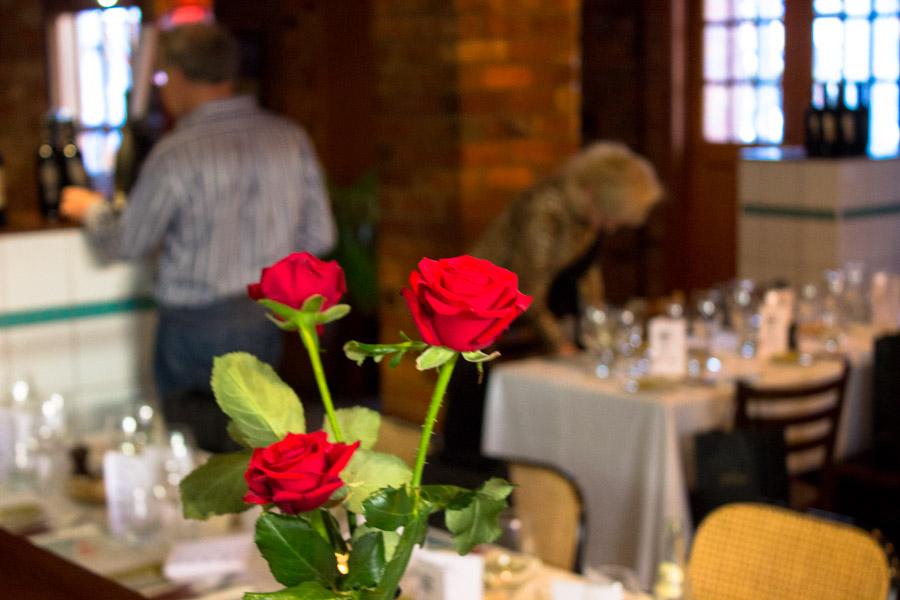 Playful and elegant, was the tone of the evening. This was a serious four course meal with outstanding Spanish and Australian wine, but the conviviality was amplified with the gregarious Miguel and his ability to engage diners, and the fabulous cooking and service of Robert Burns Hotel.
As we arrived I couldn't but help notice the little touches here such as these red roses...
The Robert Burns Hotel is home to some of Melbourne's most traditional and exciting Spanish cooking, with a wealth of authentic talent in the kitchen including Ivan Saiz and Marc Albalate. For this event, chef Miguel Maestre served up a journey of sustainable dishes, cooked in a traditional Spanish style by these outstanding Robert Burns Hotel chefs.
Diego Jiminez from Freixenet and Wingara Group spoke to the diners about
the fantastic cavas and Spanish wines of Freixenet and Segura Viudas, as well as their Australian winery Katnook Estate. Of course Frexenet is the world's biggest seller of sparkling wine.
Produced entirely from hand-harvested grapes and fermented in the bottle, it is a wine of great style and delicacy.
Cured Spanish Mackerel with pickle seaweed salad, olive oil pearls served with Segura Viudas Reservation Heredad, was a huge hit. The Robert Burns Hotel gives honour to key ingredients and doesn't over do it. This Spanish Mackerel had a wonderul texture as cured, and were complimented by olive oil pearls which have a texture like caviar. Not to forget the pickle seaweed salad that enhanced the theme of the sea and provided a fresh and piquant flavour. Presentation of this dish was also first class.
Miguel Maestre engaged diners and spoke about his passion for Spanish cuisine and the philosophy of the evening.
The menu included a sustainability statement -
"Sustainable seafood is about eating seafood today, tomorrow and into the future.
It is about ensuring the ongoing vitality of the marine environment, the species that call it home, and the communities that it supports."
Confit Yabbies was an enthralling dish featuring Saffron calasparra rice and octopus, served with Solar Viejo Crianza 2010 and Solar Viejo Reserva 2007. The Confit of Yabbies was delicate with slight sweetness, the balance of flavours enhanced by the best Spanish rice, calasparra, gathered in a paella style, with tasty shavings of octopus on the side. Again this was a "feast of the sea" and a great follow up to the Cured Spanish Mackerel. Elegant Spanish reds with this dish were most welcome, with both heavier and lighter styles served up.
Snapper fillet with baby calamari, txangurro, vermouth velouté served with Katnook Estate Sav Blanc and Chardonnay impressed greatly and was a triumph. Snapper was cooked to perfection with slightly crusty skin and then melting on the fork. This was a highlight in itself but memorable was the Baby calamari filled with the txangurro (fine crab meat basque), singing on the plate. The vermouth veloute sauce was a sophisticated touch to compliment the seafood.
Katnook Sauvignon Blanc was a great alternative to NZ styles and the chardonnay was equally as impressive.
Check out the presentation (above) of the dish, which was top notch.
It was clear from the feedback that diners greatly enjoyed this event.
Interesting was the quality of the Katnook Estate Coonawarra whites, including a crisp Chardonnay with a big hit of vanilla with length on the palate and a Sauvignon Blanc that was surprsingly excellent and a challenge to NZ styles. Normally I don't associate Coonawarra with amazing whites but perceptions are changing.
Rosemary parfait w sangria granita, Valencian orange salsa served w Segura Viudas Semi Seco, was a high note to finish on. The creamy parfait was top notch and infusion of rosemary complemented the fruit flavours on the plate. And who doesn't love a sangria granita? The Valencia orange salsa was a wonderful addition for a dish that was well balanced and fun on a plate.
This was a night to remember at the Spanish Armada dinner with Miguel Maestre at Robert Burns Hotel.